The results are out on the monumental referendum that took place in the United Kingdom, and Brexit is happening.
With many claiming that the historic decision will change the course of world politics and international relations, here are some of the lighter observations about the decision. And on Twitter they covered everything from the US, colonialism, economics, xenophobia and Hrithik Roshan to make a point about it.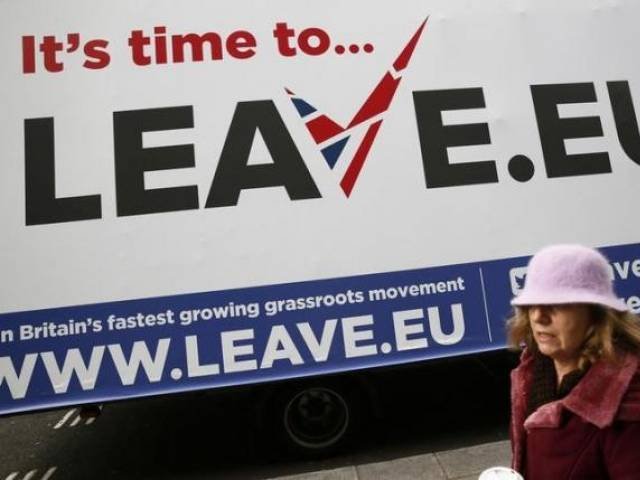 Surprisingly, from the famous to the not so famous, everyone has something to say:
This sums up #brexit. pic.twitter.com/jeSrMn6ml6

— Internet Palace (@InternetPalace) June 24, 2016
The voices of reason:
No matter the outcome, #Brexit polls demonstrate how quickly half of any population can be convinced to vote against itself. Quite a lesson.

— Edward Snowden (@Snowden) June 23, 2016
A successful divorce is better than a failed marriage. Good luck to this new and future third country! #Brexit

— Viviane Reding (@VivianeRedingEU) June 24, 2016
So sorry for the 48% of smart UK citizens who understand that the economy is global and that isolation is a bygone era #Brexit

— Chase Jarvis (@chasejarvis) June 24, 2016
"United Kingdom" always was kind of a mouthful. https://t.co/xhVesCPtW7

— Alec MacGillis (@AlecMacGillis) June 24, 2016
Britain's Colonial history provided some fodder for humour:
Meanwhile India is just blown away that you can get Britain to leave by voting

— Bobby Big Wheel (@BobbyBigWheel) June 23, 2016
Britain, you're terrible at voting. No wonder you didn't trust any of your colonies to do it.

— Bobby Big Wheel (@BobbyBigWheel) June 24, 2016
In fact, history jokes were a favourite on this occasion:
My Brexit in 1534 resulted in:

- uprisings- beggars- burnt Papists- my shiny new church- weddings/beheadings- Sexy scenes in The Tudors— Henry Tudor (@KngHnryVIII) June 21, 2016
Hey United Kingdom imma let you finish but America had one of the greatest #Brexit's of ALL TIME pic.twitter.com/qJwC63lUUa

— Joe Perticone (@JoePerticone) June 24, 2016
Then there were the political tweets :
EU have noted #Brexit could be followed by Grexit, Departugal, Italeave, Czechout, Oustria, Finish, Slovakout and Byeguim. Only Germaining 😂

— Melody Chen (@MelodyChen_) June 24, 2016
young peope are going to be affected by this. the old people who voted will die before they can get affected. #brexit

— jamie (@dylanohollands) June 24, 2016
The economic aspect of the fallout was not left out either:
A little snapshot of the financial markets' reaction to #Brexit, or perhaps more accurately, #Eurogeddon pic.twitter.com/sLlqPPFPRA

— Xeni Jardin (@xeni) June 24, 2016
Stock markets are taking a beating like... #Brexit pic.twitter.com/xC4uJ4LQK9

— Tyrion Lannister (@GoT_Tyrion) June 24, 2016
Americans were only too pleased for this break from all the Donald Trump tweets:
Americans waking up tomorrow and seeing #brexit tweets. pic.twitter.com/UDk2BnvHK5

— Internet Palace (@InternetPalace) June 24, 2016
The good news: We in the US don't look like the dumbest country for once... at least until November.#brexit

— Keith Lowell Jensen (@keithlowell) June 24, 2016
And then there were these:
Live coverage of the #Brexit celebration pic.twitter.com/zHm7pqQQN5

— Blaine Gibson (@BGibbles) June 24, 2016
Downing street cat voted out ... now immediately wants to be let back in #brexit pic.twitter.com/oqNwlwc1z8

— Joanna Ruck (@joannaruck) June 24, 2016
Best one I Read Today - Positive thought for the day - If you weigh yourself in #pounds. Today you lost a lot of weight. #brexit

— Nooresh Merani (@nooreshtech) June 24, 2016
The real #Brexit was 15 years ago. Hrithik Roshan said "bhaiyya ghar chalo". Got Mr. Raichand and Shahrukh Khan to forget their differences.

— Akshar (@AksharPathak) June 24, 2016
I actually have no opinion about #Brexit. Is there a social network for people with no opinions?

— Sam Harris (@SamHarrisOrg) June 24, 2016
And then, there was this guy..
I've seen 9,000 people tweet about Brexit tonight and I still have no idea if it's a person that got elected or a thing that happened.

— Dan Ryckert (@DanRyckert) June 24, 2016
(Feature Image Source: Reuters)