Known for playing mind games, Australian vice-captain David Warner today indicated that they will not sledge in-form India skipper Virat Kohli in the upcoming four-match Test series beginning February 23.
"For us, it's about going out there and playing our brand of cricket. Virat Kohli is one of those players, if you niggle at him, it either makes him better or if you get under his skin, he'll probably get even better. He's a world class player at the moment and for us, it's about going out and playing the best cricket we can," said Warner at the end of the drawn warm-up game against India A at the Brabourne Stadium here today.
"We're not going out there to entertain the idea of sledging or banter. It's out there and playing good cricket and a great brand of cricket and making sure it's in the spirit of the game," added Warner who, according to India A's double centurion Shreyas Iyer, was among the two players who sledged him yesterday.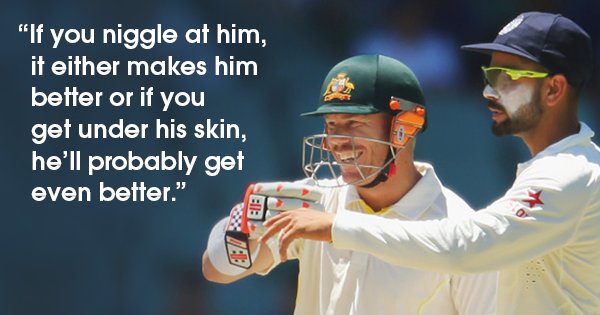 Warner said neither did his own performance in two innings in the warm-up game nor lead spinner Nathan Lyon's outing with the ball disappointed him.
"I'm not disappointed at all. That's what happens with my game, the way I play I'm either going to go on and cash in. Or I'm going to get out cheaply. That's the way I play," he said after making 25 and 35 in the two innings.
He said the team had set plans to counter Ravichandran Ashwin, India's number one spin threat.
"Well if he says he's bowling at 60 to 70 per cent then Jesus, what else has he got? 24 or 25 five-fors in the last 12 months, bowling at 60 to 70 per cent. I'd hate to see 100 per cent then. We've got our plans. Everyone's got their plans against Ashwin. He's a very, very good bowler. We understand that.
"There are other bowlers that we have to be mindful of. So we know that he will play a crucial a role in this, but as I have always said we just have to adapt to the conditions and assess when we're out there.
"The guys are in a great frame of mind, we're ready to go. We're pumped. And it's been a much-anticipated series so we're really looking forward to getting out there," he added about the upcoming rubber.