Muhammad Ali was a great inspiration to one and all. Like most of us he was an idol to a lot of our Bollywood celebrities too. When news of his demise broke, celebrities from the film fraternity took to social media to talk about how his work and words that had made an impact to their lives too.
T 2277 -With the 'greatest' Muhammed Ali at his home in L.A. Prakash Mehra had wished to make film with him and me . pic.twitter.com/AOdKnAZXqm

— Amitabh Bachchan (@SrBachchan) June 4, 2016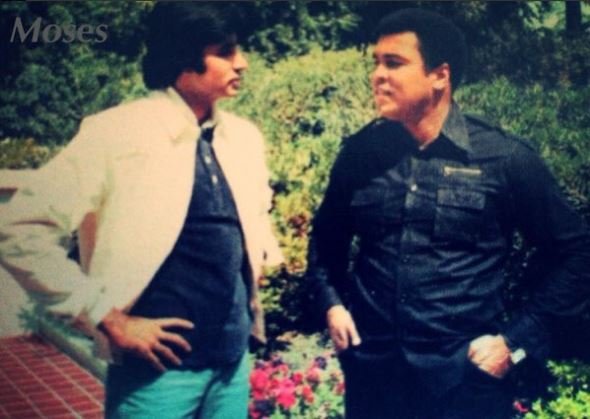 Crushed! @MuhammadAli was the 1st sportsman I was told about by @SrBachchan. He was inspirational and an idol.

— Abhishek Bachchan (@juniorbachchan) June 4, 2016
Rest in peace legend @MuhammadAli #FloatLikeAButterfly #StingLikeABee #GOAT

— Abhishek Bachchan (@juniorbachchan) June 4, 2016
Cassius Clay. You taught that the greatest fight is simply to be yourself. #RIPMuhammadAli pic.twitter.com/IMfVVgmmIp

— Lisa Ray (@Lisaraniray) June 4, 2016
"I'm so fast that last night I turned off the light switch in my hotel room and was in bed before the room was dark." - #RIPMuhammadAli

— Ayushmann Khurrana (@ayushmannk) June 4, 2016
"Mohammed, Mohammed Ali

He floats like a butterfly and stings like a bee"RIP to my greatest sports hero 😪https://t.co/zQoEUlQyJL— Jaaved Jaaferi (@jaavedjaaferi) June 4, 2016
It isn't the mountains ahead to climb that will wear you out; it's the pebble in the shoe. Muhammad Ali

— Mahesh Bhatt (@MaheshNBhatt) June 4, 2016
#RIPMohamedAli who taught the world the guts to say;"you may the best, but I am the latest". Best is not enough! One of my huge inspiration.

— resul pookutty (@resulp) June 4, 2016
Rip #MuhammadAli.The real champ. His story and struggles have motivates us all and will continue to do so.

— Varun JUNAID dhawan (@Varun_dvn) June 4, 2016
"Float like a butterfly, sting like a bee." #RIPMuhammadAli #TheGreatest doesn't pass on,he lives on 👏👏👏👏👊👊👊 pic.twitter.com/Y2eXE1kDv9

— Randeep Hooda (@RandeepHooda) June 4, 2016
Clearly the great Muhammad Ali had touched so many lives with his wisdom.