"Good wicket, I had to capitalise when I could. I was waiting for a chance like this, hoping a day like this would come," said a visibly tired Quinton de Kock after blasting a 51-ball 108 for Delhi Daredevils against the mighty Royal Challengers Bangalore.
The 23-year-old South African wicket-keeper batsman smashed the first hundred of IPL 9 to take his team to a first win over RCB since 2010. And how did his teammates repay him?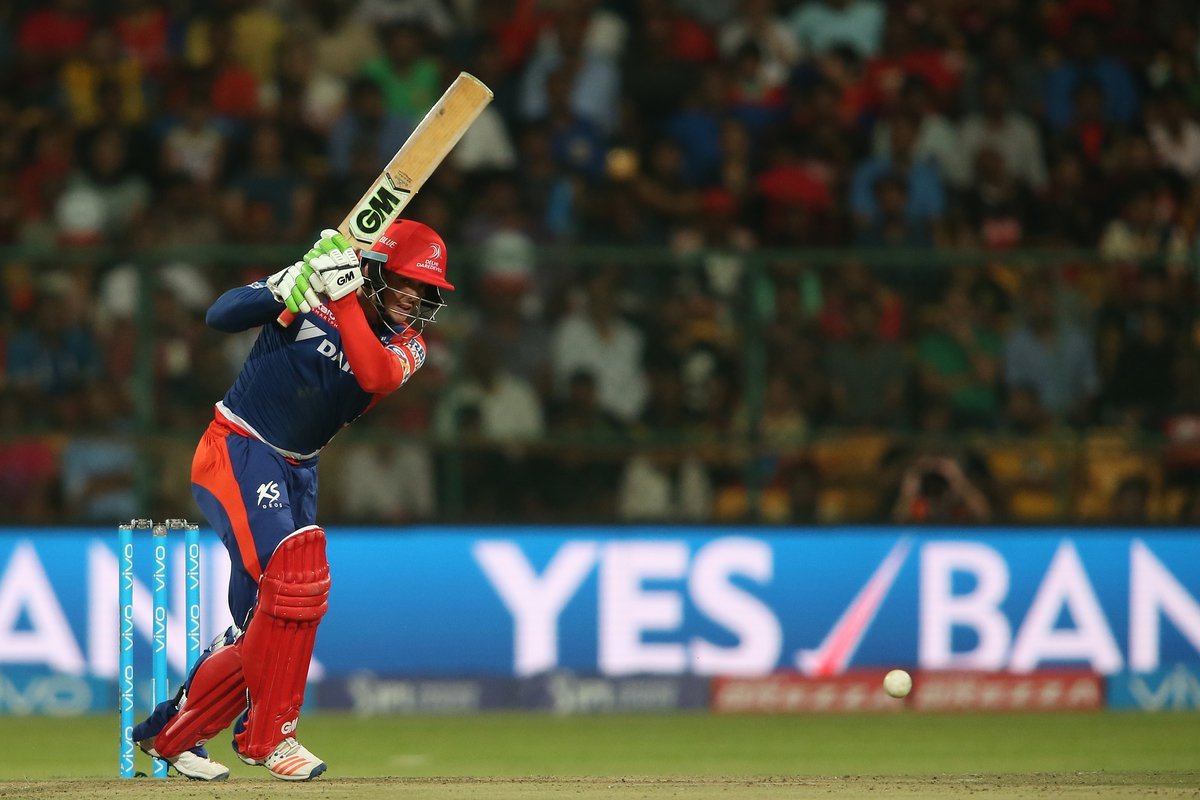 With #deKockPuns of course. It seems it was not Quniton who was waiting for a chance like this.
After the match-winning knock, de Kock's Delhi teammates Chris Morris, Carlos Brathwaite and Sam Billings took to Twitter to congratulate him in their own way.
Great to see De Kock stand up for the team @QuinnyDeKock69 #DeKockPuns #dildilli @sambillings @Tipo_Morris

— Carlos Brathwaite (@TridentSportsX) April 17, 2016
Arousing performance from De Kock! 👏🏼👍🏼🙌🏼 @QuinnyDeKock69 #remarkable

— Sam Billings (@sambillings) April 17, 2016
Great to see de Kock go deep tonight! @QuinnyDeKock69 #dekockpuns #dontjudge

— Chris Morris (@Tipo_Morris) April 17, 2016
To which the fans responded with some puns of their own.
. @DelhiDaredevils are stimulated by De Kock's performance!! #DeKockPuns #IPL pic.twitter.com/P61msZSU7E

— Rahul Buddhavarapu (@keyboardcritic) April 17, 2016
@Tipo_Morris @QuinnyDeKock69 That 100 got the juices flowing... I can't wait to see de Kock's stroke play off Hardik (Pandya)! #dekockpuns

— Jaydon Kelly (@jaydon_kelly) April 18, 2016
@TridentSportsX @sambillings @Tipo_Morris Great to see De Kock lasted long tonight.#RCBvDD #DeKockPuns

— Mayur Joshi (@mayur13joshi) April 17, 2016
@MalhotraSaurabh @Tipo_Morris @QuinnyDeKock69 de kock stayed hard & strong almost till the climax #dekockpuns #Ididntstartit

— Chetan Bhatia (@ChetiTweets) April 17, 2016
There was the *other* Kock pun too, this one a cartoon.
Virat's Murga Masala! Sify cartoon #DeKock #RCBvsDD pic.twitter.com/qW5exDTi0X

— Satish Acharya (@satishacharya) April 18, 2016
The puns were Srini Mama approved as well.
Hahahaha, this is absolute gold! #dekockpuns pic.twitter.com/uUkEK5cOmy

— Srini Mama (@SriniMama16) April 19, 2016
Do we feel sorry for the guy? Come on, it's hard not to!