Patanjali Ayurveda, endorsed by Baba Ramdev and almost wholly owned by his key aide Balkrishna, has been time and again slammed for its 'misleading' ads. The Advertising Standards Council of India has pulled up the over Rs 2,000-crore FMCG brand for everything from lying about its ingredients to "unfairly denigrating" other products.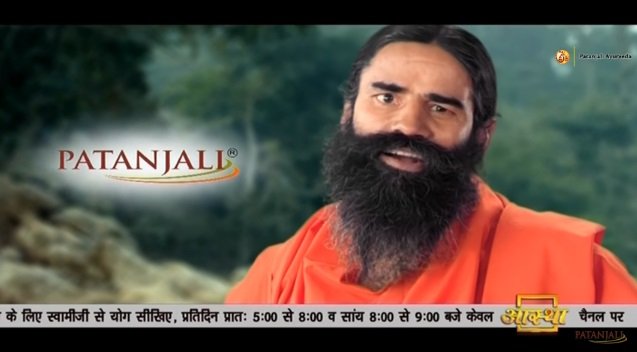 But in a recent commercial, the brand has gone a step further, in the wrong direction that is. Along with demeaning other products, it has demeaned 'a certain kind' of women as well.
Not surpringly, it is the 'bindaas, wannabe type' girls that Patanjali has gone after. We are not even interpreting the words for these are precisely the ones used!
So here's how the brand's recent advertisement for its beauty cream 'Saundarya Swarn Kanti' goes:
The ad introduces us to Saundarya and her sister Aishwarya. Both, the all-knowing, omniscient narrator insists, are pretty, but while Saundarya follows "parampara", Aishwarya is a "bindaas, wannabe type girl", he says.
Going by the body language on display, you wouldn't have trouble figuring out who the "bindaas" girl is.
The rest of the ad follows a predictable line: Saundarya, who uses herbal products, "grows in beauty" with time, which means she gets fairer, while Aishwarya, who uses chemical-based ones, develops pimples.
Saundarya is appreciated for her looks, which means an army of extras go "wah! wah!" every time she walks past, while Aishwarya ridiculed.
Because, you know, people generally laugh at women who have zits on their faces.
Eventually, the bindaas girl resorts to Patanjali's "herbal" cream and regains her lost glory.
Here's the full ad:
Going by the date on the official YouTube page of Patanjali Ayurveda, the ad seems to have released in December, but somehow it remained unnoticed until some it caught the attention of social media users in recent days.
Since then, alarmed users have since been pointing out all that's wrong with it.
We checked out the ad to know what the fuss was all about and were left shocked by the blatant misuse of creative freedom for making sly judgement on the choices and character of "bindaas" girls who, the ad subtly put, are ones who don't follow tradition. It's almost like the ad is categorising girls into 'types' and asking you: Are you Soundarya, who follows traditions and loved by all, or Aishwarya, who doesn't follow traditions and is hated and mocked?
For good measure, Soundarya is shown as quintessential K-serial bahu, gentle and submissive, while Aishwarya, is downright snooty.
It also seems that as per Patanjali, girls who follow in the latter category are bound to lose their beauty and respect in due time. Quite horrendously, the ad shows mockery of a girl over pimples as legitimate and something that a certain kind of girls ask for.
As it is, the claims in the ad seem rich coming from a man who doesn't hold a stellar record in being true to what he brags about his products. It also further adds to Baba Ramdev's reputation of being sexist and unnecessarily preachy. Not too long, the man was under fire for his remarks against actress Celina Jaitley. As per reports, Ramdev questioned the way Celina keeps changing her partners and how this is all because she doesn't stay with her parents.
Here's how social media users have reacted to the ad:
Some of the comments on the ad on Patanjali's official YouTUbe channel

On Twitter:
Watched an ad of #PatanjaliSondarya I don't even know where to start about what was wrong with it.

But what else is expected! #Patanjali pic.twitter.com/mDIewoSqT0— Karnika Kapoor (@karnikakapoor) February 10, 2017
Really @yogrishiramdev? Girls using makeup r wannabe, bindaas n those using #Patanjali upholds "parampara"? What!https://t.co/mP38ayFBkJ pic.twitter.com/I94EgUGcWg

— Rozelle Laha (@rozelle_l) February 10, 2017
VIDEO: Patanjali's cosmetics latest ad is all shades of sexist, and cringeworthy https://t.co/fjsWTrPYYJ

— New Cosmetics (@newcosmetics) February 12, 2017
Man I just saw this ridiculous Patanjali ad where they called the one who uses Patanjali products a good girl and the one who does a wannabe

— LordAnusHahaha (@TheVacuumHead) February 11, 2017
"Patanjali's New Ad Is So Problematic, I Don't Even Know WHERE To Begin" https://t.co/DoUOPtjYQJ @yogrishiramdev @Ach_Balkrishna @ascionline

— S K Swamy (@skswamy) February 11, 2017