The most awaited celebrity talk show, Koffee with Karan season 5 finally went on air tonight. And it couldn't have had a better premiere episode featuring KJo's favourites, the evergreen Shah Rukh Khan and Karan's protégé, Alia Bhatt.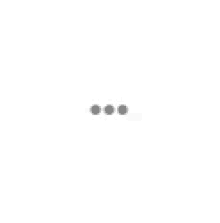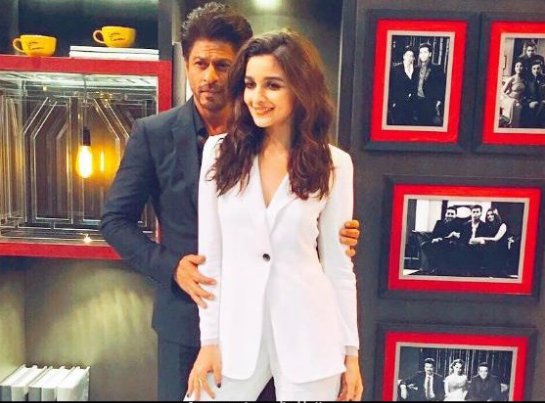 At their candid best, King Khan and Alia made a rib-tickling episode filled with their trademark wit and quirk. SRK left no chance to tease his Dear Zindagi co-star, but also praised her acting skills. It is a sacramental sin if you miss a single episode of Koffee with Karan but don't worry, we have the most memorable moments from tonight's episode lined up for you, so you can catch up on all the fun.
1. Alia confessed she would like to 'stalk' Kangana Ranaut.
Yes, And she backs it up with a very strong reason too. Alia says,"She has a lot of lovely airport looks but I really want to know where she is going. Where is the plane landing?"  We have to agree with Alia on this, where is Kangana always off to? Legit question, like really!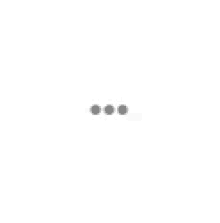 2. Did SRK say "Running around trees is not his cup of tea/coffee"?
Shah Rukh revealed that, till date, dancing around trees, singing songs, or pretending to be in love with his leading lady in Swiss Alps, is far from his comfort zone. It is in fact one of the most challenging things he has had to do. Who would've guessed – he makes it look so easy and dreamy!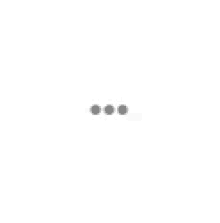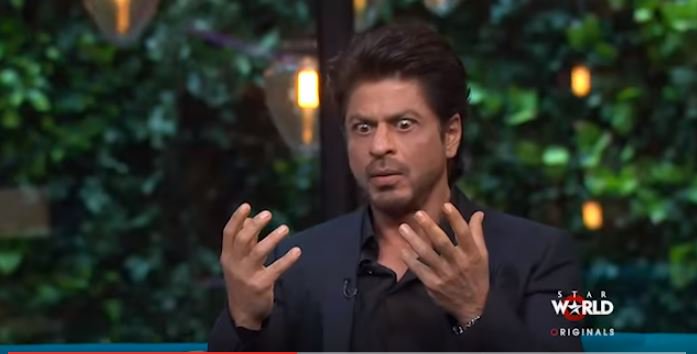 3. Shah Rukh read out the washing machine guide with a Shakespearean twang!
One of the new and we have to agree, best segments of today's episode, was Karan throwing an acting challenge at Shah Rukh and Alia. While Alia's act of a moody teenager was spot on, it was Shah Rukh who took the cake with his incredible acting prowess. The actor gave us a glimpse of his legendary acting skills and my, what a display it was! His deep baritone and Shakespearean twang, while reading out a washing machine guide book, or his reading out of a recipe like a seductive lover, SRK pretty much hit the nail on the head, every single time. Legendary stuff!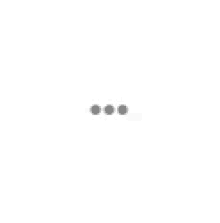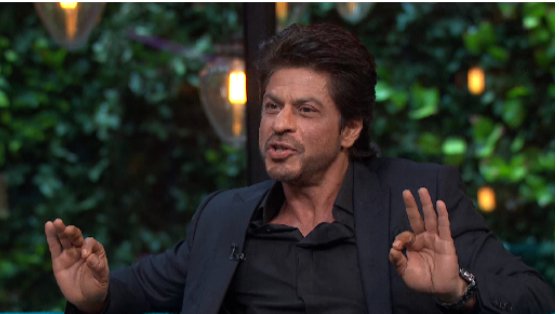 4. Time to add 'Demotional' to our vocabulary
We have a new word to take away from the show. Coined by the uber-witty SRK himself, Demotional is a word we millennials can happily apply to ourselves! Speaking about the youth of today, Shah Rukh mentions that they have the unique ability of being "Detached but emotional – Demotional!". Get it?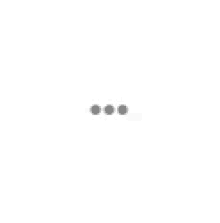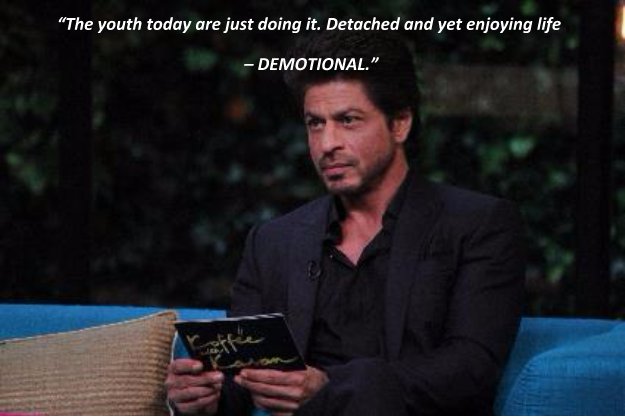 5. Alia slayed in the rapid fire
Last season of Koffee with Karan made Alia infamous with her rather limited knowledge about the country's affairs. No matter how much Alia protested tonight that she does read the news everyday, she has the app on her phone after all – Karan and Shah Rukh left no stones unturned as they mercilessly teased poor Alia. However, Alia was the one who had the last laugh as she beat SRK fair and square in a round of rapid fire questions about fashion brands that the girl clearly knows well. You go girl!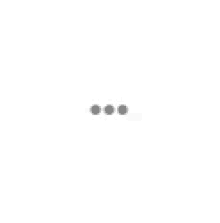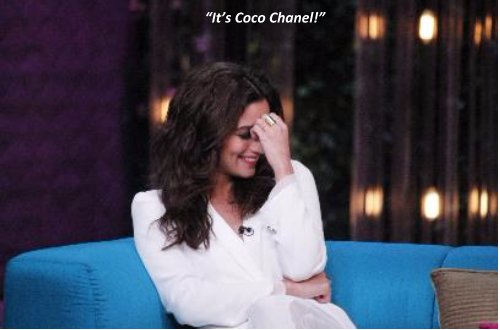 6. Ranveer Singh's 'padded underwear' was mentioned
One of the funniest revelations on the show tonight was when Shah Rukh replied to Karan's question of 'What would you do if you woke up as Ranveer Singh?' with a hilarious reply – 'I would ask him where he got his padded underwear in Befikre from!".  OK then!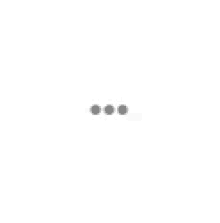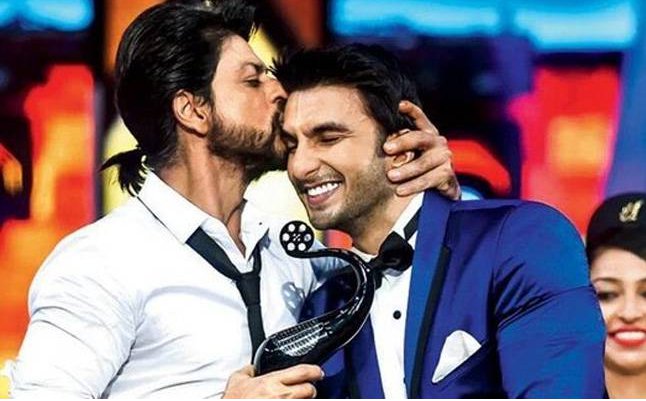 So far so good. 
Koffee With Karan airs every Sunday at 9 PM on Star World. Next week there is a surprise debut! Watch this space for more.