The Union Health Ministry will send a three-member team to Manipur on Tuesday, January 5, to assess the ground situation after a strong earthquake rocked the state leaving six dead and 90 others injured.
Three member Health Ministry team to reach Manipur by tomorrow to assess ground level situation.

— Jagat Prakash Nadda (@JPNadda) January 4, 2016
Hazardas of #Earthquake that Hits India's #Manipur State Read Details==> https://t.co/5JB6osXxwi must retweet pic.twitter.com/OJKoSLY2Do

— Sweeti Jadhav (@sweetijadhav94) January 4, 2016
An info-graphic showing the epicentre at Tamenglong district epicentre in Manipur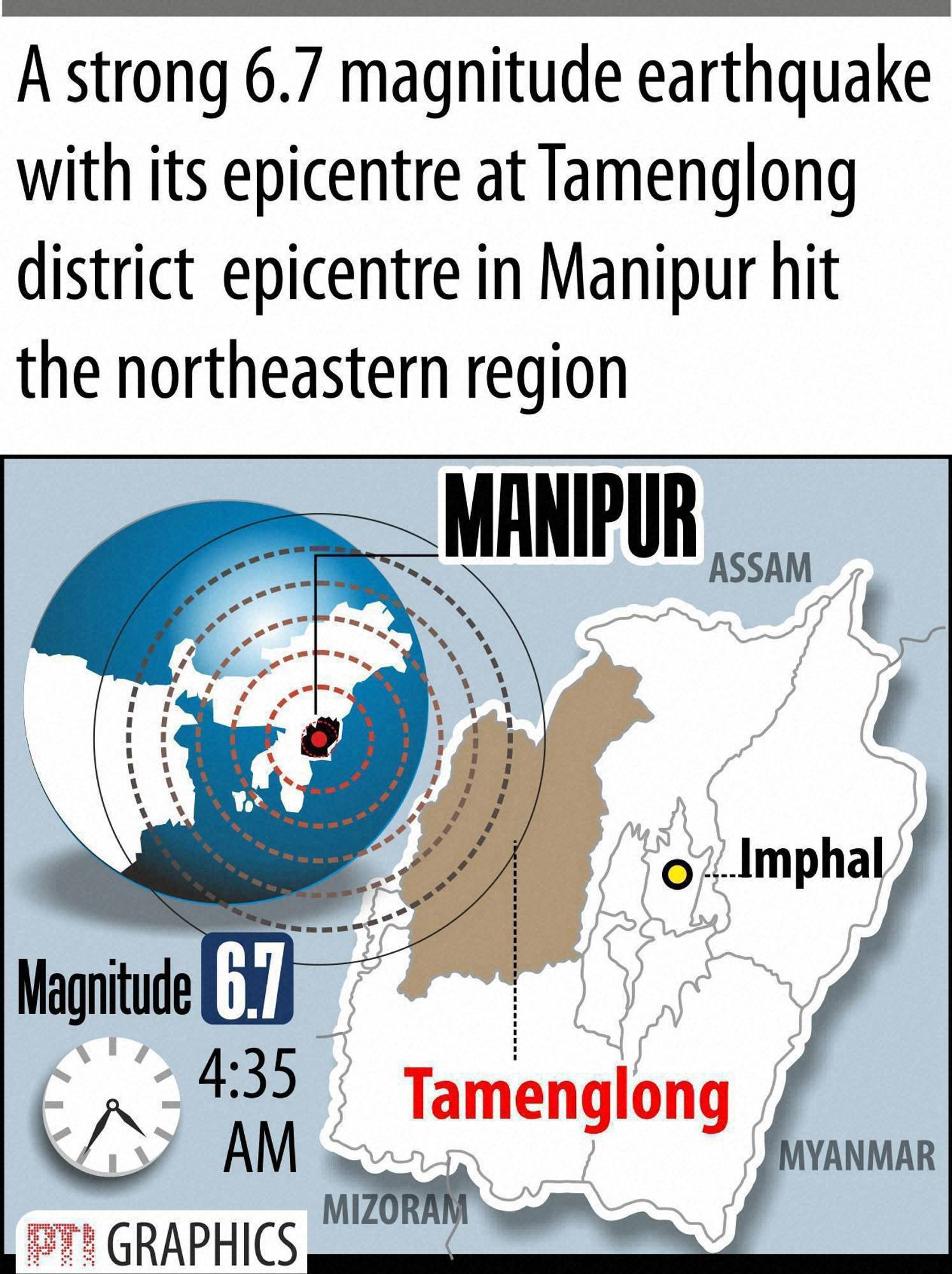 A video captured during the earthquake at a live TV Show :
WATCH: Building collapsed in Imphal after #earthquake hit the region https://t.co/fGV8uD9cKP

— ANI (@ANI_news) January 4, 2016
Jitendra Singh, Minister of State for the Ministry of Development of North Eastern Region said that Prime Minister Narendra Modi is himself monitoring the situation. The Army and Air Force have started their rescue operations.
An AN32 plane of Air Force will be going to Imphal from Guwahati to take 75 NDRF personnel for relief and rescue operations, said a top defence official. A C17 Globemaster & IL76 plane has also been kept on standby at the Hindon airbase to respond to any further relief operations as and when needed.
Govt #Manipur issues helpline nos all districts following massive #earthquake that claimed many lives this morning pic.twitter.com/SrGiFrL7s0

— Binalakshmi Nepram (@BinaNepram) January 4, 2016
Home Minister Rajnath Singh on earthquake in #Manipur, says "Centre will extend assistance wherever necessary" https://t.co/BFxbbwnND3

— ANI (@ANI_news) January 4, 2016
How are things in Manipur?

— Mesut Boot Sarkar (@sidin) January 4, 2016
Help Manipur #ManipurEarthquake pic.twitter.com/KIKqPLMWfT

— Rutuja S. (@HavaldarShinde) January 4, 2016
(With inputs from PTI)
(Feature image source: PTI)