Have you met Priya? India's very own female superhero. And a rape survivor. Back in 2014, Priya met her debut as the protagonist of a first-of-its-kind comic book, Priya's Shakti.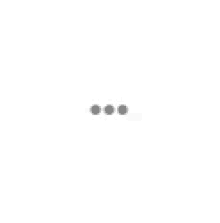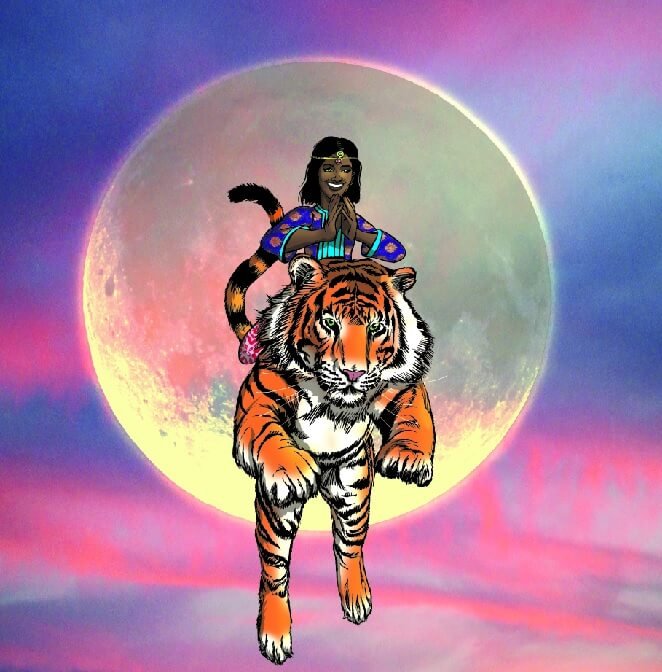 Priya set out to change the prevalent "victim-shaming" narrative around survivors of sexual assaults. Unlike other superheroes, Priya is born without superpowers. She's an ordinary girl, who is gangraped. Following the crime, she goes on to fight against sexual assaults and the associated stigma with a superhuman determination, helped by goddess Parvati and her vahana, a tiger. Like a slew of tougher laws in India, Priya too was born in the aftermath of the December 16 gangrape in Delhi. 
Unsurprisingly, the comic became a global sensation. So much so, that the World Bank stepped in to back the next edition. And, the sequel is finally out.
It's called Priya's Mirror, and this time, Priya is fighting for acid attack victims.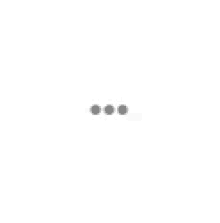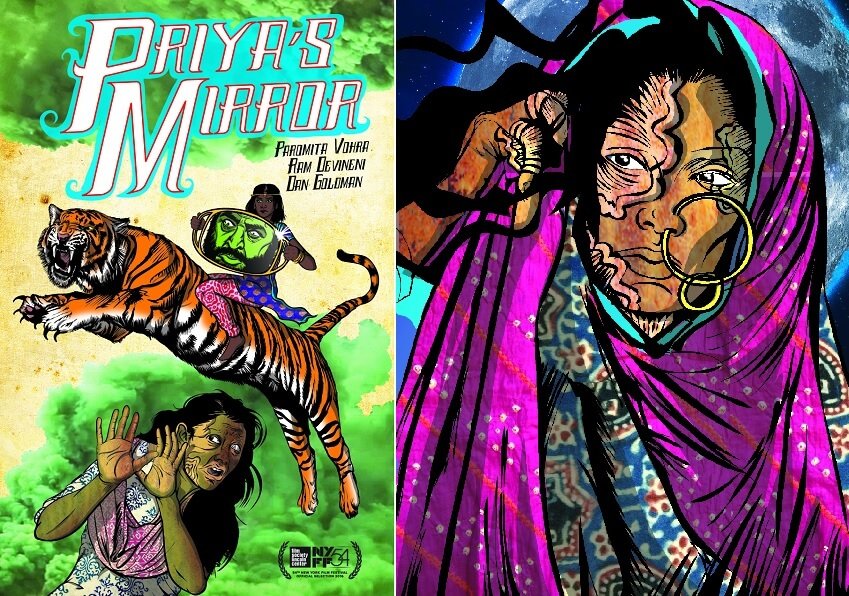 As I write this piece, devastating reports and visuals of a 25-year-old woman from Uttar Pradesh who was attacked with acid on Tuesday by her rapist, are being telecast on news channels. While her life will not be the same as before, it does not have to be in ruins. As acid attack victim, Reshma Bano Qureshi showed us while walking the ramp at the New York Fashion Week. 
This is exactly why Priya's Mirror is the narrative we need. This time, Priya is fighting the taboo attached to being an acid attack victim, encouraging survivors to look beyond their scars and warning men against taking this extreme step.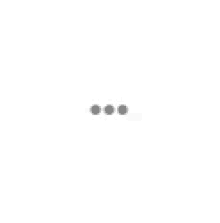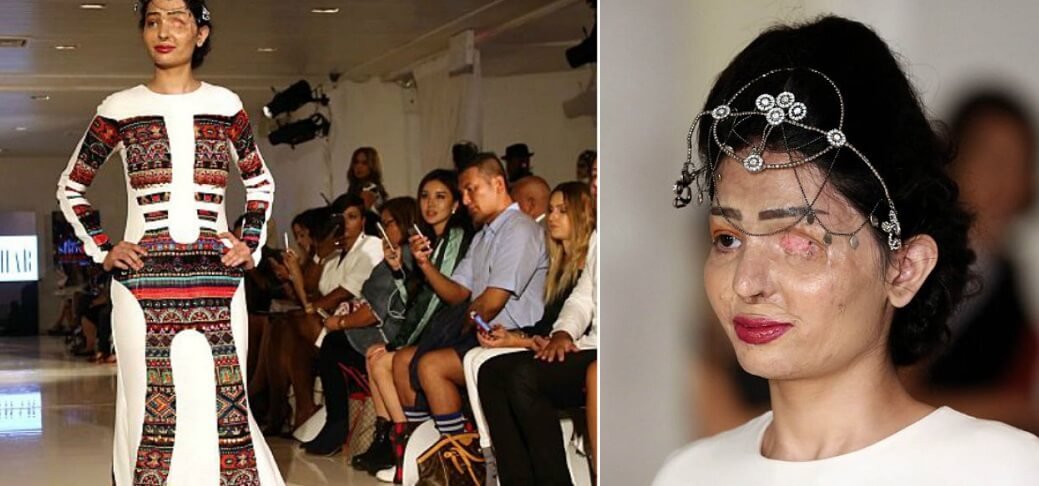 Indian-American documentary filmmaker Ram Devineni, who has co-created the two comic books, told ScoopWhoop News that Priya's Mirror is all about changing people's perceptions around the crime.
"What I noticed after talking with both rape and acid attack survivors in India is that the reaction of the society and the stigma, intensified their problem and hampered their recovery. How they were treated by their family, neighbours and the society determined what they did next. Often they were treated like villains and the blame was put on them," Devineni told ScoopWhoop News from the US.
The synopsis of the story, which Devineni co-authored with Paromita Vohra is: Anjali, an acid attack survivor, is trapped in a home run by demon king Ahankar. A man falls with in love with her, but must rescue her from Ahankar's tyrannical hold. He approaches Priya, who rides on the back of her ferocious tiger to confront the demon and set Anjali and other acid attack victims free. Not just that, Priya encourages them to live their lives to the fullest, like they did before the attack.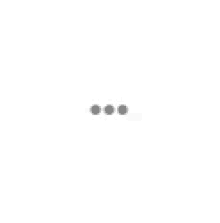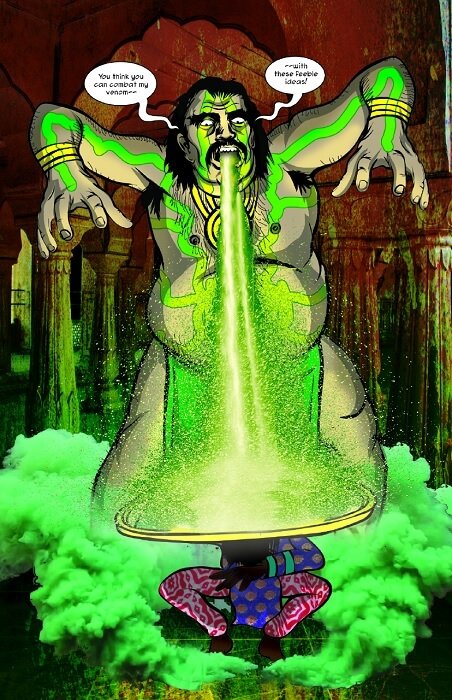 What's most striking in the story is the weapon Priya uses to liberate the women: a mirror. Called the "mirror of love", survivors peek into it and see their real selves - not victims, but singers, carpenters, painters.
Devineni explains the significance. "The mirror allows you to see beyond what is reflected. It is inner truth. A quote by Priya describes it perfectly - 'Why should we hide our wounds? And why should we hide because of our wounds, sisters! Someone reduced you to only your face. But you are other things too. Look into this mirror and you will see.'"
Interestingly, the story features some characters based on real-life survivors. "I met and interviewed acid attack survivors in Delhi, like Laxmi and Soniya. Also Monica Singh and Natalia Ponce de Leon in Colombia. Their interviews were the backbone of the characters and story, and they also advised me on the comic book," Devinani said.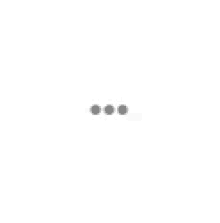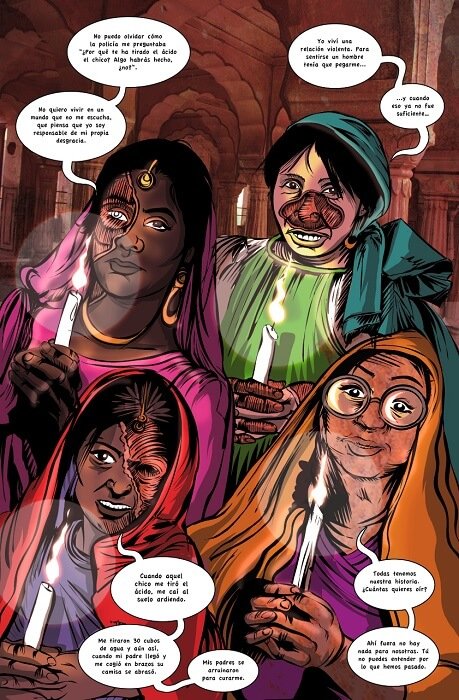 Dan Goldman, the book's artist, told BBC that he looked at pictures of survivors for his drawings and thus, similarities with some real-life women are easy to spot.
Devineni has aimed the book at teens. "Teenagers are at the critical age when they are learning about relationships and developing their opinions of each other. So, this comic book series is a powerful tool to talk about gender issues," she said. The comic book format and use of augmented reality technology through the Blippar app is designed specifically for that age group.
You can read the comic book here and below is a trailer released by the makers: