After the controversy over Rajdeep Sardesai's direct messages to users on Twitter, the senior journalist tweeted that his account had been hacked and announced his departure from the micro-blogging site.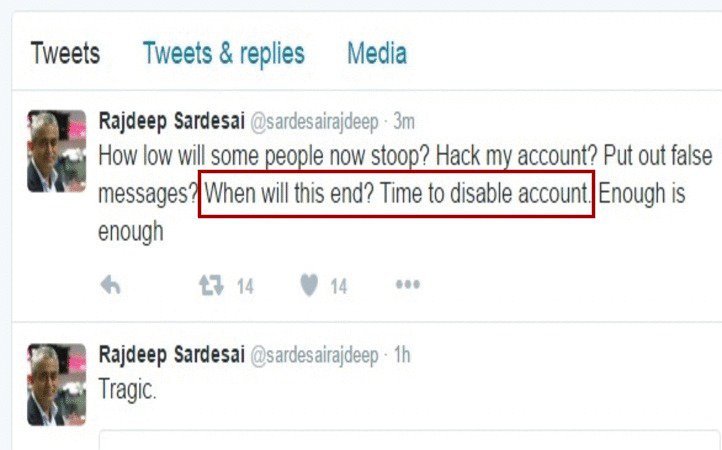 As the news of Rajdeep deactivating his account spread on the internet, Twitter users minced no words to express their feelings about Rajdeep abruptly ending his stint on the platform.
Some were ruthless as expected,
Just woke up to the news Rajdeep Sardesai has quit twitter for the moment. This is going to be a great day!! #Yay

— Rupa Subramanya (@rupasubramanya) April 30, 2016
Dear Rajdeep Sardesai

No need to leave the Twitter Anyway sirji wil provide free wifi in jailI too will join you soonYoursAshutosh— Mahesh VikramHegde (@mvmeet) April 30, 2016
2 years back I had asked #RowdyRajdeep Rajdeep Sardesai not to tweet when high on #OldMonk

He blocked meGuess he did not heed to my advice— Intolerant Kaushik (@kush07) April 30, 2016
Condition of Arvind Kejriwal after Rajdeep Sardesai disabled his Twitter account.

. pic.twitter.com/ZWxFTqAYvT— PhD in Bakchodi !! (@Atheist_Krishna) April 30, 2016
Instead quit, Rajdeep Sardesai should file cyber crime or may be Hack is excuse as he fears of hue if his name is in Agusta Journalists list

— Anshul Saxena (@AskAnshul) April 30, 2016
Rajdeep Sardesai makes a run for it. "ONE DOWN 19 MORE TO GO" #AgustaKickbacks pic.twitter.com/Xvhg0QWrRe

— Gireesh (@savarkar5200) April 30, 2016
Some were a little less critical
Rajdeep sardesai often talks about leaving twitter. Keeps quiet for sometime. No one calls him back. Massively ignored he makes a comes back

— shilpi tewari (@shilpitewari) April 30, 2016
Rajdeep Sardesai thought that ppl will miss him & ask him 2 comeback bt he was wrong again no one is missing him glad v showed him his place

— the dark knight (@wayne241189) April 30, 2016
Rajdeep Sardesai deactivated his twitter account, after award wapsi, now #TwitterSanyas

— Ashutosh (@asrivastava75) April 30, 2016
राजू लौट आओ। कोई तुम्हे कुछ नहीं कहेगा। तुम्हारी सभी शर्ते मान ली है घर वालो ने। बजाज पल्सर भी बुक कर दी है तुम्हारे लिए #RajdeepSardesai

— SinePlot (@SinePlot) April 30, 2016
And there were also those who stood by him.
Sad that leading journos like Rajdeep Sardesai quit Twitter amidst sick abuse & rabid trolling. Needs intervention @Raheelk @sagarikaghose

— Aman Sharma (@AmanKayamHai) April 30, 2016
Finally an achievement NDA govt and its fans can boast about: made Rajdeep Sardesai quit Twitter. It took two years of hard work.

— Tony Joseph (@tjoseph0010) April 30, 2016
Sad that trolls have forced Rajdeep Sardesai off Twitter

— Rana Safvi رعنا राना (@iamrana) April 30, 2016
Sad to know that Rajdeep Sardesai left Twitter after Ravish Kumar....

Our country becoming extremist like Pakistan n Bangladesh...Stop hate— Qayed (@Qayed) April 30, 2016
Hey @twitter you need to check on why so many now prefer to leave your network @TwitterIndia. https://t.co/nPRfO8Yblw

— Sagarika Ghose (@sagarikaghose) April 30, 2016