As play began on day three in Mohali, Ravi Shastri seemed like a man on a mission in the commentary box. His now-familiar flowery adjectives and over-enthusiastic zeal were all focused on making Ravindra Jadeja, the batsman, look good. He did not understand the criticism of Jadeja's numbers with the bat lower down the order. He spoke about how Jadeja was responsible for swinging matches back in India's favour with crucial cameos during the South Africa series. He, like it seems to be the norm with Indian commentators these days, mentioned for the millionth time on how Jadeja has scored three first-class triple hundreds.
"And the best thing is, he has got age on his side. He is just 22 or 23," Shastri concluded his mini-marketing pitch of Jadeja. He had gotten carried away so much, that the statistician had to correct him off-air, reminding him that Jadeja is turning 28 in a couple of weeks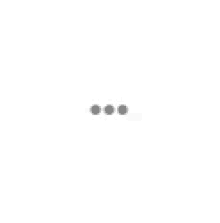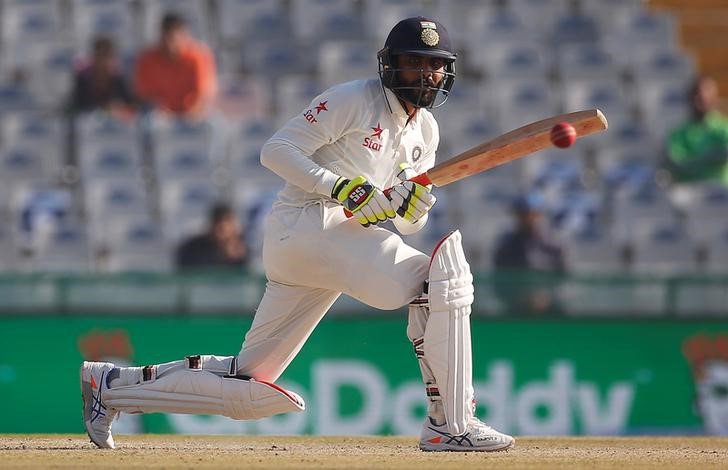 But beneath all the hyperbole, lay an unmistakable fact that Jadeja is a talented batsman. It's now established firmly that Ravichandran Ashwin is the all-rounder India have been looking for, perhaps since Kapil Dev. Jadeja is a fixture in Virat Kohli's side, so far at least, purely based on what he offers as a bowler. His display of brilliance with the bat at the Test level have come and gone in flashes, but the talent was always there. 
And in Mohali, he finally showed what he can offer the side if he applies himself as a batsman.
When Jadeja joined Ashwin in the middle on day two, India were staring down the barrel. Make no mistake, sliding from 148 for 2 to 204 for 6 after tea meant that India were firmly on the back-foot against a rejuvenated England side. What followed was the highest partnership of the match so far as Ashwin and Jadeja put together 97 crucial runs.
Enough has been said about Ashwin's rise as a genuine all-rounder -- despite the tag being thrown around at will, any cricket expert will tell you an all-rounder is one who can be part of the side either as a batsman or a bowler. That's what separates players like Ashwin and Ben Stokes from your Irfan Pathans and Ajit Agarkars. 
Jadeja, however, has been infuriatingly reluctant to make his talent count so far. The cameos, like the one against England in Lord's in 2014 and New Zealand in Kanpur earlier this year, were few and far between his lapses of concentration. There is a reason why the Rajput sword-swinging celebrations are seen less often than him looking up the skies after a big heave-ho that gets caught in the deep.
First time in his Test career Ravindra Jadeja has batted over 100 balls in a Test inns

Prev:98 balls at Trent Bridge 2014 (31 runs)#indvEng— Mohandas Menon (@mohanstatsman) November 28, 2016
Ian Botham doesn't get tired of saying players should 'play their natural game', irrespective of the situation. But Jadeja showed there is merit to playing according to what the situation demands. India did not need Jadeja to make a quick-fire 25 and throw his wicket away when he came out to bat in Mohali. India needed Jadeja to hang around with Ashwin, keep the scoreboard ticking, get the team past England's 283 and build a lead from thereon.
Jadeja did exactly that. With Ashwin scoring freely from one end, given the form he is in, Jadeja took his time initially. His first boundary came in the 35th ball he faced. And then came a series of lusty blows off Adil Rashid and Chris Woakes -- he scored 24 runs in the next 12 balls he faced. And when day three began, with England hoping to make the second new ball count, Jadeja thwarted England -- he left the balls that had to be left, but flicked and cut with authority when English bowlers erred in length. Once Ashwin uncharacteristically threw his wicket away, Jadeja began controlling the partnership with Jayant Yadav. Yet another 50-plus stand followed as the Indian lower-order took the game away from England.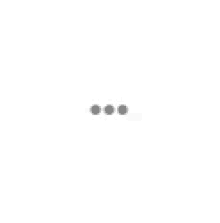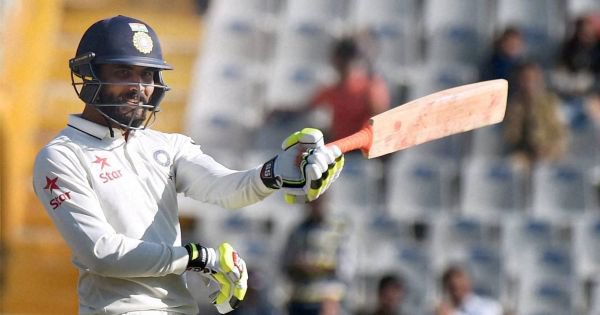 When the sword-swirl came out, Jadeja was batting on 50 off 104 balls. His next 67 balls saw him score 23 runs. He then went from block-leave-block to 4-4-4-0-0-4 against Chris Woakes, racing to 90. He showed, when he gets his eye in, he can change gears at will. The shot that he got out to, holing out to long on, will leave him frustrated for not reaching a well-deserved Test century, but by then he had made sure India were in a position of strength.
His 90 was by far his career-best Test score, but perhaps more importantly, for the first time in his career, Jadeja faced more than 100 balls in an innings. 
Jadeja was in a bullish mood in the press conference, asserting that he has always fancied himself as a batsman, but he hit the nail on the head when he said he bats when he gets set.
"It's just don't *consider* myself as a batsman, I *am* a batsman. I have been scoring runs in first-class cricket at an average of 53 (43, in reality), if you leave aside Test matches, that is. It's not the first time that I have made 90 runs. Yes, may be a first in Tests but I have an idea that I can bat. I wasn't in a hurry, since it was a slow wicket with less turn. I knew after 50, 60 or 70 balls, I can up my scoring rate."
His tongue-in-cheek response aside, Jadeja admitted there is more focus on his batting these days in the nets and there is a realisation that anything that a batsman can contribute lower down the order can be crucial in a Test match. And there in lies the answer to seeing Jadeja offer much more to the team than just metronome-like bowling.
He is not the second coming of Gary Sobers, like Ravi Shastri made him out to be earlier in the day but neither is he a mug with the bat. One innings does not a all-rounder make, but his match-defining knock showed that Jadeja, if he puts his mind to it, can turn out to be fine all-rounder after all.