While Hollywood was mourning the death of Comedian and actor Charlie Murphy who died in his sleep at a New York hospital after suffering from leukemia, Bollywood actor Rishi Kapoor mistakenly paid tribute to his younger brother Eddie Murphy by posting his picture on Twitter.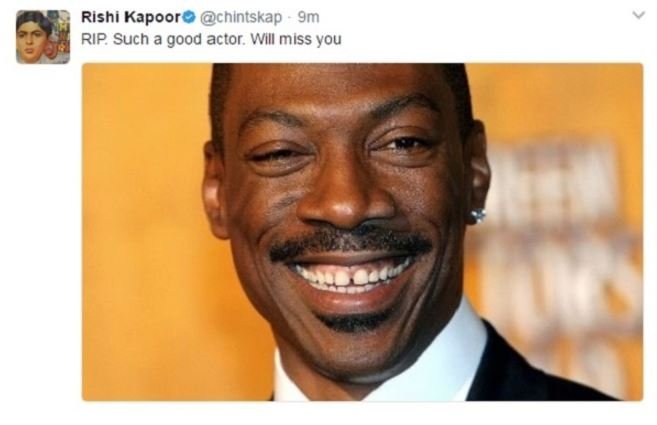 Soon after realising his gaffe, the 64-year-old actor deleted the post.
The American comedian, who was best-known for his appearances on Dave Chappelle's show, died on April 13 at the age of 57. He even co-wrote and appeared in some of his brother's films, including Norbit and Vampire in Brooklyn.
Several celebrities like Chris Rock, Kevin Hart, Zendaya, Debra Lee, Gabrielle Union and Spike Lee had paid tribute to the comedian on Twitter.
We just lost one of the funniest most real brothers of all time . Charlie Murphy RIP. pic.twitter.com/AAwItp5AJC

— Chris Rock (@chrisrock) April 12, 2017
Wow....This is crazy. All I can say is RIP. Thank you for not only being a friend but for… https://t.co/wNLVLYdEi5

— Kevin Hart (@KevinHart4real) April 12, 2017
Rest well Charlie Murphy. Thanks for one of the greatest comedy sketches in the history of time and space. pic.twitter.com/KHz1MqGjci

— Travon Free (@Travon) April 12, 2017
Charlie Murphy was such a kind, sweet, funny man. Damn. Incredible talent, even better man. RIP ❤

— Gabrielle Union (@itsgabrielleu) April 12, 2017
My Late Brother-The Very Funny Charlie Murphy. This Is Pic Is From JUNGLE FEVER, Charlie Was… https://t.co/0MT7mSrvVy

— Spike Lee (@SpikeLee) April 12, 2017
Charlie's wife, Tisha Taylor Murphy, died in 2009 from cervical cancer. They shared two children, and the comedian also had another child from a previous relationship.
(With inputs from PTI)