For an act of animal cruelty that cleaved the country into two, the tribute to the victim - Shaktiman, the Uttarakhand police mare - is rather weird. And stupid.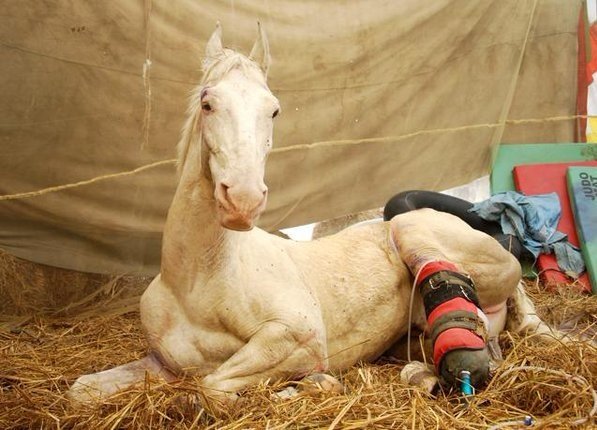 In the memory of the mare - who slipped and fractured her leg during a BJP protest rally, developed gangrene, had to get her leg amputated, only to die of shock after being fitted with a prosthetic leg - the Dehradun police has decided to name something after her.
It's a petrol pump!
Correction: Petrol pump will be set up in Police lines(D'dun),will be named after police horse #Shaktiman: SSP Dehradun Sadanand Date to ANI

— ANI (@ANI_news) April 28, 2016
Visuals of spot in Dehradun where a petrol pump which will be named after police horse #Shaktiman, will be set up pic.twitter.com/mWD8JRaN23

— ANI (@ANI_news) April 28, 2016
The way 'Chetak' is remembered in Indian history, we in police department remember #Shaktimaan: U'Khand DGP BS Sidhu pic.twitter.com/lcgY6Rv0Su

— ANI (@ANI_news) April 28, 2016
We racked our brains to figure out just why they came up with this.
Is it because the Dehradun police wants to make a case against riding animals? Tell everyone to drive cars and bikes instead, and thus not be cruel to animals?
Or it is because they think a petrol pump named after Shaktiman will keep the mare's memory alive, and serve as a reminder of what some inhuman people did to the poor animal?
But then, what was the name of the petrol pump you last visited?
Or is it because they think they'll be appreciated in the long-run for being so thoughtful and keeping her memory alive?
Actually, this seems most likely. Only that they are horribly wrong. It's a case of animal cruelty, and a more befitting tribute would perhaps be to do something for the mare's ilk. Even naming an animal shelter would be so much better than naming a petrol pump!
But, before we let you give your opinion on this brilliant tribute, we must share how this Twitter user very strongly opposed the idea.
@ANI_news Petrol pump named after Police horse Shaktiman instead of martyrs or CHETAK: https://t.co/pyzWAMGZ6o pic.twitter.com/lbrzGzsyIA

— newsanalysisindia (@newsanalysisind) April 28, 2016