Every Monday, Wednesday and Friday for the past year, a group of boys, aged 13-16 years old, wait for two coaches and a man in a coat to arrive with a net full of footballs. The teenagers are standing in a neat horizontal line over a green field scribbled with dew. As the men walk towards them, smiles break their faces, like the sun on a misty Delhi morning, and the line stirs to life. Within minutes, they are running between cones, dribbling past them and passing between them. It's an amateur round of football, but it's genuine - played with the heart than the feet. Tactics don't mean anything here - expression does.
This field is no man's land: one which teases the kids of the freedom that lies beyond the imposing barbed wires while reminding them of the captivity in the adjoining dormitories. At one end, there's a towering gate with massive bolts, echoing and shielding the cries heard at any football game. At the other, a big blank wall.
This is not just another football game - and these are not just any other kids - they range from, in the words of the facility's superintendent, "pickpockets to murderers".
This is the Juvenile Observation Home for boys in Sewa Kutir - and what we're witnessing is not just another football training session.
---------------------------
Anuj Gupta, Vinod Singh Shah and Satender Bhati treat the group like any other - maybe that's their strongest point - the ability to see past their juvenile records and train them with untapped energy and enthusiasm in a sport that has enthralled the world but escaped India when it comes to the big-time.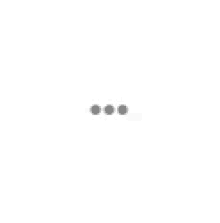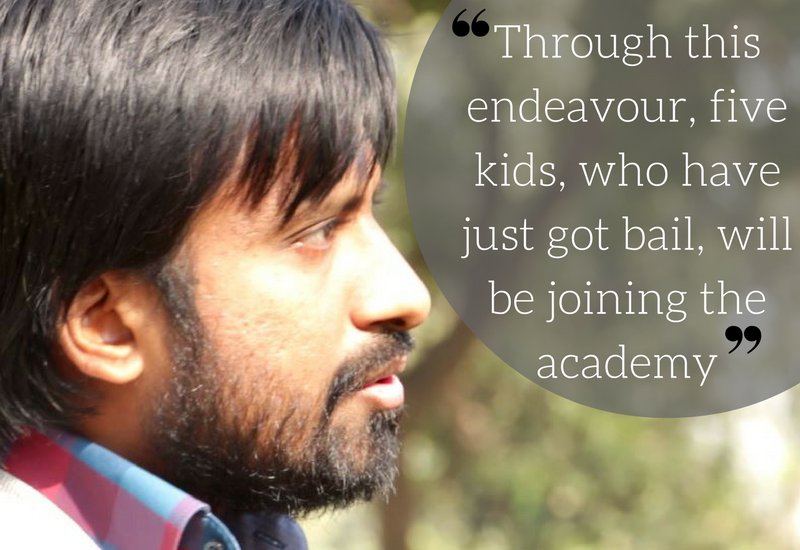 Gupta, Singh and Bhati are all part of Sudeva, an NGO which works with some of the biggest sports associations and brands. They have teams in the I-League's U18 and second division. As Gupta, the founder of Sudeva puts it, these sessions are meant to create a direct pipeline of talent into the organisation's teams - and into India's massive sporting cycle, where many get lost and the few who are found can earn money and fame.
"When I started Sudeva, I asked myself: am I able to find sporting talent from all spheres of the community? We've seen examples of adults released from prisons in America and making it big in sport. But I wanted to start young - if I find one kid who can go on to play professionally, it would set a huge example. One of the main reasons for these youngsters committing crimes is money and if I can, through sport, manage to solve this need, it will stop them from reverting to other methods. When these guys are released I want to give them food, accommodation and sporting knowledge, along with one vocational course. I want to keep them together," 34-year-old Gupta explained.
His road-map is simple: 
"Through this endeavour, five kids, who have just got bail, will be joining the academy. We will pay for their travel and training - two days of football and one day of yoga. In six odd months, we'll have enough kids to make a team and play them in a competition at some level. Initially the pull for them is always money - and then, slowly, they will realise they can develop and make a life through sport," Gupta added.
----------------------------------------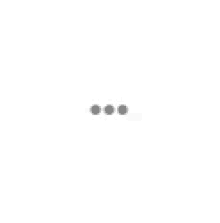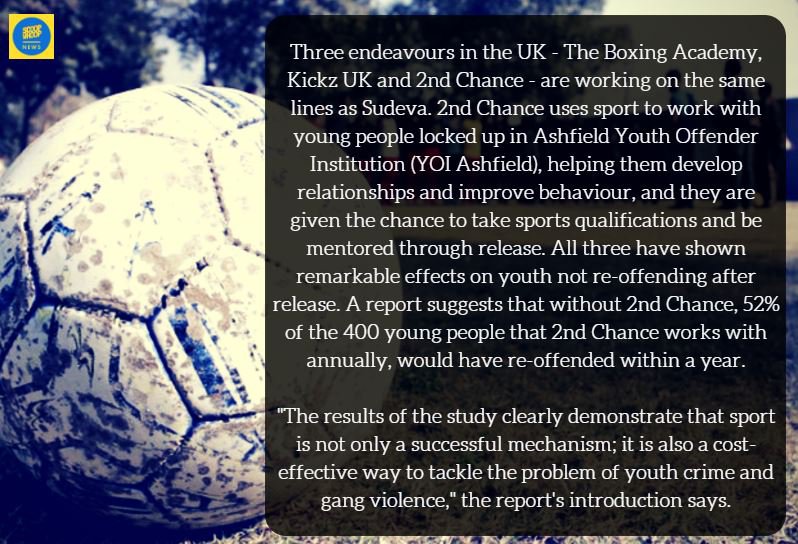 Satender himself is a product of this practice. Just 18-years-old now, he found himself in the same juvenile home in Sewa Kutir a couple years back. After his release, he met Gupta, who made him the link between the outside world and the juvenile home. 
"Main inhein samajh sakta hun (I can understand the kids). Main inhe keh sakta hun ke idhar rehne ke bawajood itna achha kaam kar raha hun, toh tum bhi kar sakte ho (If I can do good work despite having spent time in the juvenile home, then you can too). Mujhe salary bhi milti hai aur aaj main ek achhe insaan ki tarah reh raha hun (I get a salary as well [from Sudeva] and am living life like a decent human being)," Satender says, wrapped in a bright blue jacket - looking fit, well fed, and enthusiastic about his prospects in life after a "dark period". It's a transformation that sets an example for the inmates he meets: he's a unique combination of liaison and inspiration.
But then there's the other side of the coin. For every Satender, there are a dozen children who go AWOL: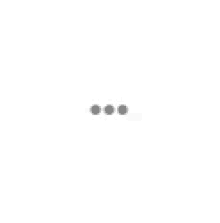 "One of the kids was so good at the sport that we really wanted him to join the academy. He picked up on everything, from the basics to the more complicated techniques. He would be the one who would bring children together to the field to play football. But his crime was quite severe and had forced his parents to leave the locality where they were staying. It was very difficult to track him after that. We can't find him now...," Singh, who has played as goalkeeper for Delhi at national level, says.
------------------------------
ScoopWhoop spoke with three children before they started playing... all three of them used to play football at Prayas Juvenile Aid Centre as well - another juvenile home where Sudeva trains kids.
One of them, around 15-years-old, is a prime example of what Sudeva wants to achieve through their methods.
"Sahi lagta hai football. Hum kabhi bahar khele nahin the woh seekh gaye. Maine yahaan kam se kam dus goal maarein hai. Prayas mein bandh tha wahaan pe bhi yeh sir aate the aur main khelta tha, wahaan pe bhi bohot goal maare maine. Bahar khelunga toh anubhav milega, pata chalega main kaisa tha, aur kaisa ban gaya (I love football. Had never played it outside but have learned the game now. I've scored ten goals here and scored many when I was locked up in Prayas as well. When I play outside, I'll get experience and know how I was, and what I have become)"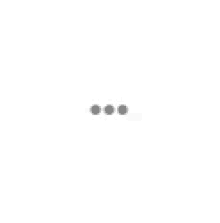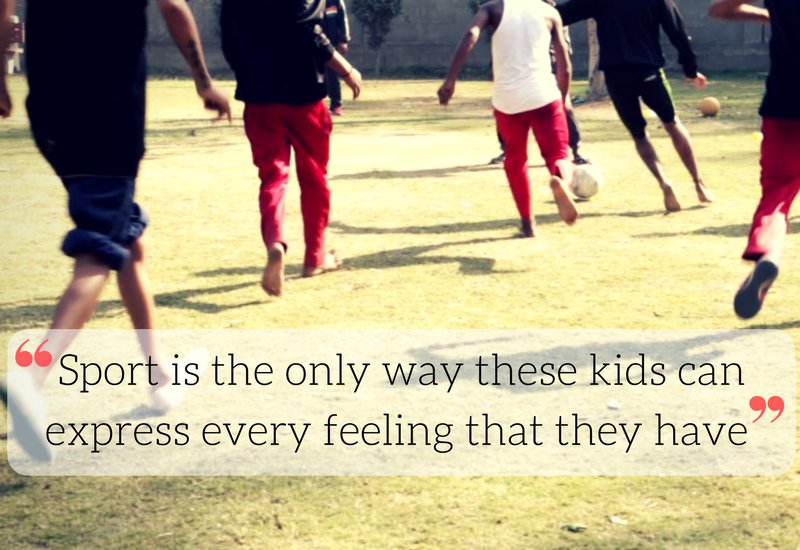 It's clear that taking football to a juvenile home is just the start of a long arduous process - one which starts with introducing the sport to kids who may have never played it, then training them to get better, before picking the best ones and then finally, convincing them to continue playing. 
But more importantly - Sudeva is giving juvenile home kids the chance to restart life, to reform, to change.
As the superintendent of the Sewa Kutir facility said, "Sport is the only way these kids can express every feeling that they have."