It's seldom that an actor manages to stay unconventional throughout his career and yet achieve both glaring success and massive respect. And among the few actors in Hindi cinema to have achieved this feat, Naseeruddin Shah's name stands tall and proud. Actor-par-excellence, he's undoubtedly one of Indian cinema's finest performers, or perhaps the finest ever.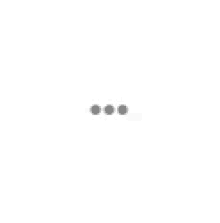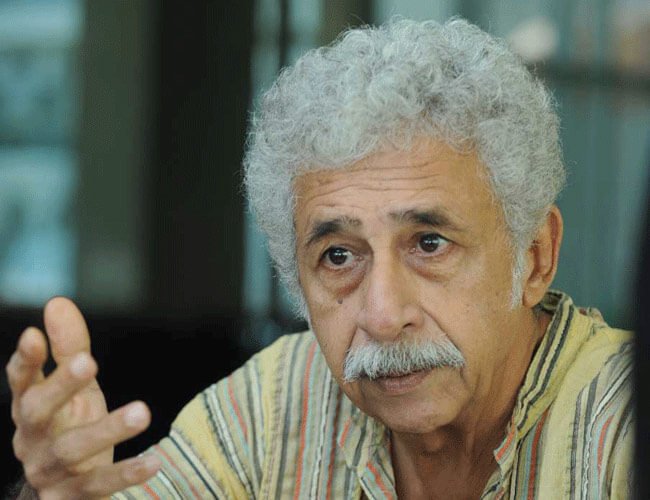 Back in 1975, Shyam Benegal made Nishant starring almost every powerhouse actor present in Hindi movies. There were Shabana Azmi, Girish Karnad, Smita Patil, Anant Nag and Amrish Puri as part of the cast. The film went on the bag the National Film Award that year and was invited to London Film Festival and Melbourne International Film Festival in the following years. It won laurels for every member of the cast and is till date considered a landmark film for parallel cinema in India. And it is with this exact film that the world first discovered the talent of Naseeruddin Shah.
Since then, there's been no stopping Naseer Saab's talent. He's credited for having majorly spearheaded the parallel cinema movement with his work in films such as Sparsh, Masoom, Mirch Masala, Ardh Satya, Albert Pinto Ko Gussa Kyon Ata Hai, Mandi and of course Jaane Bhi Do Yaaro. No wonder then that he's been honoured with Padma Shri and Padma Bhushan for his outstanding contribution to Indian cinema. 
As the veteran actor turns 66 today, here's looking back at a career filled with powerhouse performances, multiple awards and above all, a passion like no other. 
He's not just talented but also versatile 
For a man who's been in the industry for over 40 years now, there's no denying that Naseer Saab is both talented and versatile. We've hated him as the lecherous subedar in Mirch Masala, laughed at his antics in Jaane Bhi Do Yaaro and enjoyed his antics as wannabe Rajni in The Dirty Picture. And we've also whistled at his moves in Tirchi Topi Wale in Tridev! Yes, the man can do all kinds of roles and do them well.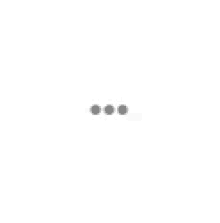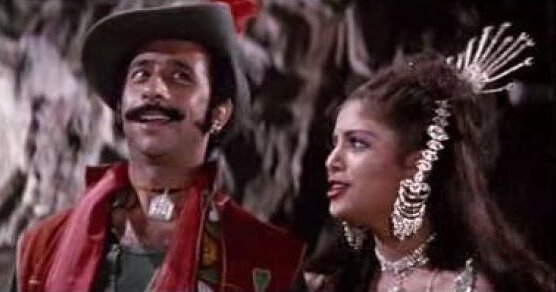 His honesty is worth applauding!
He's one of the rare actors to have always struck a balance between content-driven and commercial cinema. And he's perhaps the only one to have openly confessed his hefty pay package as the motivation behind doing films such as China Gate, Asambhav, Jackpot and Welcome Back. If you're ever in doubts about his honest opinions, pick up his memoir And Then One Day and we promise you'll have no doubts left!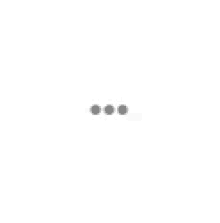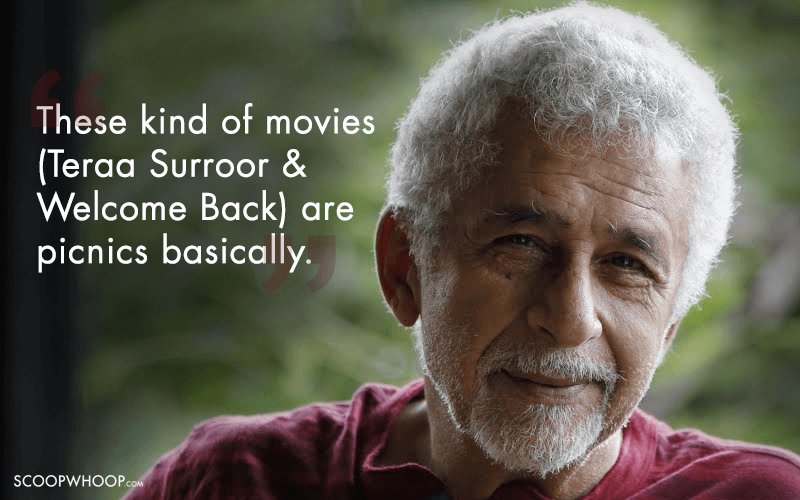 He went International with his work before it became the cool thing!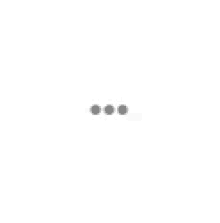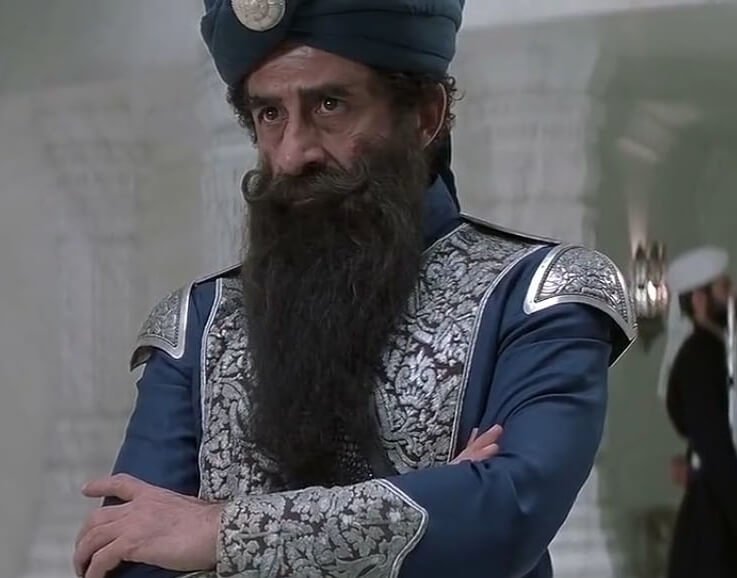 He's proved his mettle in Pakistani cinema too
We all know about Fawad Khan and the likes entering Hindi cinema but do we know that Naseer has been one of the few Indian actors to work in mainstream Pakistani movies? He started out with a cameo appearance in the highly-acclaimed Khuda Ke Liye and then worked in Zinda Bhaag as the main protagonist.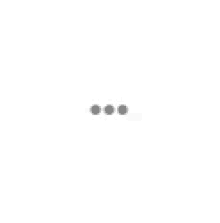 His passion for theatre has never faded
For an actor who started out with theatre, Naseer's passion for it has never taken a sabbatical. Throughout his career, despite his schedules taking him from one movie to another, he's consistently performed on stage and directed actors. His theatre group Motley Productions continues to be one of the most respected theatre groups in the country.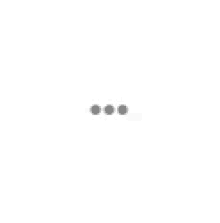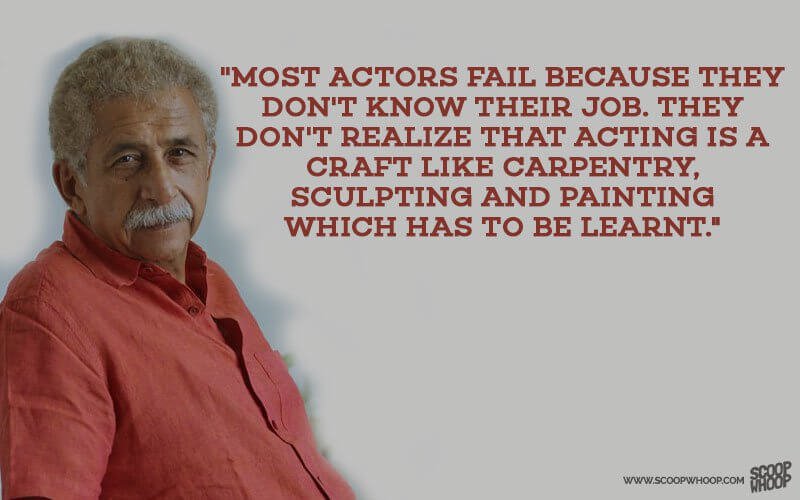 His venture into television was also a class apart
One of the first popular film actors to work in mainstream television, Naseer Saab chose to actually act on TV instead of merely hosting and judging reality shows. His portrayal of Mirza Ghalib director by Gulzar is still considered one of this best works. He's also played the Maratha King Shivaji in the series Bharat Ek Khoj back in the 80s.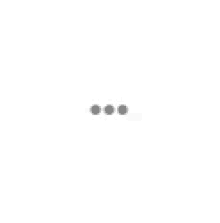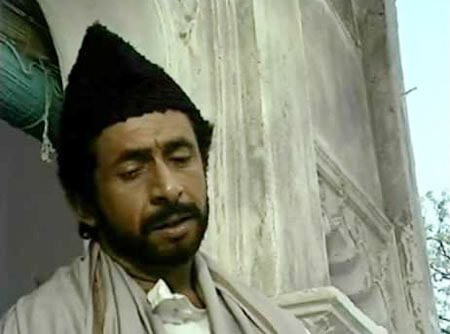 Thank you for all your wonderful work, Naseer Saab! And here's to many more gems of your massive talent.