March 20, 2011. That was the last time Yuvraj Singh went past the three figure mark in ODIs. It was the tournament that established his reputation as not just a Indian great, but as a one-day international legend. His performances in India's World Cup winning campaign were one for the ages.
Since then, it has been a story of one comeback after another for Yuvraj. In cricket and more importantly, in life. A flash of brilliance here, a dose of nostalgia there, but he never really established him in the Indian side since.
Nearly six years since that match-winning century, Yuvraj rolled back the years in Cuttack against his favourite opponent and how.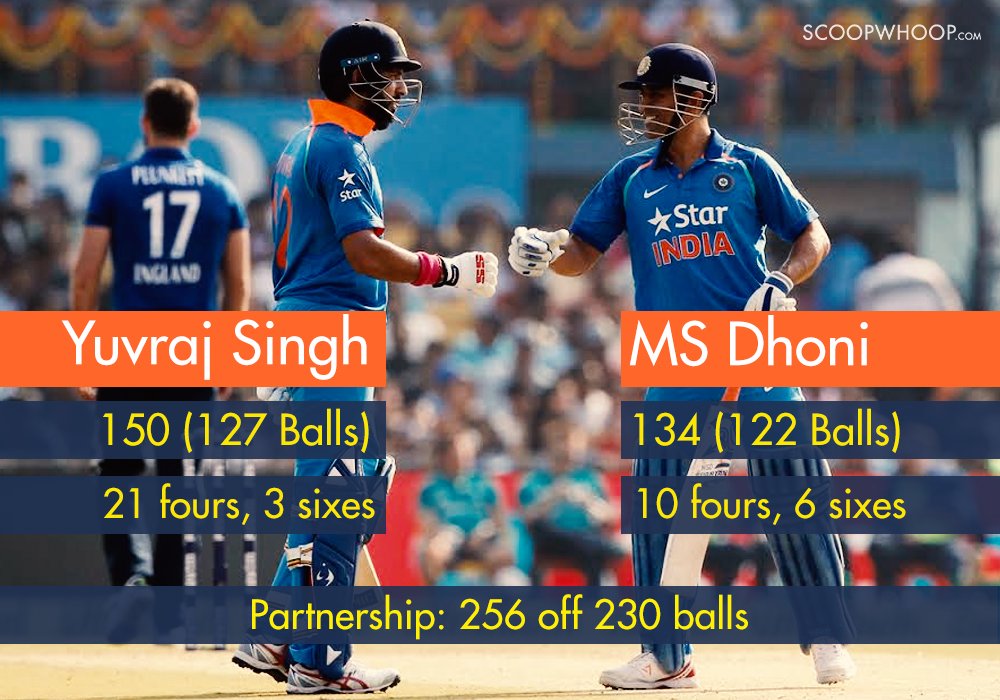 For a proven match-winner in the limited overs format, Yuvraj's highest score was the unbeaten 139 he made in Sydney in 2009. In a day and age where double centuries are not uncommon, his lack of a huge ODI score was a blot. And against England, he righted that wrong in the only way he knows how -- by delivering under pressure.
At 25 for 3, on a good batting pitch, India were in trouble. But the pressure on Yuvraj was not just in terms of what the scoreboard read when Virat Kohli was dismissed. It was the pressing need to deliver on the big stage for India, to justify his position in the batting lineup. He is no spring chicken. Eyebrows were raised, and rightly so, when the selectors named him in the ODI squad. One on hand, Indian cricket started looking forward to the 2019 World Cup and on the other, they named a 35-year-old with a reputation that preceded his numbers. It seemed counter-intuitive.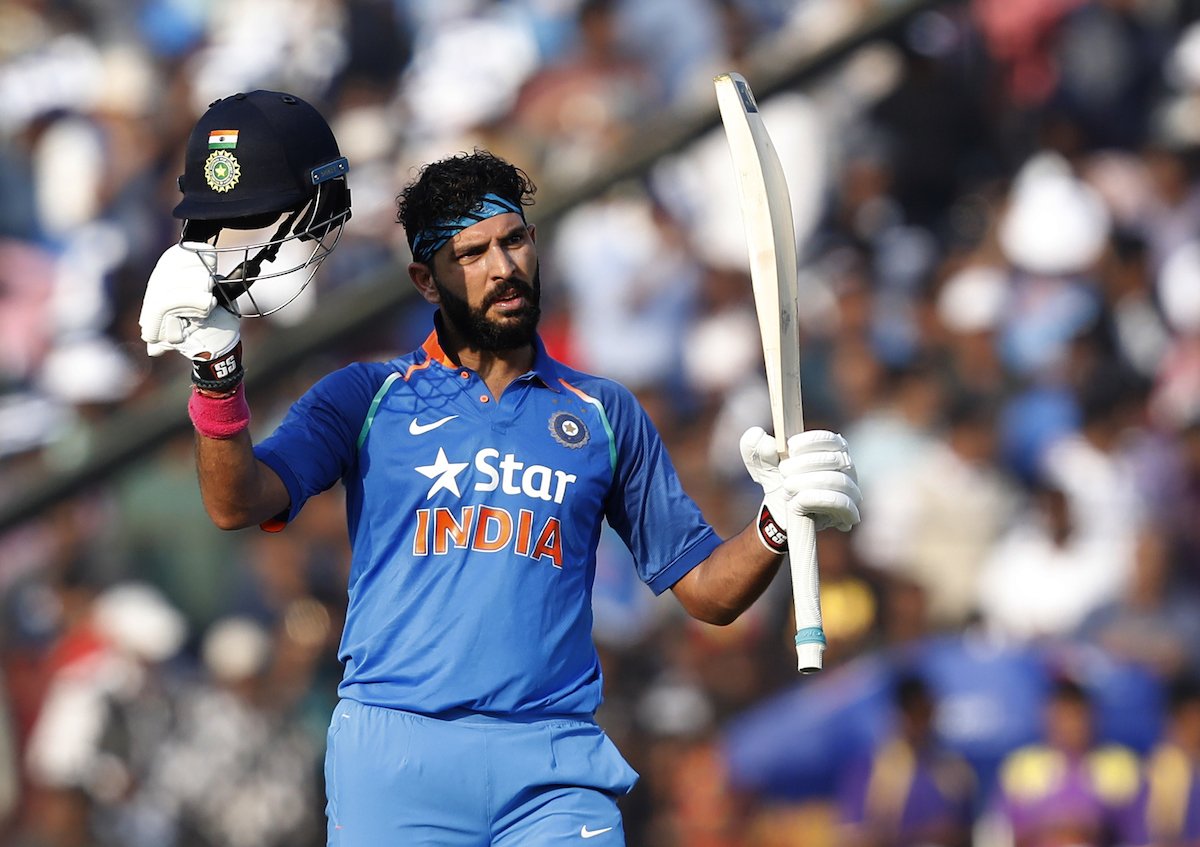 But the man from Punjab justified the faith kept in him by his new captain.
Yuvraj looks the fittest he has been since the World Cup. For a 35-year-old, playing in the heat, running hard between wickets alongside MS Dhoni, Yuvraj did not cramp once during the 127-ball innings.
Trademark Yuvraj Singh Cover Drive

Watching this on loop ! #INDvENG pic.twitter.com/IpOcZlVhTJ— Virat Kohli🇮🇳 (@ViratsArmy) January 19, 2017
His striking power was brutal as always. The elbow stayed high after the straight drives. The swagger was back in follow-through. The trademark front-foot pull was as powerful as one remembers. The boundaries were breached - 24 times - in style. With MS Dhoni taking his time to settle down, Yuvraj played the aggressor. When the partnership between the two reached 100, Yuvraj had scored 73 of them.
This was precisely the reason Yuvraj was brought into the side. Kohli had said on the eve of the first ODI against England in Pune
"We cannot leave so much burden on MS alone in the middle order. I am willing to take responsibility up the order, but there needs to be one more guy with him down the order in case the top order doesn't fire. If the top order doesn't fire, you are left with MS alone and he is guiding the youngsters more often than not, which is fine if you have 15-20 games till a big tournament. When you have only three games, you need to make sure the guys who have been picked are in good form. That's why I said we brought in Yuvi, to have the best batting combination possible, and Yuvi has had a very good first-class season. This just gives the team much more balance in the middle and lower-middle order with MS and Yuvi."
That's exactly what happened in the second ODI. Without Yuvraj, Dhoni would have been left shepherding the youngsters. But with Yuvraj, Dhoni took a step back and watched the madness unfold.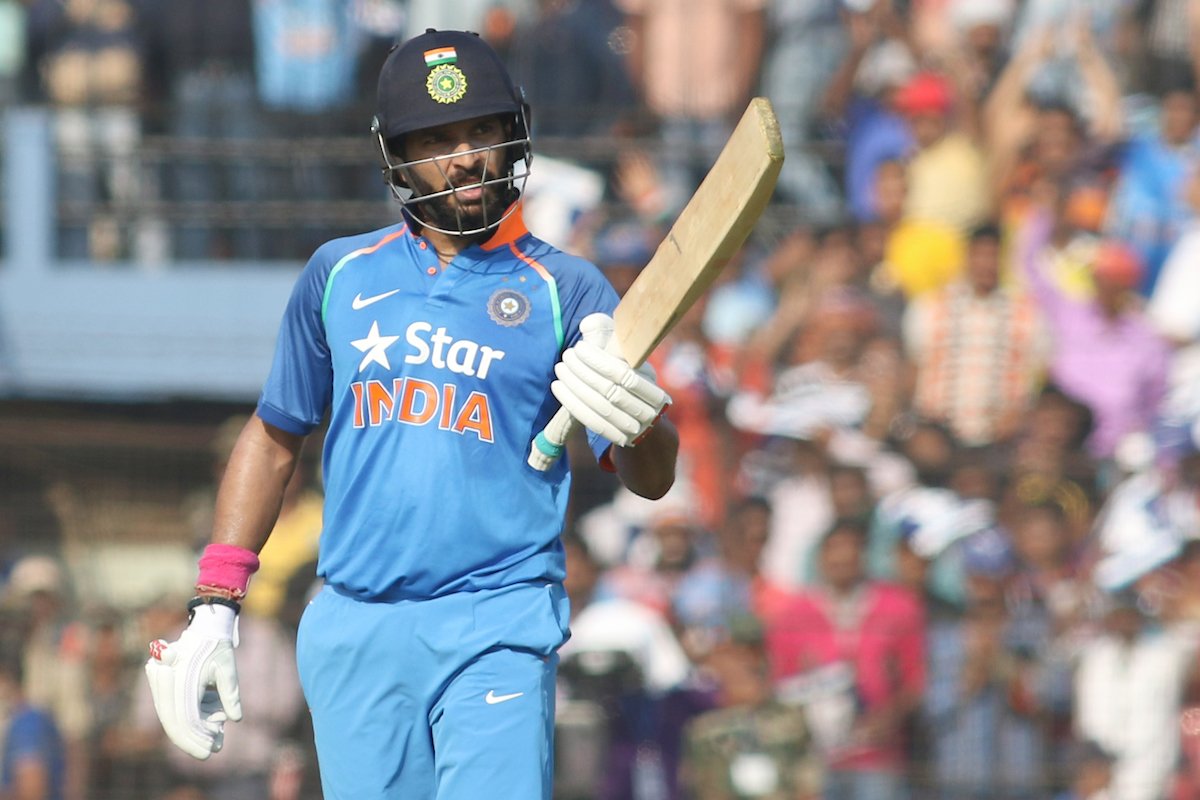 The highlight of Yuvraj's innings -- and there were a lot of them -- was his celebration after reaching the hundred. We are used to seeing Yuvraj roar and scream on reaching landmarks. But in Cuttack, it was a mix of relief and raw emotion. He looked up to the sky, arms raised and let the moment sink in. He thumped his chest with the bat handle. He was visibly welling up with pride.
An emotional moment for @YUVSTRONG12 as he brings up his 14th ODI ton #TeamIndia #INDvENG @Paytm pic.twitter.com/cX88vImx0v

— BCCI (@BCCI) January 19, 2017
Yuvraj, without much hesitation, called this his best ODI century.
"Yes, probably, one of my best innings. The last time I got a hundred was the 2011 World Cup. It's been a long time. And to get 150 has been a target for a long time. I just wanted to play down the ground and not take much risk. I have been hitting the ball well in the whole domestic season. I had a word with Sanjay Bangar, I told him the way I am hitting the ball I will go big."
And go big he did. Without getting carried away, this was one wonderful innings on a pitch where 740-plus runs were scored. One good innings, does not a comeback make. But what it does show is Yuvraj has laid down the marker for another innings in the ODIs. He repeatedly mentioned his good form in the domestic circuit and his new fitness regime -- signs that he is in it for the long haul, and not just a flash in the pan.
2019 might still be a dream too far-fetched, but Yuvraj has earned himself a seat on the flight to United Kingdom for the Champions Trophy.