Another one gone, so long. 
Chris Cornell just bit the bullet, a bullet you'd think would've scampered off in the face of a single banshee bellow from his voice. Who knows, maybe it got him while his back was turned. Whatever it was, it sucks.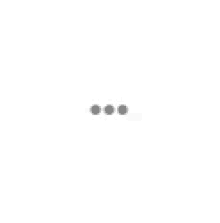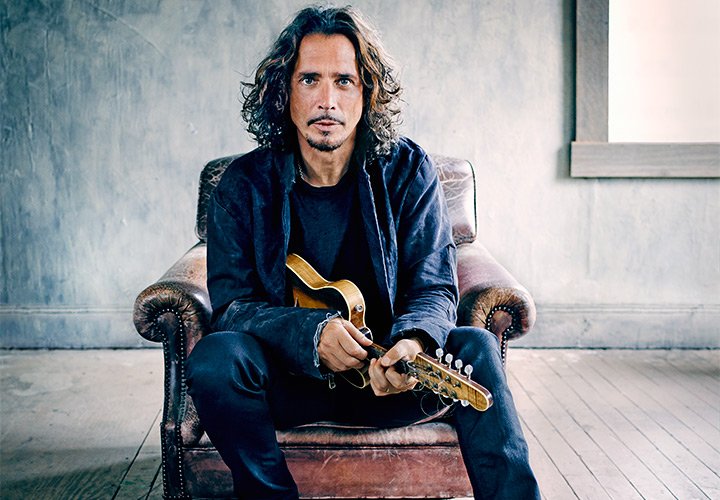 For the uninitiated, Cornell was the lead singer for the bands Soundgarden, Audioslave, and his own solo whims and fancies. Oh, and he shared vocal duties with Eddie Vedder in the band Temple of the Dog, the prodigious progeny of the Seattle grunge scene all in itself. But more on that soon. For now, it'd be better to kind of barrell roll through the many stages of grief with a few words.
Chris Cornell was crucial to the development of grunge music as a genre.
He formed Soundgarden along with Hiro Yamamoto and Kim Thayil in 1984, and the band - along with other seminal acts like Nirvana, Pearl Jam and Alice in Chains - became one of the architects and founding fathers of the entire grunge music scene of the 90s. I know we're all listening to Black Hole Sun right now, but damn, they were a lot more than that one song. They were gritty, they were hardcore, and so much of that came from the unbelievable vocal delivery of Chris himself.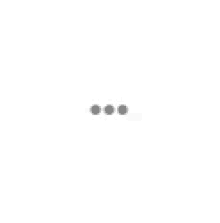 He had an incredible 4-octave range and complete balls-to-the-wall vocal delivery. 
Every time you thought he was gonna pop the jugular, he sang higher, but the power in his voice didn't wane. In a grunge scene where immaculate vocal ability wasn't exactly of paramount importance, Cornell proved that you could be a bit of everything. You could be a hardman, a grating punk, a sex symbol and a fucking blessed singer and songwriter. I say blessed 'cos when he hit those notes in the song Hunger Strike, Temple of the Dog's magnum opus, I was transformed, if only for the length of the song. Listen to it here, you'll know what I'm talking about.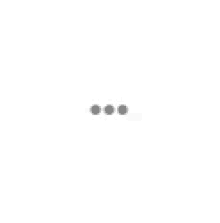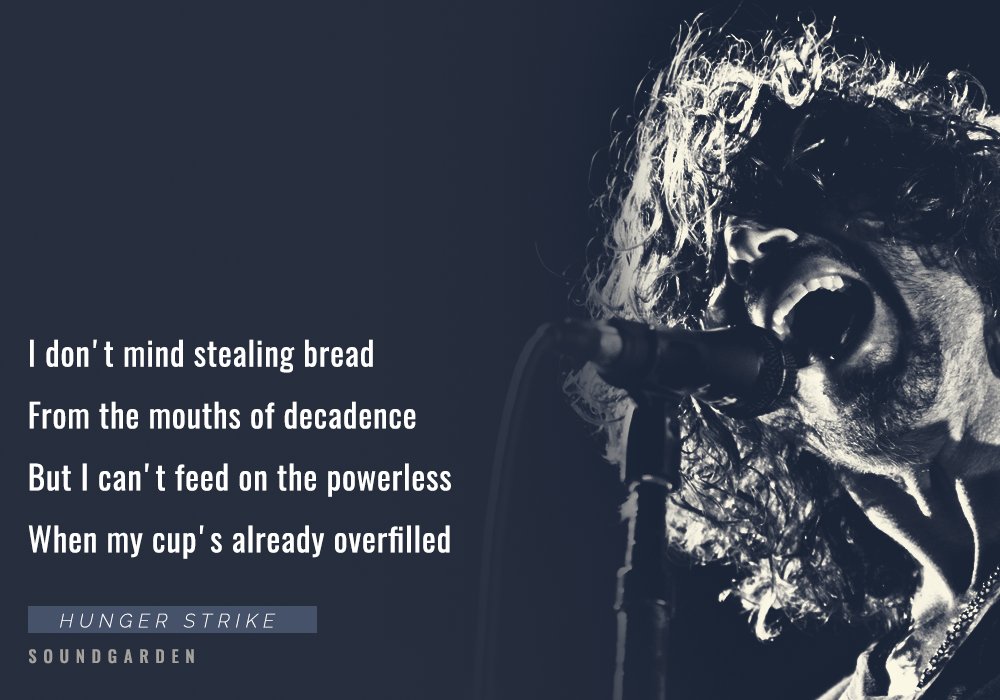 He managed multiple styles of music with equal ease, and equal passion.
With Audioslave, he went for a more polished sound, at least compared to Soundgarden. This supergroup, that also consisted of members from Rage Against The Machine, belted out massively influential singles that we were all listening to. It was like a second coming, like he was the voice of the previous generation's anger and fury with Soundgarden, and then he became the voice of our own generation in school with Audioslave. It was perfect, it was like he never left. And now he has.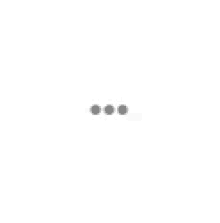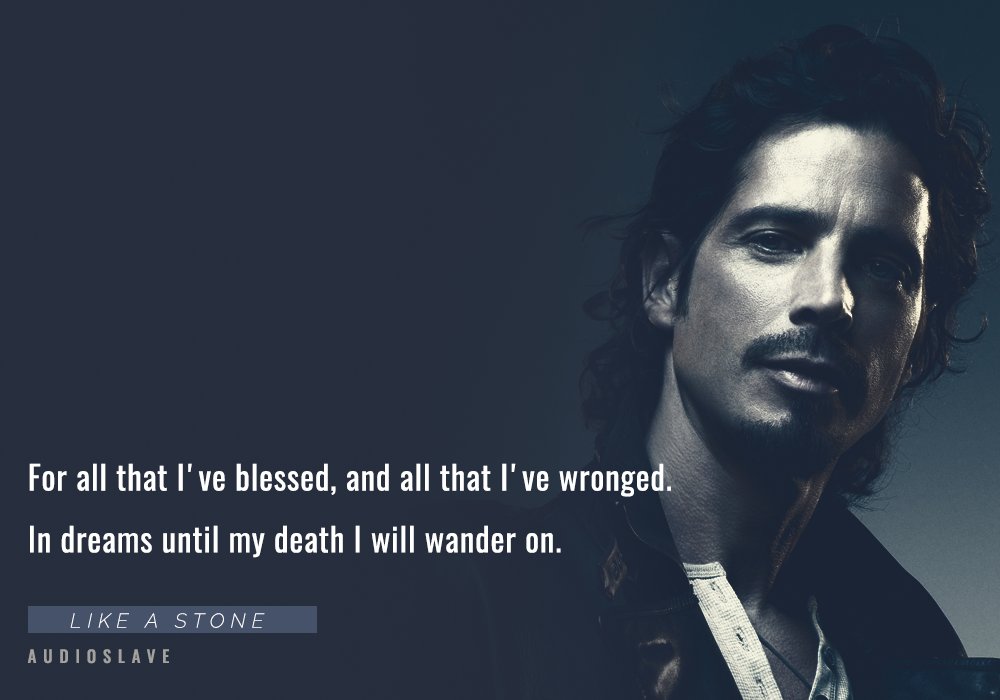 His music made bad days good and good days fuckin' great.
This man shaped our youth, well for a lot of us anyway. We listened to his voice while punching a pillow after a particularly galling school day. We listened to him while sippin' on cervezas and just hanging out. Hell, some of us might've even listened to him while trying to fall asleep. I mean, Burden in my Hand is a great song to drift off to. What I'm trying to say is, this is an artist we grew up with, he was like Hendrix for the 60s flower children or like The Pet Shop Boys for the 80s techno heads. Knowing he's gone tends to colour a lot of those memories differently, like a rainbow in black and white.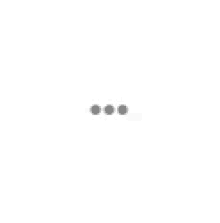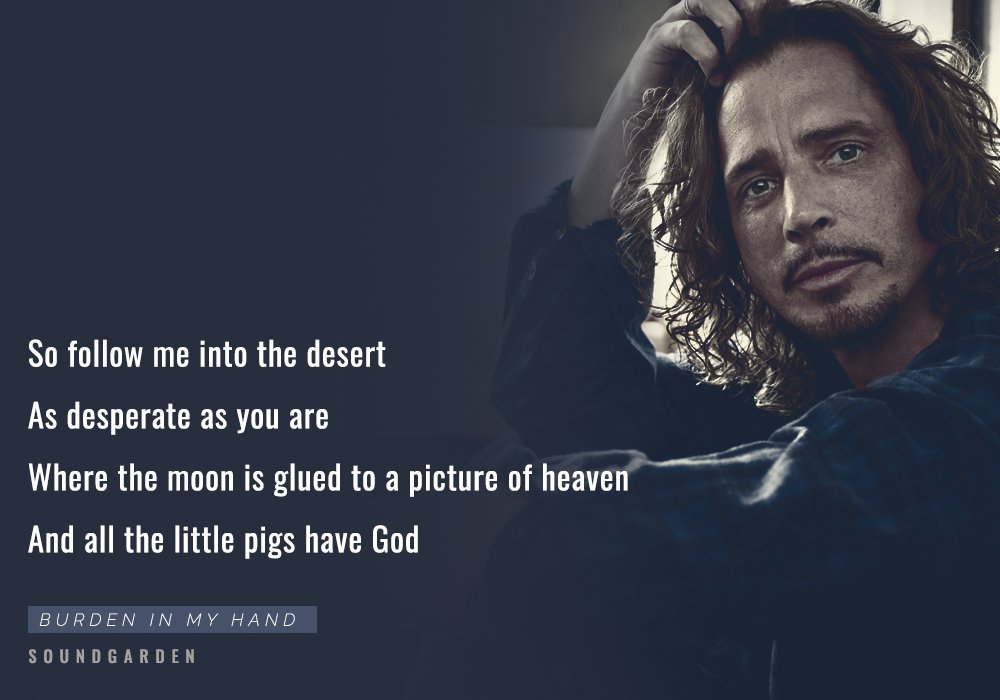 While speaking to Rolling Stone last year about great artists dying young, Cornell said, "You don't know how important someone is to you as an artistic influence until suddenly they're gone. I've certainly been having that experience. It's kind of equal parts sad and celebratory to think, 'Awesome. What an amazing career he had and what an amazing legacy he's left for everybody.'" 
The last couple of years have snatched up the likes of Jack Bruce of Cream, Lou Reed of The Velvet Underground, David Bowie - and now Chris Cornell, and it stings. It's a strange kind of pain. But go give Rusty Cage or Spoonman a full-volume spin and piss off your neighbours, man. I'm pretty sure that'd put a smile on his face. That'd put a smile on all their faces.