In a viral video, a Kurdish man was captured smashing a cake on the face of a pet lion, rescued as a cub.
The video uploaded by a Twitter user, Daniel Schneider, is receiving a lot of outrage on social media for 'animal abuse'.
Each and every person in this video needs to have cake thrown in their face, every hour on the hour, for the rest of their lives. Why is it so hard to #BeKindToAnimals? pic.twitter.com/JT0QSfEMLd

— Daniel Schneider (@BiologistDan) June 4, 2019
In the video, a group of men is sitting around the lion, when one of them throws an entire cake on the face of the animal. As the humans around it laugh, the lion shakes its head and tries to get the cake off its face.
Netizens are furious over the actions of the men in the video-
Absolutely infuriating! 🤬🤬🤬😡😡😡 that poor baby

— Alyssa Horton (Alvarez) (@lyssamarie2510) June 6, 2019
I'm genuinely embarrassed by my own species

— Sonja Janssens (@sonneschijn1983) June 5, 2019
Makes me sick to my stomach. If the animal attacked them it would be put down. Where is the justice??

— MissD (@MissD_02) June 5, 2019
Pathetic bunch of loser human b…. hope they Rot in hell. Sometimes I do wish karma takes the form like our own Nagin movie,watch these a… die a writhing torturous death. https://t.co/9S1qe67qTa

— Raveena Tandon (@TandonRaveena) June 12, 2019
The person smashing the cake is identified as Blend Brifkani, Head of a local NGO called the Kurdish American Cooperation Organisation and the lion is apparently known as Leo.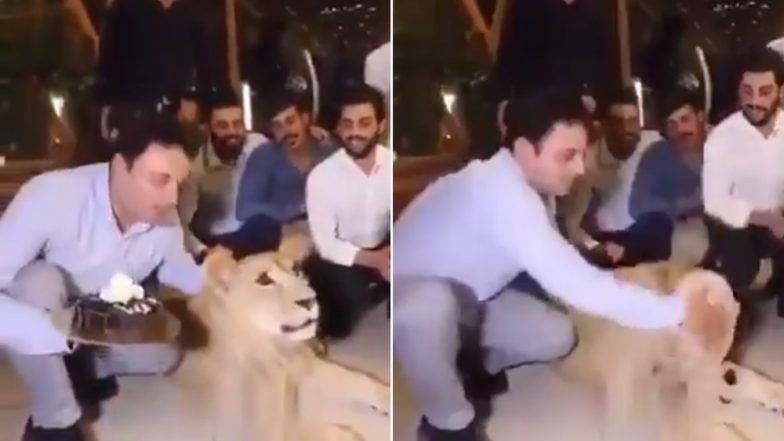 Responding to the flak around his act, Brifkani shared an Instagram post, where he apologised for letting his 'emotions of excitement' take over him. He said that the animal is a 'very best friend' of his-
I have never intentionally intended to abuse Leo, moreover, I would never want to hurt him in any way. The birthday video of me and Leo was pure emotions of overwhelmingness and excitement that I had while celebrating his birthday. He has grown to be my very best friend and I love him beyond words
Read the post here-