Ever wonder how book lovers get their 'fix'? The answer is books. And more books. But the best fix for a book soul is a quiet spot with a hardbound book with its signature old book smell and a chai (or coffee). The idea that bookworms are homebound and hardly see the sun is not so much true anymore, now they can be found crouching over a book in the book cafés that are slowly cropping up in the quiet alleys, on a mountainside, and near our homes. 
Finally, book lovers can get down to serious binge-reading with a freshly brewed coffee or a Tulsi infused chai as they find a spot by the window and soak in some sunshine in a quaint café. The concept of book cafés is catching up in India and book lovers couldn't be happier. To show you how gorgeous some of these book cafés are, here's a list of ten getaways that are getting into book lovers' bucket-lists:
1. Café Illiterati, Mcleodganj
Owned by a Belgian couple, Cafe Illiterati is every bit as enchanting as a Parisian cafe with its European vibe. With its huge open windows and seating in the balcony overlooking the mountains, wooden furniture, candles at twilight, a guitar and a piano at a quiet corner, Café Illiterati is a book lover's delight.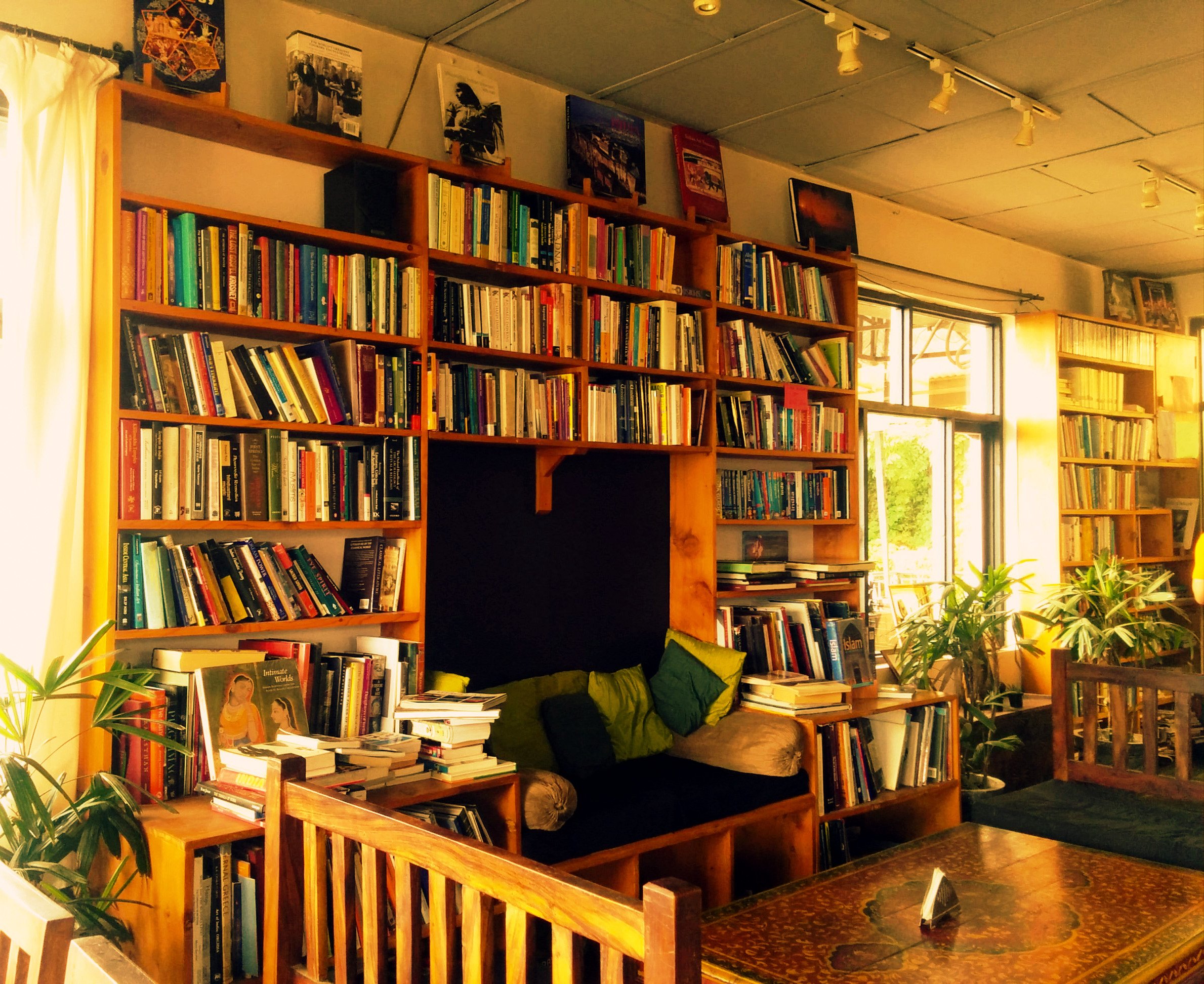 Their book collection takes up the walls from floor to ceiling and you can spend days here going through a variety of books ranging from mythology to nature.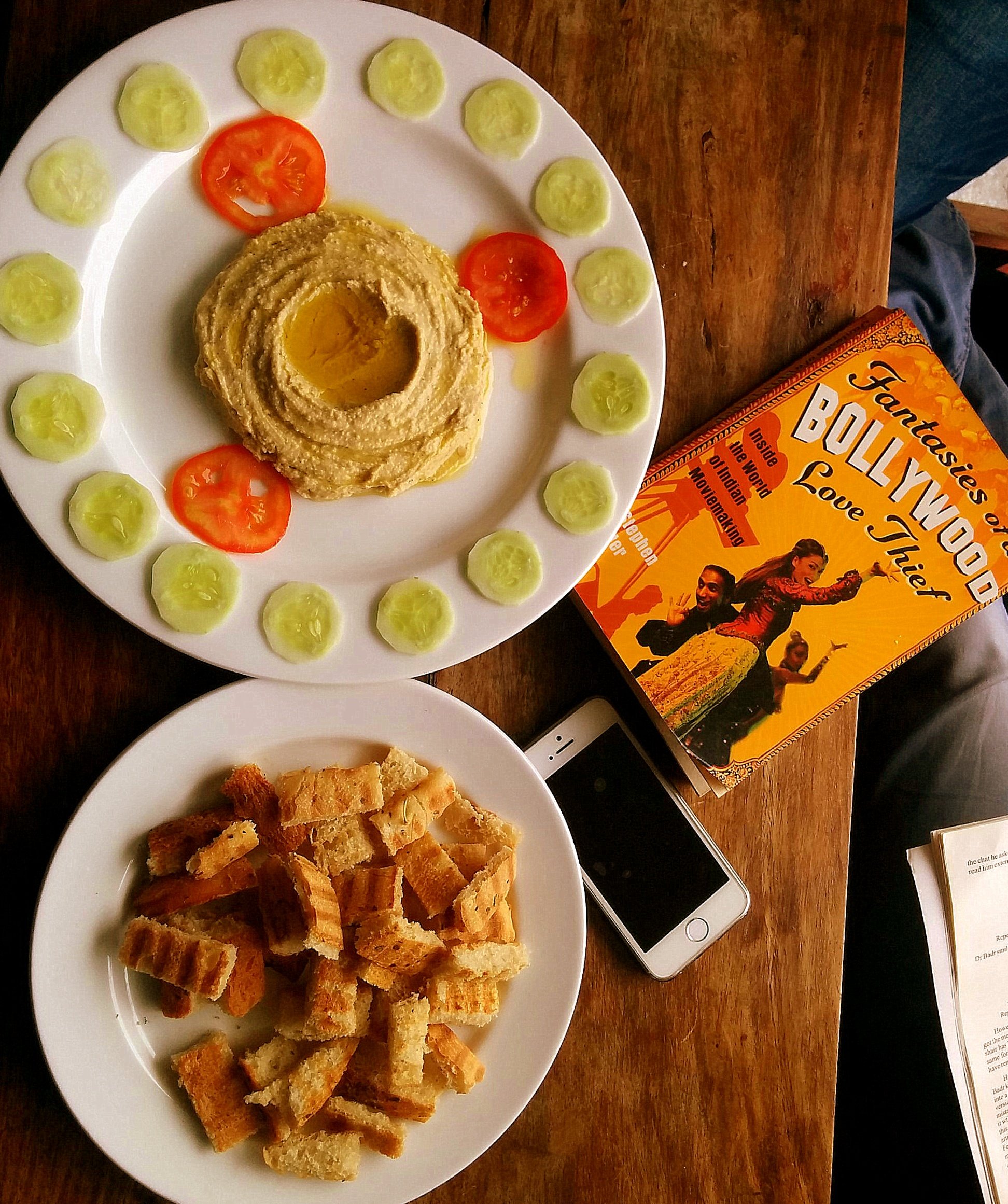 Moreover, their inviting food menu- iced teas, Penne porcini, hummus plate, pancakes, and waffles with honey butter, is simply sublime. So what's your verdict? A perfect reading spot with amazing food and a nip in the air, does it get better than this?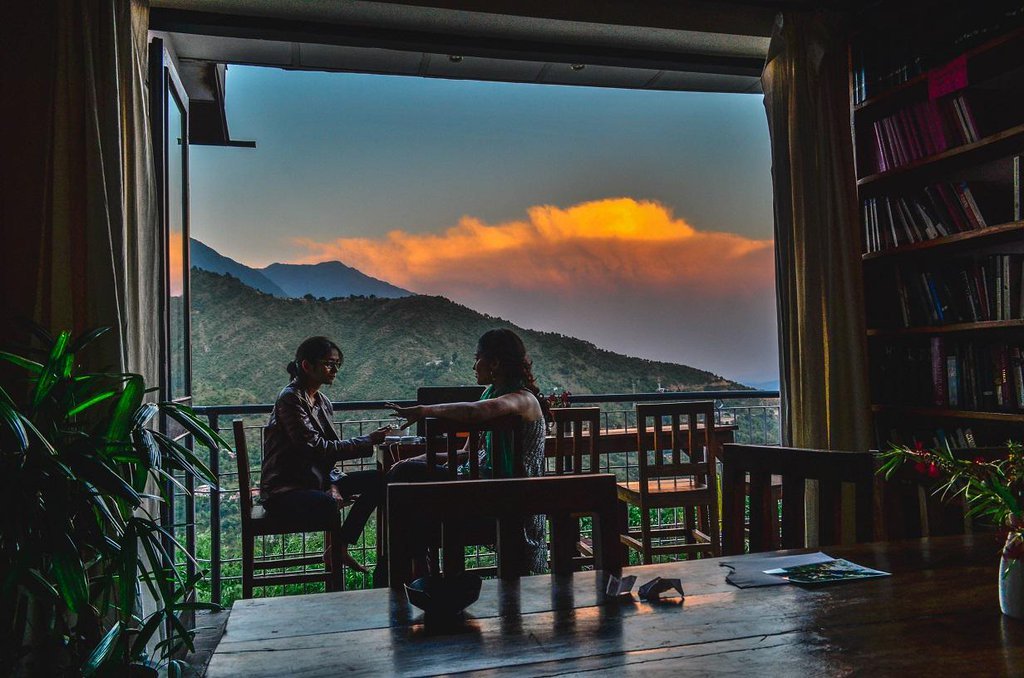 2. Leaping Windows, Andheri West, Mumbai
If you have something of a comic book and all-day breakfast mania, Leaping Windows needs to be on your bucket list. Its basement library has a huge collection of graphic novels and manga for all ages.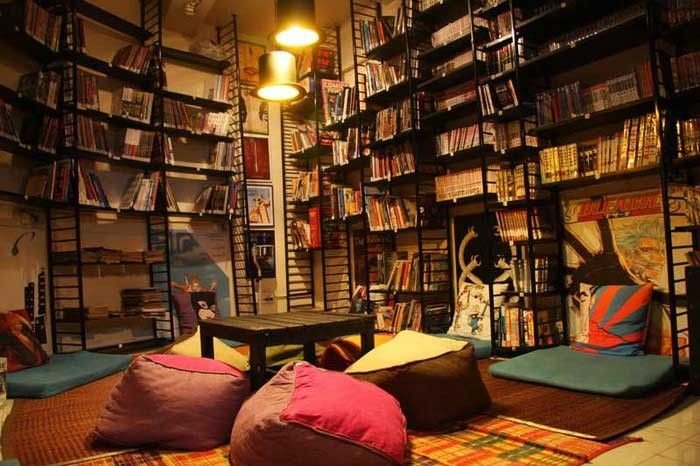 With an enchanting patio, and pouffes scattered on the floor, this café is cozy in every sense and when you combine it with its clever menu, you get the best of both worlds.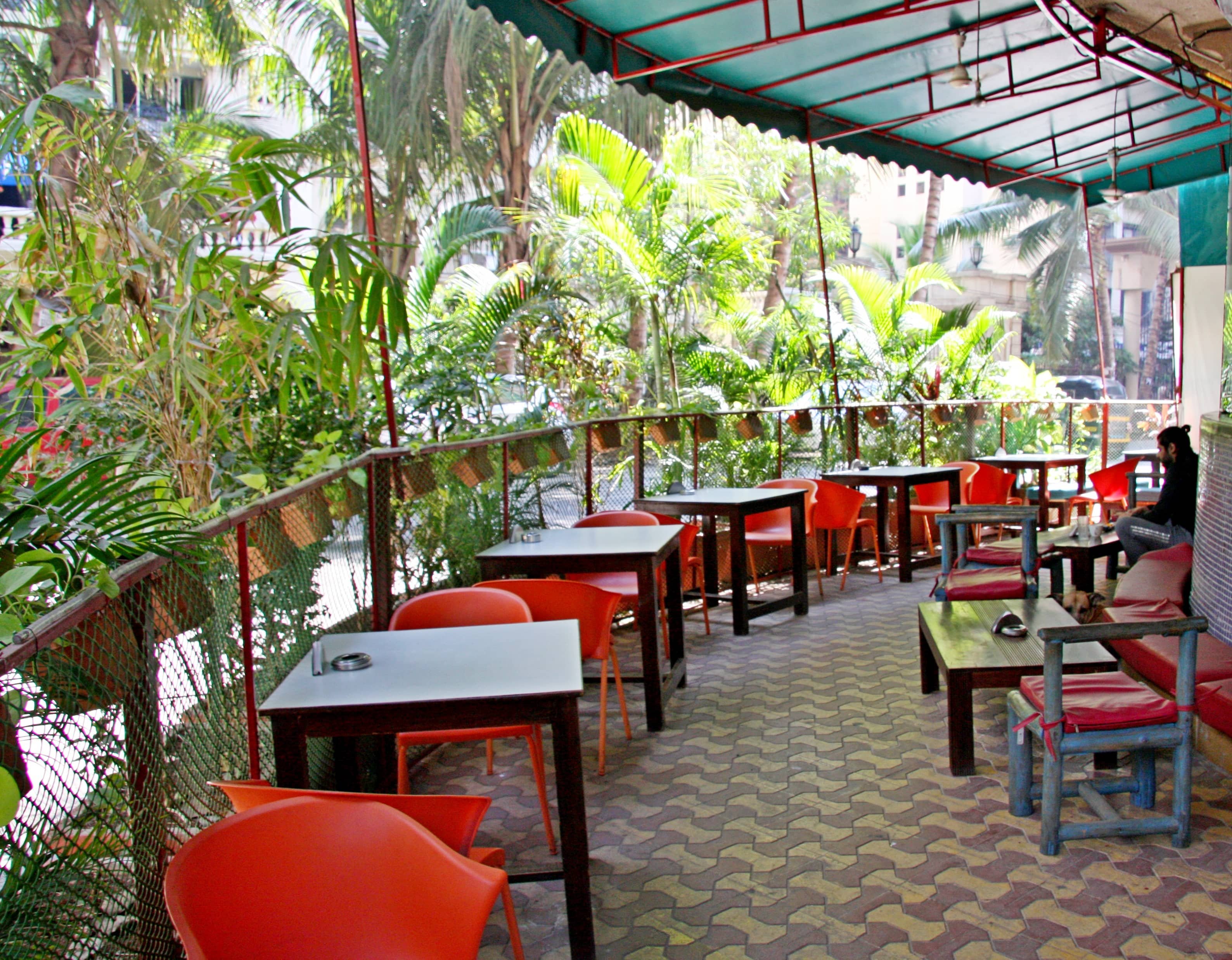 For a perfect book date, all you need to do is to flop down on a squishy cushion with a comic and order a snack from their cafe that serves cold-pressed juices, Nutella-stuffed pancakes, sugar-dusted deep-fried Oreos, and many other dreamy dishes. 
3. Café Story by Chai Break, Kolkata
Beautifully decorated, Café Story is more than a book café with its quaint little café on the floor above Elgin Road bookstore. This place has a huge library that has over 3000 titles and a café from where you can take a pick from pasta, salads, risotto, tea, coffee, and more.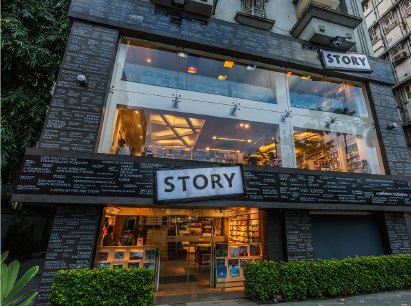 You'd also find a nice collection of board games which are simply perfect if you come here to chill with your friends and amazingly, an old typewriter for those who want to get their inner Christopher Poindexter out of themselves.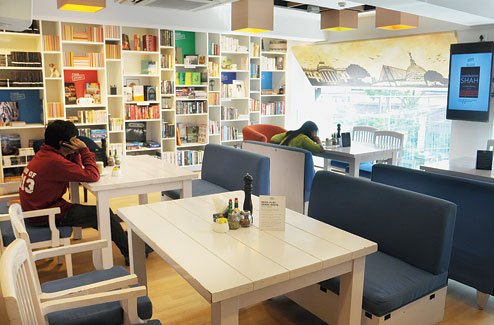 If you're the artsy type, you get access to writing and sketch pads, pencils, easels, brushes, and paints.  You can spend an entire day here reading, making art, playing games, and ordering your favorites from their amazing menu, and you'd love every bit of it.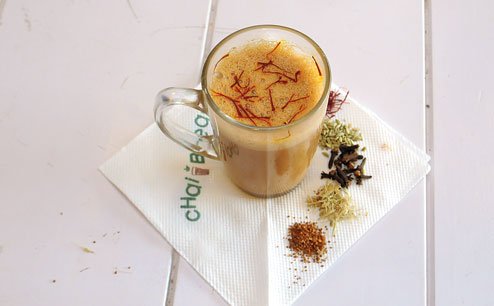 4. Literati, Calangute, Goa
Goa is more than its vibrant beaches and boho markets, and if you're a book lover out to explore Goan life, Literati is the place to hit. Set in a charming 100-year-old Portugues-styled bungalow enveloped by a lush garden, Literati Bookshop & Café is as dreamy in every sense.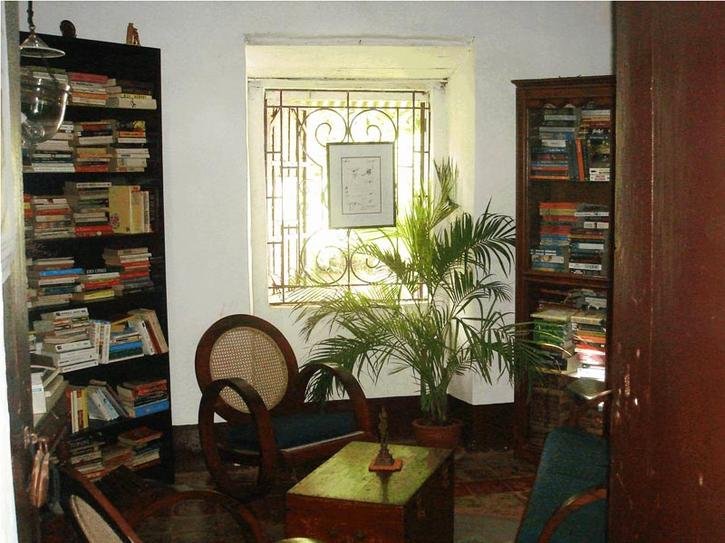 All you need to do here is to open a book in your lap, with a strong tea in your hand, and order some homemade snacks.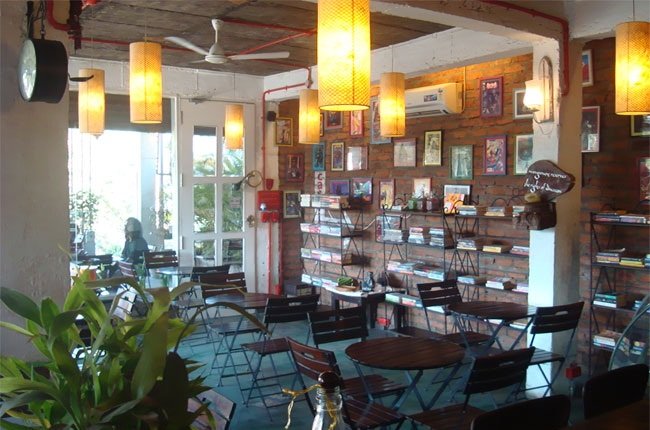 And when the twilight comes, dine on delicious Italian food in the pretty garden in the open air.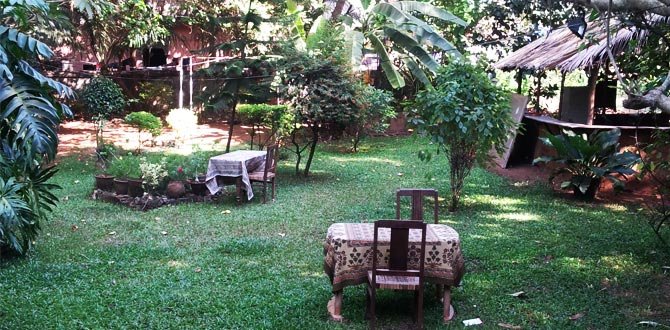 5. Cha Bar CP, Delhi
The Cha Bar in Delhi is a Saturday delight for book lovers because of its amazing menu of cakes, finger food and an Oxford bookstore that has just about any book which you have been meaning to buy. As the name suggests, the café has an extensive collection of exotic teas: Darjeeling tea, Nepal tea, jasmine, chamomile, rose, and lavender, among many.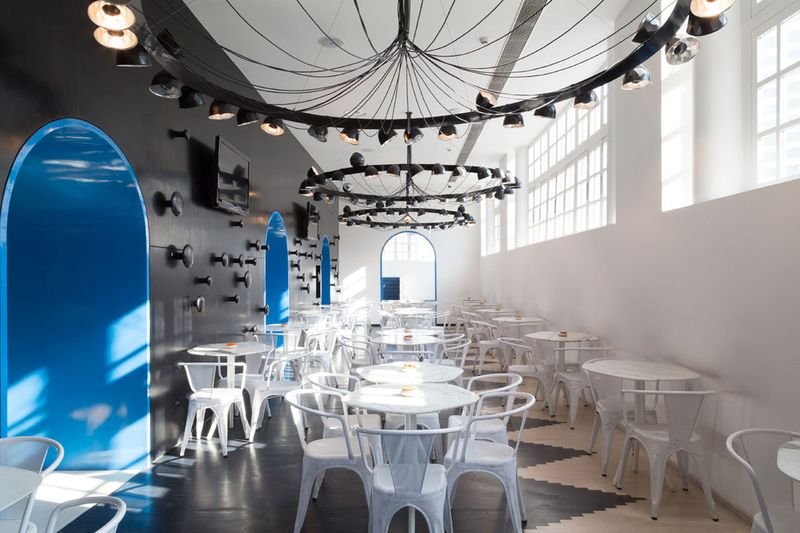 All you need to do here is to find the table you like, order tea and some cake to nibble on and get comfortable with your book. Apart from this, you can also indulge in some light book reading at the Oxford's reading corner or fill up your tote with the books that are on your 'to buy' list.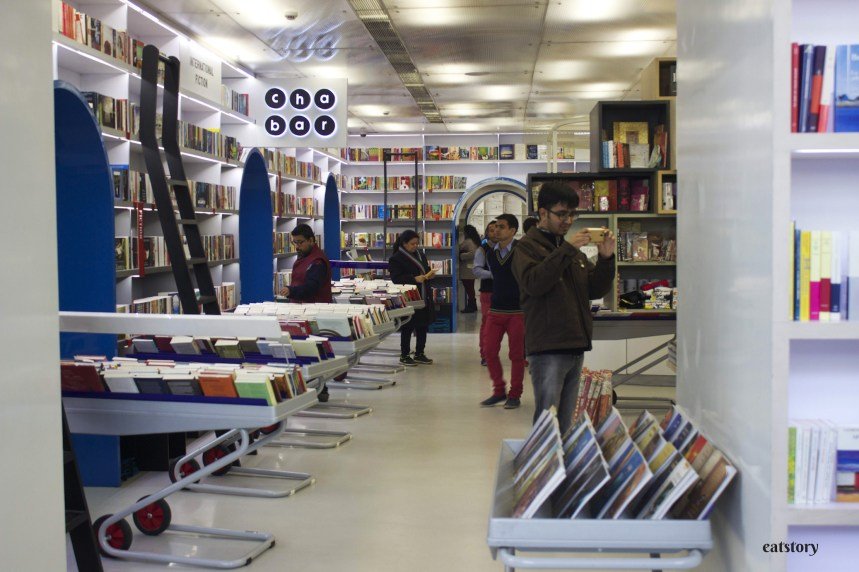 6. Bibliotheque Book Café, Gangtok
The cozy Bibliotheque book café is one of a kind hangout in Gangtok if you are up for some great food, good books, and a perfect setting to do some reading. With its eclectic collection of books, quirky decor, a few nice reading spots, and a charming view of the bazaar and hills, Bibliotheque has everything you look out for as a book lover.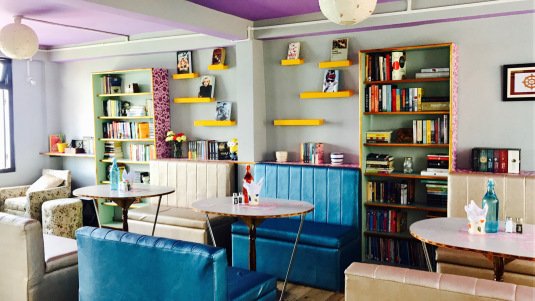 Then there is the menu of Bibliotheque: Belgian waffles with fruits and ice cream, choco-chip cookies, strawberry cheesecake, mac & cheese among many that you can order as you do your reading.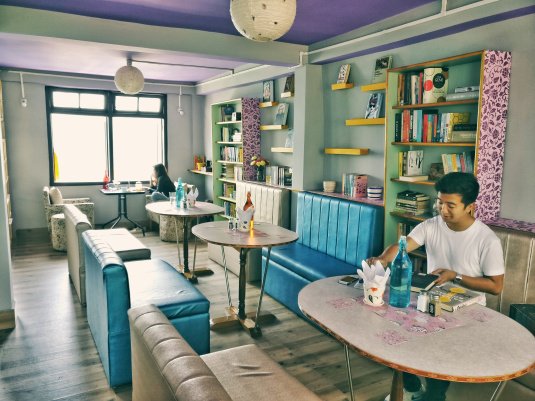 7. Kunzum Travel Café, Hauz Khas, Delhi
Kunzum Café is all about travelling, exchanging travel tales, connect with new fellow travellers and finally, making travel plans when you are not exploring the world. Its library is stocked with travel books including guides, photography books. travelogues, coffee table books and catalogs of travel companies for you to make smart travel choices.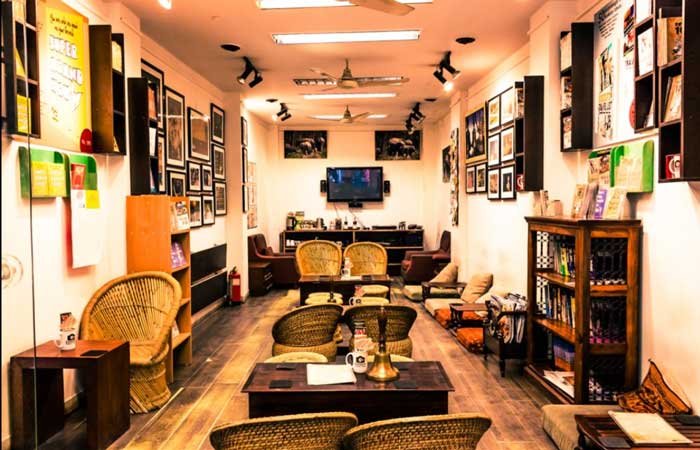 The quirky café has a story board where people pin their travel stories, an amazing food menu with items that don't cost much and free Wi-Fi. It's the best place for you to chill with your paperback and coffee as you simply sit and enjoy the musicians who keep dropping by.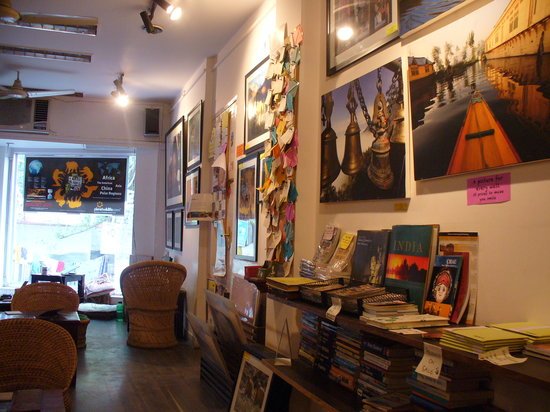 8. Kitab Khana, Mumbai 
Tucked in the bustling Mumbai, Kitab Khana with its old world charm is a perfect place to forget the city and spend some hours flipping through the pages slowly as you sip your coffee. Stepping into this place is like stepping into the past when life was laid back and the nice kind of slow.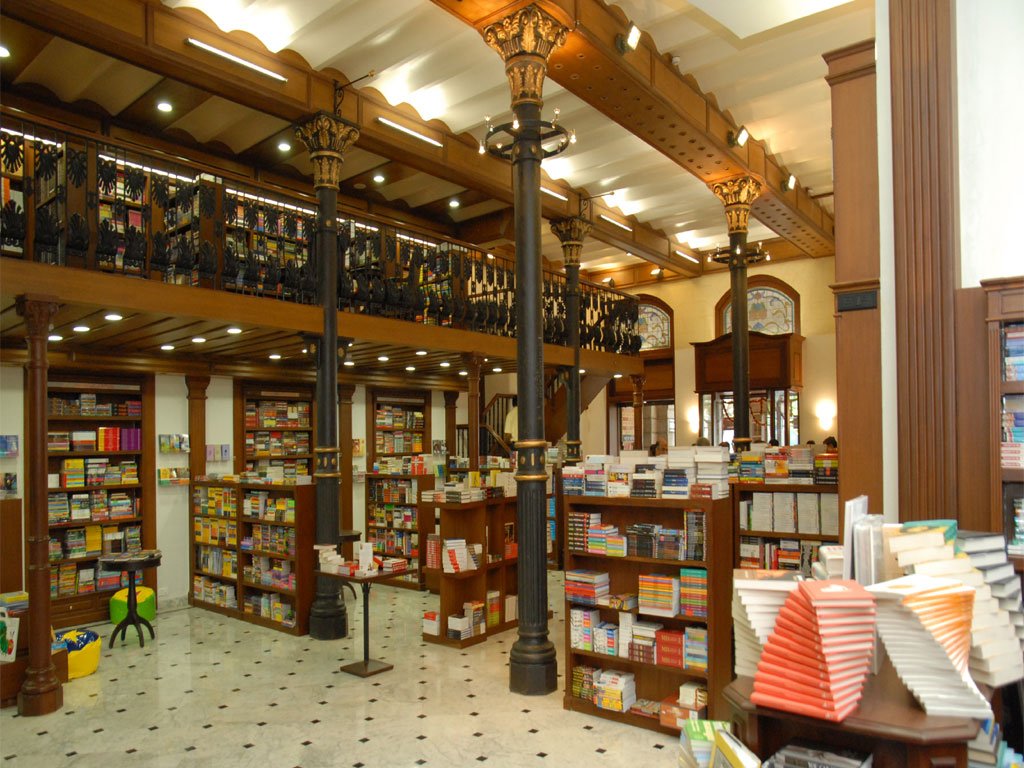 Not just a book café, Kitab Khana is a boutique bookshop where you can walk along the dark wooden bookshelves in the vast hall, which is adorned red carpet and gothic themed pillars. The books lie in piles on the tables and you can get your hands on just about any book you can think of.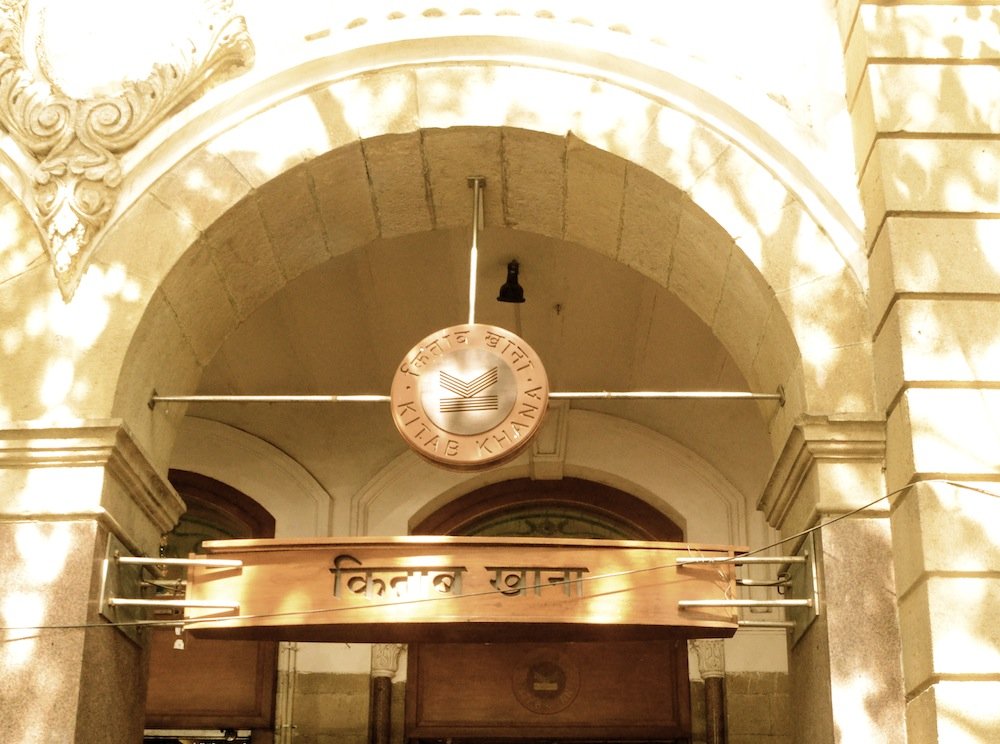 Apart from its amazing book collection, its café's desserts are just amazeballs. Whether you come here alone or on a date, you are going to have a lovely time indeed.
9. Pagdandi Books Chai Café, Pune
The rich aroma and coffee and stacks of books, this is everything Pagdandi is all about. Started by a couple who left their corporate jobs to build something of their own, Pagdandi serves as a mini-library, a café, a book shop and also gives a platform to independent publishers. You can borrow a book, donate a couple, play board games, and chill with a book in Pagdandi.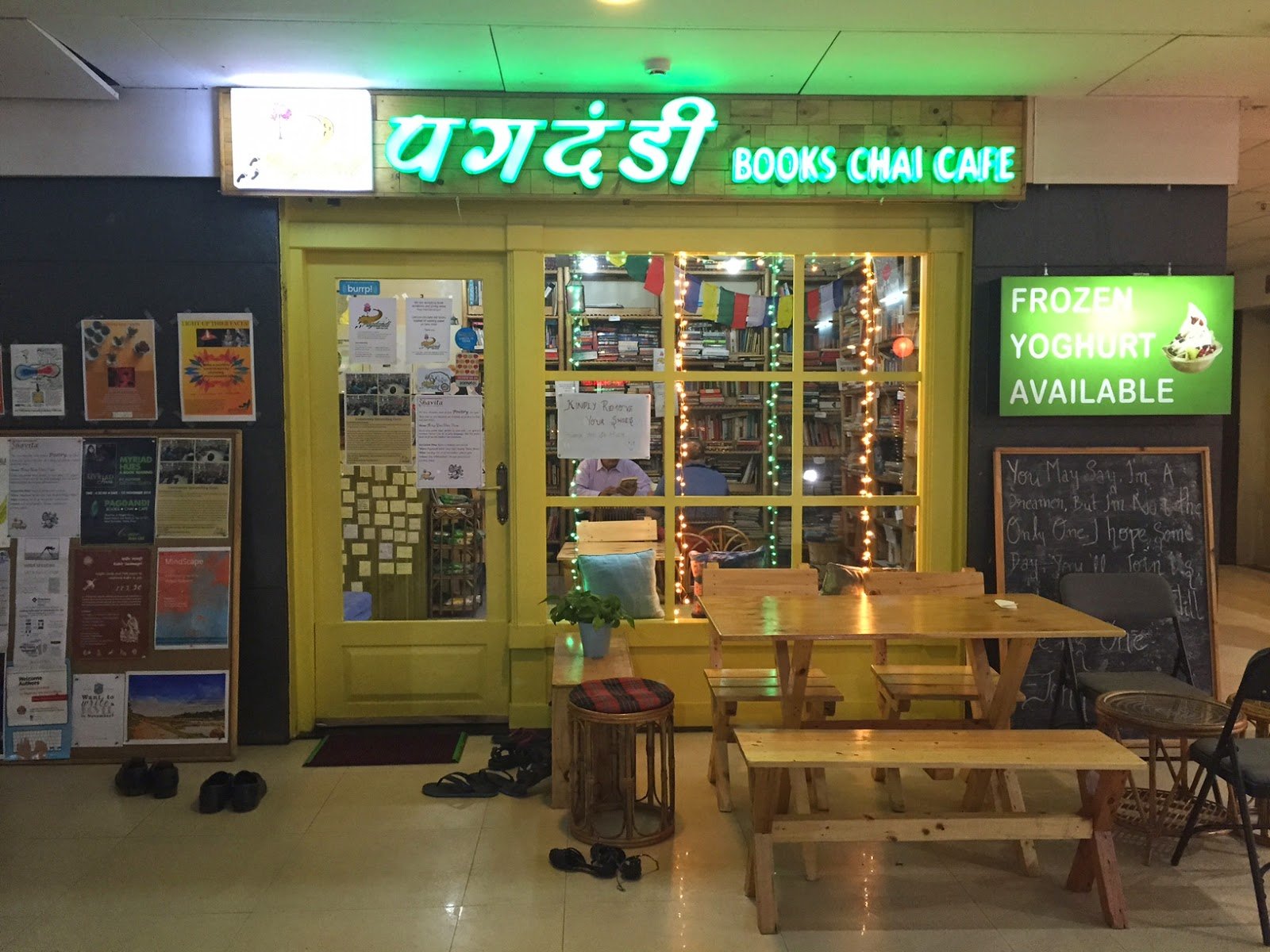 Pagdandi promotes budding artists and photographers and you can see their work on display as you take a pick from their organic tea, homemade cakes, fresh juices, and the piping hot Adrak Chai.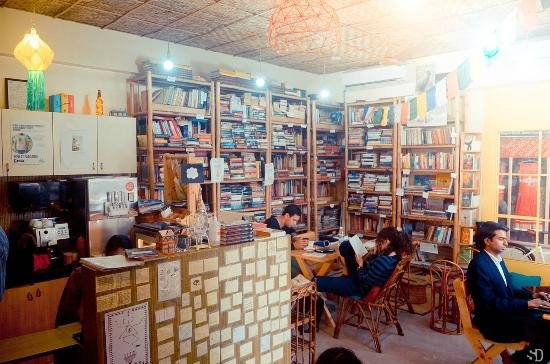 A favourite haunt among many residents, Pagdandi is exceptionally magical on some days when it hosts jam sessions, storytelling, poetry sessions, book readings, and group discussions on important issues.
10. The Coffee Cup, Hyderabad
Adored by the book lovers of Hyderabad, The Coffee Cup is a charming hideout with its lovely wooden interiors, brick walls, and a pretty little terrace. The café is stocked with a variety of books for retail and a cozy library of coffee table books.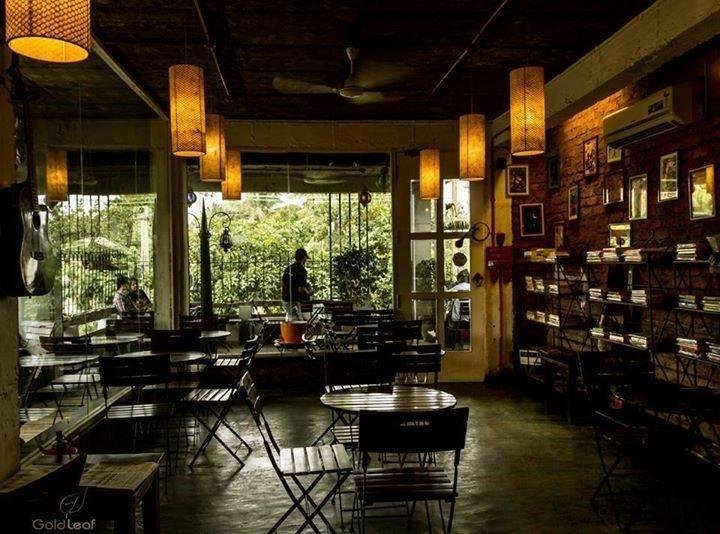 They also have board games for people who come with friends or family and their cafe's menu is full of fabulous dishes. We hear that their Mocha coffee and Scotch Eggs are to die for.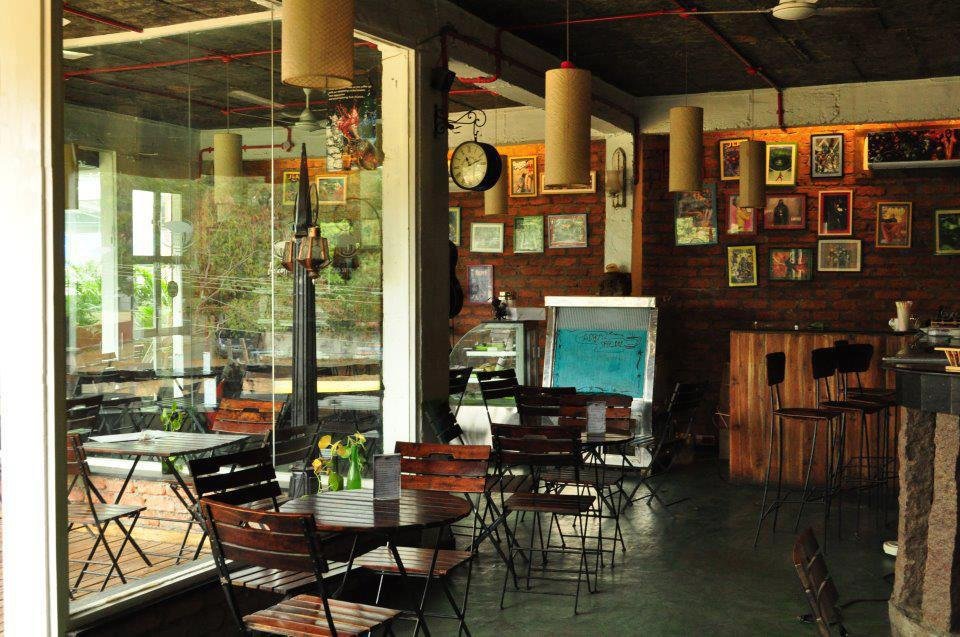 The Coffee Cup is a perfect spot to spend your lazy Saturday evenings with its karaoke nights, lovely ambiance, classic songs, and amazing food options.
11. Atta Galatta, Koramangala, Bengaluru 
Atta Galatta is a cultural space for the Bengaluru residents with its amazing collection of books in various languages. An eclectic bookstore that is also a cultural space for the Bengaluru residents, Atta Galata is always alive with creativity. And the most amazing things is that it always smells of old books, baked goodies, and coffee beans.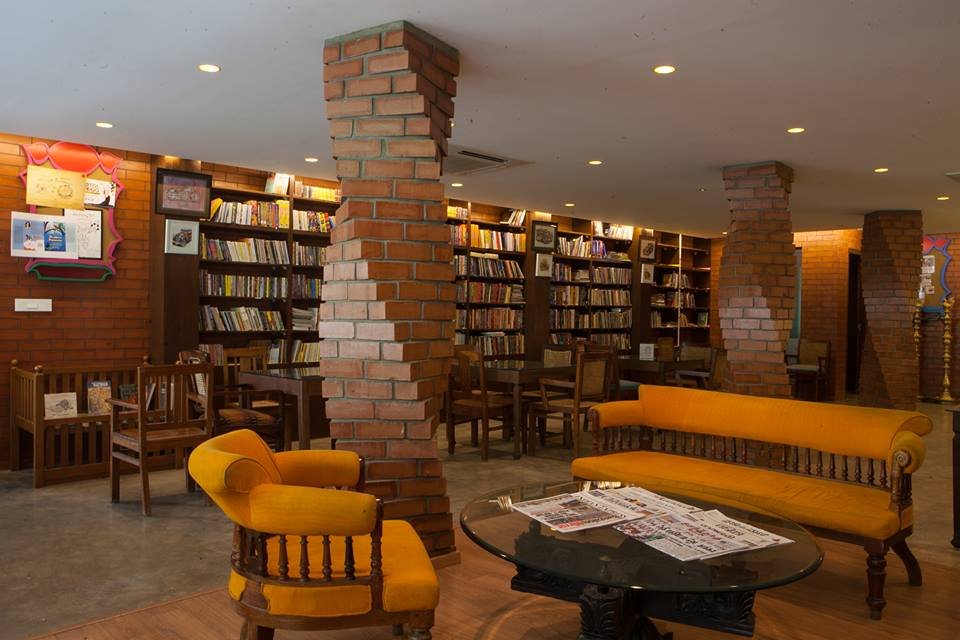 If you go there, you might end up being a part of many of its poetry sessions and book readings, dreamy storytellings, theatre and film screenings, and various diverse workshops.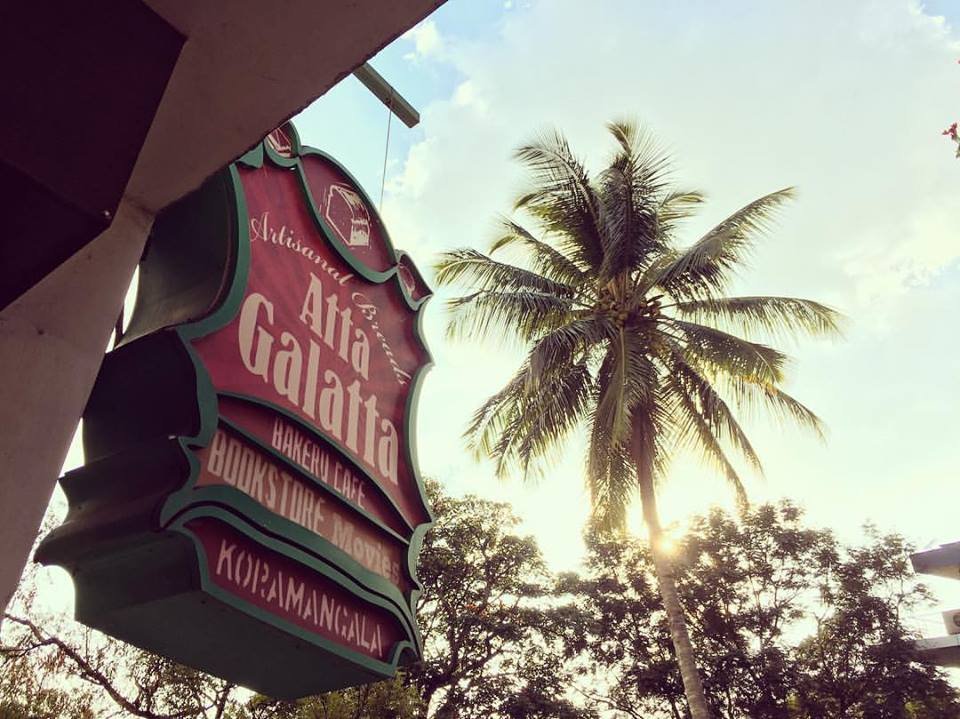 You'd wonder why it's so rad. The answer is its food. A simple menu of sandwiches, burgers, cutlets, samosas, along with fresh juices, tea and coffee hits just the right spot. When you are there, you simply can't leave without trying their masala and fruit bread.
12. Books N Brew, Chandigarh
A laid-back decor, free WiFi, and a menu that will not burn a hole in your pocket, Books N Brew is a perfect weekend spot for a date with your book. Everyone in the café swears by their Maggi which is a hot favourite on the menu.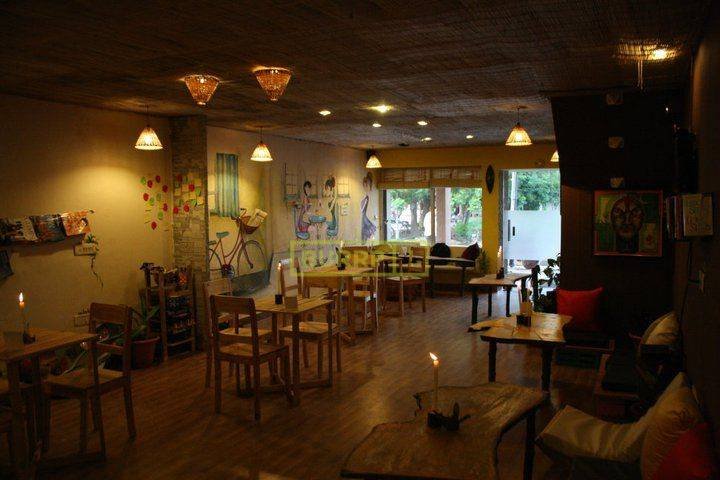 If you have some catching up to do on a personal project or an assignment, Books N Brew is the place to be. The cafe has a tiny collection of books and many board games for you to explore as you chill with your latte.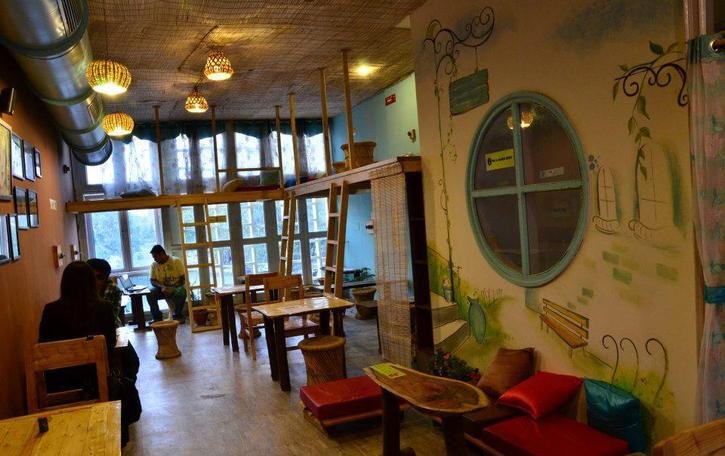 13. Café Turtle, Delhi
Café Turtle looks something out of ordinary in the bustling streets of Khan market in Delhi. With access to the Full Circle Book Stores, this peaceful and lively space offers you wonderful meals and relaxed ambiance. Whether you come here with a book or end up buying one, Café Turtle offers you the perfect setting to do some reading or catch up with some friends on its terrace or quiet corners.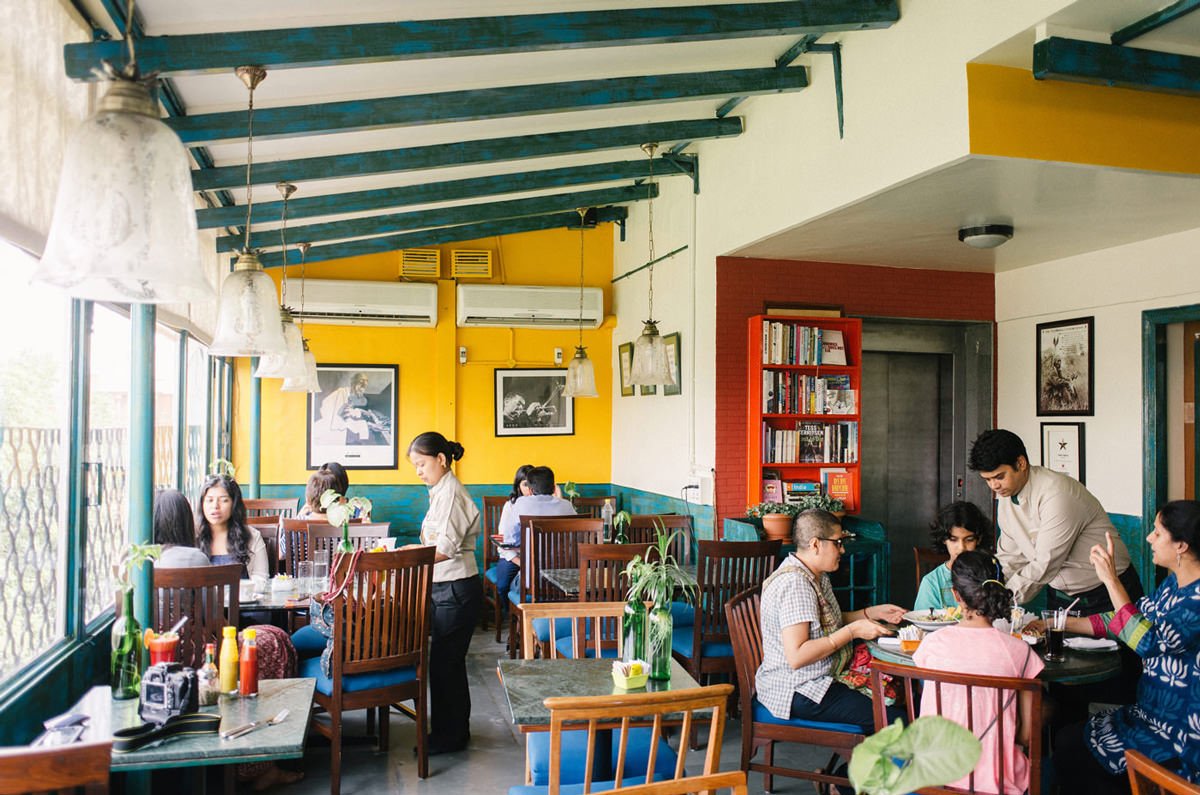 Moreover, their menu comes loaded with some great food selection. The word is that their fresh juices, cakes, and New York lemon Cheesecake are a few things you shouldn't miss.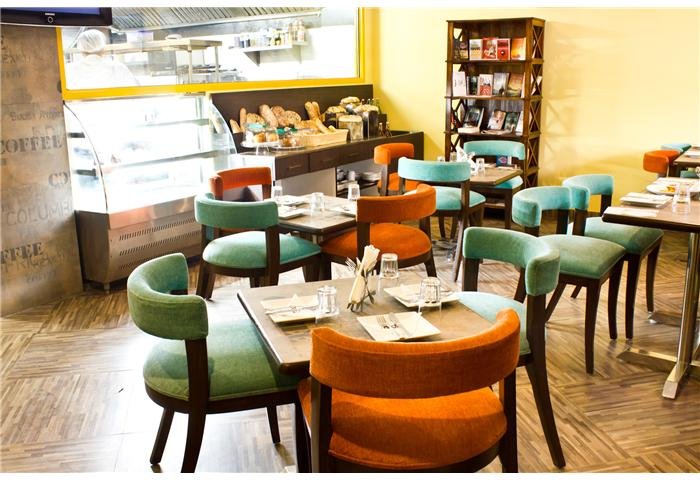 So tell us: Have you visited any of these?