Ever found a book, neatly wrapped with a green ribbon in a random public place? Chances are that you have been touched by the book fairy. Part of an international project called 'The Book Fairies', the initiative aims to drop off books (any genre) in public.
The idea is for people to find the books, read them and then leave it in a spot for someone to pick up. The effort that was launched in March this year has no territorial boundaries and has already attracted over 5,000 people in 100 countries, according to the project's website.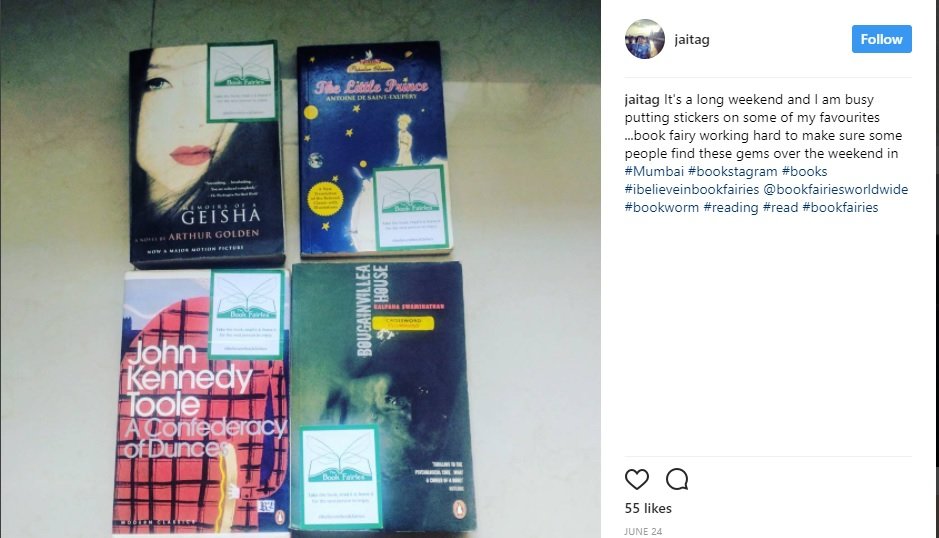 Creator of the Delhi chapter of The Book Fairies initiative, Keshav Chhabra, told ScoopWhoop News the reason he started the Instagram group. "Last November, I noticed a similar initiative in London and I loved the idea! I got in touch with Cordelia Oxley (who started the project), keen to begin this in Delhi. On March 8, 2017 – International Women's Day, the Book Fairies did their first drop in more than 25 countries, including Delhi. This was done in association with Emma Watson's feminist book club, Our Shared Shelf. Overwhelmed by the response to the drops, I created the Instagram account," he said.
How do you become a book fairy?
You just need a set of stickers from the official website, www.ibelieveinbookfairies.com. A member of the Mumbai chapter of the initiative, Bombay resident Jaita Guha said, "Well, I dropped the first book about a couple of months back, sometime in May. The ribbon is optional but the stickers are mandatory so that people know how the books got there."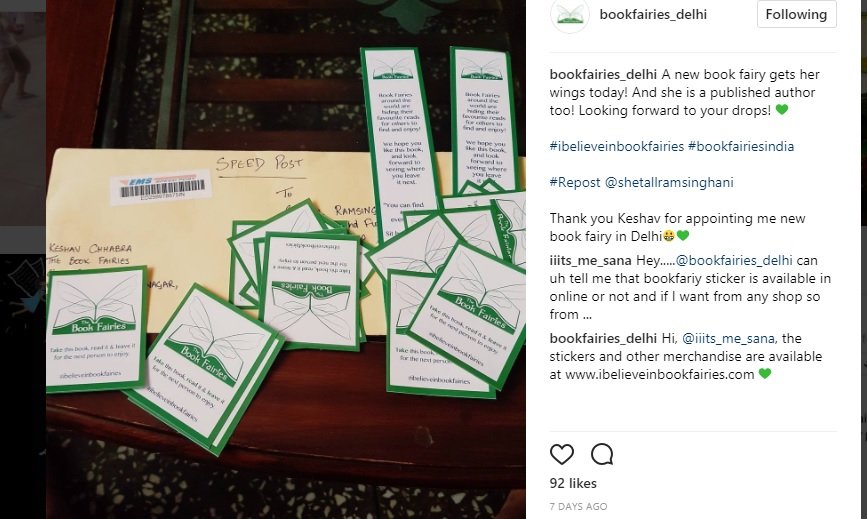 Several Instagram accounts in various countries have been created so that book fairies and receivers can communicate. "Many people in Delhi NCR and other cities have shown great interest in the idea. People from the publishing industry, authors, students, and professionals have received their book fairy stickers. And the posts per week are increasing consistently!" Chhabra said.
Finding a book peeking out of a corner of a lamp post or kept on the sides of an elevator or even on a park bench could come as a surprise for people initially. Chhabra tells us, "As book fairies, we are advised to wait for a while to ensure the book is picked up by someone. While most do not notice the book in plain sight, those who do are sometimes reluctant to pick it up. On my first drop, a university student picked up the book, but she stood there for five minutes, not sure whether to take it. Eventually, she took it and seemed quite overjoyed."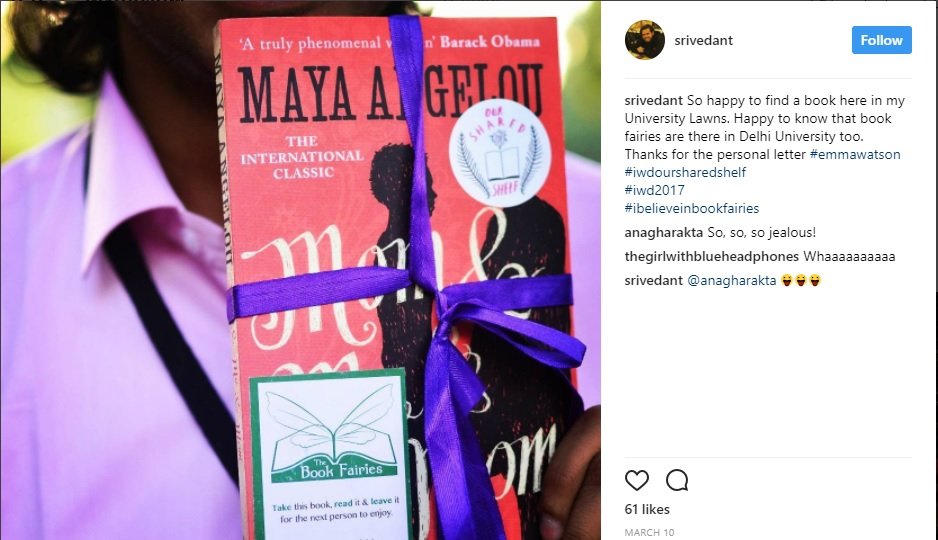 But, how does it feel to find a book just waiting for someone to pick it up?
Srivedant Kar, a journalism student at Delhi University, who found a book in May, says, "I thought someone had left their book by mistake. It was Maya Angelou's Mom & Me & Mom. After a closer look, I realised that the book was a gift from a book fairy. It made my day."
Similar initiative in Delhi
However, the concept of leaving books in public places is not new. A Delhi couple started a not-for-profit initiative, Books on the Delhi Metro. The duo leaves books on the metro for commuters to pick up and read.
Well, what better pick-me-up than finding a book somewhere after a long hard day.
Feature image source: Instagram