There's a discernible scent in the cool breeze of the autumn air which we try to gulp in, workers are precariously perched tying bamboo sticks to create pandals, markets are swarming with people with heavy bags, perspiring but with smiles on their faces, lights are strung on every street corner – it's that time of the year again. The wait is over and pujo is finally here. Decked up like a bride, most of Bengal stands lit late into the wee hours of the night as sleepless crowds spill out on the streets and visit pandals. Here's us summing up the pujo bhab (puja feel) which everyone who has ever celebrated pujo feels during the festival. 
1. Recital of Birendra Krishna Bhadra at 4 am on Mahalaya
We drag our groggy selves out of bed just to listen to Birendra Krishan Bhadra's early morning broadcast over the radio on Mahalaya. His recital of the Goddess Durga defeating Mahishasur infuses the oft heard story with power and life.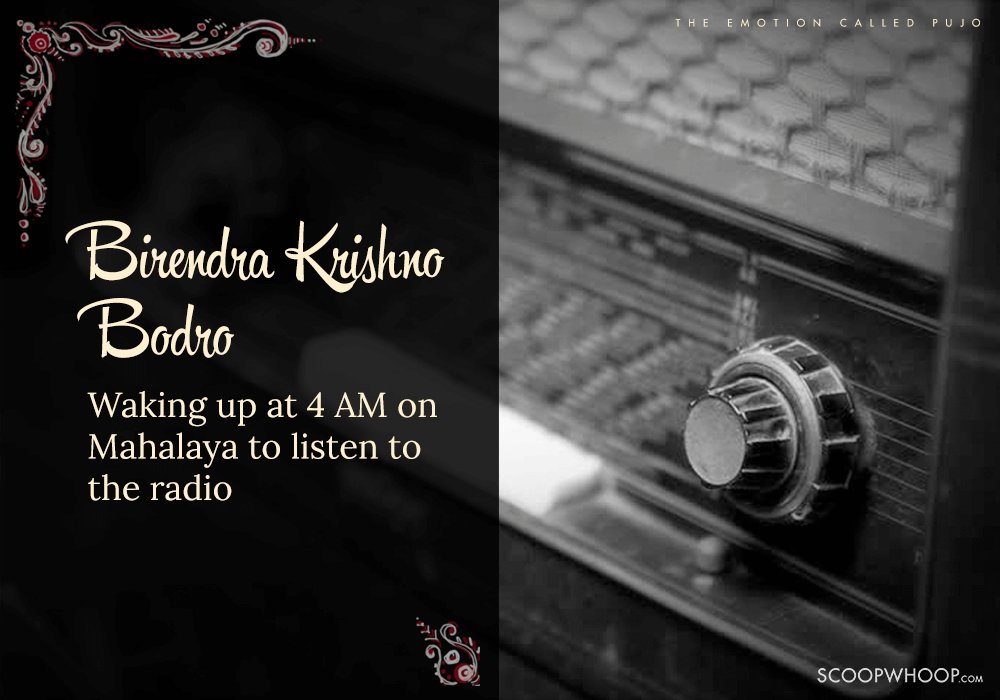 2. Shiuli phuler gondho (Fragrance of shiuli flowers)
There's a pleasant scent lingering in the autumn air which we try to breathe in as fast as possible. Shiuli flowers blossom at this time and give out the fragrance which reminds us of the approaching festival.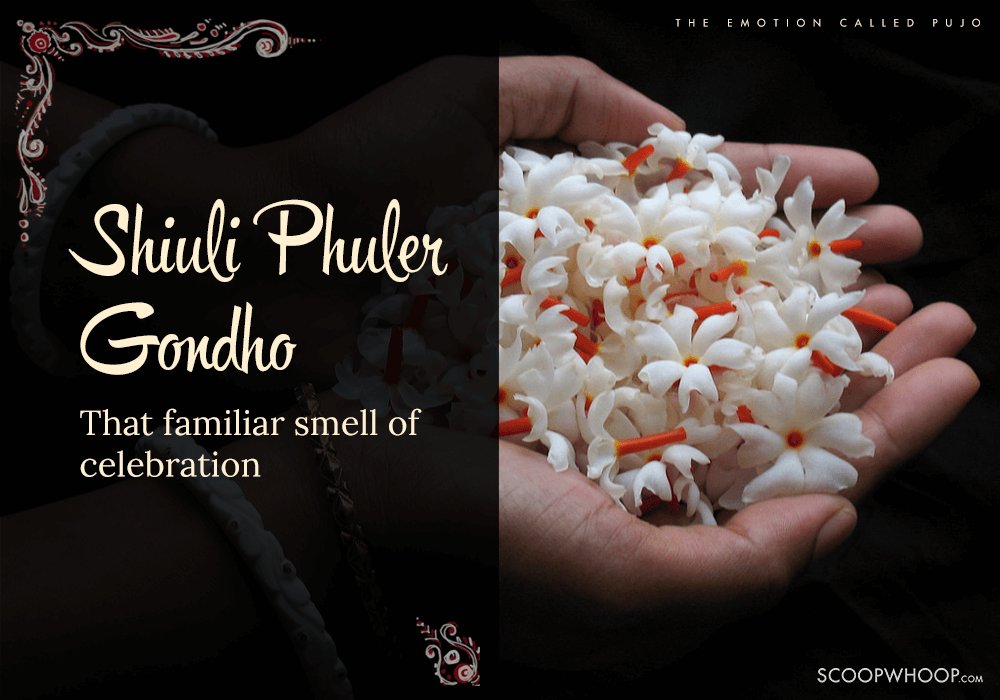 3. Dhaker Baajna (The beat of the ceremonial drums)
The thump of the dhak (drumbeat) accompanied with the clanging of cymbals is a sound people strain to hear from the para (neighbourhood) pandal which fills you with inexplicable energy. People often crowd into the pandal to watch the pandit perform aarti while players play the dhak and dance to its infectious rhythm.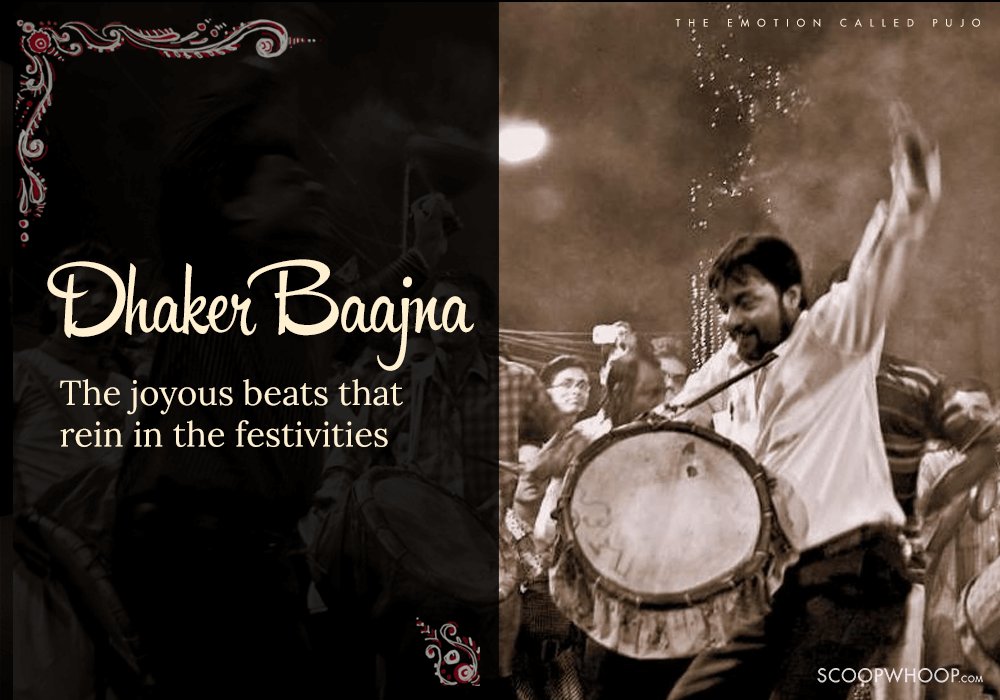 4. Dhunuchi Naach­ (Dance with earthen pots of incense)
One of the high points during the pujo ceremonies, the dhunuchi naach is a frenzied, skillful dance with earthen pots full of burning coal, coconut husk and incense often held by hands and between teeth and deftly moved in swift movements emitting clouds of incense.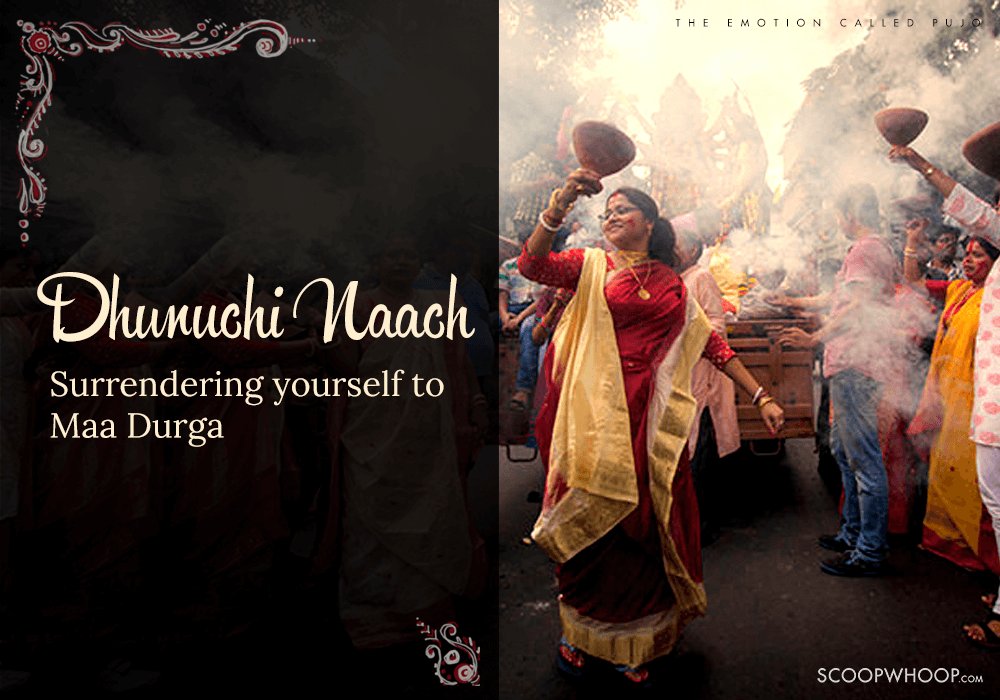 5. Kumartuli Photos
There will always be that one guy who takes a trip to Kumartuli, a cramped potters' quarter in North Kolkata where Durga idols are created and takes artistic shots of them. Your feed will invariably be flooded with the magic being created by the potters' hands.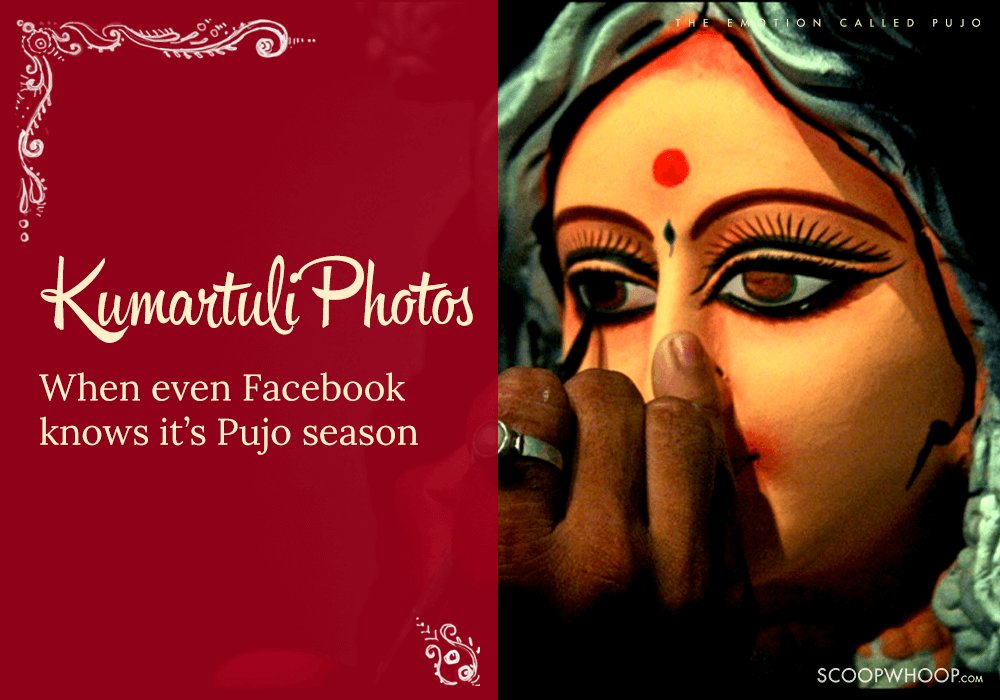 6. Pujo romance
Pujo romances are the fodder for gossip in the para. With the pervading atmosphere of mirth, cheer and romance, young couples are drawn towards each other and shy glances are followed by a whirlwind of torrid love affairs which end with the passage of five days while some carry on for a lifetime.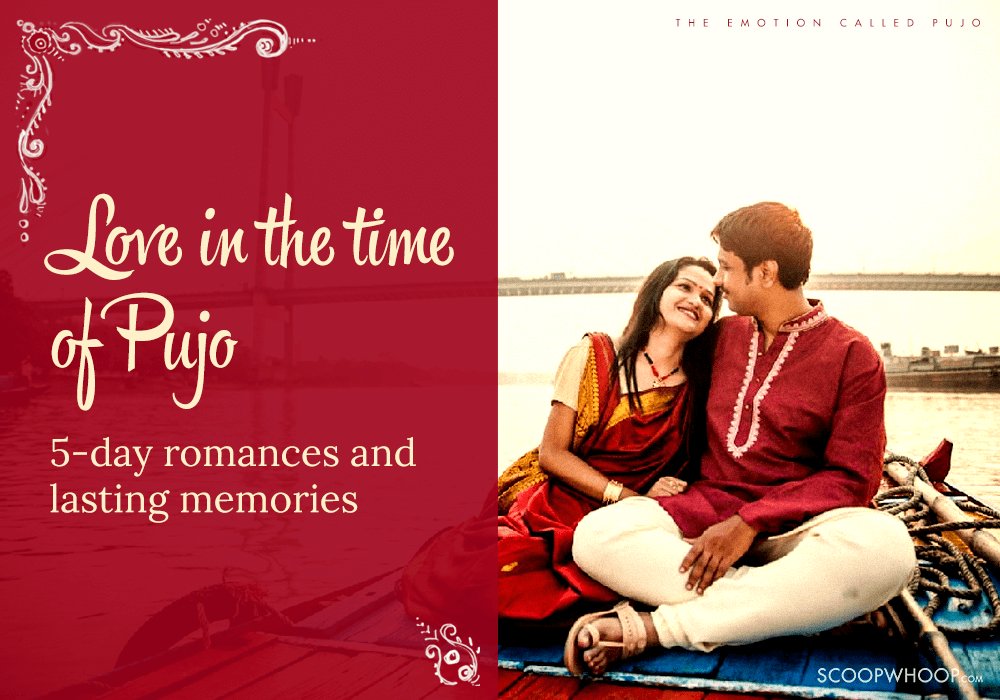 7. Ashtamir Anjali (Asking Ma Durga for blessings on Ashtami)
Ashtamir Anjali is a solemn affair for Bengalis; they pay respect to the Goddess and ask her for her blessings on Ashtami morning. This means waking up and bathing early to go the para pandal and offering obeisance to the goddess in the form of flowers with folded hands.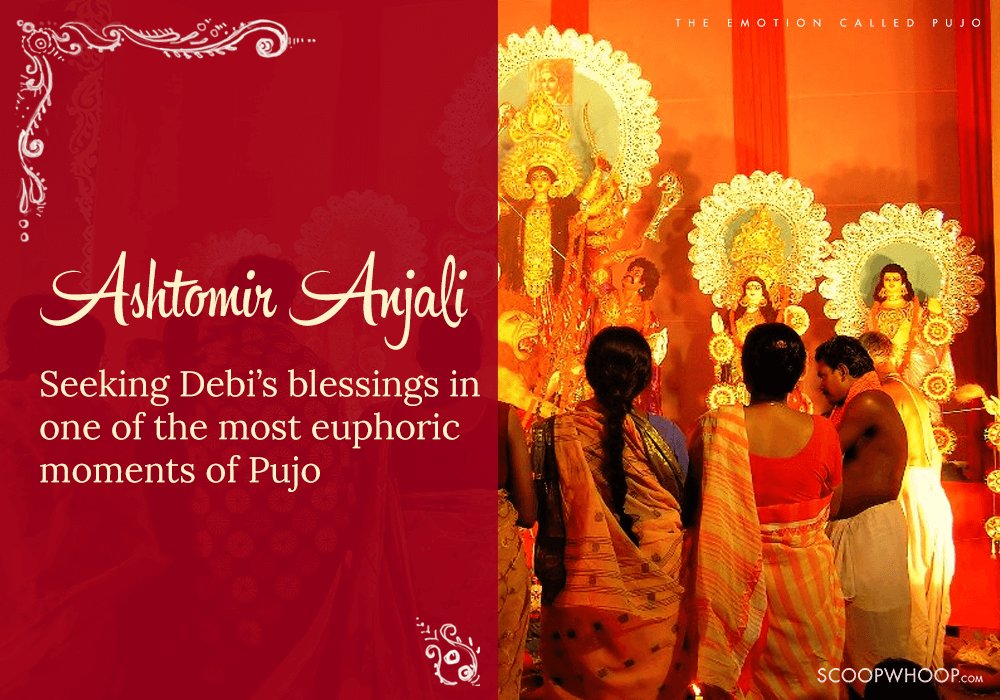 8. Pujor Bhog (The mouth watering feast where Bengali delicacies are served)
Bengalis and non-Bengalis alike participate in this splendid feast where all community members sit together to feast on hot khichdi, chutney, potato curry and sweets (occasionally luchi or pulao-mangsho) laid out on long tables, served by volunteers who rapidly and deftly slop the fare on to your plate.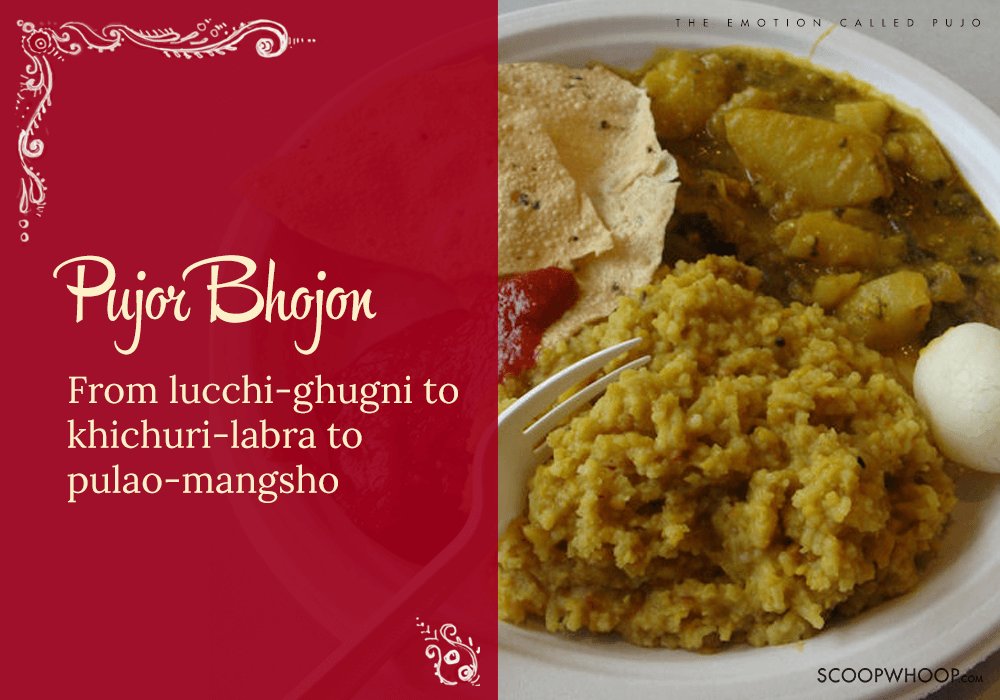 9. Devir Bodhon 
The moment when the Durga idol is infused with life by placing weapons in her different hands and removing the cloth covering her face, signifying that the idol has come to life with the spirit of the Goddess.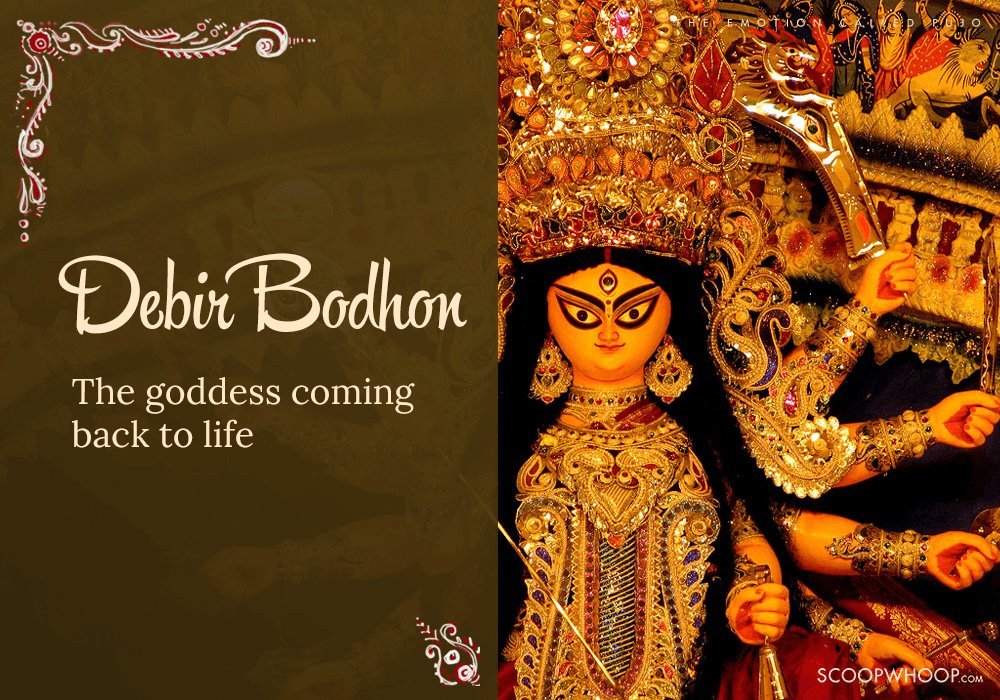 10. Pandal hopping
Pandal hopping with friends and family are the best memories you'll create. Droves of people flock to surreal, beautiful and creatively made pandals to stand in awe amidst the colourful noise of whistles, flying bubbles, bright lights and smell of food.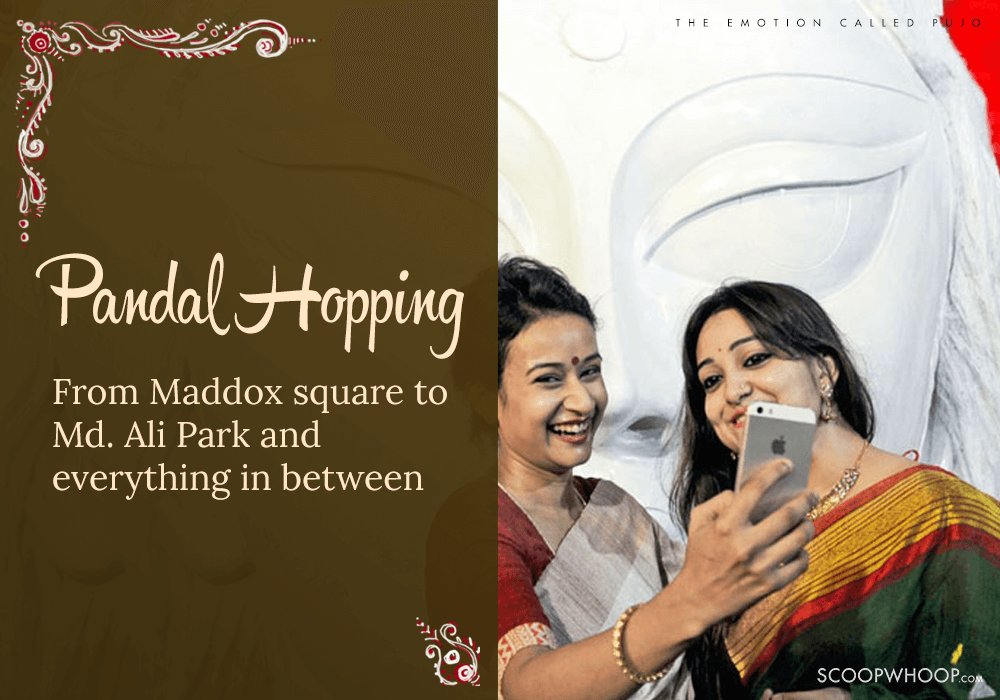 11. Notun Jama Gona (New clothes and accessories)
Preparations for pujo start well in advance with exhaustive shopping of jama (clothes) and accessories to look your prettiest each day of the pujo. New clothes are worn on each day of the festival and people spend copious amounts of time deciding which outfit to wear on which day!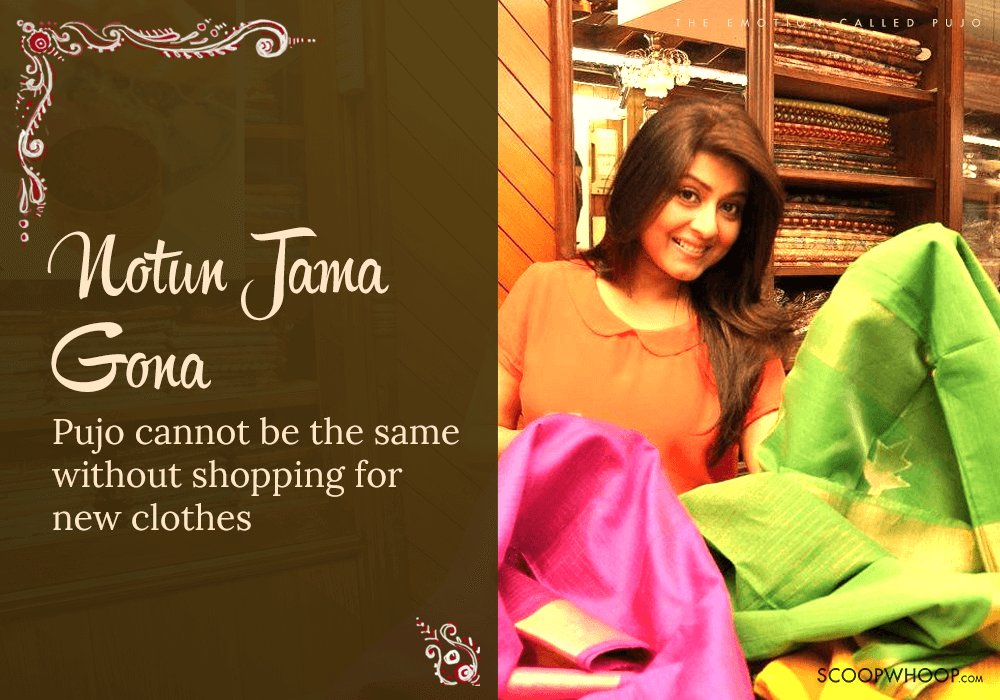 12. Dashami and Shubho Bijoya
The day of Dashami arrives when Ma Durga must go back to where she came from, amidst many farewells and moist eyes. People spill out on the streets behind the truck carrying the idol for immersion and dance to their heart's content. Firecrackers are set off and the goddess is given a sendoff in style. The only solace to the heavy heart is that pujo and Ma will arrive again next year.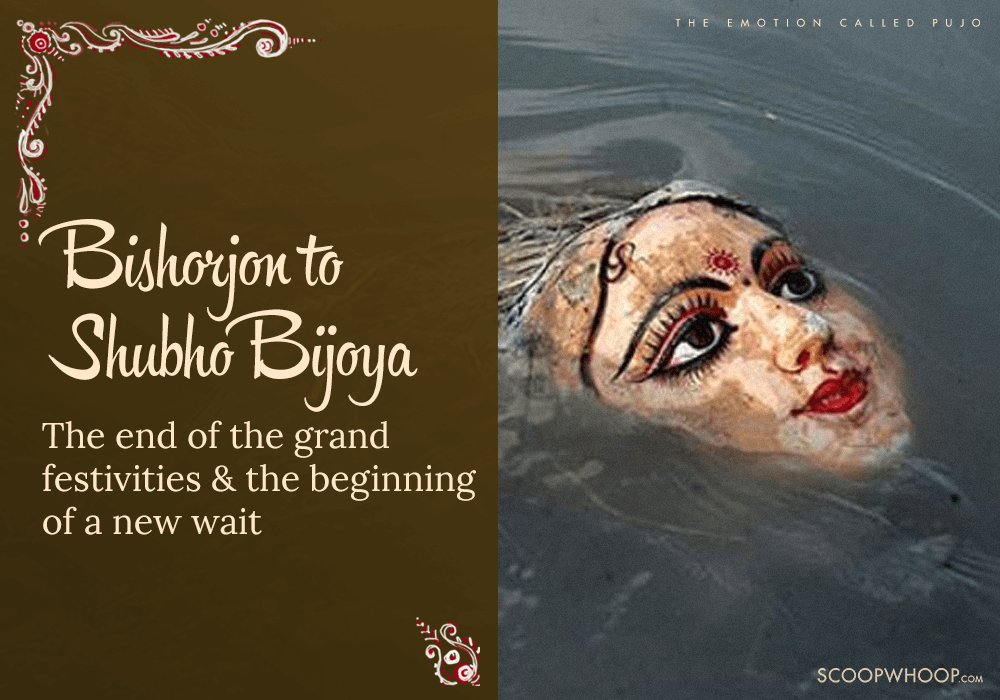 Asche Bochor Aabar Hobe!
Shubh designs by: Suvojyoti Ray