It's that time of the year again. When Bengalis seem to go berserk. They take out all their finery and dress up as if it's Christmas – which it is for us, actually. They take to the streets of Bengal, talking, eating, walking, and eating some more. You can't enter Chittaranjan Park (or what should be known as Little Calcutta) in New Delhi anymore. Because if any place celebrates Durga Pujo with more fervour than Kolkata, it is CR Park. So steer clear, or finish all your pujo shopping from CR Park this weekend. After this, it's a lockdown locality.
Why should you get there this weekend? Because the Durga Pujas have officially started. Today is Mahalaya. Which is observed seven days before the Durga Puja. It marks and celebrates the advent of goddess Durga to Earth.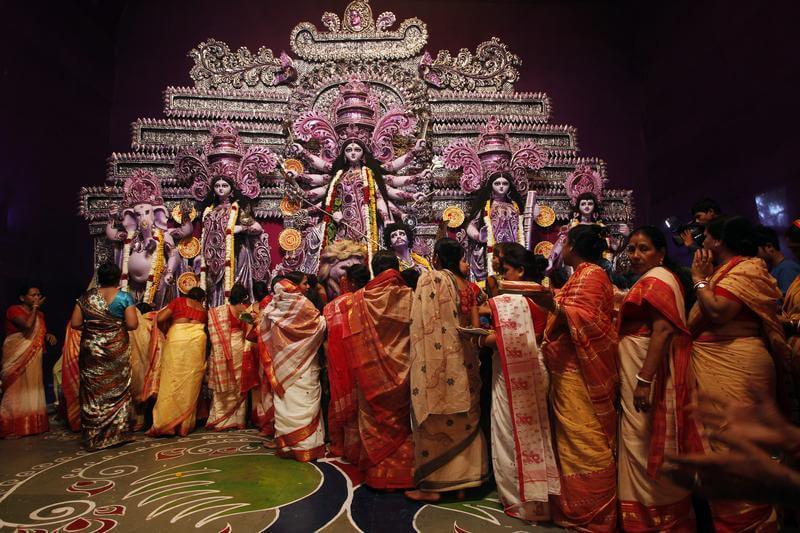 Bengalis will wish each other Shubho Mahalaya today. And will view you with great love, if you do the same to them. They may even be kind enough to call you home to enjoy the Durga Pujo "feasting" as we call it.
Now I'm not religious. But I do enjoy the Durga Pujo, not just for the food. But for the fact that it's a truly community puja. It's one of the few celebrations and Indian festivals that I know of where people cutting across class and caste, stand at the pandal and pray to the goddess. And then stand shoulder to shoulder and eat food at the various food stalls or at the buffets laid out at the community celebrations. It is not a show of wealth and pomp, and how large your car is and how much gold you bought and are now wearing. In fact, no one could be bothered by all that.
I can imagine many people saying that this isn't a big deal, but think of any other festival where the driver and the cook and the maid and their employer and the maalkin will all celebrate together? I can't.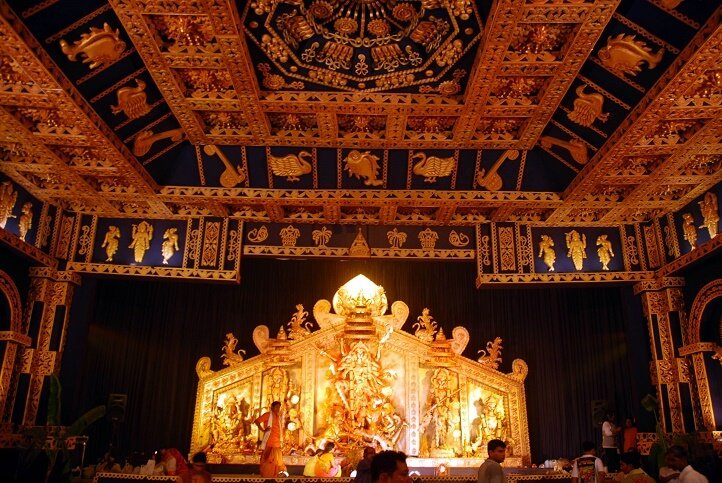 The reason I have an affinity for Durga Pujo in its avatar as a community puja, despite me not being religious is because of my family. Durga Pujo was earlier celebrated by individual families.
In 1790, 12 friends got together and organised and celebrated a joint pujo for the first time in Guptipara, my ancestral village. This is where the first Barowari (baro means 12 and wari means friends) puja began, in the Sen family home. It is from this, that Durga Pujo became a community celebration and came to be celebrated outside the home. Prior to that it was a private affair, where each house celebrated its own puja.
There are four main days of Durga Puja: Saptami, Ashthami, Nabami and Bijaya Dashami. Ashthami, the second day, is considered the most important day of the festival, where the devout eat only vegetarian food. This is a really big deal for Bengalis, and we make it seem like a massive sacrifice, although the fact that lunch usually includes a ghee-rich khichudi and dinner is puffed golden luchis with spicy alur dam and chholar dal, followed by many sweets – sort of destroys the sacrificial aspect.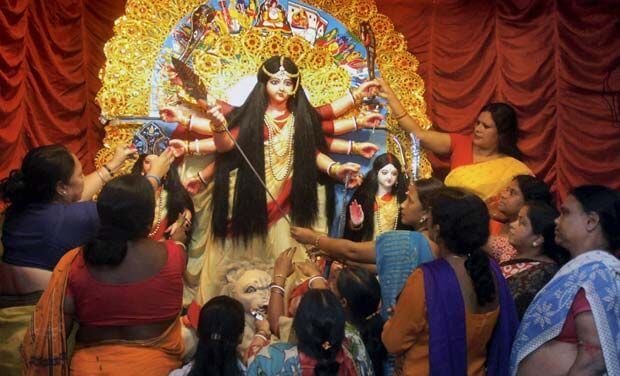 Nabami, the third day, is when the vegetarians turn carnivorous with a vengeance, traditionally eating mutton cooked without the usual ingredients of onion or garlic. The last day, Bijaya Dashami, is when Ma Durga is supposed to leave for her husband's home and her statue is immersed in the Ganges. This day is known for its desserts.
There's no point talking about Durga Puja if you're not going to eat or cook some of the Bengali delicacies. So here're some recipes for some of my favourite foods which are cooked and eaten in copious quantities during the Pujos.
Luchi (fried puffed bread to be eaten with chholar dal and alur dam):
1 cup all-purpose flour
1 teaspoon ghee
1/4 teaspoon salt
1 teaspoon baking powder
2 teaspoons water
Vegetable oil (for deep frying)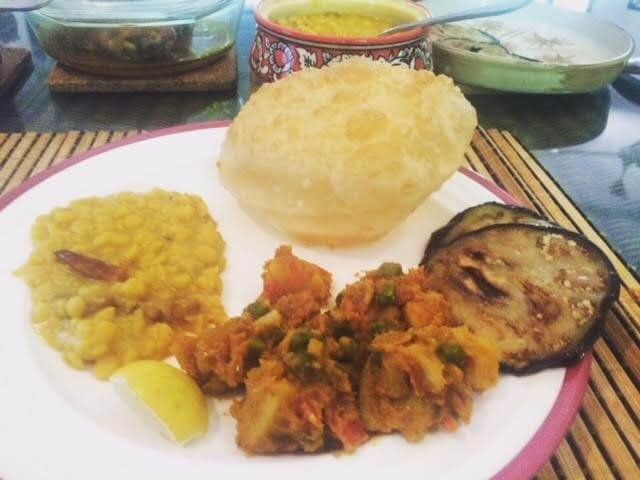 Mix flour and baking powder together in a large bowl. Make a small hole in the middle. Pour in the ghee and salt and mix by hand for a minute.
Slowly add the water. Keep kneading the flour, making dough similar to the consistency of pasta dough. Let the dough sit for 30 minutes.
Grease the platform on which you will roll out the round luchis. They need to be far smaller than puris or bhaturas, around 3 inches in diameter.
Take a rolling pin and roll the dough into a flat even sheet around 1/3 inch thick. Take a round bowl of around 3-4 inches in diameter and cut pancake shapes out of the dough.
In a deep pan, pour enough vegetable oil to deep fry the luchis.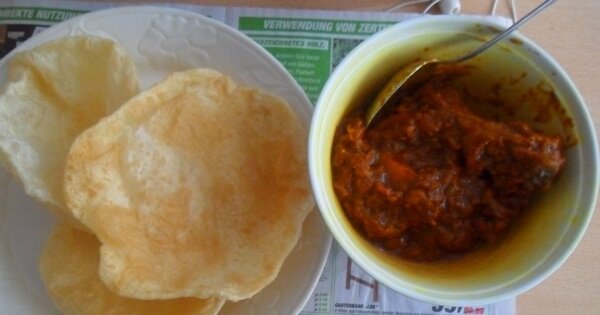 5. When the oil heats up, place the rolled out luchi one at a time. Press the luchi down slightly into the oil, so that it is immersed properly. The luchi will start puffing up with air.
6. When fully puffed, turn the luchi over. It should be cream or slightly golden in colour. Not brown. Turn the other side for a few seconds and remove from the pan. Drain the excess oil on a paper towel. This should be served immediately or it becomes rubbery.
Chholar dal (split pea dal):
2 tablespoons chopped coconut
2 tablespoons of ginger paste
1 teaspoon turmeric powder
1 teaspoon sugar
1 inch cinnamon-3 green cardamom – 3 cloves
1 tablespoon ghee
Soak the pulses in a bowl of water for at least 30 minutes. Place the drained pulses and salt in a pressure cooker with two cups of water and cook until at least three whistles. If you don't have a pressure cooker, cook on a medium flame until the dal softens but doesn't disintegrate.
Remove from the flame. Once cooled, add ginger paste, turmeric, sugar and mix well with the dal.
In a separate pan, add ghee and fry the coconut pieces (I usually skip the coconut, but people seem to love it.) Once the coconut is brownish, remove from the pan.
In the same ghee, add the chilies and fry until they turn dark brown. Pour in the boiled dal. It will splutter. The dal is supposed to be thick, so don't add too much water.
Top the dal with the ghee and the browned coconut pieces.
Mutton/lamb/chicken without onion
1 kg lamb/mutton cubed or 1 kg chicken on the bone
200 gm yogurt
2 tsps turmeric
1 tbsp mustard oil
1 tbsp clarified butter (ghee)
1 heaped tablespoon cumin powder
1 heaped tablespoon coriander powder
1 tablespoon ginger paste
1 tspn red chili powder (or less)
3 bay leaves
3 dry red chillies
4 cloves
4 green cardamom
2 sticks of cinnamon
Make a garam masala powder of: 3 cloves, 3 cardamoms, 1 stick of cinnamon
Marinate the mutton in the yogurt, turmeric, ginger, one teaspoon of salt and the mustard oil. Mix well and keep in the refrigerator for at least two hours, or even overnight.
Heat the ghee, add the bay leaves, cloves, cinnamon and cardamom. Sauté until it crackles. Add the red chillies. Let them brown slightly.
Add the mutton with its marinade and sauté.
Keep cooking on low flame. As it starts changing colour, add the coriander and cumin and chili powders.
Keep stirring until the water dries up. Then add 250 mls of water, or enough to submerge the mutton. Cook on a slow flame for an hour, or until the mutton is tender. This has a thin gravy that is great with rice or parathas.
Sprinkle the garam masala powder, season to taste and serve.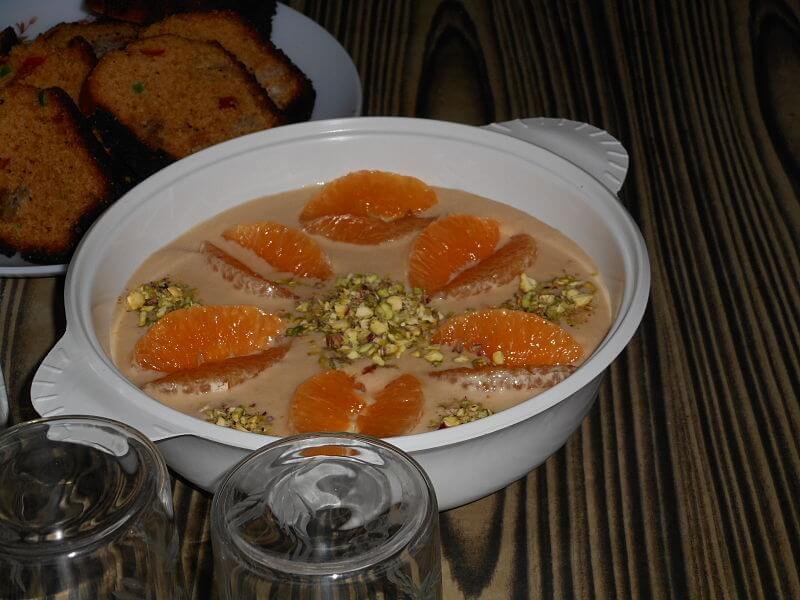 Kamala Kheer
1 litre full-cream milk
200 grams sugar, or more if you like it sweeter
2 oranges segmented
Juice of one orange
Boil the milk in a pan on medium flame until it reduces to half. Stir in the sugar. Leave to cool. It will thicken. 
After the kheer has cooled totally, add the juice of the oranges and decorate with the segmented oranges. 
Make sure to do this only after the kheer has cooled, or the milk will split. 
Keep the kheer in the fridge before serving.
(Feature image source: AFP)