Kolkata isn't just about the crumbling colonial buildings or the hand-pulled rickshaws or the bright exuberance which is known as Durga Puja in Kolkata. It's the feel of the city, that relaxed easy going atmosphere which encourages you to think and feel nostalgic and create something beautiful. It is stuffing your face with phuchka, it is looking up at the Howrah bridge everytime you pass from underneath it, cha in earthen cups, shining Durga idols being made in Kumartuli and roaring with the crowd in Eden gardens. It's about the warmth of people there and the rich culture that you find everywhere you go.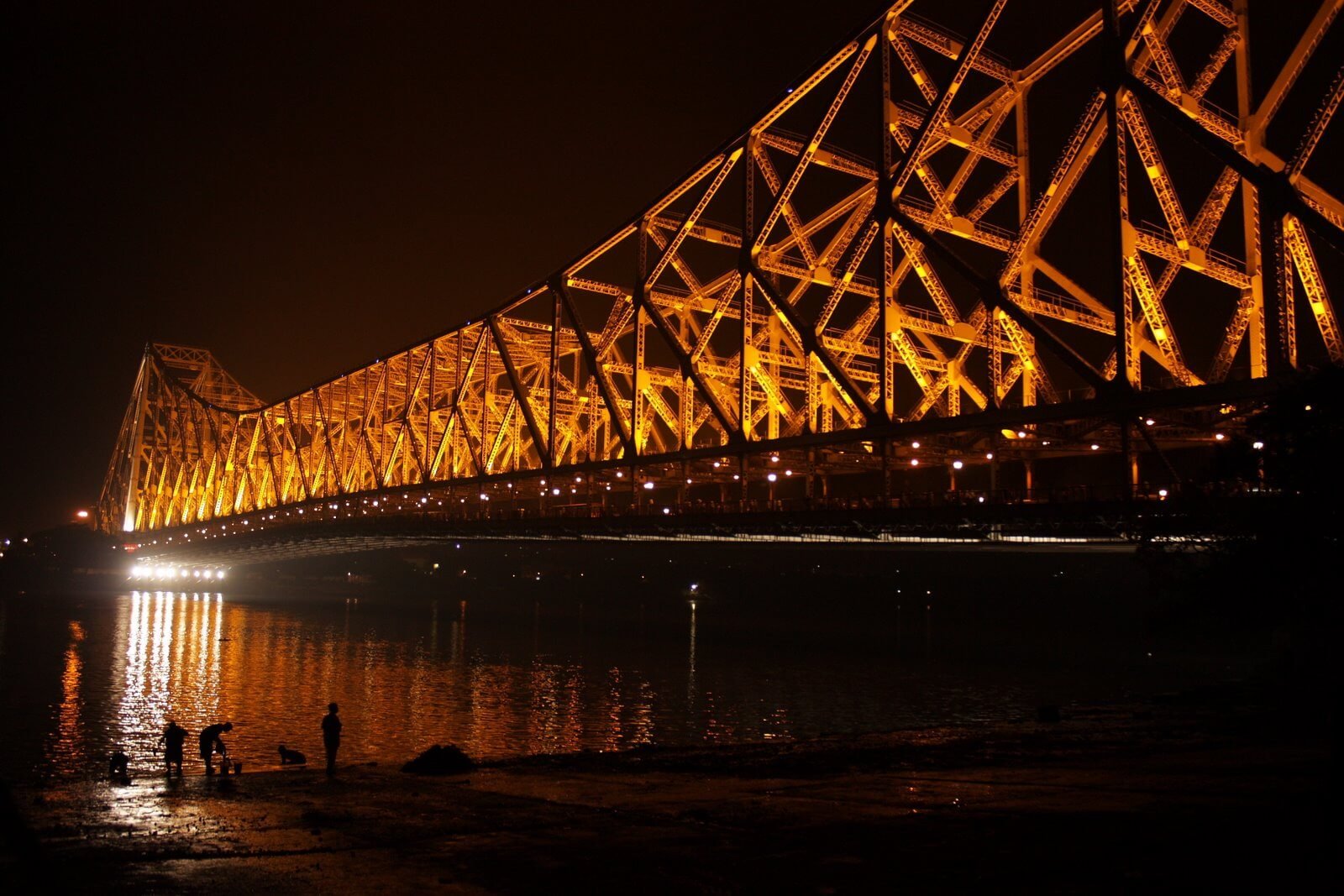 The city is special to everyone who has spent time there; years of childhood or months as a temporary resident, they carry a part of the city away with them. So if you're away from home or simply miss the city, you'll know you feel the same when you read about what the city means to its people.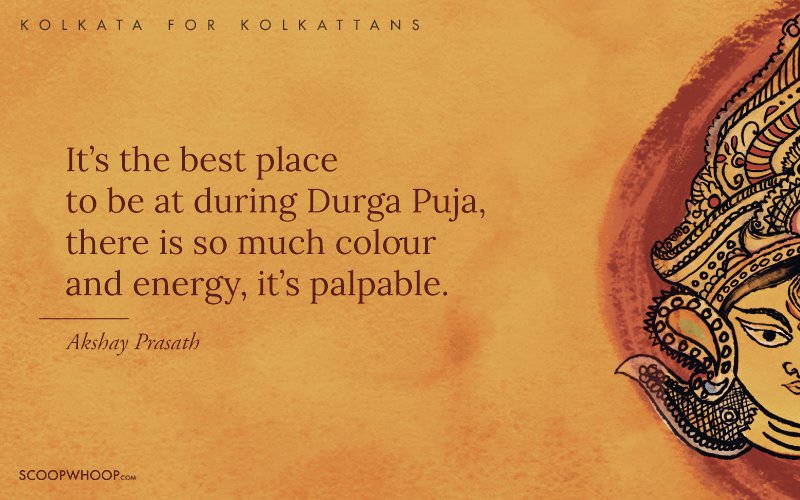 "It's the best place to be at if you are a bookworm because of all the rich literature Kolkata has inherited from the past. It's the best place to be at during Durga Puja. There is so much colour and energy, it's palpable. Kolkata feels like a place far away from the rat-race. And not to mention the street food; I've had some of the best rolls ever in New Market." – Akshay Prasath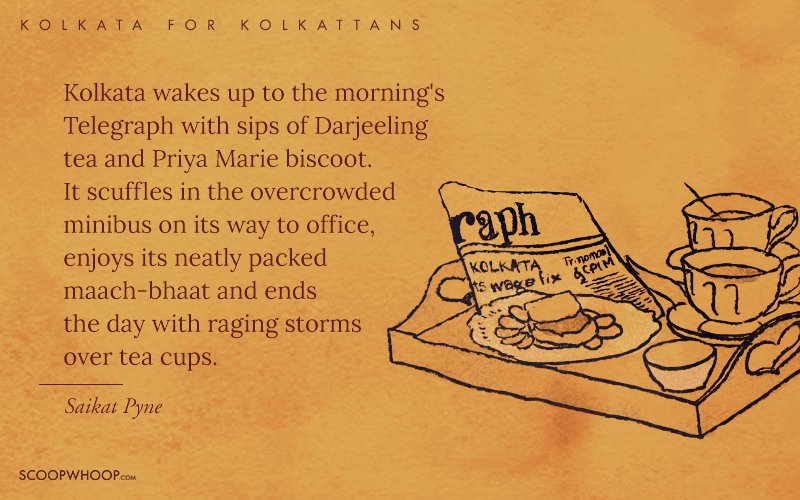 "Kolkata is a football-loving, politics-crazy, bone-idle glutton. It wakes up to the morning's Telegraph with sips of Darjeeling tea and Priya Marie biscoot. It scuffles in the overcrowded minibus on its way to office, enjoys its neatly packed maach-bhaat and ends the day with raging storms over tea cups.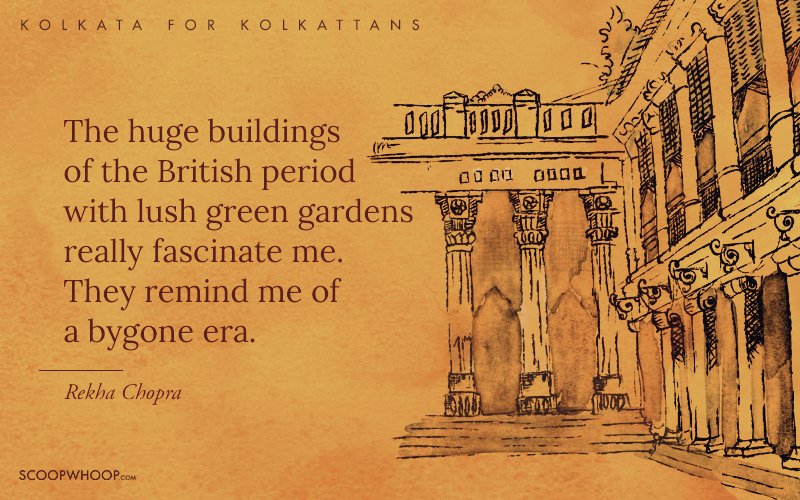 "It's a combination of Bengali culture, reminiscent of British Raj and of course, people from other regions have also settled down and made it their home.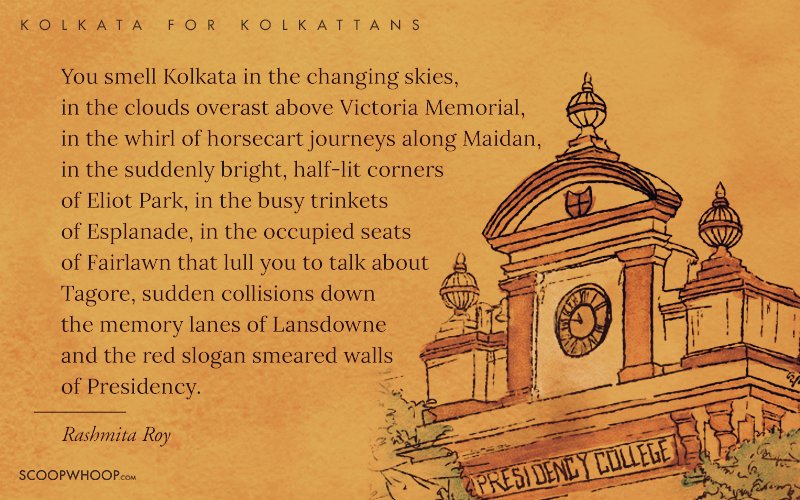 "Kolkata is Kolkata in not only the kind of bustling humdrum of the sweetmeat shops or the roadside phuchka vendors, but also in the very essence of it being Kolkata. You smell Kolkata in the changing skies, in the clouds overcast above Victoria Memorial, in the whirl of horse-cart journeys along Maidan, in the suddenly bright half-lit corners of Eliot Park, in the busy trinkets of Esplanade, in the occupied seats of Fairlawn that lull you to talk about Tagore, sudden collisions down the memory lanes of Lansdowne and the red slogan smeared walls of Presidency. Kolkata is where you feel the whirlwind of intellectual politics and halogen-bathed love. It does not grow on you. It does not retain your nostalgia. It just becomes you." – Rashmita Roy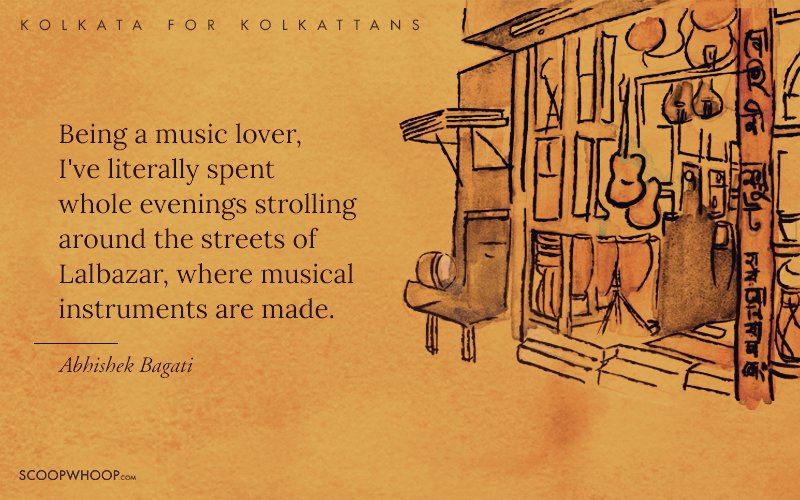 "I had to roam around the city a lot, I miss riding those slow trams. I used to take a ferry or a tram often when I had a chance.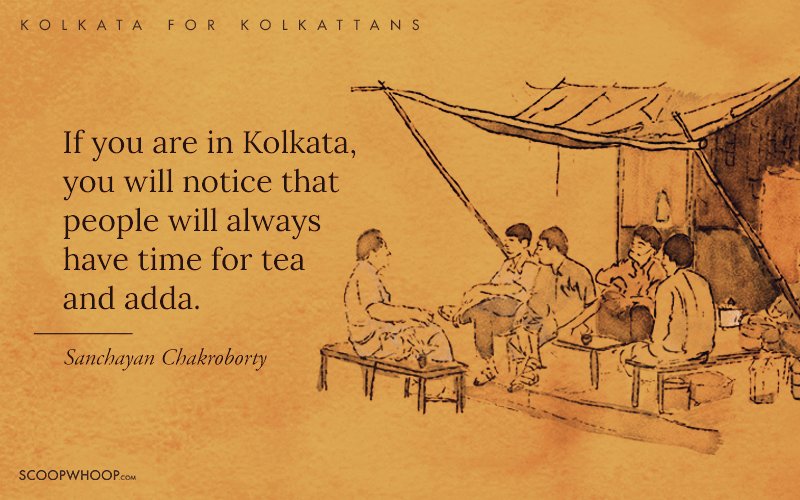 "Kolkata has always been a place for me which reflects my memory and imagination. Tall old buildings from the past. It is like walking into a 300 year old city, guess what? Kolkata is 300 years old. If you are in Kolkata, you will notice that people always have time for tea and adda." – Sanchayan Chakroborty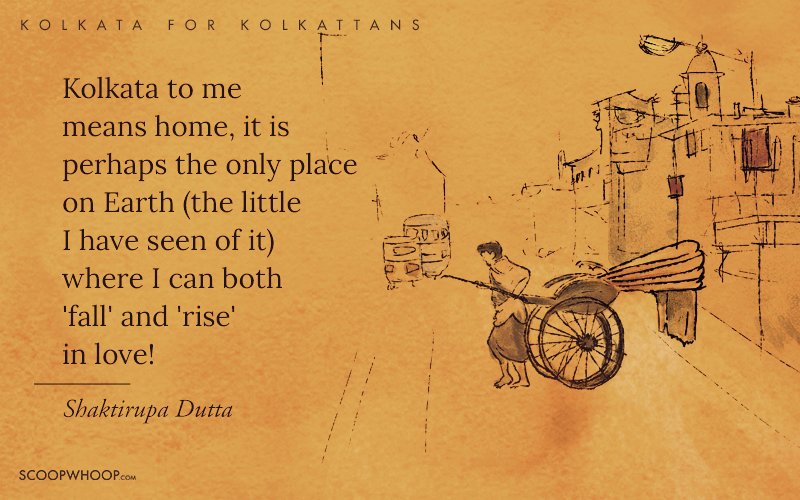 "Kolkata to me means home. It is perhaps the only place on Earth (the little I have seen of it) where I can both 'fall' and 'rise' in love! It is like a drug, both intoxicating and addictive. The one place I feel like running back to if I am anywhere else.That sight; the first sight of the city far above amidst the clouds as you touch down at DumDum makes me say under my breath "Oh my love!" each and every time, over and over again." – Shaktirupa Dutta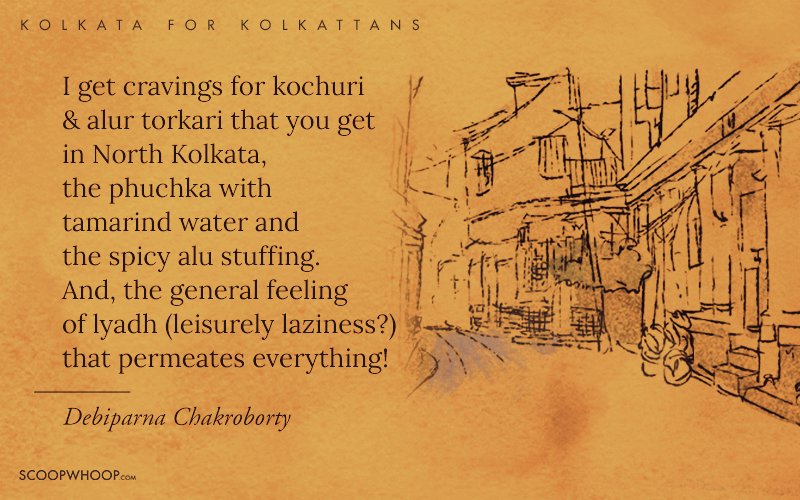 "I miss the food the most. I get cravings for kochuri and alur torkari that you get in North Kolkata, the phuchka with tamarind water and the spicy alu stuffing. No CR park can match it. Also the little tea shops, where people talk about everything, from politics to sports, while chain smoking in all probabilities. And, the general feeling of lyadh (leisurely laziness?) that permeates everything!" – Debiparna Chakroborty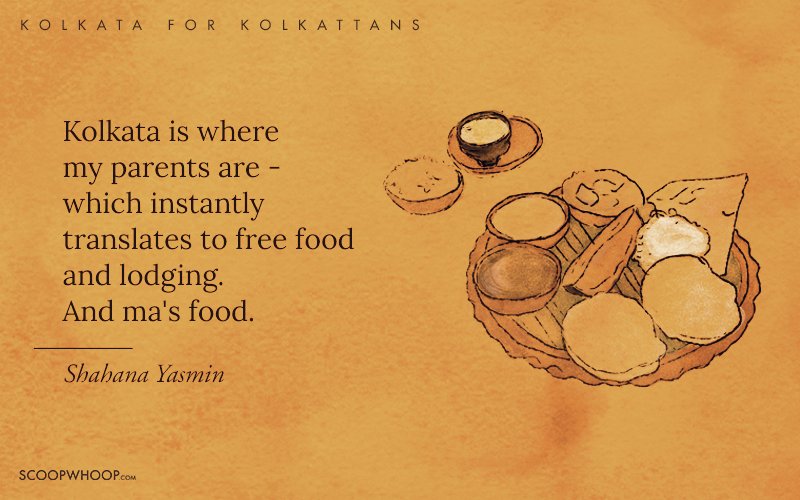 "Kolkata is where my parents are – which instantly translates to free food and lodging. And ma's food.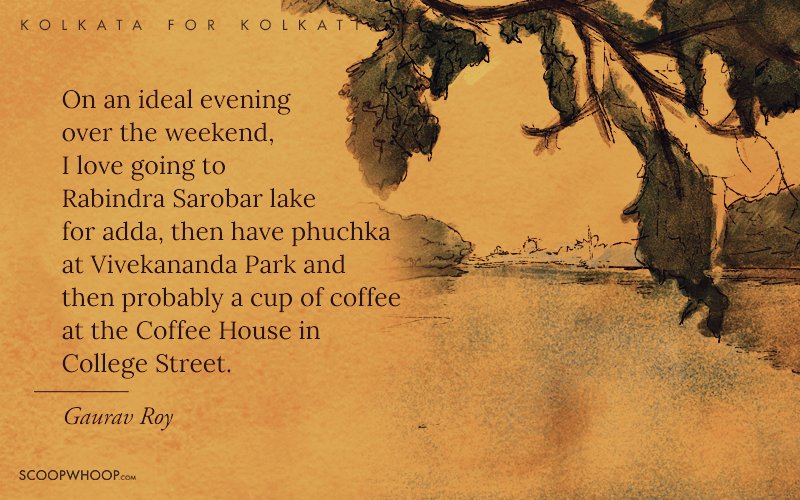 "When I get my monthly salary, it's adda time at Olypub for me and at the end of the month it's Princep ghat. And yes, Kolkata's Arsalan biryani is undoubtedly the best! It is better than any other biryani in the world. I believe, in Kolkata the rickshaw-wallahs know every inch of every lane, better than Google maps. On an ideal evening over the weekend, I love going to Rabindra Sarobar lake for adda, then have phuchka at Vivekananda Park and then probably a cup of coffee at the Coffee House in College Street." – Gaurav Roy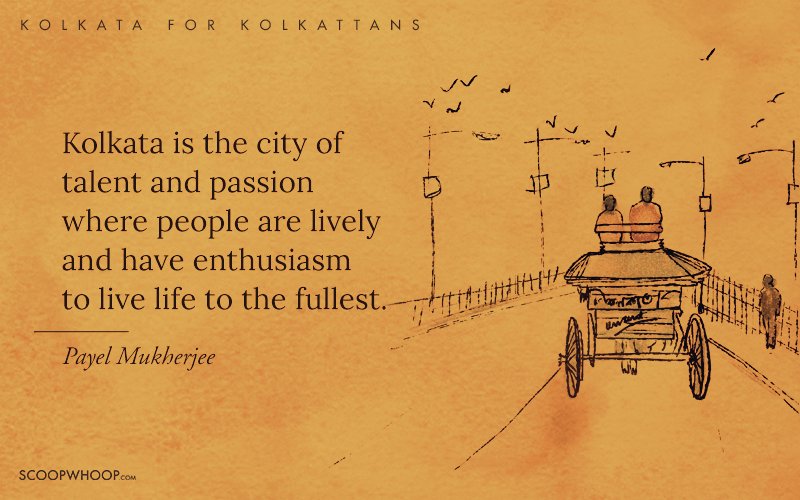 "Kolkata is the city of talent and passion where people are lively and have enthusiasm to live life to the fullest. Festivities are an integral part of the city. Kolkata hosts a variety of fairs, film fests, music conferences and folk fairs. It is fun to explore the culture of Kolkata where mornings begin with a cup of tea. Kolkata has also been the pioneer city in Indian renaissance. It has long been known for its literary, artistic and revolutionary heritage." – Payel Mukherjee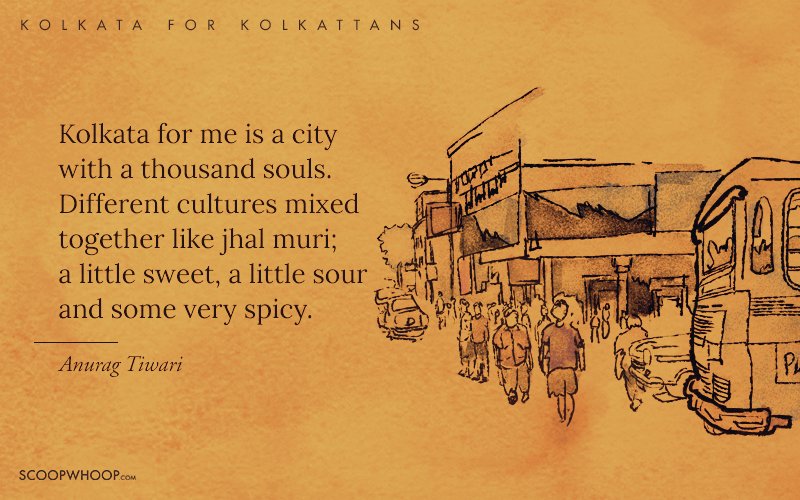 "Kolkata for me is a city with a thousand souls. Different cultures mixed together like jhal muri; a little sweet, a little sour and some very spicy. People here blend in together like Rossogolla and Mishti Doi. My Kolkata is different from the rest and nothing but the best." – Anurag Tiwari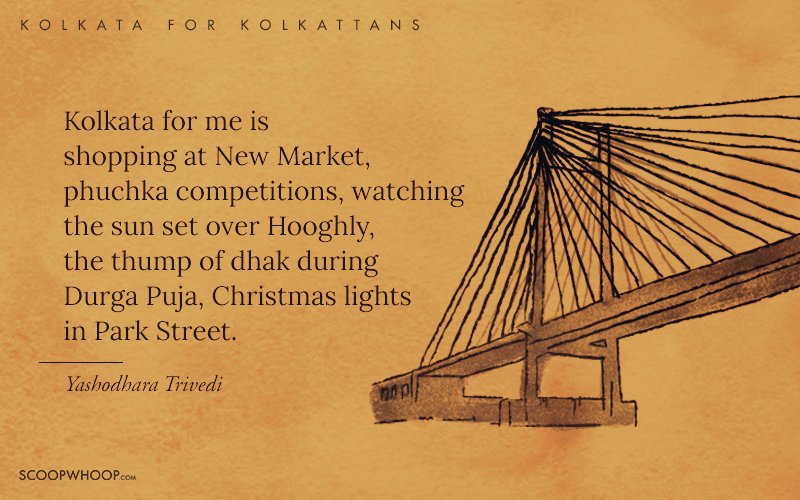 "Kolkata for me is shopping at New Market, phuchka competitions, watching the sun set over Hooghly, the thump of dhak during Durga Puja, Christmas lights in Park Street. I guess what I'm trying to say is this – Kolkata is not just a city but a sentiment." – Yashodhara Trivedi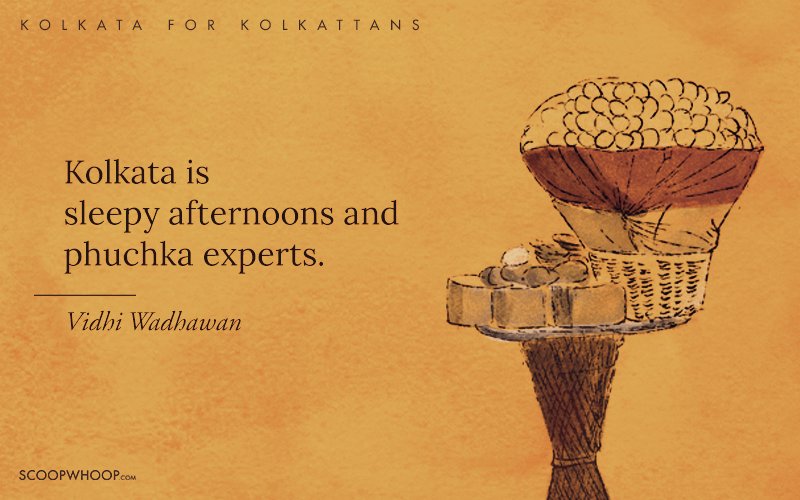 "Kolkata is home. Kolkata is sleepy afternoons and phuchka experts. It's loving, embracing, unpredictable and beautiful. It's maach, mishti, madness and sweet accents. The way it's been new and old simultaneously for decades." – Vidhi Wadhavan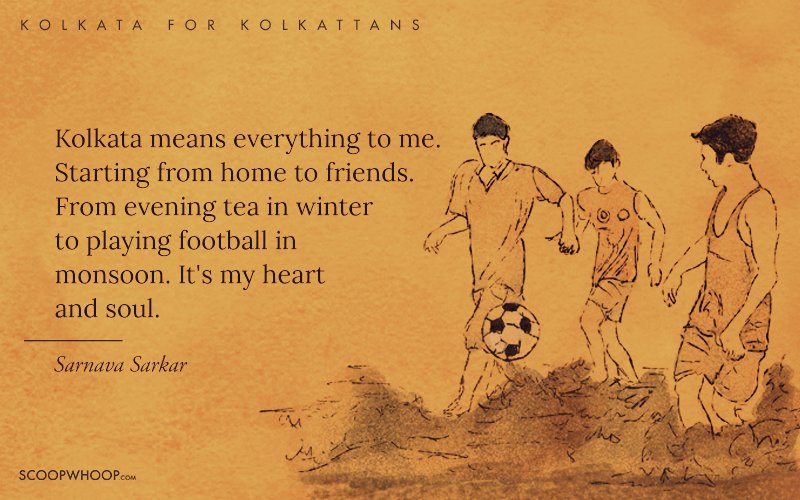 "Kolkata means everything to me. Starting from home to friends. From evening tea in winter to playing football in monsoon. It's my heart and soul. From Victoria Memorial to Esplanade, from Park Street to Howrah Station. Kolkata is in my heart and soul." – Sarnava Sarkar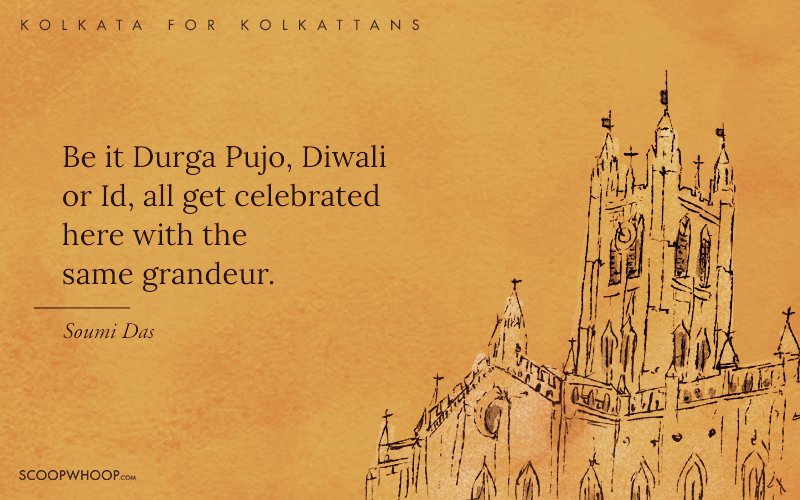 "One gets a flavour of mixed cultures in Kolkata ranging from food to culture, the city being home to people of all communities, you name it, you get it. Be it rosogolla, biriyani, phuchka; Durga pujo, Diwali, Id all get celebrated with the same grandeur. Hence the city gives me joy not only because its my home but because it's rightly the City of Joy." – Soumi Das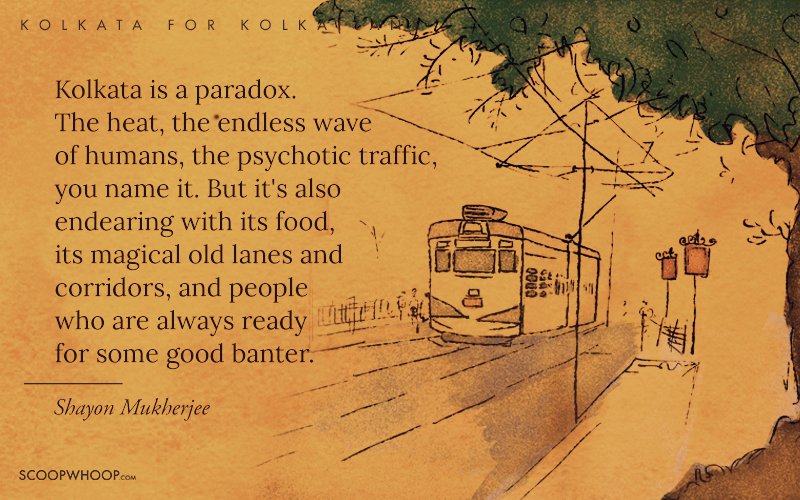 "For me, Kolkata is a paradox. Having lived outside the city, it gets under your skin when you come back. The heat, the endless wave of humans, the psychotic traffic, you name it. But it's also endearing with its food, its magical old lanes and corridors, and people who are always ready for some good banter. It's not the best city I've lived in and I'd be glad to leave it without a second thought, but it is a city with an old soul and echoes that are as sweet as they are bitter." – Shayon Mukherjee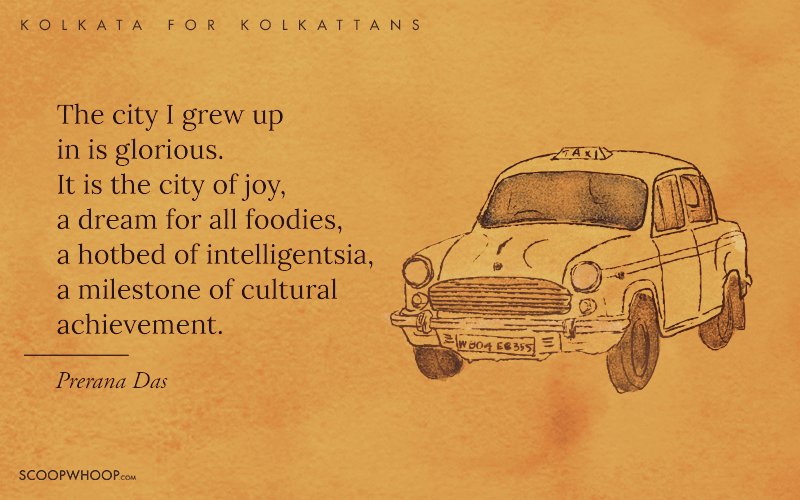 "The city I grew up in is glorious. It has a lot of potential and that is being realised by the responsible system of governance in place since independence. It is the city of joy, a dream for all foodies, a hotbed of intelligentsia, a milestone of cultural achievement." – Prerana Das 
Home is always there with all its warmth and comfort, waiting for you to come back.
Illustrations by Suvojyoti Ray.