Typically, a funeral is a time of mourning. It is an emotional time, where the most important people in one's life come together to bid one last goodbye. 
But Shay Bradley from Dublin, Ireland decided no one would cry at his funeral, if he had any say in it. Before he passed away, he left behind a humourous message, leaving his friends and family with bittersweet memories. 
At his funeral, Shay left behind a pre-recorded message to be played while lowering his coffin into the ground. According to his family members, this little gift was right on point with the personality and playfulness Shay was known for. 
Right after the bagpipes stop playing, the recording plays a distinct 'Hello? Hello?!' as if Shay was speaking from inside his coffin. Laughter ensued as the recorded voice continued on, saying,
Let me out! Where the f*ck am I?!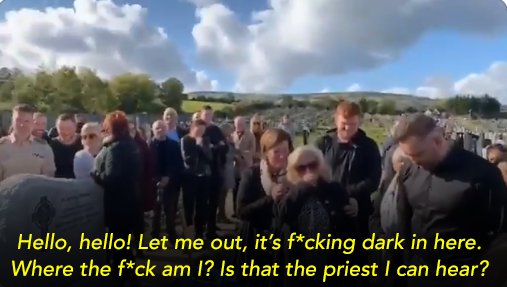 As he refers to the Priest, he too couldn't help but smile at this out-of-the-box funeral he was officiating. Shay's daughter, Andrea thanked Twitter user Ciaran, who posted the video online. 
He was definitely a man after my own heart. Sorry for your loss. He's making people smile as you can see from the comments. Hope he got the send off he deserved. I'd say you'll never run out of stories. Thinking of you all. R.I.P.

— Ciarán 🍀 (@Lucky2B1rish) October 13, 2019
Looks like Shay definitely had the last laugh!