In a move that has been coming for years now, the Rashtriya Swayamsevak Sangh (RSS) has begun selling the khaki trousers that will replace the khaki knickers it has worn since inception. 
The organization recently launched the long trousers for sale in markets in Nagpur, its headquarters, to implement the change in uniform.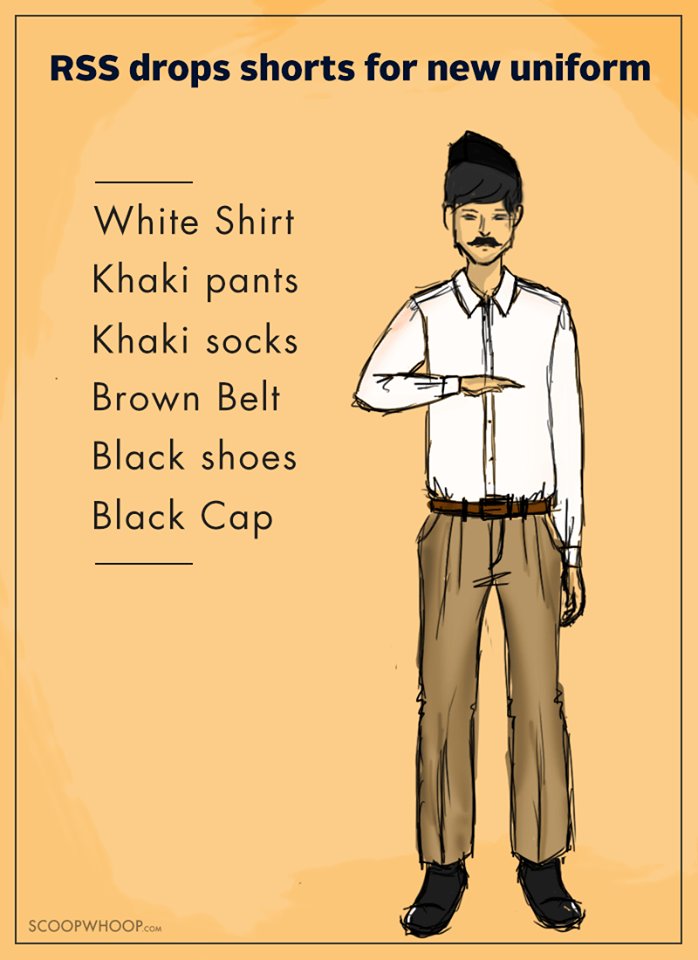 The current RSS uniform was adopted in 1925, and though it underwent some changes through the years (change in colour of cap, shirt, shoes and use of leather belts), the uniform has by and large, remained the same.
The new pants are being sold at Rs 250 a pair if your waist size is anywhere between 20 to 24 inches, reports The Indian Express. And for every two inches that are to be added swayamsevaks will need to pay an additional Rs 10, thereby giving them an incentive to watch their waistlines. 
The rest of the uniform, including shirts, belts, caps and shoes are also available along with new trousers. 
 The decision to replaces the knicker shorts with long pants was allegedly to draw in newer members, specially the youth,who, members of RSS feel, are embarrassed by the prospect of wearing shorts, though members of RSS claim that the decision comes in order to change with the times.  
 Dilip Deodhar, a former RSS member, told The Hindu:
"No one is excluded from this. Even the Sarsanghchalak (chief) has to buy his uniform" 
A senior functionary in the organisation told The Indian Express that the RSS will be initially distributed by the RSS itself and swayamsevaks can later get their own pants stitched as per their requirements.
The change in uniform was finally decided upon tin the last Bharatiya Akhil Bharatiya Pratinidhi Sabha in Nagpur earlier this year. The new uniform will be publicly adopted and showcased on October 11, when RSS celebrates its Foundation Day. 
Feature Image SOurce: Facebook/Twitter/@ANI