We've been raving about the Utterly Butterly Amul girl for quite a long time now. We first met her way back in 1968 and since then it's been a steady relationship. Brought into existence by Sylvester DaCunha as a mascot, the Amul girl has been around, believe it or not, for nearly four decades! 
Be it rising fuel prices, cricket, Bollywood or politics, the Amul ads have had their say on everything. The Amul campaign tells us Indian stories, one hoarding at a time. In the 1960s and '70s, the billboards captured the emergency, hartals, and even heralded the monsoon.
In the 1980s and mid '90s, the ads covered liberalisation and the shifts in political discourse. In the late '90s, it put politicians at the receiving end of its jibes, with a galore of scams with topicality as its oxygen. 
Let's have a look at this journey from scratch, shall we? 
In the 1960s, Amul wasn't focused at topicality in its messages but still carried a point.
1. 1968's classic Utterly Butterly Amul print ad.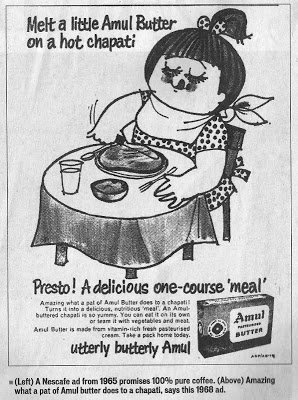 2. Amul celebrates a joyous budget!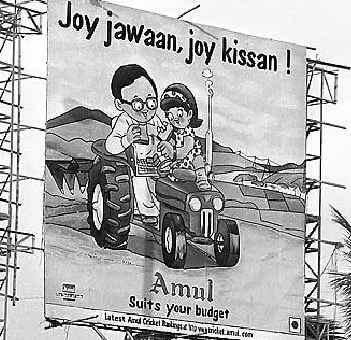 3. The best ads were made even in a pre-Photoshop era! Just look at the neatness. 
In the 1970s, Amul mobilised our utterly butterly girl to comment on many events of national and political importance like the Emergency in 1976.
4. A hoarding by Amul on Sanjay Gandhi's sterilisation programme during the emergency era. 
 5. If only I could be this cute while asking to maintain internal security!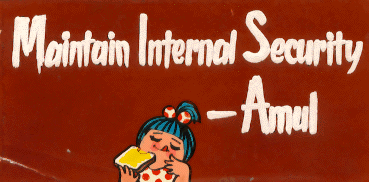 Amul ads were at their peak in the '80s as they had begun to experiment with 'quirk' along with an improved design.
6. Back in the '80s, fuel consumption had increased due to vintage vehicles using more of it.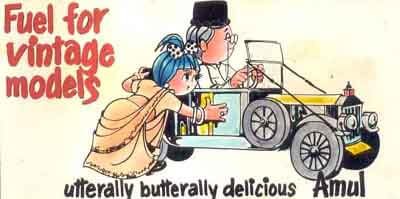 7. This controversial ad resulted in Indian Airlines threatening to stop serving Amul butter to passengers in flights. 
8. Trying too hard not to go aww!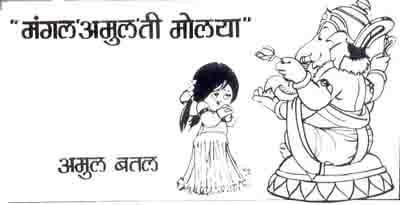 The 1990s saw a lot of diversification in the ads with respect to themes as the moppet also started to adore Bollywood like we do, with quirky ads based on movie posters. 
9. And, this was how the Amul girl welcomed Bill Gates when he visited India back in the 1990s. 

10. Remember the infamous MR Coffee Ad controversy featuring Arbaaz Khan and Malaika? Amul decided to support the ad.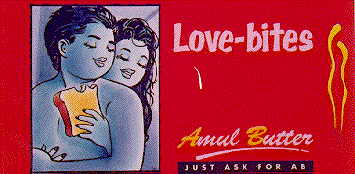 11. The guru of poetry, Rabindranath Tagore, is honoured in the ad in Bengali style.  
12. Charismatic ad, indeed!

13. Our girl became a cheerleader to our desi nightingale when she gave her first live performance in 12 years in the 1990s!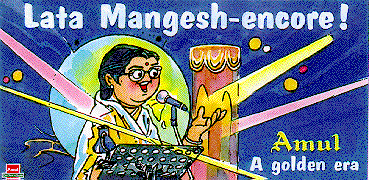 14. Bond, Butterly Bond!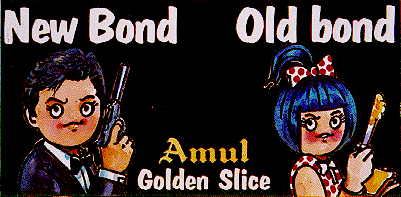 15. After all, buttering is an art, you see!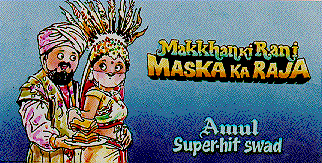 16. What a humorous take on Choli Ke Peeche.
17. Trimurti effect!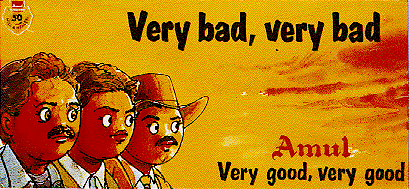 Topicality remained central to Amul ads in 2000s.
18. She took it to reality TV shows!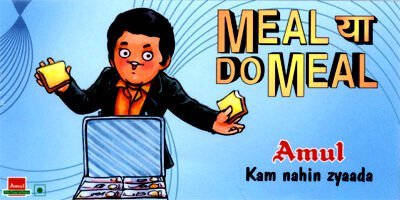 19. Dare you forget to put butter on those sandwiches!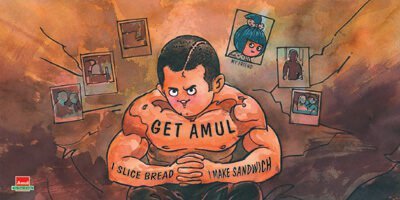 20. She didn't spare Bush either.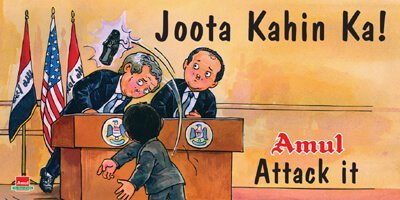 21. She doesn't like moral policing, just like us!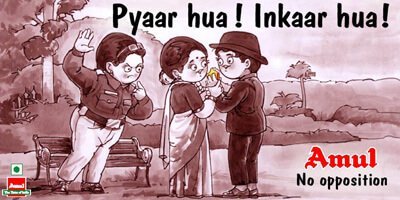 22. When speculations were rife about a nexus between Bollywood and the big, bad world of underworld.
23. The swad-dish butter is consumed by We, the people!
24. When the Taj reopened after the Mumbai terror attacks in 2008.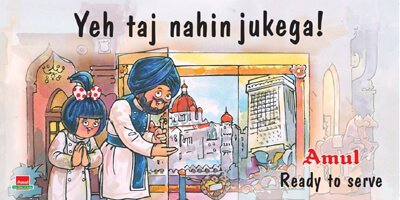 25. Big B with Utterly Butterly at Madame Tussauds!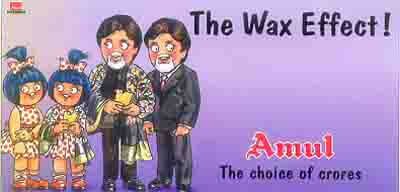 26. When three strees i.e. Uma Bharti, Vasundhara Raje and Sheila Dixit became Chief Minister.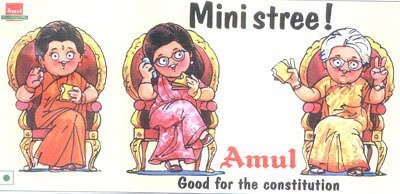 From 2010 onwards, she became more of a news junkie with a concern for aam janta issues. 
27. When she came out in support of our anti-corruption crusader, Anna Hazare.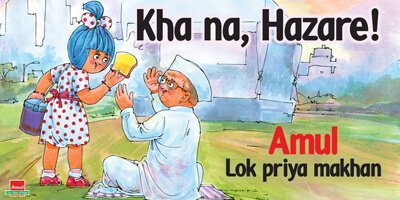 28. Nirbhaya case shook her as well!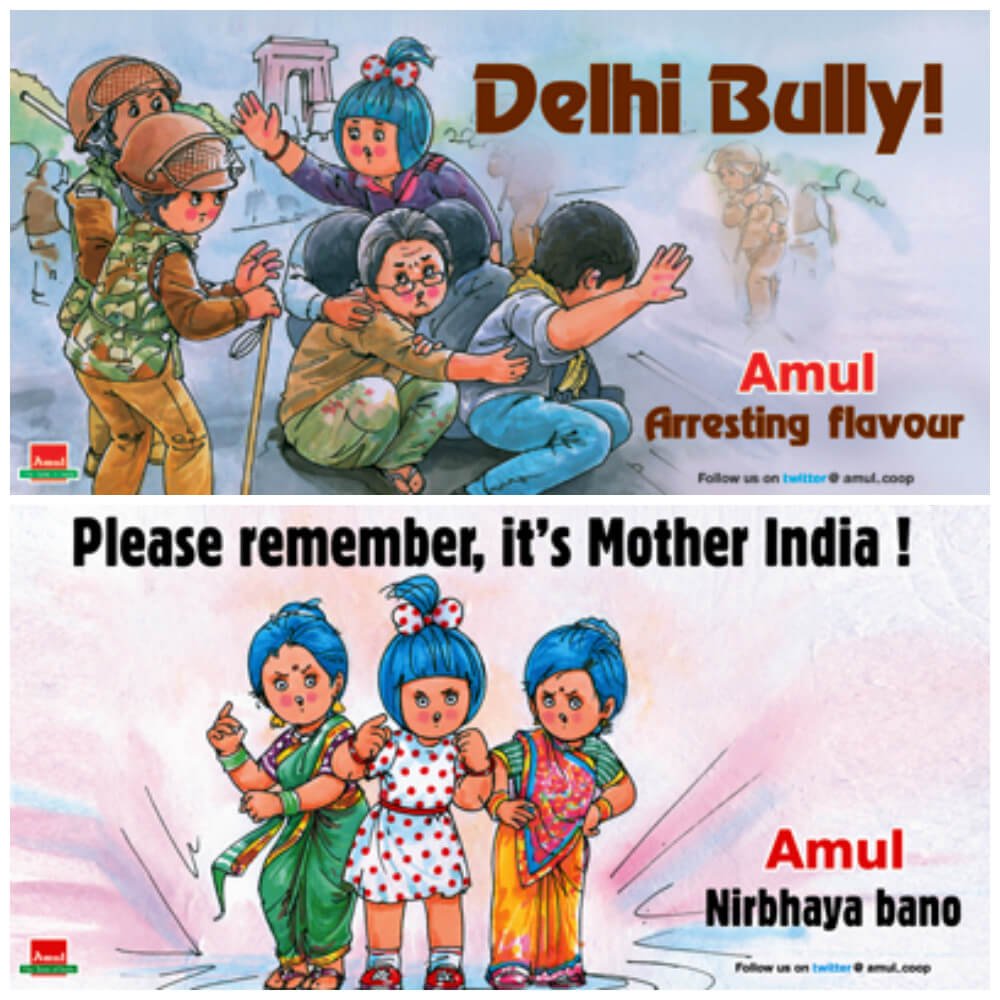 29. When she paid a tribute to Farooq Sheikh!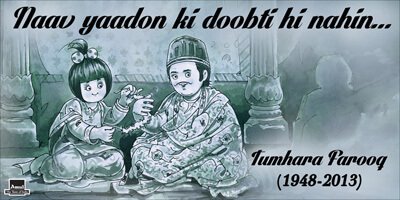 30. She is upset at the SC's ruling against homosexuality in 2013.
31. Our hearts wept with the Peshawar school victims and so did hers! Pay attention to the heartfelt words in the ad.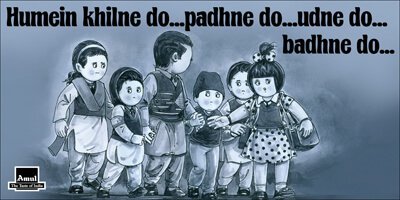 31. Isn't she just adorable in the avatars of Sadhana?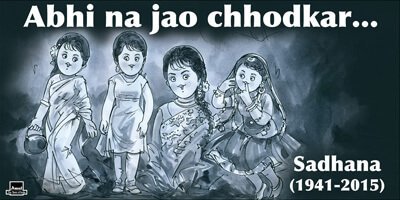 32. Excited much!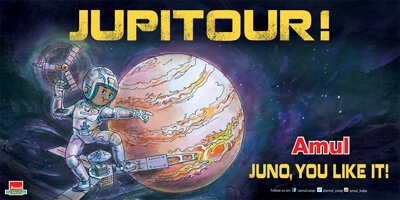 33. She bid adieu to Messi in style!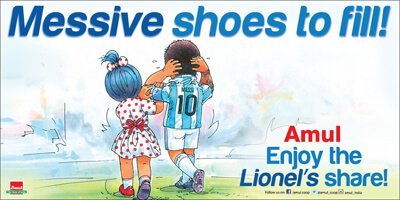 34. She knows it all about Brexit!
35. Mealwale vs Bhajji Pao Maskani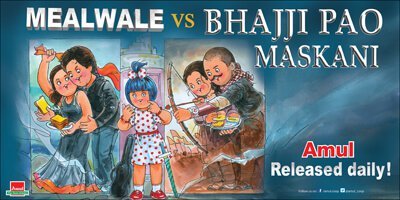 It's been four decades of Amul's Utterly Butterly and she continues to give us such relevant messages. Kudos to her!