Iron Mike is a boxing powerhouse, there's no denying that. His left hook instills paralysing fear in the toughest of the tough till date, and the man just turned 50 years old! A fighter through and through, Tyson dealt some deadly damage in pretty much every bout he was a part of, and his steady form made his matches all the more engrossing.
On his 50th birthday, here's a roundup of some of his greatest fights!
1. Trevor Berbick, 1986
On 22nd November, 1986, a fresh faced Mike came out to battle with Trevor Berbick, and sent him down to the mat in a swirl of dizzying left hooks within 2 mins 35s. At just 20 years old, this made him the youngest heavyweight champion in history. Watch the video, Berbick got blitzed yo!
2. Michael Spinks, 1988
While Spinks up until now had an unbeaten 31-0 record under his belt, Tyson took him out and laid him senseless in 90 seconds flat. Spinks didn't stand a chance. Watch it go down here.
3. Pinklon Thomas, 1987
The first five rounds of this match went without much ado, but the 6th round was a masterclass in both boxing and taking a hit. Tyson unleashed a wave of blows, and to Pinklon's credit, he took them like a fucking brick wall, but finally succumbed after the 15th consecutive punch.
4. Larry Holmes, 1988
The 38-year-old Holmes had been retired from boxing for 2 years, but came back after being offered a massive amount by sleazeball extraordinaire Don King. Holmes couldn't keep up with the younger and faster Tyson, and succumbed soon enough. Watch his go down here.
5. Henry Tillman, 1990
After his previous fight where he lost his his Undisputed Heavyweight title to James Douglas, Tyson returned to fight Tillman in a match billed as 'The Road Back'. Tillman tried to evade Tyson's blows, but got knocked the fuck out at 2:47 of the first round.
6. Tyrell Biggs, 1987
Before this big match, Olympic medallist Tyrell said things like, "He`s never fought anyone like me" and "He's strong, every fighter I fight is stronger than me, but as the fight goes on, as I use my mobility and boxing ability, strength is no longer a factor. What will he do then?"
While Tyrell's agility did work for a while, he was soon overwhelmed by Tyson's power and lost via technical knockout.
7. Lou Savarese, 2000
Tyson came in like a freak without a leash in this match, dropping Savarese to his knees right at the start, and defeating him via knockout in 38 seconds. Watch it here.
8. Tony Tucker, 1987
This was arguably one of the hardest matches that Tyson fought. Tucker had the upper hand in the first few rounds, but Tyson soon came into form and started matching Tucker's moves, winning over the judges and the match in the process.
9. Frank Bruno,1989
While Bruno got a fair few hits in during this match, and even managed to stagger Tyson for the first time in his career, by the 5th round, Bruno was pretty much done for. He lost in the 5th round via technical knockout.
10. Eddie Richardson, 1985
Richardson attempted to use an evasive technique during this bout, which is smart considering Tyson's massive power, but he was still knocked down to his knees 8 seconds into the fight. A left hook put him down and out around a minute into the fight, and that was that.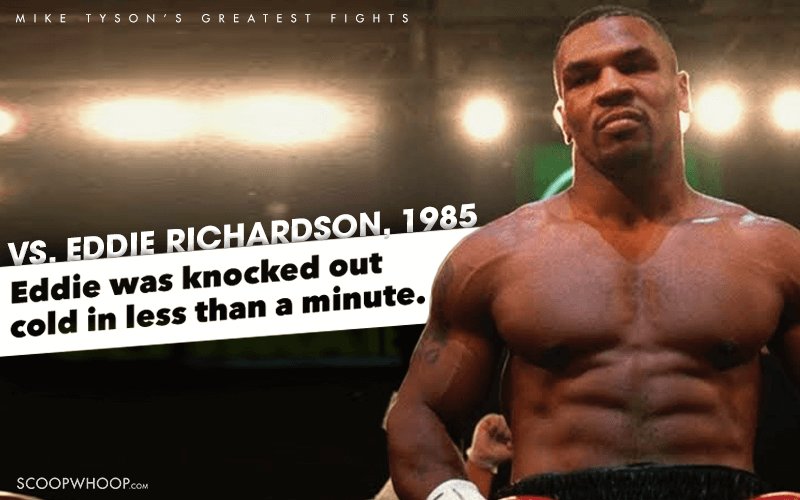 Absolutely devastating!
Designs by Rohit Jakhu.