David Harbour plays the character of Jim Hopper in Netflix's Stranger Things. Not everyone knows what a lively, although snarky, personality he's offscreen. Enter, us.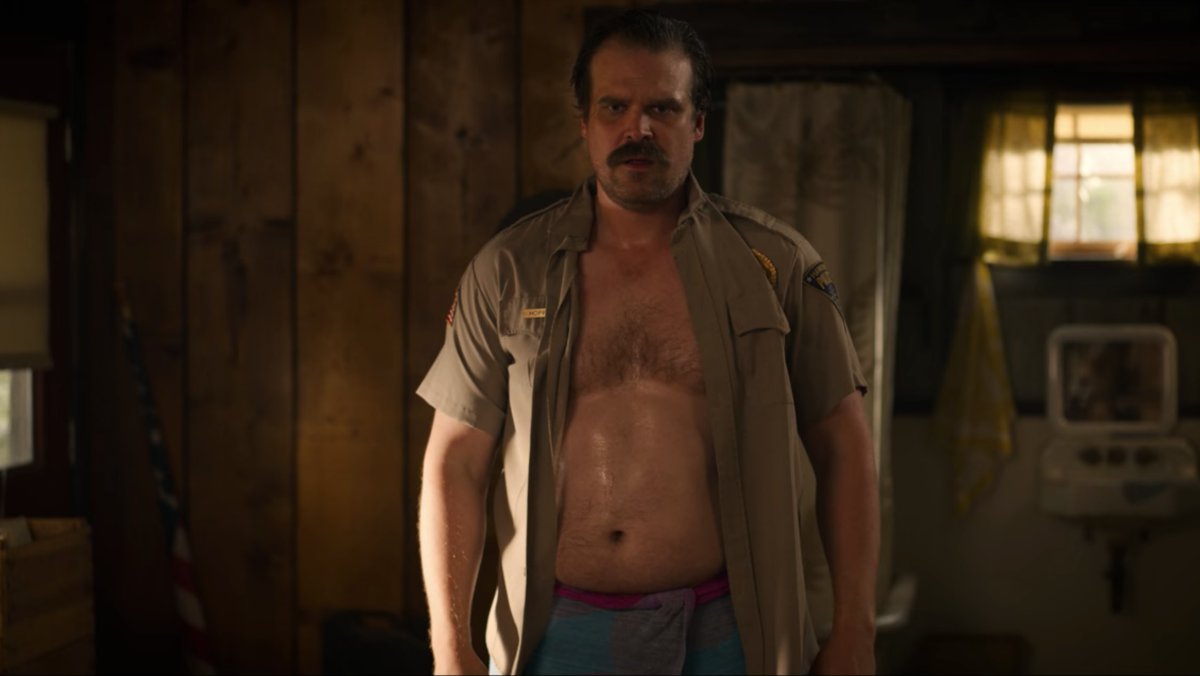 1. First things first, ever since the third season came out, his dad bod has activated thirst mode in some of the netizens. And we are not judging.
2. Don't mean to aggravate this thirst, but you gotta see this picture of young Harbour.
David Harbour in his college days with Steve Harrington-esque hair from r/StrangerThings
3. He revealed that during the shooting of Season 1, he would come off a bit 'mean'. And Duffer brothers had to be like, 'Can you be a little nicer? They're children'.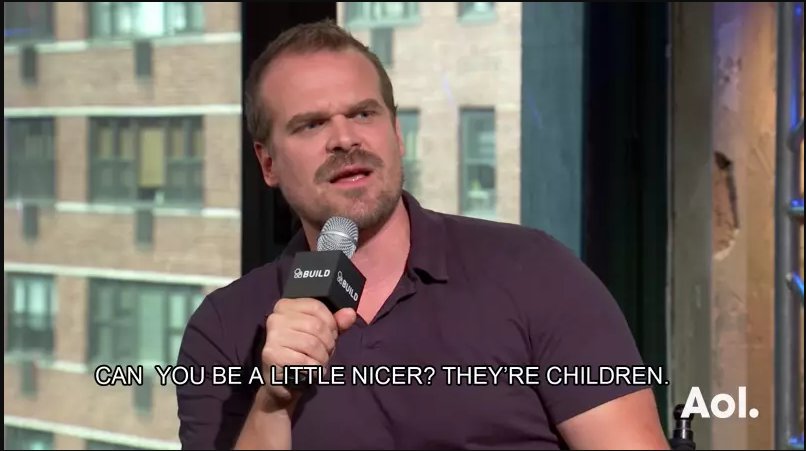 4. He played a small role in Brokeback Mountain, as Randall Malone.
And one of the notes Director Ang Lee gave Harbour on set was, 'More…handsome.'
Alright, doable.
5. In a 'Funny or Die' sketch, the actor reveals that he originally auditioned for Eleven. He convinces the showrunners that he can play the role of Eleven and even wears an item out of her wardrobe.
Lol, imagine. 
6. His Instagram captions are basically a laugh riot. On Father's Day, he posted a picture of Joe Keery AKA Steve Harrington AKA 'the dad'.
7. He also played a role in the Hellboy remake and we believe that is enough for you to understand the joke in this Insta post-
8. That's Harbour taking the 10 year challenge.
9. Harbour is out there cracking self-deprecating jokes (although Winona Ryder has his back) and we relate.
10. His new trailer for Frankenstein's Monster's Monster, Frankenstein, a mockumentary, will make you fall for the absurdity of his timely humour.
11. When one Stranger Things fan asked him how many retweets she'd have to get for him to pose in her senior pictures with him, Harbour responded. He also kept his end of the deal when the tweet went viral.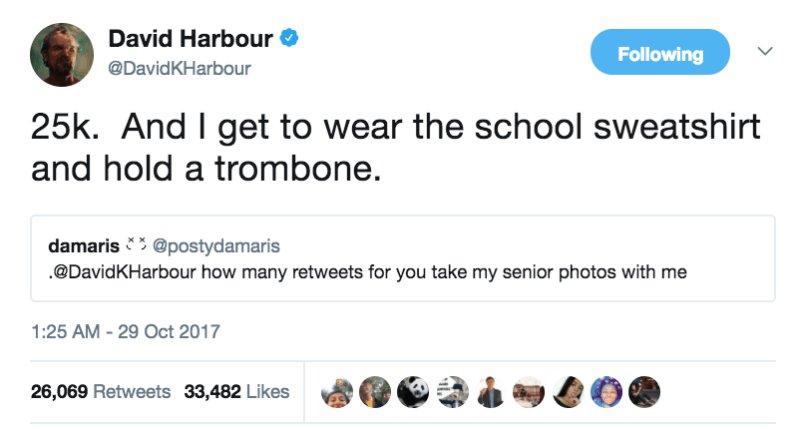 12. In a similar dare, he officiated a fan's wedding.
In January 2018, Ericka Millholland asked Harbour what it would take for him to officiate her wedding? This time he raised the stake to 125,000 retweets, and the promise that he could choose what he read at the altar and get the first piece of cake at the reception. Reasonable enough.
13. His selfie (and caption) game is on point. 
14. Harbour graduated from Dartmouth College in 1997. So, obviously, dude's wicked smart.
15. He turned his account into a Winona Ryder fan account, which makes sense as he had a crush on her when he was a teenager.
She was my high school crush with 'Heathers' and 'Beetlejuice' and she's such a great person to work with.
Harbour, as separate from his onscreen character, Hopper, is a complete delight. As of now, known mostly for his role in this show, his humour and interesting personality remains to be explored.