From misplaced words to cheating on spouses, casting couches to tongue-in-cheek remarks, Bollywood is a playing field of controversy. 
Everybody knows about the on-and-off relationship of Salman Khan and Shah Rukh Khan, Amitabh Bachchan and Rekha's infamous love affair and how Anushka Sharma was blamed for Virat Kohli's disappointing performance during the World Cup. But did you know that Aamir Khan allegedly has an illegitimate child from a British journalist, or that Shah Rukh Khan did a nude scene for a movie, read on to find out more about such lesser known Bollywood controversies:
1. Bipasha Basu and Dino Morea featured in an advertisement for an undergarment brand that was pulled down for being too provocative.
In 1998, Bipasha Basu and Dino Morea got featured in an advertisement for a Switzerland based undergarment brand. This advertisement was soon pulled down as it was considered 'to be too crass for Indian sensibilities'. The ad also faced backlash from several women's organizations, who raised protests.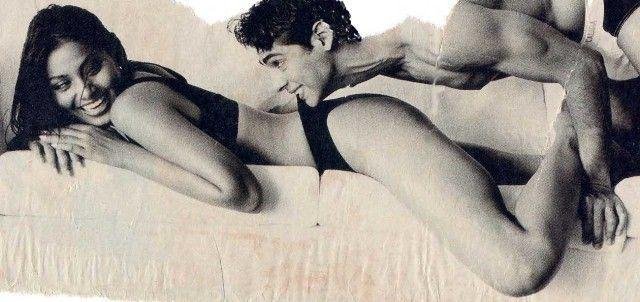 2. Gauhar Khan was slapped at a live show that she was hosting, for being a Muslim woman in a short dress.
Gauhar Khan was slapped by a male audience member while she was hosting the grand finale of a singing competition India's Raw Star on Star Plus. "Being a Muslim woman, she should not have worn such a short dress," said the accused after he was detained by the Mumbai Police for slapping and molesting her.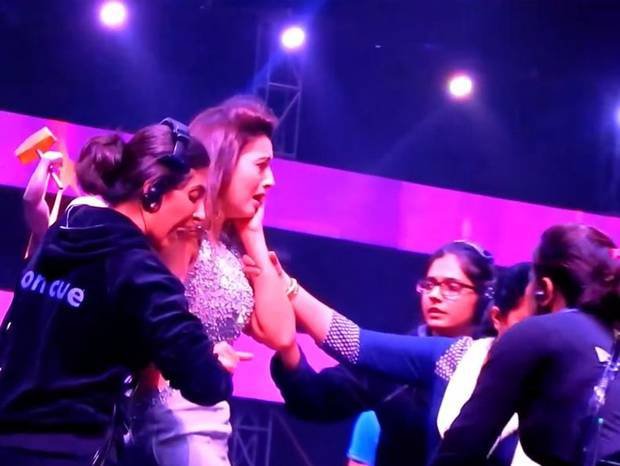 3. Aamir Khan allegedly has a love child with British journalist Jessica Hines who he met on the sets of Ghulam
Aamir Khan and Jessica Hines were in a live-in relationship when Jessica got pregnant with Aamir's child. Aamir reportedly asked her to either abort the child or forego their relationship. She chose the latter and gave birth to a son named Jaan. Both, mother and son live in London. Jessica Hines is a British journalist who is best known as the author of a biography on Amitabh Bachchan.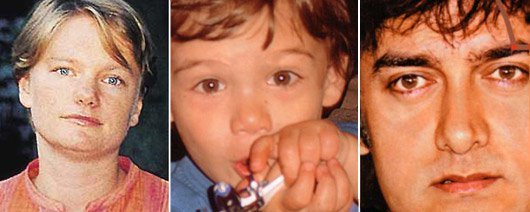 4. SRK slapped Shirish Kunder at a party after the latter got drunk and followed King Khan everywhere like a puppy.
In 2008, Shahrukh Khan slapped Farah Khan's husband, Shirish Kunder at Sanjay Dutt's party. According to reports, Shirish was drunk and followed Khan everywhere while until the latter lost his control. The real reason behind it is still unknown. However, Shirish Kunder apologised to Khan for his behaviour saying, "Shah Rukh and I just met, had a heart to heart chat and have resolved all misunderstandings. All animosity is now sorted for good. Some incidents in our life when resolved makes relationships stronger than they were ever before."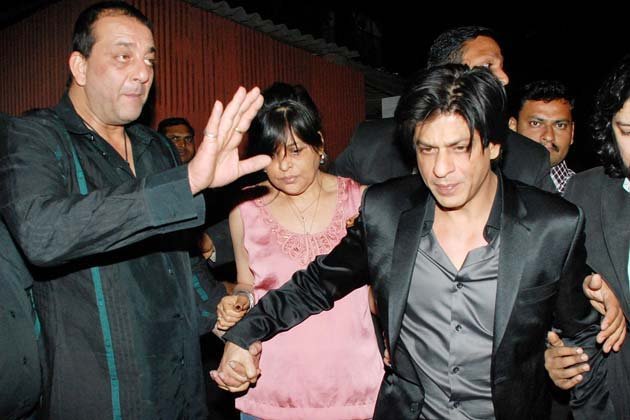 5. Shah Rukh Khan's nude scene in Maya Memsaab before he became the Badshah of Bollywood.
Fifteen years ago, Shah Rukh Khan agreed to a nude scene with Deepa Sahi in a movie called Maya Memsaab (The Enchanting Illusion in English) which was directed by Ketan Mehta. This was when Khan was struggling to make it big in Bollywood. The explicit video got viral on the web in 2008 to which he said, "It's all childish stuff."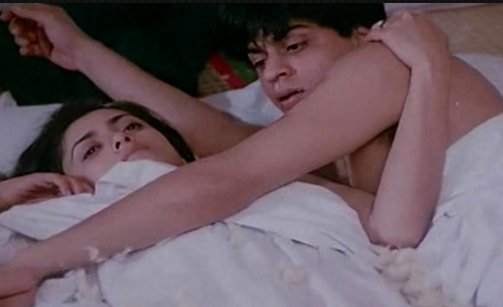 6. Twinkle Khanna unbuttoned Akshay Kumar's jeans at a fashion show.
In 2009,  Akshay Kumar got Twinkle Khanna to unbutton his jeans as part of promotions for a denim brand at Lakme Fashion Week. This caused a reaction in India leading to the arrest of his wife for allegedly obscene behaviour at the event. She was later released on a case bail of Rs. 950.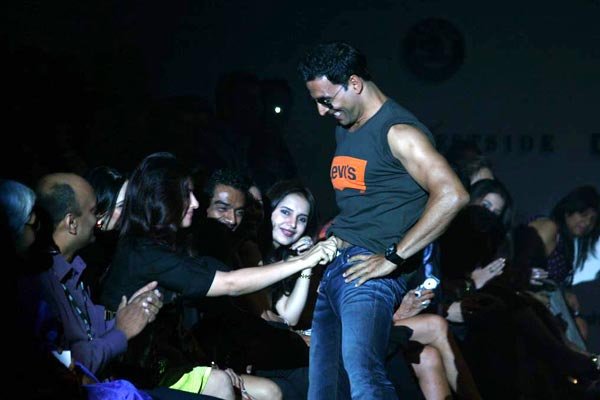 7. Milind Soman and Madhu Sapre featured in a nude advertisement which faced a lot of flak.
The leading models of their times, Milind Soman and Madhu Sapre posed nude for the advertisement of Tuff shoes which created a lot of controversy back in 1995. The two were even dating then.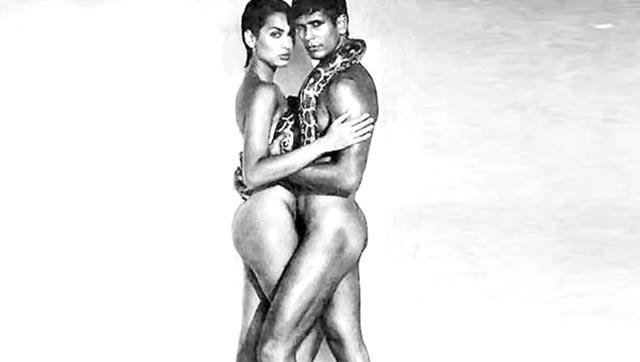 8. Amitabh Bachchan and Anurag Kashyap's war of words over the screening of their films.
Anurag Kashyap alleged that Amitabh Bachchan stalled the screening of Chittagong to benefit Abhishek Bachchan's Khelein Hum Jee Jaan Sey. He said on a social-networking website, "See Chittagong, a far superior film made on the same subject as Khelein Hum Jee Jaan Sey. At 1/8 th the cost, far superior actors and immense passion… Producers decided to sit on it, because of a phone call from someone, because that someone was trying desperately to save his son's career… Welcome to Bollywood, where whose son you are outshines all the hard work and passion and potential and talent. KHJJS came and went, now what?" There was no response from Bachchan's side to dignify his comments.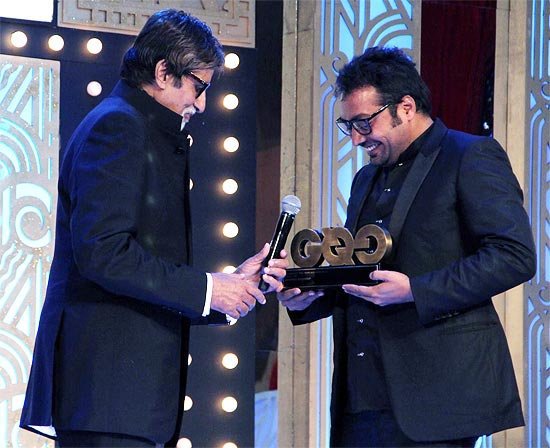 9. Radhika Apte's nude pictures she took of herself were leaked online. 
In 2014, Radhika Apte's nude self-shot pictures went viral on social networking websites. "You guys! If you're going to get someone to pass off as naked me, she needs to look a lot more like me," she Tweeted dismissing the news.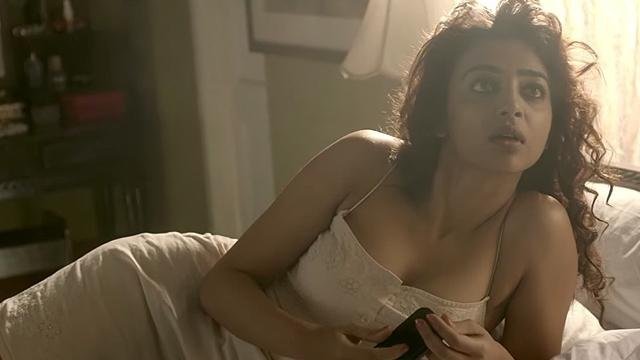 10. Kareena Kapoor's photograph was morphed on the cover of a VHP magazine that was used to warn against love jihad.
Before the release of Bajrangi Bhaijaan, Kareena Kapoor's picture was morphed and used on the cover of VHP's magazine Himalaya Dhwani to issue a warning against 'love-jihaad' among people. The actress hired two bodyguards as a precautionary measure because of this controversial campaign.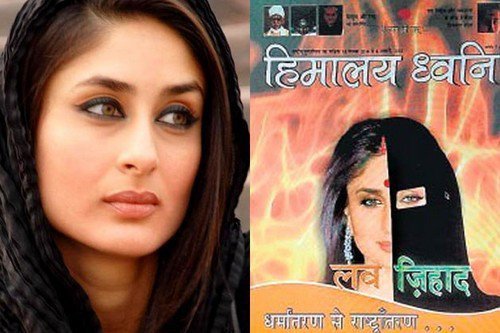 11. Mallika Sherawat posing atop an ambassador, draped in the Indian tri-colour for the poster of Dirty Politics.
The poster of the movie Dirty Politics with Mallika Sherawat created a controversy where she was seen draped in a Tricolor sitting atop an ambassador car. There was huge outcry from people all over the country especially from the state of Rajasthan.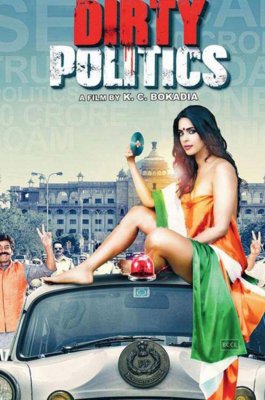 12. Rekha and Kajol's 'cozy' photoshoot for a popular film magazine from the 90s.
Rekha and Kajol had shot for the magazine back in the 90s which created a controversial stir in the country. The actresses were seen tucked into one sweater which did not get down too well with the Indian audiences.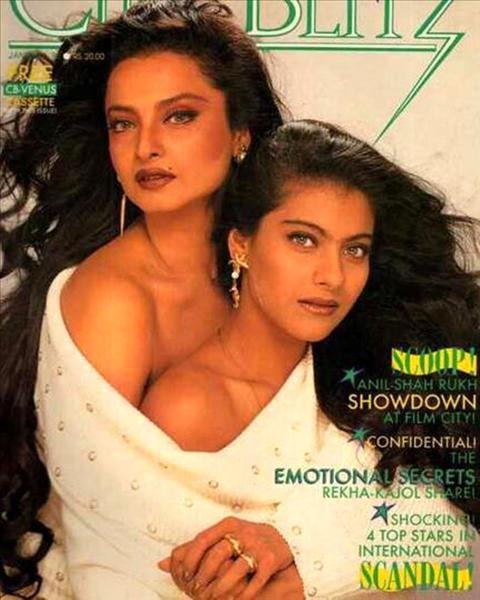 13. Shahrukh Khan and John Barrowman's kissing scene in My Name Is Khan.
This picture of Shahrukh Khan kissing British actor, John Barrowman was all over the news in 2010. It apparently happened on the sets of a television show as it was also a part of a comic scene in the movie My Name Is Khan, which later got scrapped.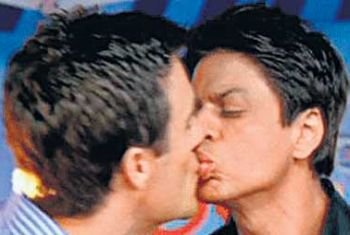 14. Rekha and Biswajeet's kissing scene in the film Do Shikaari lead to the films release being stalled for ten years.
When this scene of Rekha and Biswajeet was captured on camera, the film Anjaana Safar (1969) ran into censor troubles. It took almost 10 years to complete and was later released as Do Shikaari  in 1979. It also made to the cover of the 1969 Asian edition of Life Magazine.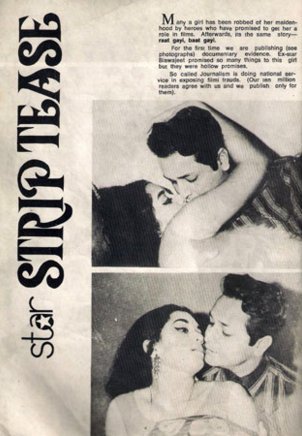 15. Shilpa Shetty got kissed by Richard Gere at a press conference and Indians lost their marbles and rushed to avenge Shetty's honour.
In 2007, Hollywood actor Richard Gere kissed Shilpa Shetty on her cheek at an AIDS-awareness function in New Delhi. This sparked a great number of protests in India which claimed that Shetty had dishonoured her cullture. Gere apologised to her later on. However, arrest warrants were issued for them by Rajasthan Court for violating obscenity laws. The Supreme Court of India subsequently dismissed the suit and suspended the arrest warrants.
16. Mandira Bedi sported a flag-themed saree while hosting the final match of the cricket World Cup in 2007, and the drape showed the Indian flag below her knee.
Mandira Bedi sported a flag-themed saree during the final match of the World Cup in 2007 in which the Indian flag appeared blow her knee in the folds of her saree. When she got to know about it, she went back on-air with a different saree. Bedi later apologised for the same.
17. Mahesh Bhatt and Pooja Bhatt appeared on a magazine cover kissing each other
Mahesh Bhatt shot for a magazine cover with daughter Pooja Bhatt and they indulged in a kiss. This picture was slammed by the fans and became the much talked about story in the town. "If Pooja wasn't my daughter, I'd love to marry her," said Bhatt, thus adding more fuel to the fire.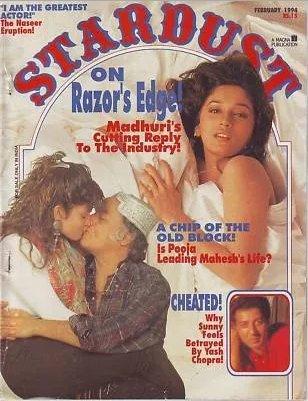 18. The lyrics of "Baby baby baby mujhe log bolen" from the movie Khuddar is a tamed version of the original.
The popular song from the 90s Baby Baby Baby Mujhe Log Bolen from the movie Khuddar (1994) was initially Sexy Sexy Sexy Mujhe Log Bolen. This change in lyrics happened after the film ran into trouble with the censor board.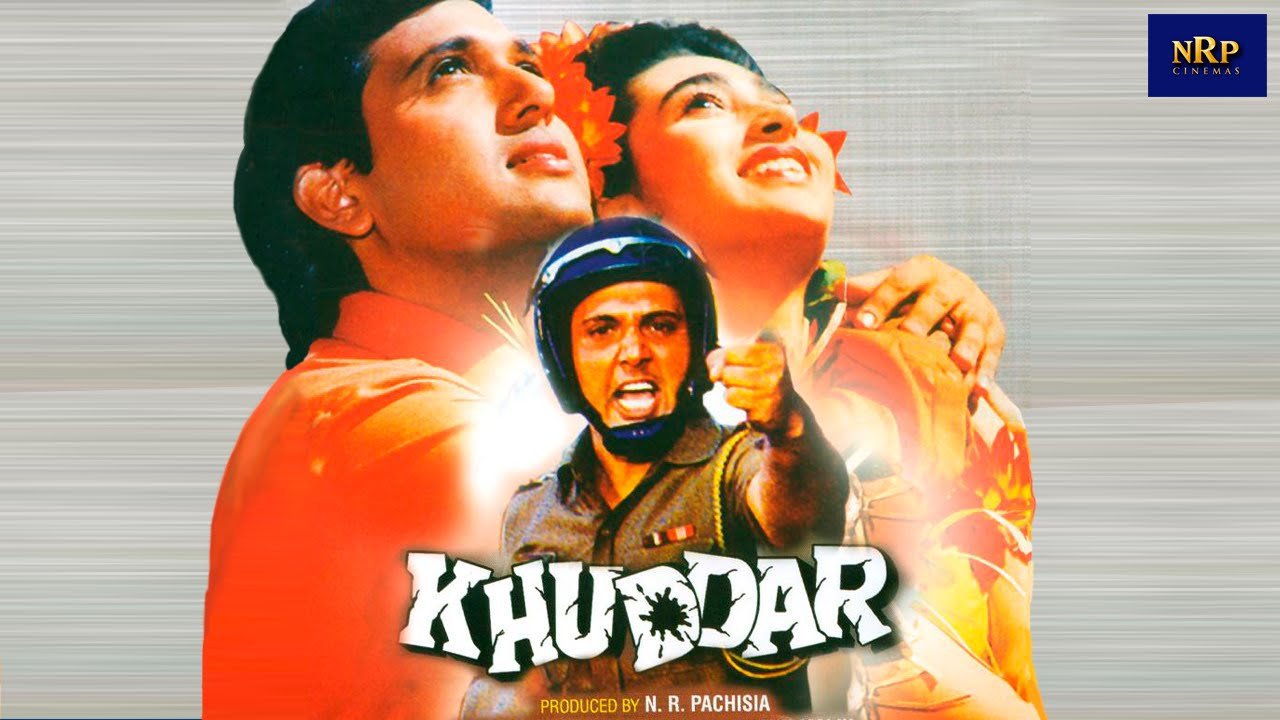 Bollywood and controversies surely go hand in hand!