Truth be told, you and I are both trying to live a dual-life. Your boring banker uncle could be listening to hip hop on his way to work or the sanskaari daughter your mom can't stop praising, could totally light the dance floor on fire! But no one is handling this duality better than Shrikant in Amazon Prime Video's The Family Man. And, guess what? They just dropped a new rap video called Dega Jaan by Sachin-Jigar, Mellow D & Shreya Ghoshal, and I think it's totally dope! Watch it here:  
I know y'all will agree with me that the scene transitions are smooth AF and gaana toh accha hai hi! Well, talking about the series, I'm sure it'll keep you on the edge of your seat at all times! The Family Man is the story of Shrikant played by Manoj Bajpayee who is constantly juggling between being a middle-class guy and a world-class spy. How interesting is that? Now, scroll down and read 5 ways in which their latest rap video captured his 'dual life' at its best! 
1. Straight face or party mode? Well… He chose both! 
The video opens with exciting beats on news clippings of dangerous terror activities around India as we see Shrikant's shadow caught in the middle of it. We feel that his straight face is a build-up to something serious but we couldn't be more wrong! Surprise, surprise! The next scene is not about an exciting chase but instead, we see Shrikant's smiling and celebrating his son's birthday. Say whaaaa??? 
2. Catch criminals or worry about school timings? Alexa, help him out!! 
Then, we see Shrikant meticulously planning for his next big move to catch the bad guys! But, but, but, the scene cuts there and he goes to pick up his kids from school and that too in a car which is anything but luxurious. So the next time your cab isn't as clean, let it go 'cause who knows, maybe your cabbie is a secret spy too? 
3. Aggressive interrogator or the middle-class dad? No guys, these are not synonyms! 
Shrikant is aggressively interrogating a criminal but the table soon turns into a Principal's office, where he is a middle-class father listening to an angry school Principal complain about his young daughter. I mean, someone please tell me what's happening here?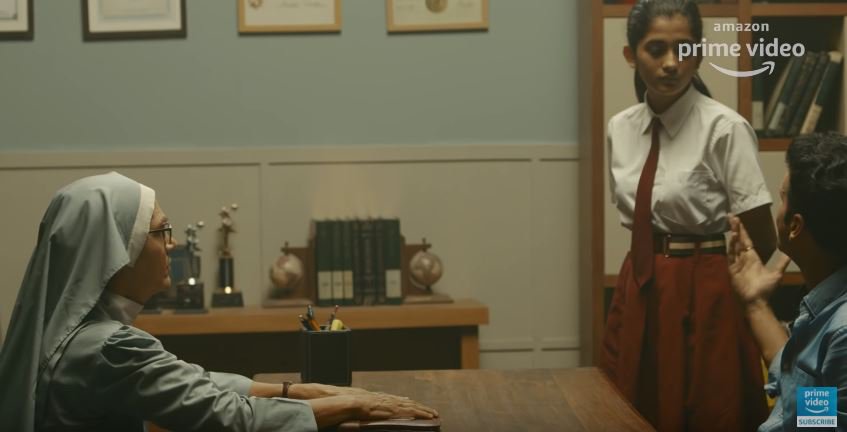 4. Arey Shrikant? Tum bhi rolling in an EMI wali car…  
Nothing about this video can be more relatable than this part, right fellas? I mean, much like all of us, he has to get loans approved and pay EMIs even though he spends half his time saving his country! Guess cars are just expensive, period.  
5. Do pal ki zindagi tu kya kya karega… Dega Jaan? 
We see Shrikant putting on a vest, which tells us that he is ready to take on some bad guys. At once, I felt like I know who Shrikant actually is but the very next moment I released that I could never figure his life! This unpredictability is made more clear when I saw him again in the end, caught in between his family and secret job. 
Well, I'm keeping my fingers crossed for Shrikant and I hope he is able to maintain the perfect balance between being 'The Family Man' and world-class spy! And guys, y'all let me know how you like this video in the comment section below.