The movie Visaranai had created enough ripples amongst movie watchers before it hit screens in India by becoming the first Tamil movie to be screened at the prestigious Venice Film Festival (and winning an award there while at it). It took a good 6 months post that for the general audience to get a look at the movie.
The trailers had left nothing hidden about the title and the subject of the movie – "An investigation" and the early reviews set the tone for a potential viewer to be prepared for some disturbing scenes on the screen.
Post the movie, I walked out thinking it was not just the visual imagery that was really scary, but elements of the story that haunted me for a long time post the movie – could this really happen? More worryingly, could it have happened to me too?
Last week when it was announced that the movie would be our pick to the Oscars, I re-visited it once again to see what might have swayed the Film Federation of India jury's mind towards it and deemed it worth of standing a chance at the Oscars.
Not a figment of imagination
Unlike other popular movies that depict the dreams and aspirations of the common man, Visaranai was based off a true story – Lock Up, by M Chandrakumar, an auto driver and a "survivor" of the incidents depicted in the movie. The movie does the story complete justice in terms of depiction and would definitely leave even the most stone hearted wondering how cruel it would have been to live through such an experience. The human element is likely to strike a chord with a jury that is likely to hear this immensely disturbing story for the first time.
Breaking down the walls behind a "System" 
There is an interesting conversation between 2 central characters in the movie – about the "System" they are a part of and how they are mere pawns in it with no control on the next moves. The movie in it's entirety is taking apart the justice system, one that you and I spend most of our lives praying we never have to see the insides of. The difference between what a common man is likely to go through and what a confident 'likely guilty' party might is showcased very vividly through the story.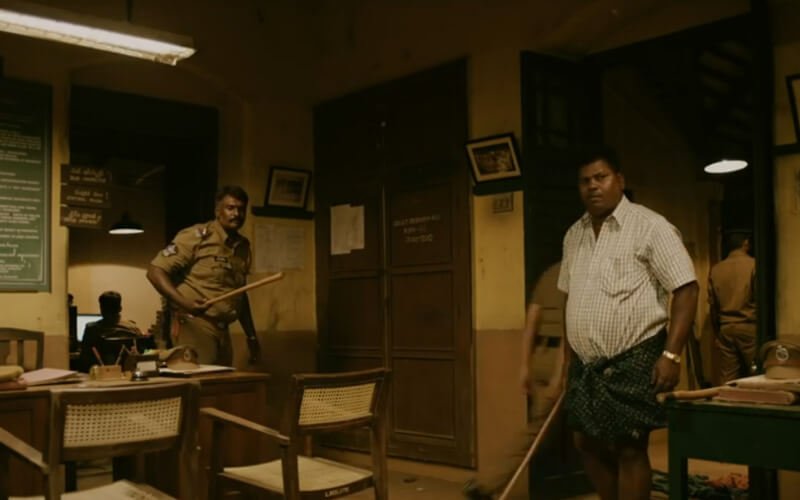 Also interesting is the dilemma of Samuthirakani's character who tries in vain to be the rightful one within the system, but can never really make a dent because of the forces around him. It took "Auto Chandran" 10 years to bring himself around to saying his story, likely because of the fear of that very system. Maybe this depiction will make many inside this system to look deeper and the likely impact of this message from the story could also be a factor in the final decision.
Good vs Evil, in a very different light 
The inherent conflict between Good and Evil is a theme that stands out and is very difficult to miss. You would typically expect the poor and the meek to be the ones without the morals; to rid themselves of their daily struggle, but this story takes a different turn. The innocent commoner is always seen as one who stands for the right , honest and not willing to compromise despite any obstacle that might be thrown at him. In complete contrast is the all powerful police/lawyer who never flinch despite knowing they are in the wrong and are ruthless while they chase down what they desire. The hero isn't an all muscle hunk and the villain isn't an evil moustache twirling goon and hence an elegant portrayal of a theme that is perhaps an essential in every Indian movie.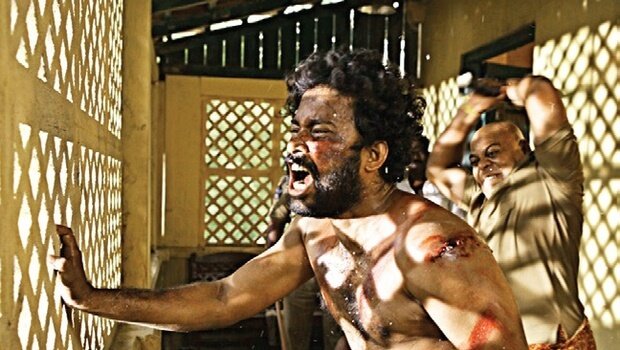 Brutality on screen, like never before 
We have all seen violence in Indian cinema, people being hacked to death, blood and gore on the screen, but Visaranai showcases brutality in a very different light – one that's all about the absence of humanity. In all the scenes where you witness physical pain being inflicted, you don't wonder about the pain, but you wonder how someone human could do this to another of their kind, repeatedly, without any guilt or shame. Not for revenge, not for justice, but purely for their own selfish outcomes.
India – we have our faults, but not ashamed about it
Visaranai is also different because it isn't set just about the one overpowering story of police investigation, but many many more underlying themes. For one, the movie is not set in one state/city and it spans across 2 different regions and one of the many differences between us as a nation. Not all of us are always at "home" – immigrant labour, if we can call it that exists within the many different states of ours and we always keep moving in search of things – work and means for a living most importantly. The reason why people go elsewhere in search of work is because of the inherent "pride", and don't want to been by friends & family doing odd jobs for a living.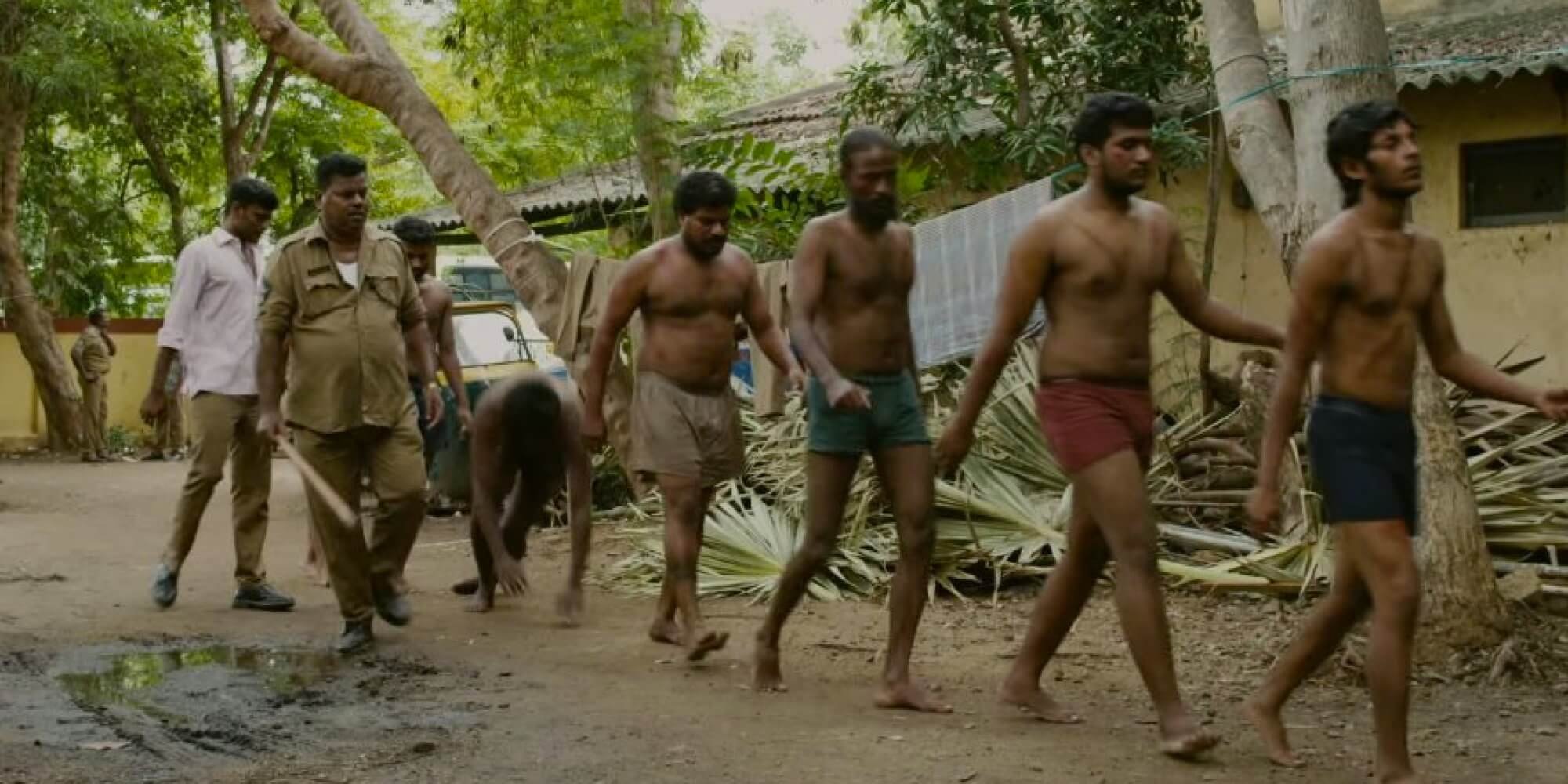 Religious differences exist, a mention of a Muslim name and you are immediately suspected to be a terrorist. In passing, it also touches upon the gaping differences between the rich and the poor and insecurities that women are put through as well. As we have done in the past through Court, Salaam Bombay and many other such great stories, this is us as a country admitting in some way that we know our limitations and we won't penalise our artists for being brave and vocal about it.
I will admit that I haven't seen all the movies that could have potentially beat Visaranai to the post , be it Thithi or Bajrangi Bhaijaan. But, I do definitely believe that Visaranai is likely going to be a good contender to get nominated into the final 5 at the Oscars. For it is a story that can move hearts while delivering a very powerful message about the importance of humanity in every act of ours , irrespective of the likely outcome.
—
Navin is a BITS, Pilani – IIM, Bangalore almunus. He lived over 20 years in Chennai and is currently based out of Bangalore, working in a start-up. He is a sports "enthusiast" and can talk endlessly on any sport, or so he thinks. He is on Twitter as @madnavin.