In association with
&Flix
We all grew up with Spider-Man, didn't we? I mean, no matter what happens, our friendly neighbourhood Spider-Man will always hold a special place in our hearts! And, if I talk about my favourite movie from the rack, it'll definitely be Spider-Man: Into the Spider-Verse. This Academy and Golden Globe award winner film builds on Marvel's extensive multiverse and features Spideys from different universes, a treat for all the fans out there! 
Speaking of which, on 29th September, this Sunday, &flix is premiering the Spider-Man: Into The Spider-Verse on your TV screens at 1 PM, 7 PM and 9 PM, at 2 PM on Zee Café and 3 PM & 11 PM on &PrivéHD. And since there are many characters from infinite dimensions, I wanted to do this character decode to jog your memory. Now, scroll down and read about all the important characters. But, before you do so, watch the promo below:  
1. Peter Parker AKA Spider-Man 
Do I even need to introduce this character? I'm guessing the answer is no but since I'm decoding all the major characters, lemme briefly tell y'all about him as well. Peter Parker, the original Spiderman has held the mantle for the longest time and is the most iconic of all the characters who held the title. Well, of course in Spider-Verse, we don't actually see much of the original character but, we do see the entry of a Peter Parker from an alternate universe. He's an older and sloppier Peter who's nothing like the one we all love and adore. Through the movie we see him rediscover his inner-hero as he interacts with the other Spideys. 
2. Miles Morales AKA the *New* Spider-Man 
Miles' story is pretty close to the original Spider-Man, the only difference is that he comes from the universe where the original Spider-Man has died, which inspires him to take over the mantle. Although he has the same basic powers as Peter, he also has the ability to camouflage himself and inflict a bioelectric 'venom strike!' BTW, did you know that Miles is also a member of The Ultimates and an Agent of S.H.I.E.L.D.? So, Miles Morales isn't just a superhero, he stands for more than justice. He is a part of Marvel's initiative to have multicultural representation in their comics. 
3. Gwen Stacy AKA Spider-Woman 
Gwen Stacy, you'd remember as Peter's love interest. Well, in an alternate universe she plays the role of Spider-Woman. In her universe, she is a college student and a drummer for a band called 'The Mary Janes'. Later, she becomes a costumed vigilante against the wishes of her father, who is the Captain of the NYPD. She is bitten by a radioactive spider instead of Peter. Well, of course, she got similar Spider powers but what makes her different is the fact that she can travel between dimensions. How cool is that? And folks, she isn't any regular superwoman, I am saying this 'cause in The Age of Apocalypse, she was Thor's bodyguard who dealt with the situation like a total badass! Can you believe that? So, girls, it's time to get some major inspo! 

4. Peter Parker AKA Spider-Man Noir 
Despite his tragic backstory, Spider-Man has never been known as a dark character, but Marvel Noir universe changed it all! His universe is set in the midst of the Great Depression in 1933. And the character is gloomier than his counterparts. This noir version of Peter uses revolvers and guns to take out the bad guys! He uses his powers a little differently than others and prefers to parkour his way across the rooftops. Well, what's interesting is that he was originally a part of the Superior Spider-Man. However, while protecting one of his partners, he gets badly injured by the Inheritors and was taken back to his world where he was taken care of. And, since then, the Inheritors are searching for him to kill him! Honestly, I feel he's the most interesting character from the Spider-Verse. 

5. Peter Porker AKA Spider-Ham 
I know it may be surprising, but Spider-Ham is one of the oldest characters of the Spider multiverse. Yup, no kidding! Unlike the others, Peter Porker was not bitten by a radioactive spider, instead, he was bitten by a radioactive pig called May Porker. He is by far the most entertaining character of all times and in addition to the trademark Spider powers, he also has weapons! But, but, but, guys… there's a twist in the plot which I won't tell you 'cause spoilers, duh!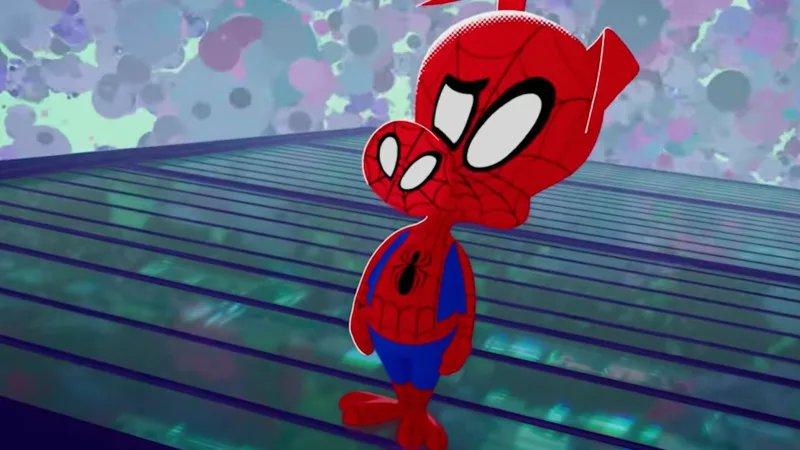 6. Peni Parker AKA SP//dr 
If there's one character in the Spider multiverse who is weirder than Spider-Ham, it's Peni Parker! She's a tiny girl who inherited her father's SP//dr mech suit after his death. She eventually teams up with Daredevil – who was her father's acquaintance – to take down criminals including Mysterio. She shares a very special bond with a radioactive spider, which allows her to control the mech suit – making her the pilot of the SP//dr. BTW, do you know how she was recruited? Well, one day, while taking a subway to her school, she gets approached by Spider-Ham and Old Man Spider to join the Spider clan to fight the Inheritors! And of course, she accepted the proposal! Then, she equipped herself with wrist-mounted web-shooters 'cause what would a Spidey be without the web-slinging powers, right? 
So now, if you're totally intrigued to find out more about the whole new Spider-Verse, set a reminder for Sunday, 29th September and catch the TV premiere of Spider-Man: Into The Spider-Verse only on &flix. 
&flix offers some of the choicest Hollywood movies and the maximum number of television premieres and is available in the 
Zee Prime English Pack
 that includes 4 premium channels – &flix, Zee Café, LF and WION at a very attractive price of Rs 15/- per month only. 
So, keep your munchies handy. Enjoy!