In association with
Airtel
The COVID-19 outbreak has proven to be a devastating global affair. Everything is shut, we're locked inside our houses, and the last time I checked, it was still spring. The very fabric of existence is altered.
But even with the world coming to a standstill, we are lucky to have the means and support to meet our office deadlines, pay our bills online, buy groceries, and carry on with our day-to-day activities — all from the comfort of our couch.
And if we have still been able to keep ourselves sane, it is only because we can avail these 6 online services at our disposal. 
1. Buying daily groceries 
There's no greater joy than a slice of pizza. But right now whatever we're eating, has to be fresh and preferably cooked in our kitchens. So we have to make sure that we have an adequate amount of daily essentials like milk, eggs, breads, veggies, etc, at all times, right? Don't worry. App based grocers like BigBasket, Grofers and Milkbasket are here to make sure we get these perishable essentials delivered right at our doorstep.
2. Recharging our phones & paying our bills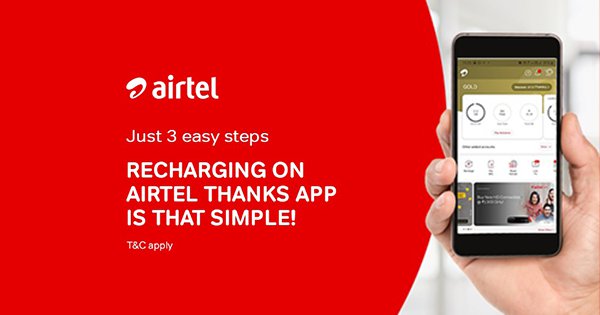 Look, there's no way we can get past these dark days without keeping in touch with our families, friends and colleagues. Or simply without being on social media. We owe it to ourselves to do everything that makes us go "All Izz Well". Airtel understands this sentiment and has come up with the best way to make sure that we stay connected even during quarantine. 
The user-friendly Airtel Thanks app makes recharging all its services distance-friendly. Whether it's paying your phone bill, recharging DTH services, money transfers or paying utility bills. The Airtel Thanks app makes everything super easy with just a few clicks. Through the UPI enabled app, you can also help your domestic help, the building security guard, or even your elderly neighbours by paying their bills or recharging their phones so they can stay connected with their loved ones. Check out this video to find out how you can do that. 
3. Buying essential goods
You have probably been self-isolating for close to a month now and you could be running out of some essentials like personal care and hygiene products, snacks and household staples. But all the shops near your house are shut. Don't worry, you can still get these products pretty easily. There are e-retail players such as Amazon, Flipkart or Snapdeal that are still operational to make our lives easier. So just pick up that phone and order away. 
4. Buying medicines
Ok so if you're under medication and the receding stock of medicines is giving you heart palpitations, stop worrying. There are a few online medical stores such as Medlife, PharmEasy, Netmeds, etc. that will deliver your medicines to your doorstep with utmost safety. Just make sure to place your order well before time so that there is no gap in your medication in the event of late delivery. 
5. Working out
It must be killing all the fitness freaks to not be able to hit the gym and do their routine workouts. But the smart ones already know the trick. There are live workout sessions on apps like Cult.Fitness app, HealthifyMe app, or the adidas Training by Runtastic – Home Workout app. 
6. Entertainment 
And how can we expect ourselves to socially cut-off from the world, stay at our home and not have any show or movie to binge on? Not possible. Life without entertainment (especially during this time) is unimaginable right? Thankfully there are plenty of OTT platforms such as Netflix, Amazon Prime Video, Hotstar and Discovery+ with a plethora of shows from different genres and languages. So go ahead and make the most out of it. 
We should be thankful that we have these 6 online services to help us go on with our day to day activities without any hindrance despite being hit by a global crisis. So stay indoors and stay safe!