Bollywood actor Aamir Khan was honoured with Vishesh Puraskar at the 75th Master Dinanath Mangeshkar Awards by RSS Chief Mohan Bhagwat for his outstanding performance in film Dangal.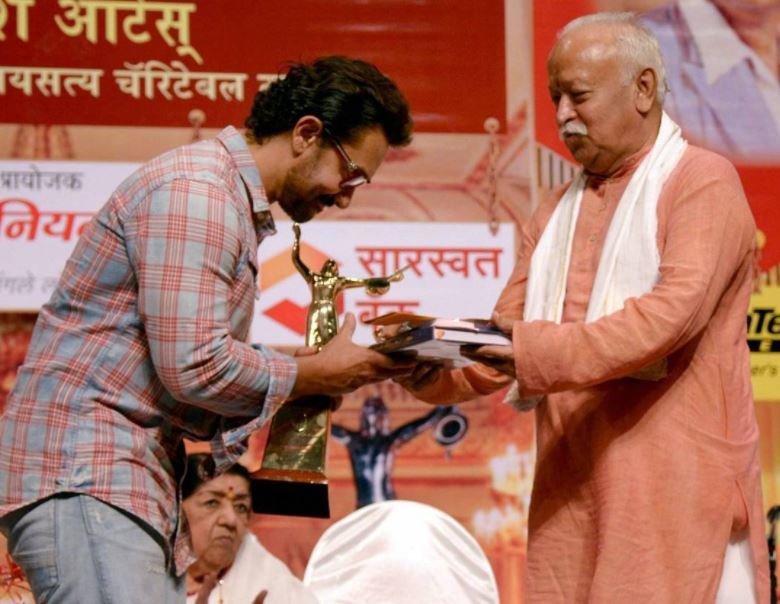 "Today wherever I am, the credit goes to all the writers who have written my films. I am here because of the directors and writers for the wonderful work they've done. I thank all of them," Aamir said after receiving the award. 
The 52-year-old actor last attended an award show 16 years ago when Lagaan was nominated in the Best foreign film category at the Oscars. 
And while everyone was taken by surprise with Khan attending an award ceremony after a long gap of 16 years, it was also interesting to see him share the stage with RSS Chief. According to a report filed by ABP News, both had a difference in their opinion two years ago when the 'intolerance row'  had sparked a controversy. 
Expressing his feelings in terms of growing insecurity and fear in the country, the actor two years ago had said, "When I chat with Kiran at home, she says 'Should we move out of India?' That's a disastrous and big statement for Kiran to make. She fears for her child. She fears about what the atmosphere around us will be. She feels scared to open the newspapers every day. That does indicate that there is this sense of growing disquiet, there is growing despondency apart from alarm. You feel why this is happening, you feel low. That sense does exist in me." 
As per the report, RSS chief Mohan Bhagwat had reacted to Aamir's statement as saying that the 'intolerance' remarks are made by those who do not care about their motherland and are unaware of how it can malign the character of the nation.
While Kapil Dev was honoured for his outstanding contribution to Indian Cricket, legendary actress Vyjayanthimala Bali was presented with Master Dinanath Vishesh Puraskar for her achievements in Hindi cinema.
Other awardees included Kishore Deshpande, presented with Anadmayee Puraskar for his work in social service, Vishwanath Karad, Founder, Vishwashanti Kendra, presented with Samarpit Jeevan Puraskar, Vijaya Rajadhyaksha, conferred with Vagvilasini Puraskar for her work in literature. Uday Nirgudkar received an award for his editorial work while Kaushiki Chakraborty for her endeavour in the field of music. Legendary singer Lata Mangeshkar was also present at the event, organised by Master Dinanath Smruti Pratishthan and Hridayesh Arts.
(With inputs from PTI)
Feat image source: Twitter/AamirKhan Turkey FC