While we all recover from having lost the right to make Leonardo DiCaprio memes and his long-drawn struggle to get that precious Oscar – that ended with The Revenant – we're here with something else for you to think about.
Have you ever thought thought the film an actor won the Academy Award for didn't really represent his or her best work?
Here's a round-up of 10 actors that did win (and all for pretty solid performances) but due to other factors, not for these absolutely spectacular roles.
1. Leonardo DiCaprio
We simply must start with Leo. The trophy eluded DiCaprio for so long, it became a running joke on the interwebs. So we must say that while The Revenant was an absolute spectacle of a film that Leo clearly put everything he had into, it all felt like just a precursor to him finally finding Oscar glory after all of his magnificent performances in the past. We'd like to bring your attention especially to What's Eating Gilbert Grape – the film that brought Leo his first Oscar nomination at 19. His funny, tragic and heart-felt performance, we think, should have ended his quest for the Oscar, before it ever became all this.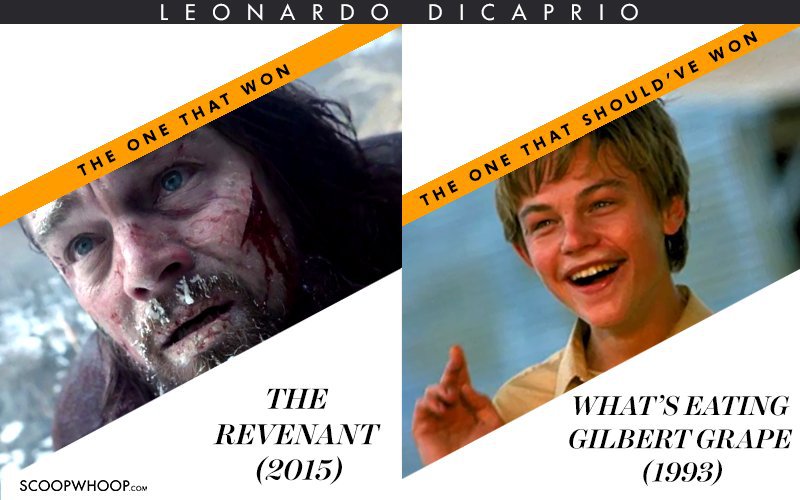 2. Jeff Bridges
Bridges' Oscar for playing the washed-up country star in 2009's Crazy Heart was preceded by a long line of classic roles and 4 Oscar nominations. But his most iconic performance by far was as the 'Dude' in the 1998 cult hit, The Big Lebowski. This utter masterpiece, as many have called it, was simply lost among the many comedies that've been overlooked by the Academy over the years.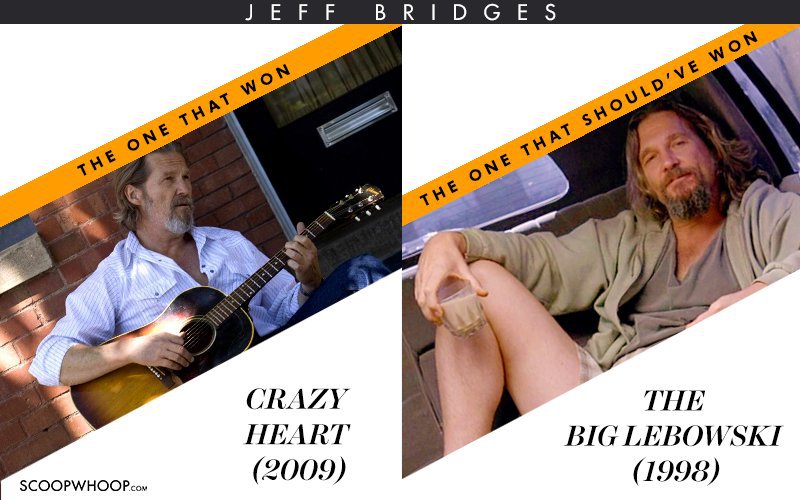 3. Christian Bale 
Christian Bale has long been known for going all out with his roles – shocking physical transformations and commitment in anything he picks up. His part in The Fighter (2010) as a drug-addicted boxing coach was a winning performance, no doubt. But it was no comparison to the perfection with which he portrayed the pumped-up, narcissistic psychopath in American Psycho ten years before that.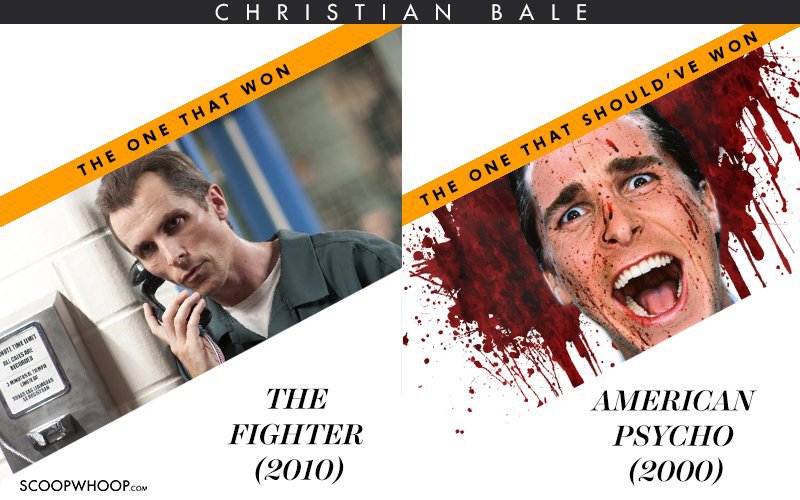 4. Jennifer Lawrence
Silver Linings Playbook (2012) may have been where Jennifer Lawrence charmed her way into mainstream cinema, but true movie buffs already knew her from her staggering performance in the dark indie hit, Winter's Bone (2010). While she got nominated for it, the Academy went with the more established actress for the award that year – Natalie Portman in Black Swan.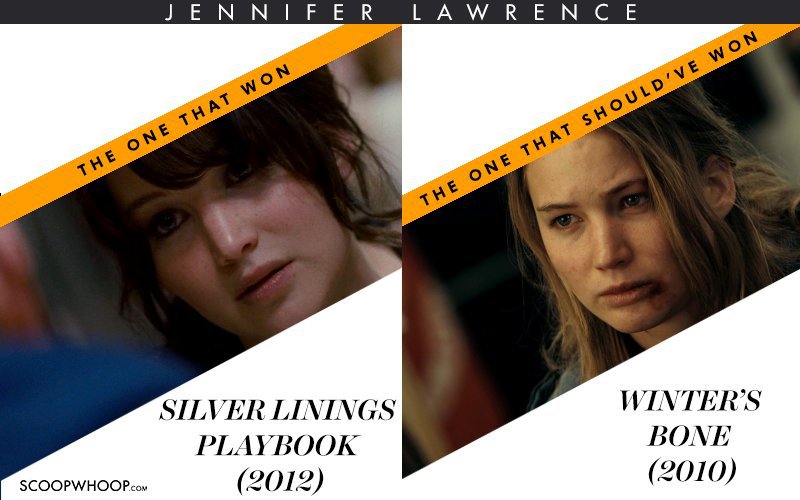 5. Denzel Washington
Denzel's over-the-top dirty cop in Training Day (2001) wowed fans everywhere, and it was bloody brilliant. But just a couple of years earlier, the Academy snubbed his heart-wrenching performance in The Hurricane (1999) as a boxer who was wrongfully imprisoned for 20 years. They went instead with Russell Crowe's Gladiator, that while also brilliant, may not have been as stunning as his performance in A Beautiful Mind which lost the award to Washington's Training Day in 2001.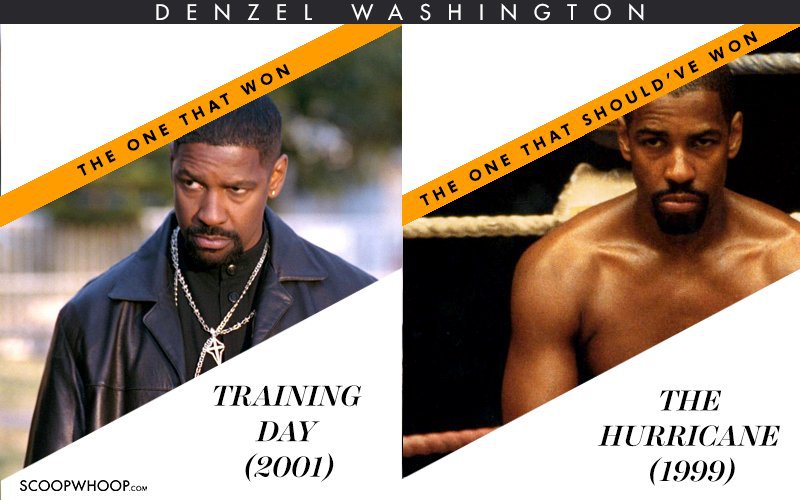 6. Anne Hathaway 
Anne Hathaway created a lot of buzz with her role in Les Misèrables (2012). And while the very emotional performance got her the Oscar for Best Supporting Actress, we believe her show-stealing portrayal of a defensive young girl suffering from Parkinson's Disease in Love & Other Drugs was a home run that went tragically unnoticed by the Academy.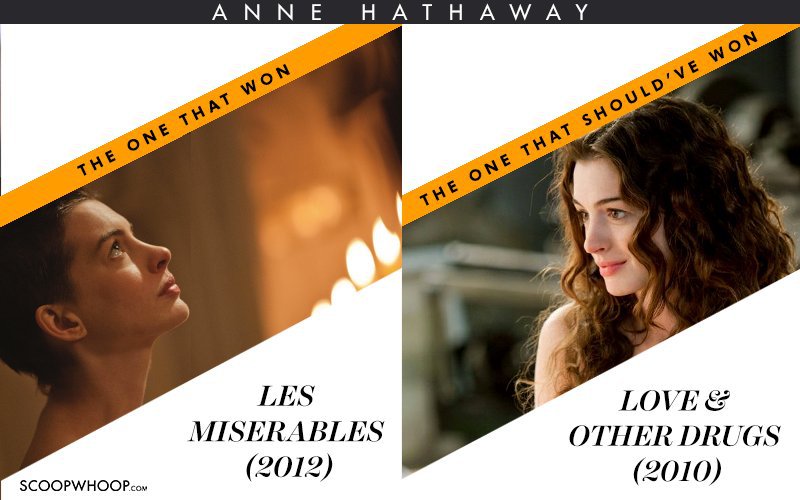 7. Al Pacino
Al Pacino delivered magnificent Oscar-nominated performances in modern classics like The Godfather (among a number of others, I may add), so it is rather shocking to learn that the only one that won him an Oscar was his portrayal of the blind, retired army lieutenant in Scent Of A Woman. This too was amazing, but really? How believable is it that The Godfather's Michael Corleone went without an Oscar?!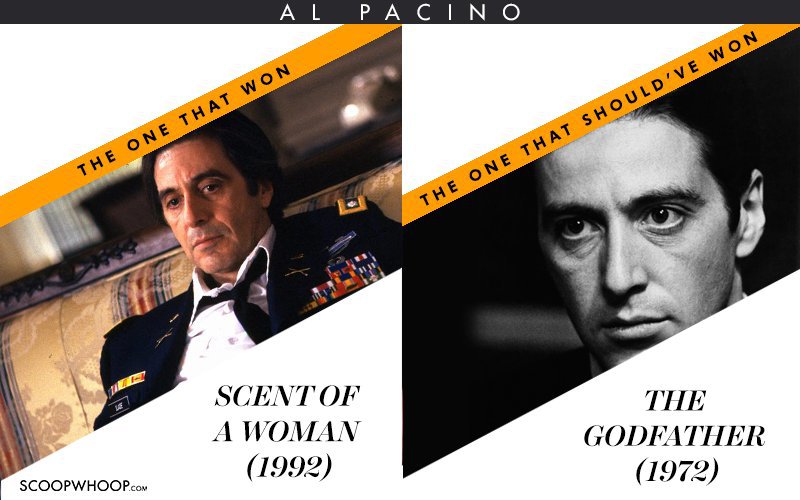 8. Paul Newman
What brought several-times-nominated actor Paul Newman his Oscar in 1986, was the Martin Scorsese film The Color Of Money. But the veteran actor had already delivered a number of spectacular performances that it felt like the Academy was awarding more his entire body of work than just the performance. One of his films, that has stayed with most cinephiles is Cool Hand Luke (1967). Newman's exquisite and complex portrayal of Lucas Jackson in this prison drama has been celebrated as one of his most winning performances of all time. And why it didn't win, is beyond us fans.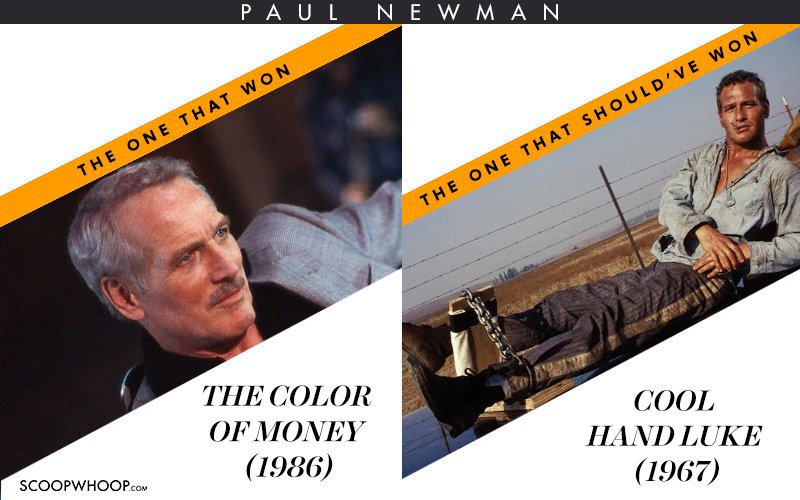 9. Jennifer Connelly
A Beautiful Mind (2001) was a knockout hit with the Academy. Almost everyone that was nominated, won. Including Jennifer Connelly for the Best Supporting Actress. But one of the most iconic drug-abuse films of all time, Requiem For A Dream, was almost completely snubbed at the Oscars just a year before in 2000 and Connelly's role in the film was brave, haunting and truly Oscar-worthy.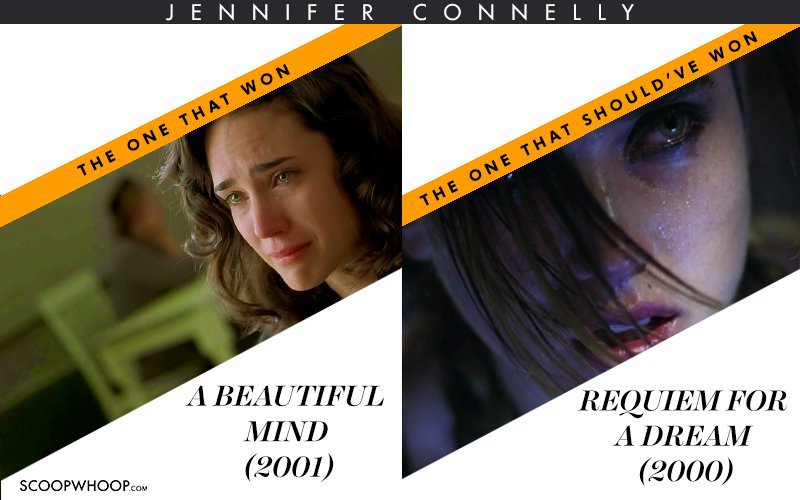 10. Morgan Freeman
In 2005, Million Dollar Baby swept most of the major categories in the Oscars, including Morgan Freeman bagged the Best Supporting Actor's title. But while it was a brilliant film, over a decade later now, how many of us can quote him from the film? Meanwhile, his gloriously memorable role in 1994's Shawshank Redemption has stayed fresh in our hearts and we truly think that the man who said the iconic words (in his iconic voice), "Hope is a dangerous thing," truly deserved a statue for it.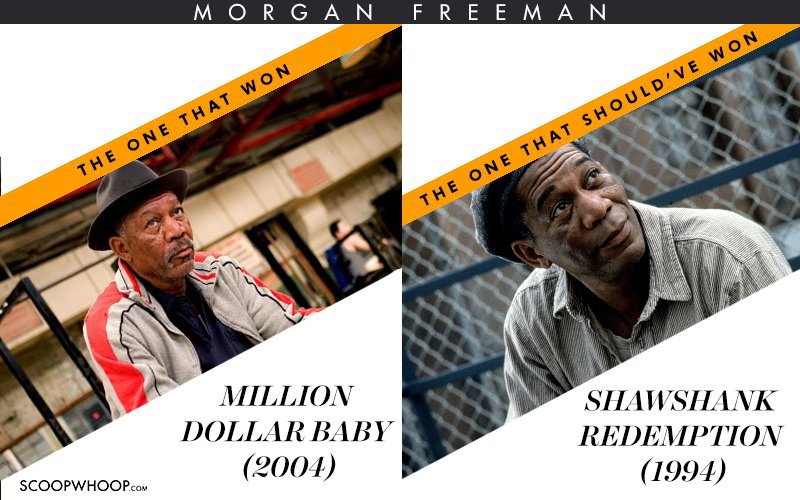 What do you think? I sure hope we didn't miss out any great performances. Or should I say, I hope we didn't pull an Oscar!!!
Design credit: Rohit Jakhu