In association with
Disney India
How many of you remember eagerly waiting for Sunday as a child? I sure do! But it wasn't just because Sunday was my only holiday as a school kid, but also because that was the day my favourite cartoons used to come on TV.
Disney for all, yaay!! 
I remember being mesmerized by the world of princesses and fairies. TBH I still am. And that's because Disney, for one, is still keeping the magic alive. Disney has created an enduring world with its inspiring stories about love, hope and friendships. And this world has something in it for everyone — you, me, our parents, our weird cousins and even our Dadis. And one of the ways Disney has kept its popularity, is by making their stories accessible for everyone. Like how they got Shahrukh Khan to voice Mufasa or got Irshad Kamil to write songs for Aladdin.   
And in the time honoured tradition of getting exciting talents to lend their voices to our favourite stories, Disney has another fantastic surprise for us! For their latest release, Maleficent: Mistress of Evil, the iconic character of Maleficent herself will be voiced by our very own Aishwarya Rai Bachchan. Yup, you heard that right, she is going to bring Maleficent to life in Hindi. Now I'm even more excited to watch the film!  

Well, to make the wait a little bearable, read on to hear what the queen of hearts, Aishwarya Rai Bachchan, had to say about her magical journey with Disney.  
What did you think of Maleficent and did this experience bring out the child in you? 

Firstly, generally talking about Disney movies or such cinematic experiences — what's wonderful about them is that they are evergreen in the way we view them. We have all grown up watching them, and then once you have a kid, you re-visit. Then, there will be your own interpretation and now you will have your child's interpretation, and it's a very endearing experience. That's why when they say that a Disney film is a family experience, it truly is. It's nice to come away with that feeling when you watch movies and Disney movies have that kind of feel for a fact. 
With Maleficent, what I found unique was their perspective. I hadn't seen the film until recently so I did not know the story of the film. For me, it was just about how Angelina Jolie had decided to play the evil fairy. I was like "Oh, she is a mother of 6 and she has chosen to do that. Interesting." But then I had left it at that. Recently, when I saw it with Abhishek and Aradhya, we came away liking it. We were like oh my God! It was such an interesting perspective. For years in cinema, people had never done it. They had never taken the fairy tales and tried to tell it from the perspective of another character — that too the anti-hero. And then to call it a family experience by bringing it out as a children's movie is challenging too. All of it did keep me wondering until I saw it. I was like Oh man! Who would have thought that a new perspective on the true love's kiss is that it is the god-mother's kiss, it is a maternal instinct? So obviously Mumma loved it completely. I thought it was amazing and I was like wow! To actually say that in Sleeping Beauty, that was the kiss that woke her up — that was the true love's kiss — just suddenly made me like Maleficent so much.  
What was your first reaction when you were asked to lend your voice to the character of Maleficent?  

Within the same week of watching Maleficent and feeling the film truly, one night, I was putting Aradhya to bed and setting the alarm on my phone, when I see this message pop up asking me to do Maleficent's voice-over. It just made me go what? I mean after all these years, that's the day I chose to watch it, and then two days later I get this request? It felt as if a divine force was trying to say "kar lo". You know that little nudge? And Aradhya's eyes lit up when I said the word Maleficent. And she was like "You are being asked for that?" And looking at her, my eyes lit up too but then I told her now it bedtime so I'll address this tomorrow morning.
Were you excited? Doubtful? When did you decide to say yes to this offer?  

Maleficent came to me with a very short window of time. I was traveling the following week and everything had to be done within 5 days, from the promo to the costumes, everything. Besides my schedule, I had to take a call as an actor too. The actor in me will always remain true, so it can't be just "Chalo voice-over kar lete hain!" Even though it sounded sweet, I wanted to watch the film and decide if I want to play this character, because I have to live with my choice. Professionally, I'll always be a very earnest and committed person. So I saw the film, I liked it, I liked the character, I liked the way Angelina Jolie had essayed it, I liked how the character was written, and I liked the story too. I thought it was a fun theatrical experience for a viewer so I professionally addressed it and I was happy to come on board. And the rest is here!   
Maleficent's character also has shades of grey. She is evil, but not purely evil, very different from the usual characters that we see. What do you feel about that? 

She isn't different or grey, I think she is human in her emotions. Though she isn't meant to be a human — she is a fairy queen in the film — but actually, if you see, in Maleficent the first part, her emotions are very real and relatable to all of us. They have explained why she felt that sense of being let down, how she let her anger override her judgment, how then she herself wanted to take her decision back and how she works a way around it. Maleficent's character is very human at that. People have a very singular perspective of humans, but if you see, human beings are grey. Through your lifetime you go through it all, you go through various emotions, as does Maleficent and that's what makes her so relatable and very real. You have to see the film to understand why she chose to do it and why I was happy to lend my voice to it too *laughs*. 
Your experience with Maleficent and Disney in one line?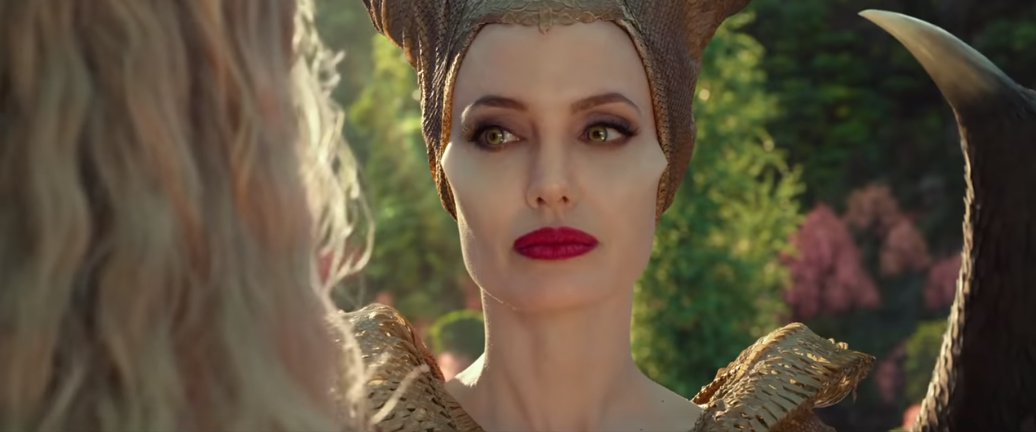 I can't in one line, kaise bol dun? But like I said, this was an enjoyable experience as it was the first time for me to give my voice to another actor's work. I have had people doing voice-overs for my work when I have done regional cinema. But those are the ones who have taken up the profession of a voice-over artist. I'm an actor who has done voice-over only for myself. But I must admit, once I went into the dubbing theatre, I was an actor doing my job. Before that, even I was thinking that I'll be giving my voice to another actor's performance, that this is not an animation or an animal or another character. This is an actor's job and I had to make it work in Hindi for Indian viewers' sound. But it was fun as it was a collaborative effort. I was working with Mayur Puri, the writer, who was there at the dubbing sessions. I would discuss the lines as they are written, I would discuss if the lines work and are in sync with moment in the film. So even if I wanted to say a line a certain way, I would deliver it as per the requirement, because the film is not about my performance. I had to keep it true to what the team wants of me and do that earnestly. This was new for me because as an actor you are used to dubbing the way you want to perform, but this was not about you and your choices alone. I'm glad I got to do it because I have come away experiencing something different and unique. 
Abhishek Bachchan proudly shared the trailer of Maleficent saying "How cool is this!, #TheMrs." How excited is he? 
I think it was very sweet of him to have done that because all this happened so quickly and he knows all about it. I was like "Oh my God, how am I even going to fit this in and make it happen?" And he knows that I'm not going to short change anything and that I'll put everything into it. Even with the promo shoot, I wanted professionals on board and get the look that will be individual to me and would still remind the viewer of Maleficent. There was no Maleficent costume provided, so we wanted to create something that was unique for me and Maleficent, both. I think the professionals, did a great job with the hair, make-up, and Falguni, my friend put the costume together in like one day so it was great. The sweetest return of all of it has been the love that the audience has given, I mean there were sketches and people talking about it, I think it has been very generous.  

Ufff! This interview itself gave me goosebumps and God, am I excited about the film, aren't y'all? Go check out the film at a theatre near you and if you haven't yet seen the trailer then catch it here today!