There aren't enough words to describe Akshay Kumar's great deeds. 
The actor has been actively voicing his opinion against the evils of society and has even suggested ways of tackling them. Recently, his suggestion of creating an online portal to make direct donations to martyred soldiers' families was brought to life after the government extended its full support. The Bharat ke Veer app and website are currently live and have received a great response.   
You'd also remember how, almost a year ago, Akshay had voiced his concern regarding the ill situation of stuntmen and stuntwomen in the film industry. Through an open letter, he started a conversation around establishing a secured and insured environment for these brave hearts. 
Here's the letter:

The actor's concern roots from his interest in performing his own stunts. He understands the dangers and risks involved in this kind of work. 
And now, his efforts regarding the upliftment of this sector have paid off. 
According to a report in Hindustan Times, the insurance scheme is now in place and will cover 380 stuntmen and women between the age group of 18 to 55. 
The report also mentions how Ejaz Gulab, the general secretary of Movie Stunt Artist Association, approached many insurance companies and producers for help, but was sent off without any second thoughts, since nobody was interested in insuring stuntmen.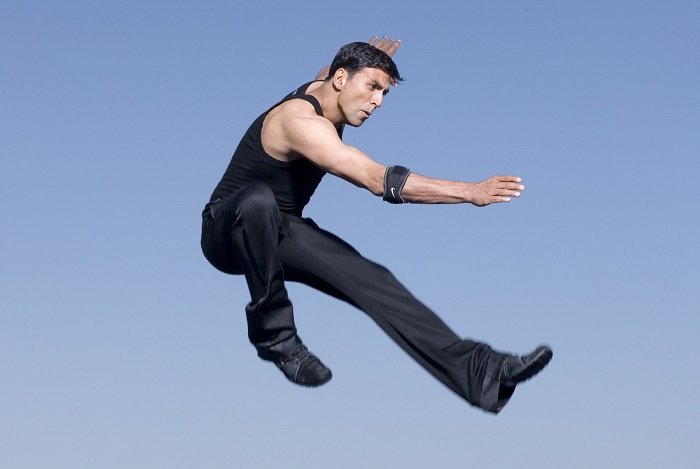 This scheme has been devised by Akshay and renowned cardiac surgeon Dr Ramakanta Panda. In case of injury on sets, the stuntman will be covered for ₹ 6 lakhs in almost 4000 hospitals, through a cashless set up. While in the case of death, a sum of ₹ 10 lakhs will be given to the stuntman's family. 
This is a one of a kind scheme and has come to life after numerous failed attempts. All thanks to Akshay, the future of 380 men and women lies secured.