Alia Bhatt recently was in Jodhpur to attend the wedding of her best friend, Kripa Mehta, and the pictures are going to make you want a bridesmaid like her at your wedding. 
The actor along with her girls squad was there at every step of the way, to ensure a memorable time for her bestie on her big day.
She danced away with the group on Hawa Hawa, like no one's watching. 
And burnt the dance floor, quite literally!
It takes a special kind of friend, who is with you through thick and thin. 
You laugh and you cry together. And these pictures bear testimony to the solid friendship these guys share with each other. 
In a video that surfaced on Instagram, Alia could be seen shedding a tear while watching her best friend dance. 
We all have that one friend, who has seen us cry over a broken relationship or wept in joy with us when we found the love of our lives. 
Her presence right in front of the venue on the D-Day to welcome the Baraatis actually defined who we call 'friends like family'.
She is one of the biggest stars of the country but yay, she will fight to get the groom's shoes on her best friend's wedding.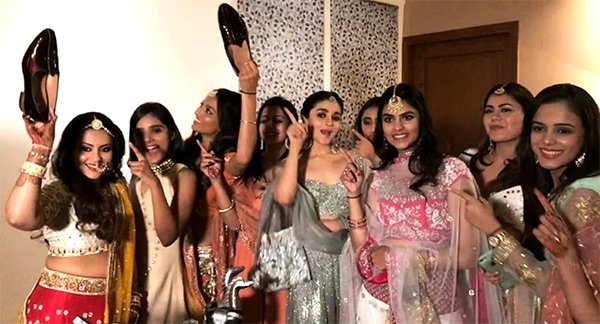 Alia making sure her best friend had the best day of her life. 
And of course, like all of us, she was seen posing for a gazillion pictures with her girl squad and having the time of her life. 
She kept taking photos of the bride (even when she was walking down the aisle) just like any best friend would do. Because only you know how special that moment is for your friend. 
She was not only there for Kripa but also her family. 
And of course a part of the bachelorette party. 
After all, what are friends for?