Director of Bajrangi Bhaijaan, Kabir Khan had to faced an angry group of protesters at the Karachi airport for allegedly making "anti-Pakistani films" and making the country "look like a nation of terrorists". 
Khan had gone to Karachi to attend an event in Lahore, ABP reports. 
As soon as he arrived at the Jinnah International Airport in Karachi, a furious group of protesters surrounded the director and shouted slogans like 'shame shame' and Pakistan zindabaad'.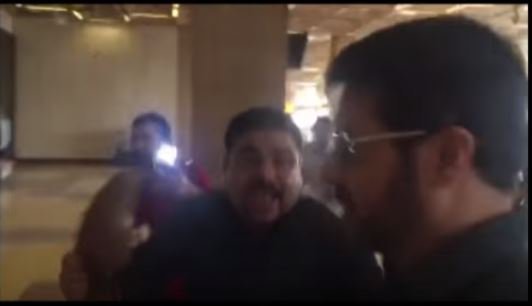 One of them even seemed to want to hurl a shoe at the director, but a security guard arrived just in time to prevent it. 
Kabir Khan's last film, Phantom, starring Saif Ali Khan and Katrina Kaif was banned in Pakistan for showing the country in a negative light. The film was about a plot by Indian security agencies to kill terrorists harboured in Pakistan. 
Watch the video right here:
Meanwhile this is what Kabir Khan tweeted about the incident:
To media on both sides: 12 screaming lunatics with a mobile phone camera is not news. Please don't give them the attention they want. Ignore

— Kabir Khan (@kabirkhankk) April 27, 2016