Filmmaker Anurag Kashyap has quit Twitter. The director has cited threats to his family, as the main reason for choosing to delete his Twitter account, according to reports.
Kashyap took to Twitter to announce that he will be leaving the social media platform over threats made to his daughter and parents.  
Before deleting his account, his last tweet mentioned, 
When your parents start to get calls and your daughter gets online threats, you know that no one wants to talk. There isn't going to be reason or rationale. Thugs will rule and thuggery will be the new way of life. Congratulations everyone on this new India and hope you all thrive. 
The filmmaker said, he did not want to speak at all, if he were not allowed to speak his mind without fear.
Wish you all the happiness and success. This would be my last tweet as I leave Twitter. When I won't be allowed to speak my mind without fear then I would rather not speak at all. Good bye.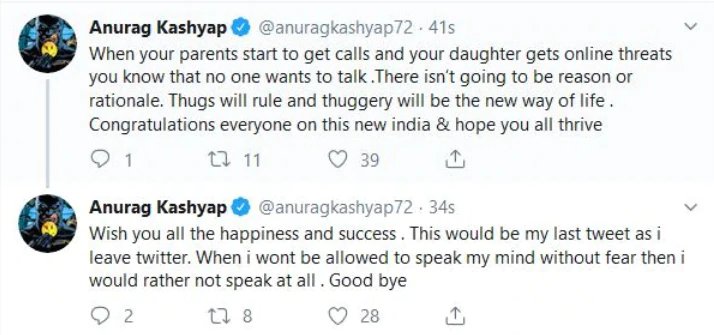 A vocal critic of the Modi government, Kashyap was also among the list of intellectuals who wrote to the govt, to express his concerns over the recent mob lynchings in the country. 
You know what is scary, that One Man thinks that he knows exactly what's the right thing to do for the benefit of 1,200,000,000 people and has the access to the power to execute it. 
Last week, the filmmaker had criticised govt's decision to revoke Article 370 in Jammu & Kashmir.