So, last month, I took my life's first-ever interview via a candid chat with Ayushmann Khurrana!
It's a moment of earth-shaking surreality when you actually meet somebody whose journey you've followed and celebrated over the years from a distance through a cinematic portal that often teleported you to a different universe. There's an uncanny charm about Ayushmann Khurrana, a multi-talented actor who is also a singer, a writer, a poet and who has also been an RJ, a VJ, a reality TV host, a reality TV contestant, and so much more.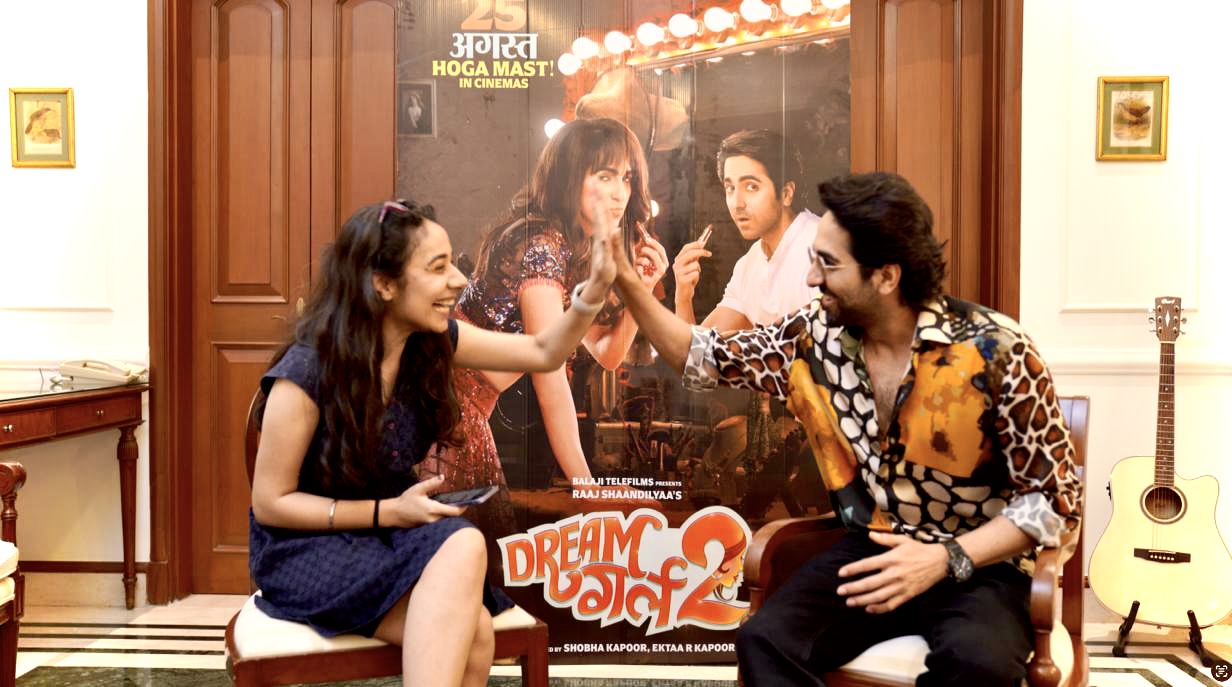 My first memories of Khurrana begin as an MTV VJ hosting a show titled Stripped (2009), a satire on viral developments around Indian TV celebrities back in the day. I used to watch him with stars in my eyes, hoping one day I develop that same confidence he was exuding single-handedly on screen. That 25-year-old host went on to explore a range of creative facets and became one of the few multi-faceted personalities we now know within the Hindi film industries.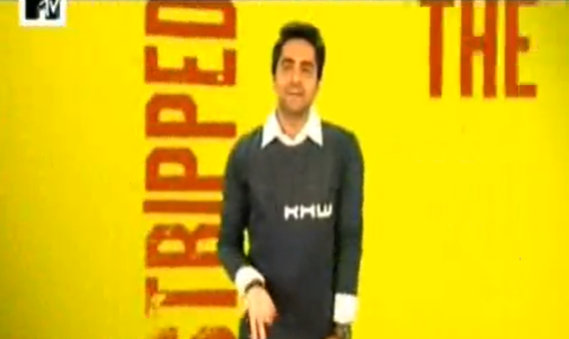 After Roadies 2, Khurrana started his career as an RJ with Big FM in 2004 and made his acting debut 8 years later with Shoojit Sircar's Vicky Donor. But somehow, he has always looked back at his struggling years with an uncanny sense of positivity. In an interview three years back, he actually described his journey as a 'yatra', which is a very poetic way to look at life. I couldn't help myself but ask where does this motivation come from? Because it's so rare.
You know life is a constant struggle. So like, even if you've reached a particular destination you have to struggle to reach the next. So there's no destination, it's just a journey. Toh agar aapko lagta hai aap yatra enjoy nahi karenge, toh life jeene ka fayda kya hai? So, that's the constant motivation that I have.

Kisi ne likha tha, 'manzil par pohochna bhi aur khade rehna bhi bohot mushkil hai bade hokar bade rehna bhi.'
Watch this bit here:
But it's not easy, is it? To peddle life's ocean without being carried away with frivolous distractions, tragic losses, narcissistic wins, the highest of highs and the lowest of lows. There has to be some method to life's madness. Turns out, all that textbook motivation is actually true.
It is very difficult; easy at the same time. You know, hum roz na bikhre hote hain. Everyday apne apko sambhalte ho aur usko lekar aage chalte ho, that's what you do every single day, that's what I do.

Being an artist, you don't like routine. You are just averse to 9-5 jobs. It's an artist's La La Land to live a life where there's no routine. Har din alag, har film alag, har character alag par artist ko survive karne ke liye discipline zaroori hai, which is again those old words of discipline consistency, persistence, they're actually important.
Watch this bit here:
Trust an actor like Khurrana to pick a script that's unique, complex, yet hard-hitting at the same time. He goes from being a young, carefree, happy-go-lucky Punjabi Munda in one film to becoming a pianist who fakes blindness for motivation and ends up becoming a silent spectator of a crime scene in another. This experiment, however, springs not from a deliberate conscious attempt on his part to pick the most unconventional characters; but a need to choose a good script.
It's always about the script. The story has to work. Even if I have to repeat myself, the story should not be repeated. It has to be the first attempt in the Hindi cinema, it has to be novel, out-of-the-box, and it should just blow people's minds with the mere concept. That is most important. I keep myself always the second, after the story.
Apart from Pooja in the Dream Girl franchise, he revealed Maanav Khuranna in Action Hero was the most complex character he has ever played as he drifted from his established typecast and essayed somebody who was an antithesis of all the characters he had previously enacted.
Watch the bit here:
Unconventional roles need unmatchable commitment. In the original Dream Girl, it was only the actor's voice. In the sequel, however, Khurrana is actually playing a woman. And it's not just the physical requisites for the role, like shaving frequently or dawning a different attire, but the preparation to capture the nuances of a woman becomes fundamental.
It was not easy at all. I was very nervous about this character. It is the most difficult character of my life. It's just the sense of observation as an artist, the theatre training I have undergone over the years, radio, and everything. Also, ladki ki awaz nikalke jab main pehli girlfriend ko call karta tha, wo training jo hai kaafi kaam ayi.
Watch this bit here:
Aside from the topic, another fascinating bit about Khurrana is his Instagram bio. We don't know how many of you know this, but his Insta bio earlier proclaimed, "My eyebrows are bushy." Apparently, it was something a critic of his had previously opined, he had revealed in an older interview. His new bio honestly states, "IDK man" at the moment, and well, I was curious and he was amused.
There is no story. This is self-discovery, mujhe samajh nahi aaraha. That was…at that moment…I did not know what to say.
Watch this bit here:
But the actor also has a fascinating Instagram. While there are the usual film promotions and brand collaborations, there are also moments where it's just him and his poetry and his hard-hitting words. Khurrana revealed his persona is scattered across his profile.
It's me. It's just that they replicate my posts. They have my passwords. And of course, if I post something on Instagram, they replicate it on Twitter or Facebook. But otherwise, the thought is my thought but of course like if a new song has come out of Dream Girl 2, so they post it. But if there's like a shayari or some picture, so it's personalised.
Watch this bit here:
Given the interview was my life's first, my interaction with Khurrana concluded with me asking him three of his life's firsts. You know, like the memories of those moments of epiphany when you realise you've done something momentous, and they're a core memory of sorts.
When was your life's first salary cheque?
It was for Big FM where I was a radio presenter. I was 22. It was good. I was probably one of the best paid there. I was fortunate to get that job. I was just another level of ambitious that time, and I really worked hard towards it.
The first poem you ever wrote:
It was on paryavaran. I was in a convent school, St. John's High School. It was a recitation competition at the Punjab University. The one who got the first prize was an MA Hindi student and I got the second prize. I don't remember the poem. I must have been like 14 years old.
The first time you realised you could use that 'celebrity' card:
It was immediately after Vicky Donor. There was a huge line outside a restaurant, and the manager just came to me and gave me a queue. I was like, I'm ready to wait. He was like, "No sir…"
Watch this bit here:
Khurrana is an artist in its truest sense. And whilst the newbie interviewer in me sensed tender pangs of beginner's nervousness while speaking to him, he made it easy. Because that's just his presence, humble and alluring! I could have had no one better than him for this… one of my life's core memories.