It's your birthday. And the celebrity you idolize calls you over to celebrate. Hypothetical situation? Well, not for someone who's a fan of Arjun Kapoor. He's one of those handful celebrities who take the time and walk that extra mile for their fans. But that's not all, he's loved for more reasons than one.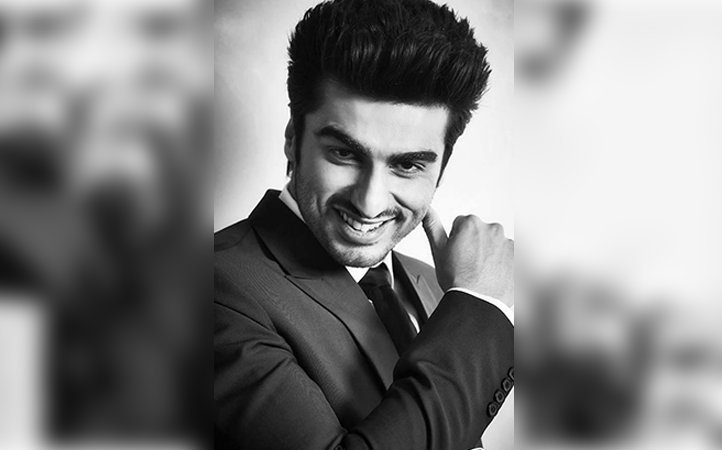 Source: junglekey.in
He's so Social (Media) … in a good way! He recently even won the Best Social Media Debut award at the Bollywoodlife Film Awards, and deservingly so. Ever since he's got onto Social Media, he's had a huge fan following, and as I type, it keeps shooting up. At present, it's a whopping 3.9 million on Facebook, 1.32 million on Twitter and 936k on Instagram. That's more than the population of whole of New Zealand! And still, he manages to respond to questions, interact with fans and share sketches made by them. He also takes selfies with fans!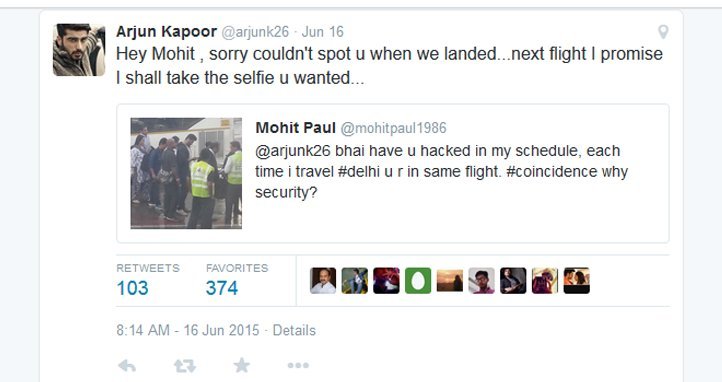 With their busy schedules, it's rare to see celebrities make time for their fans. But, earlier this year, Arjun managed to do just that by making a fan's birthday wish come true. His fan, Deepak, came to Mumbai, all the way from Chennai with the hope of meeting the actor. When Arjun got to know about it, he got Deepak a cake and gifted him autographed goodies. Awww!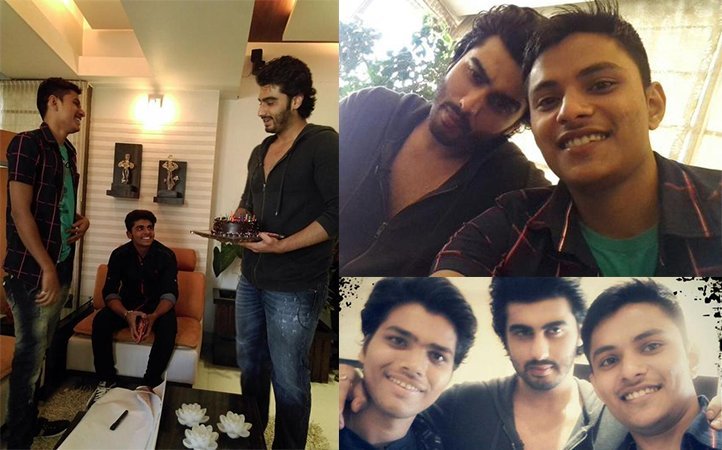 Source: facebook.com
I've noticed upcoming celebrities being humble and fan-friendly, but when a heartthrob-of-the-nation celebrity does it … when they're as down to earth and approachable, THAT is something!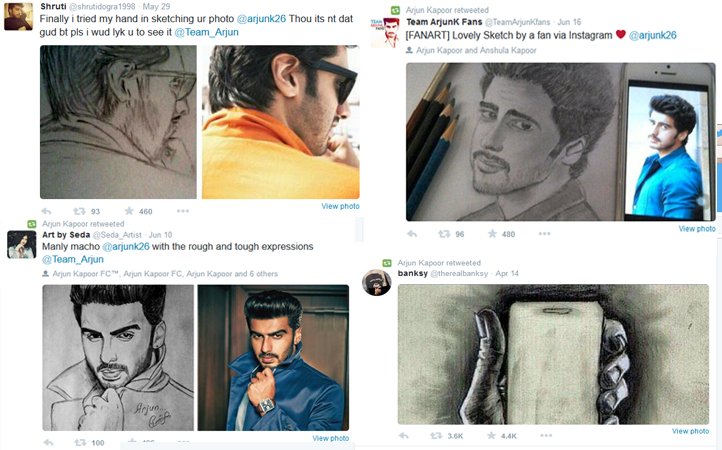 Source: twitter.com
Arjun's fans hold a special place in his life. He often makes a mention of them in his interviews, and he's also very protective of them. In fact, he once happened to go all out and defend a fan when a famous twitter handle tagged the fan's question as "dumb".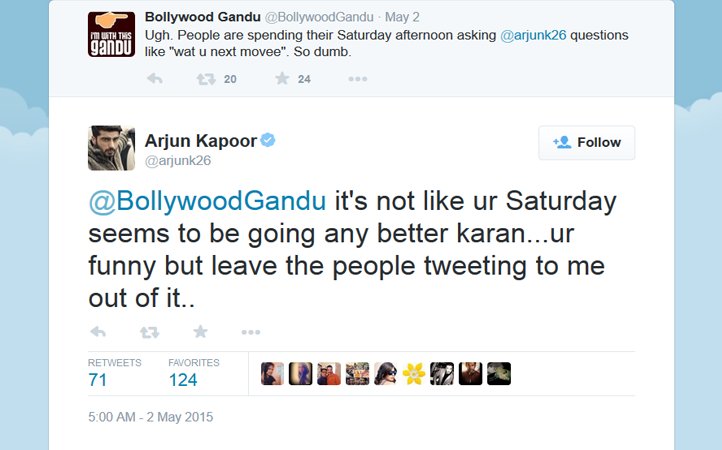 Source: twitter.com
He is also very supportive of his peers; he'd often give a shout-out on twitter, to fellow actors, praising them for their performance or congratulating them. Most actors use social platforms to only promote their work. But Arjun's among those who appreciate and promote great work. He'll do it even when he's not a part of it. *respect*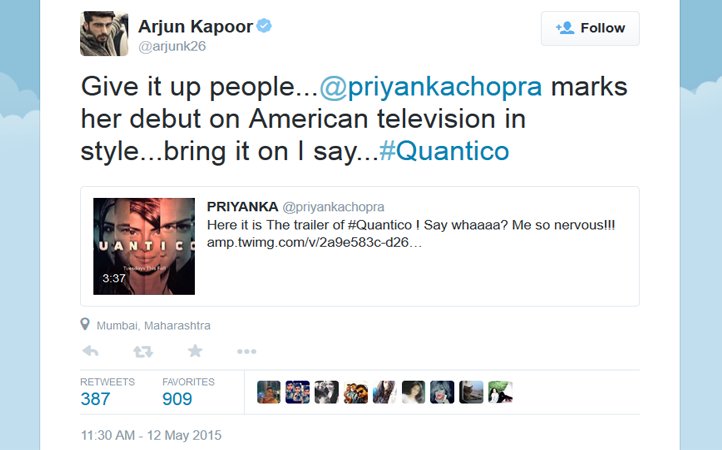 Even his friends and contemporaries admit, Arjun is a darling! He is known in the industry as someone who stands up for people. Those closest to him have seen it first hand.
"He would take a bullet for a friend." – Ranveer Singh
The good in Arjun also extends to the causes he supports. He's the brand ambassador of WWF-India. He is currently supporting their project which aims to bring sustainable development to the Sundarbans in India. He also recently pledged his support for the second time, to WWF's global campaign on climate change, Earth Hour.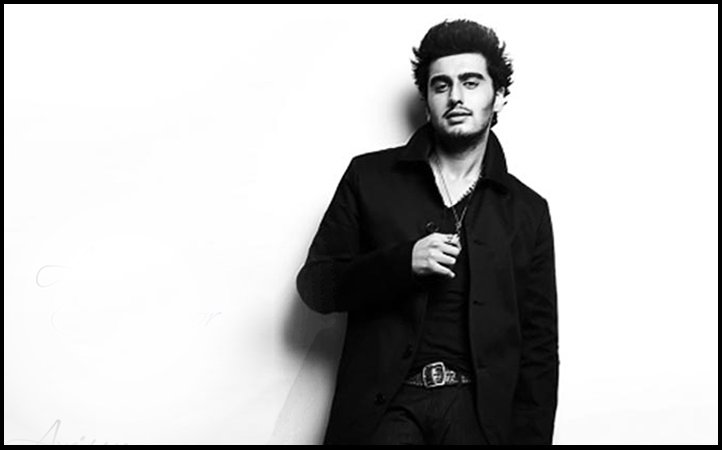 Source: webneez.com
He is also extremely enthusiastic about the upcoming football clubs and the growing popularity of the sport in our country. Seeing his undying support for local clubs, he was signed up by FC Pune City as brand ambassador.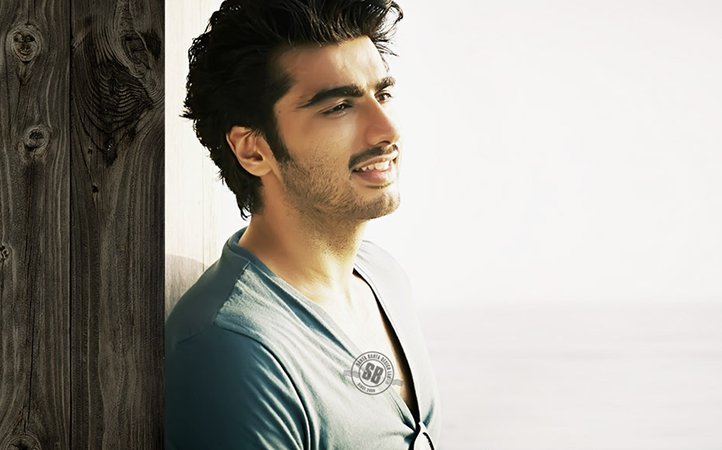 One more thing, it's his birthday today. So if you're reading this, happy birthday Arjun Kapoor! Wish you more success, more madness, and more love in the years to come. And keep kicking ass like you always do!