In association with
Sony Entertainment Television
Let's face it, we all have a crazy wishlist of things we would do when we become rich. Like travel the world or get a private jet or buy a sports car or a yacht, you know fancy things like that! But there is someone who doesn't want any of this, all she wants is a personal mobile phone. If you are still guessing who that person is, then let me introduce you to Babita Tade, AKA Khichdi Kaku, the second Crorepati on the latest season of Kaun Banega Crorepati. 
Working as a Mid-Day meal cook for over seventeen years, Babita Tade is living the simple life of little joys. The highlight of her day is the smile on the faces of children when they eat her special Khichdi. Spending over six to eight hours a day, cooking for over four hundred and fifty children, this Khichdi expert is doing a great job. But for the splendid work that she does, she gets a meagre salary of only Rs.1500. Putting food on so many plates, each day isn't an easy task but she loves every aspect of it! 
Her monthly salary might not be too high but that doesn't stop her from dreaming. Her childhood was full of struggles but against all odds, she loved to study. Her great knowledge is what landed her on that hot seat but how calm she looks sitting there, absolutely beats me!  
And her wish of buying a phone was granted by KBC! The smile on her face when the host, Mr. Amitabh Bachcan lovingly gifted her the phone was enough to melt my heart and left me teary-eyed too. The promo video has got me super excited and I, for one just cannot wait for this episode of KBC to air!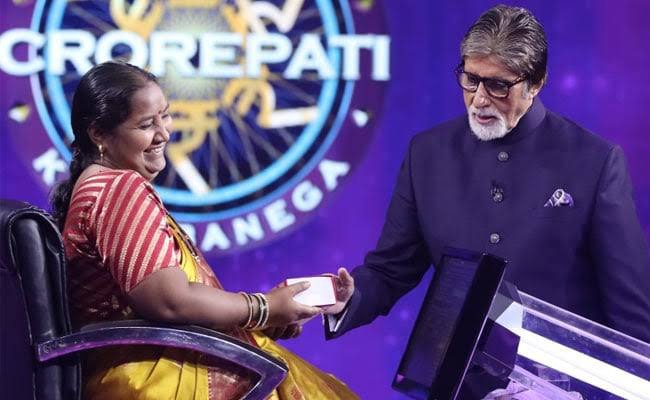 Babita Tade's honest and humble nature makes her the epitome of what KBC stands for. She is proof that if anyone has a dream and is working towards it dedicatedly, then there is nothing that can stop them! Over the years, KBC has also helped many such people in realizing their dreams and that too using nothing but their knowledge. This is one of the only shows which not only gives people the opportunity to dream but also inspires a million others through the journey of its contestants. From the host to the stories it tells, KBC has a special place in all our hearts *tears*     
I'm more than excited to watch the show tonight and definitely keeping my fingers crossed for Khichdi Kaku. What does the 16th question have in store for her, let's find out tonight!