Disclaimer: Spoilers ahead
A crucial point that separates Game of Thrones from other fantasy dramas is the unexpected strain of humanity in the midst of all the violence, sex, manipulation, and of course, the dead and the dragons. 
And nothing proves that better than the transformation of Jaime and Brienne's relationship – from unexpected companions to favored battle partners, and perhaps, something more.
Here are some of the most memorable moments that prove how through banter, fights, and heartfelt respect, Jaime and Brienne forged one of the most honest relationships on the show: 
1. When Jaime and Brienne don't let their capture or threats disrupt their sarcastic banter – because that is what comes most naturally to them. (Season 3, episode 2).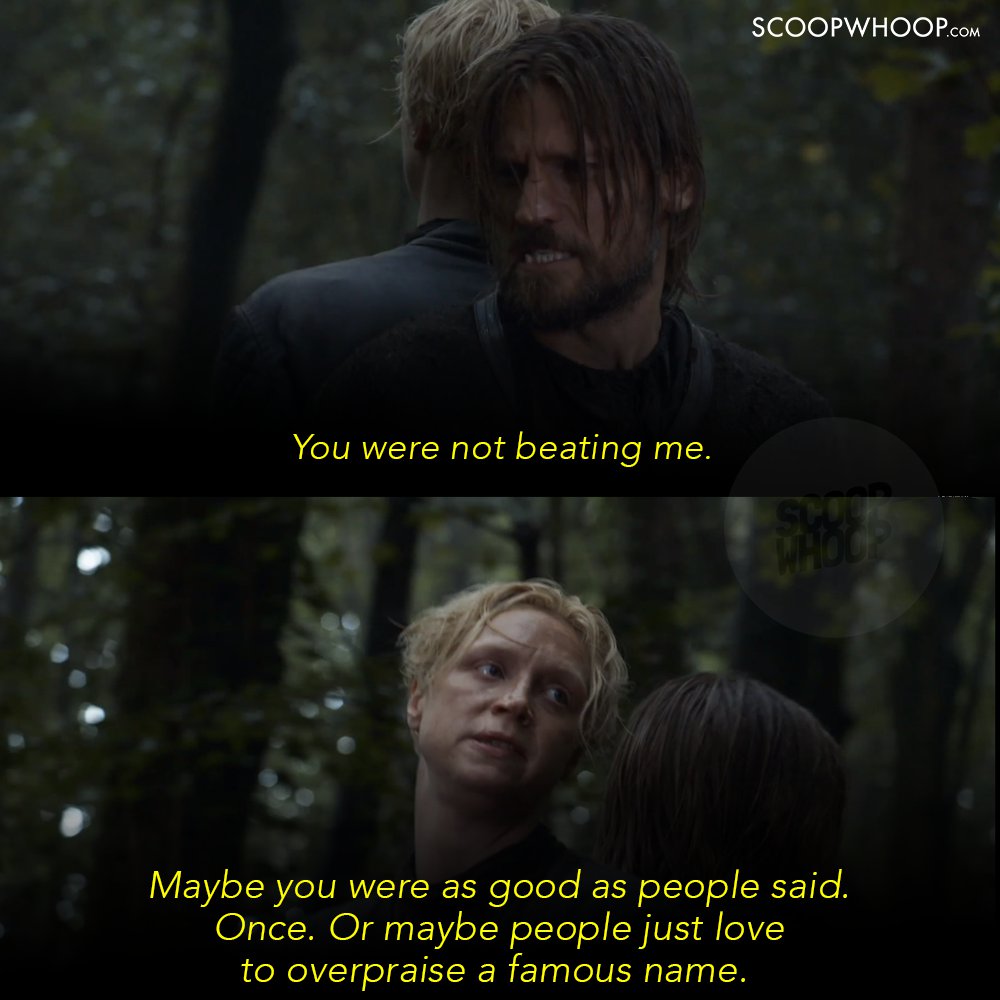 2. When driven by an unexpected (at the time) vein of honor, Jaime uses his wit to save Brienne from getting raped but loses his hand in the process. (Season 3, episode 3)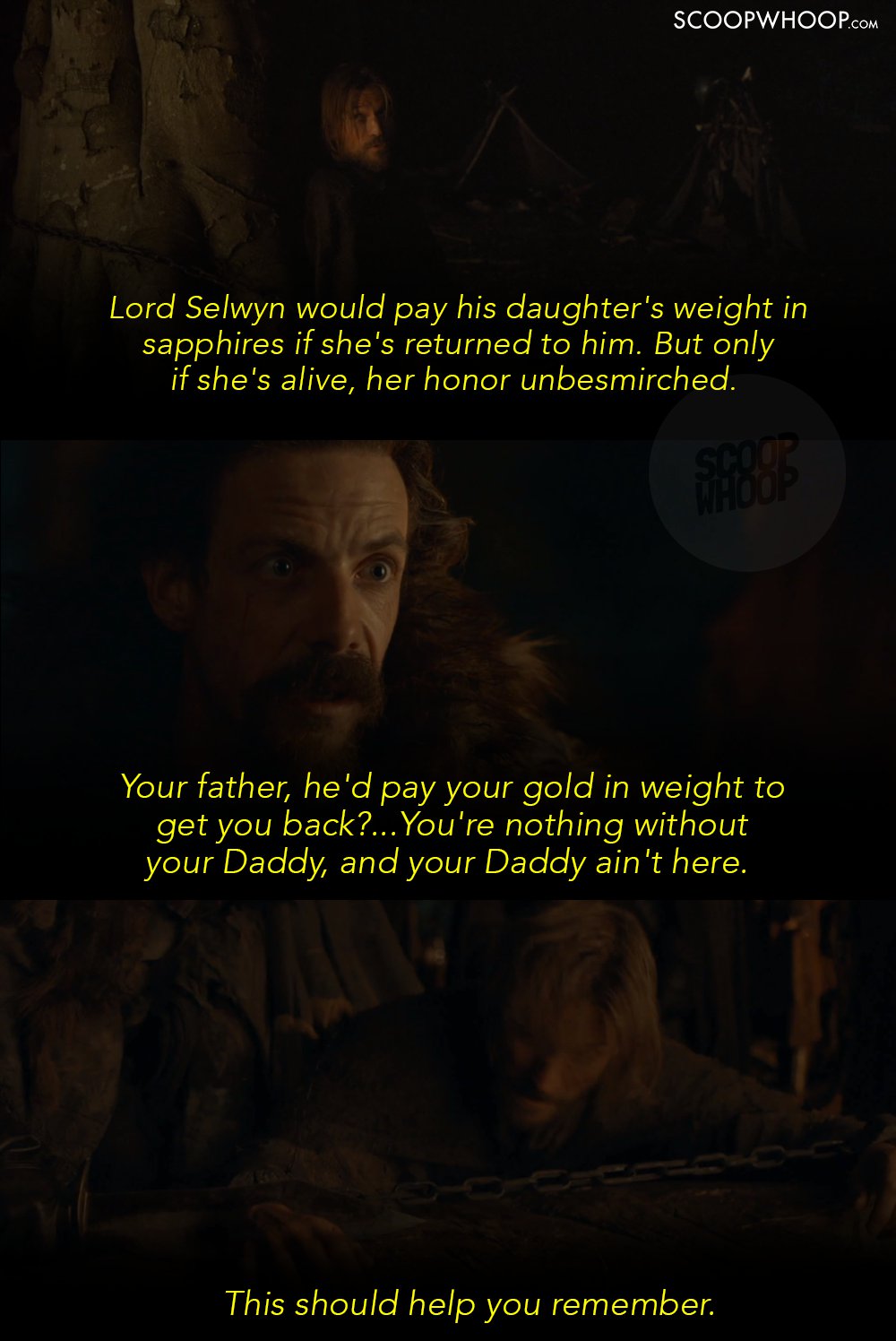 3. Jaime is so distressed at the loss of his sword hand that he loses the will to live. And Brienne is the one who manages to goad him into living if only to take revenge. (Season 3, episode 4).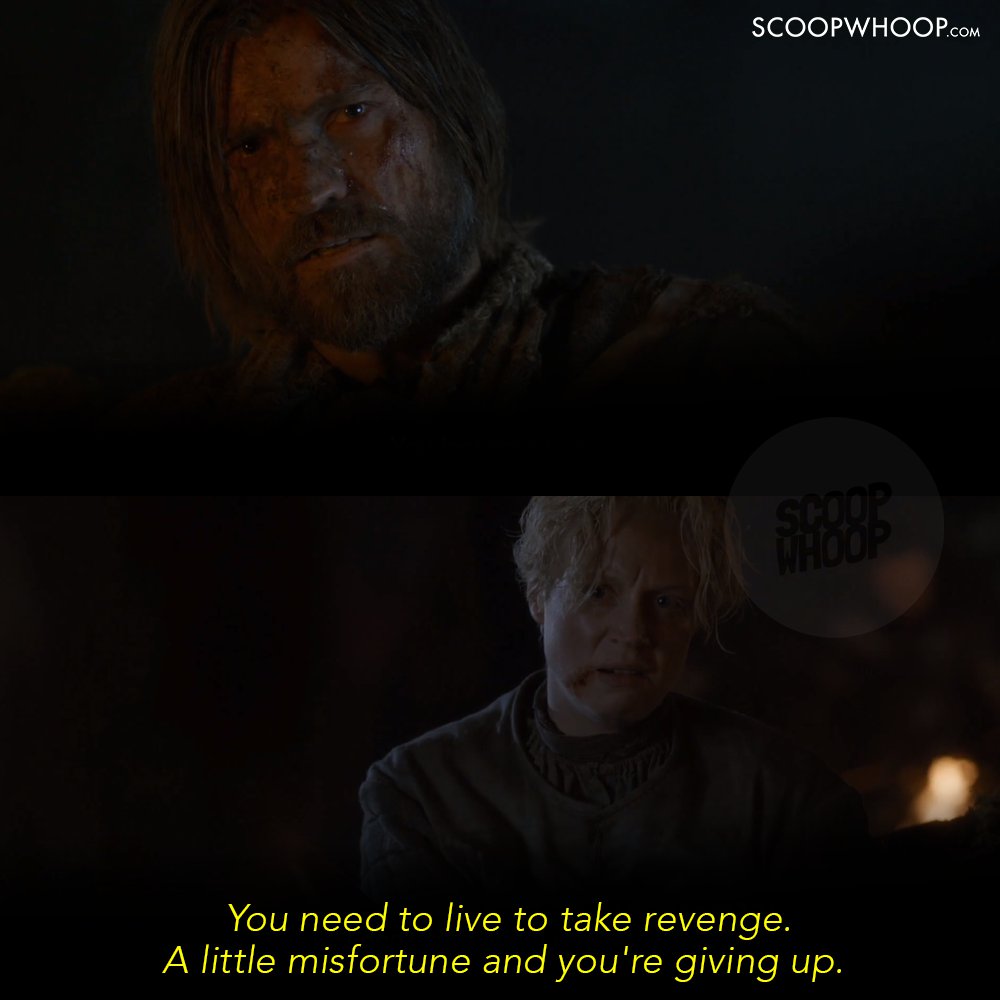 4. When Lord Bolton rescues Jaime and Brienne and they finally get a moment of peace, Jaime is too weary to fight and admits his grudging admiration for Brienne. (Season 3, episode 5)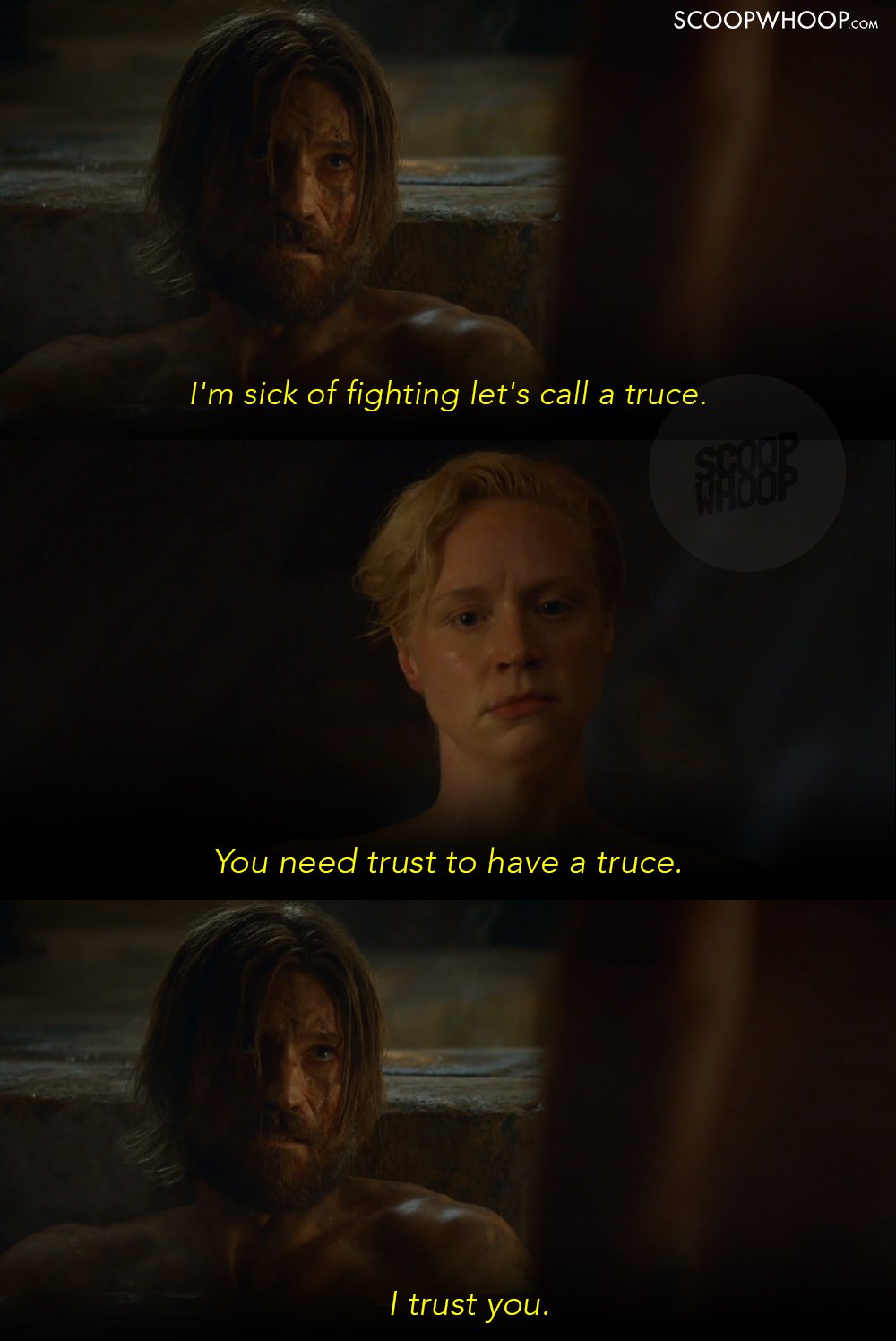 5. When Jaime finally reveals to Brienne his reason for killing his King, altering her (and the audience's) perception of his supposed act of treachery. (Season 3, episode 5)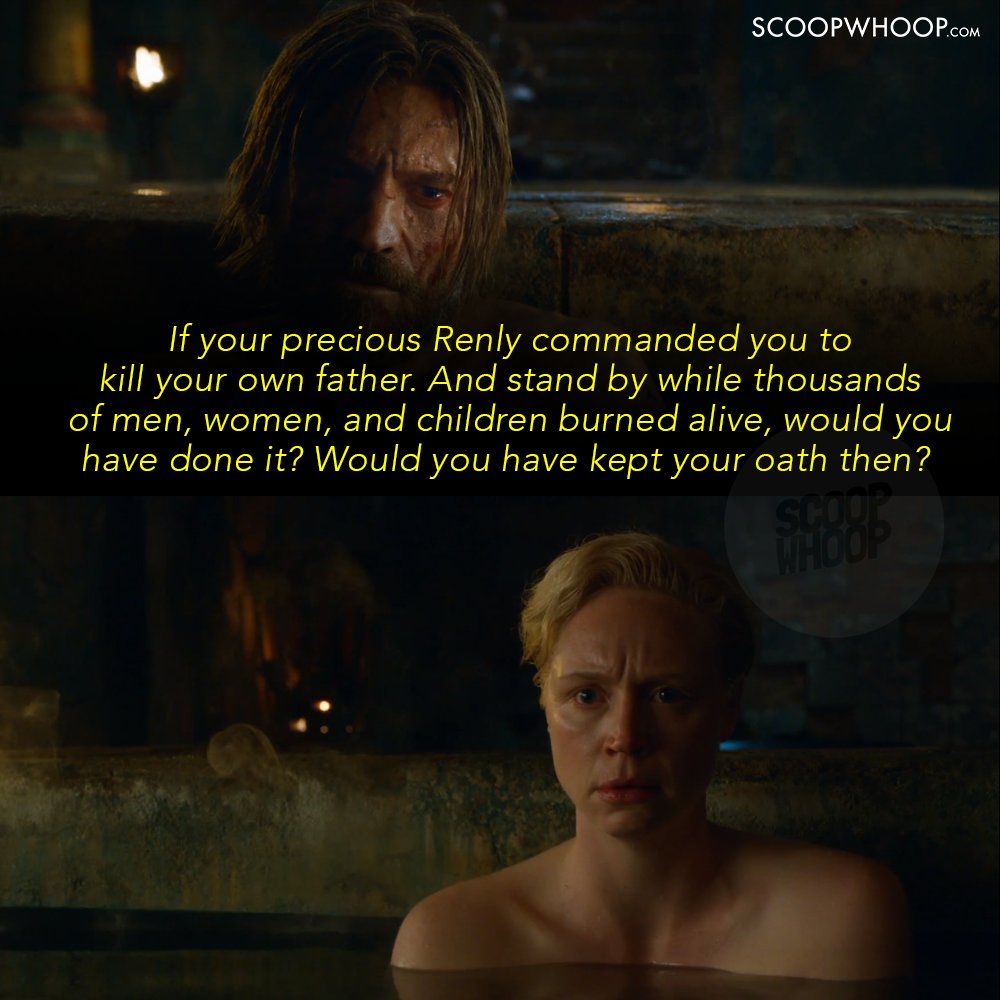 6. Tired by his ordeals and an emotionally exhausting revelation, Jaime faints in Brienne's arms. But he still has a last request – to not be called by his infamous nickname. (Season 3, episode 5).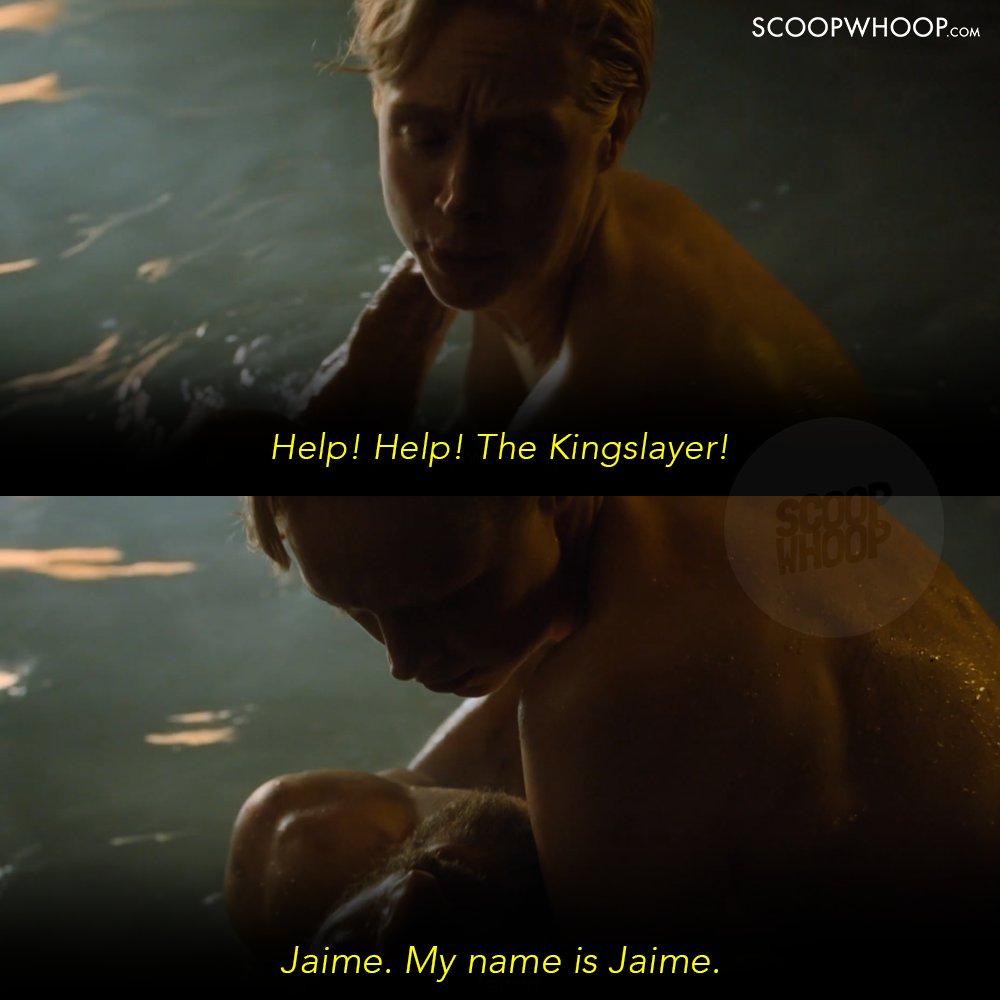 7. When Jaime realizes that Brienne can't escape because her captors believed his lie about her family's sapphires, he returns and rescues her from the bear pit and Bolton's men. (Season 3, episode 7)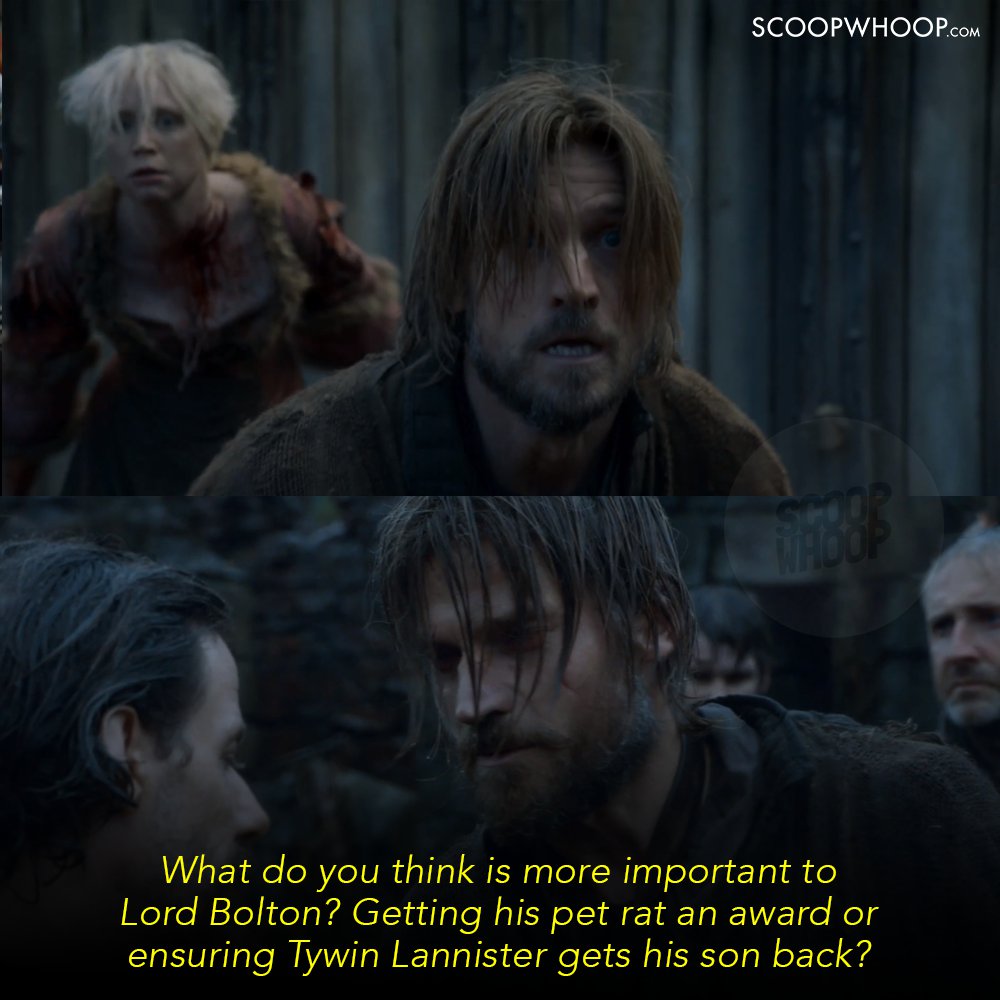 8. When Jaime returns to King's Landing, he gifts Brienne with three gifts befitting any knight, and Brienne agrees to fulfill her oath to Lady Stark and also keep his honor alive. (Season 4, episode 4).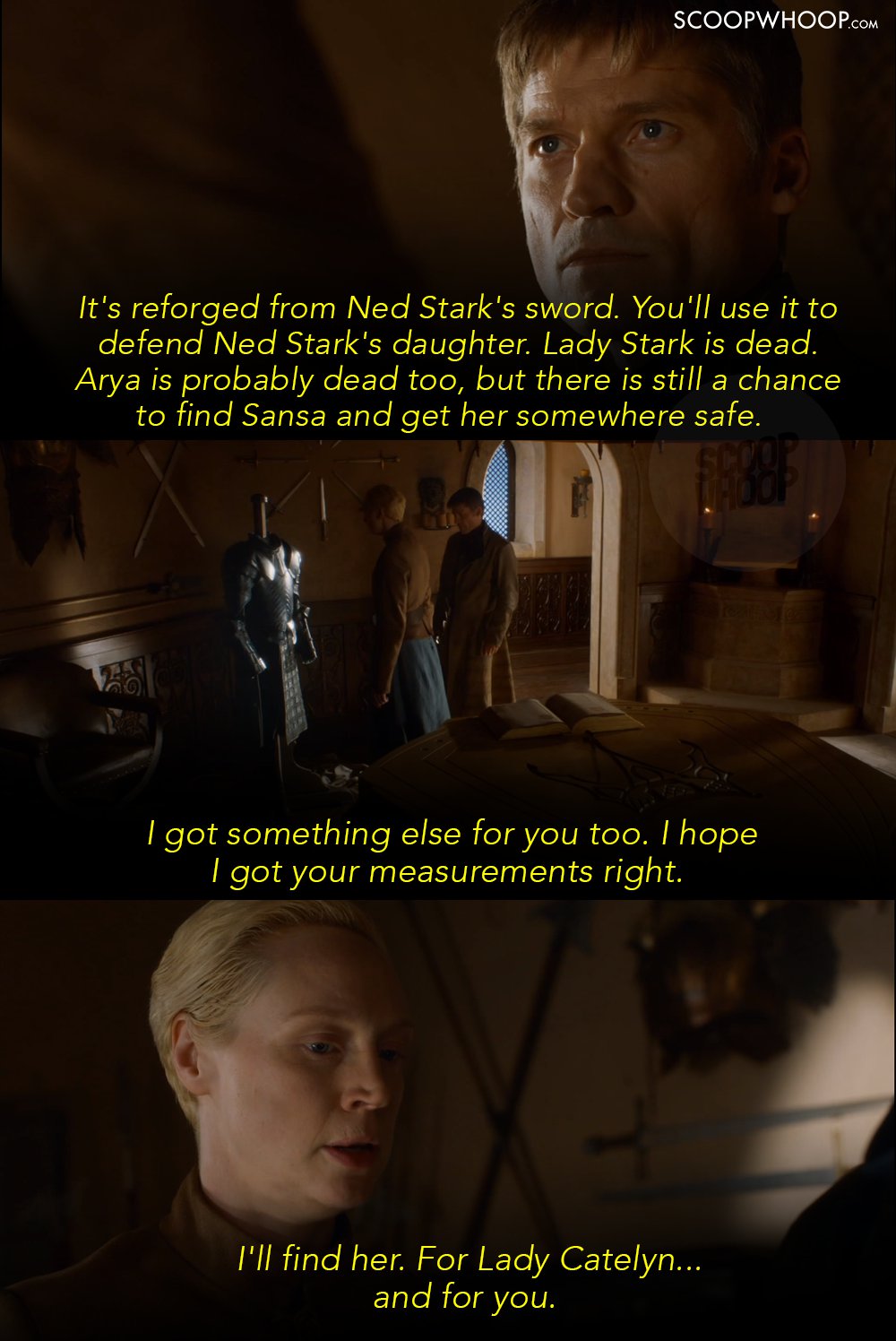 9. Right before they are all set to part for the first time after a long and emotionally taxing journey, Jaime and Brienne discuss a name for her sword. The discussion represents their personalities, and how their relationship has evolved. (Season 4, episode 4).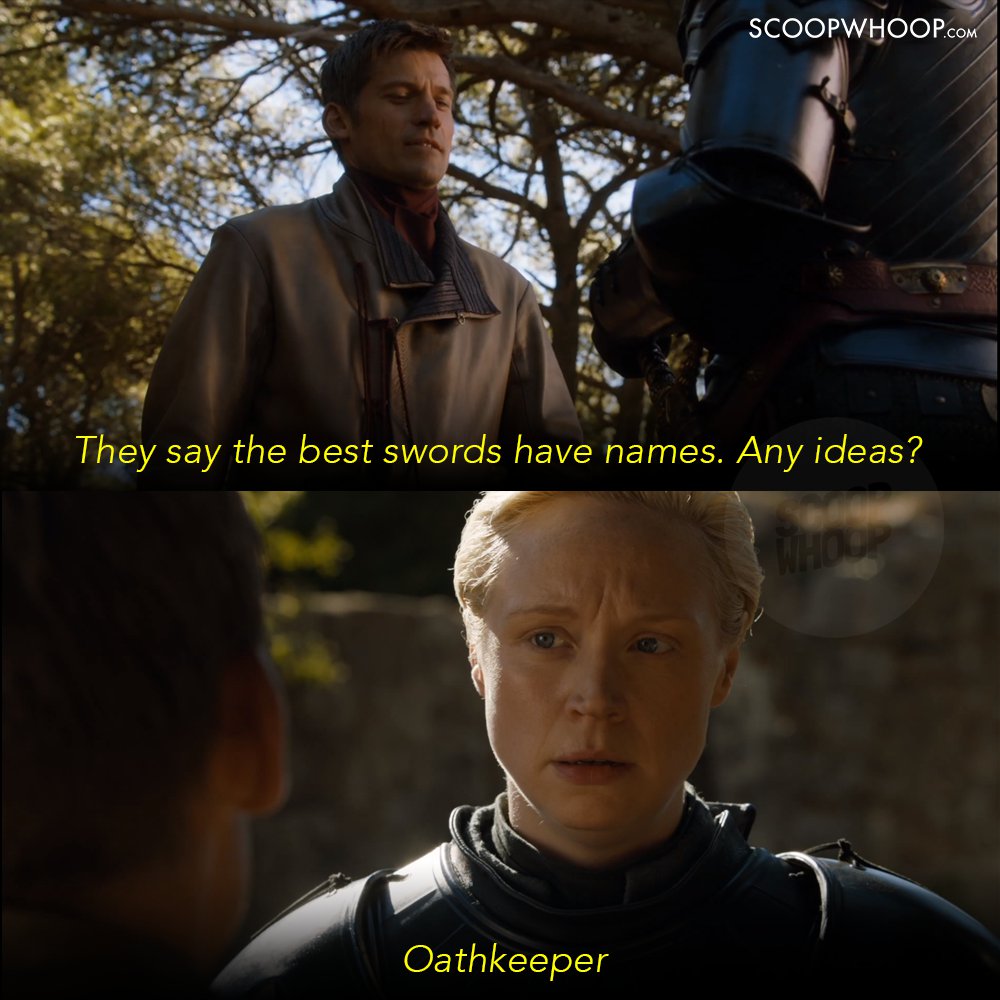 10. The last time that Brienne and Jaime interacted, he had gifted her a sword. And then they find each other again, at opposite sides of the battle, when Lannisters defeat the Tullys. All the two exchange is a single glance and half-a-wave, and yet, the emotions expressed are visible for all. (Season 6, episode 8).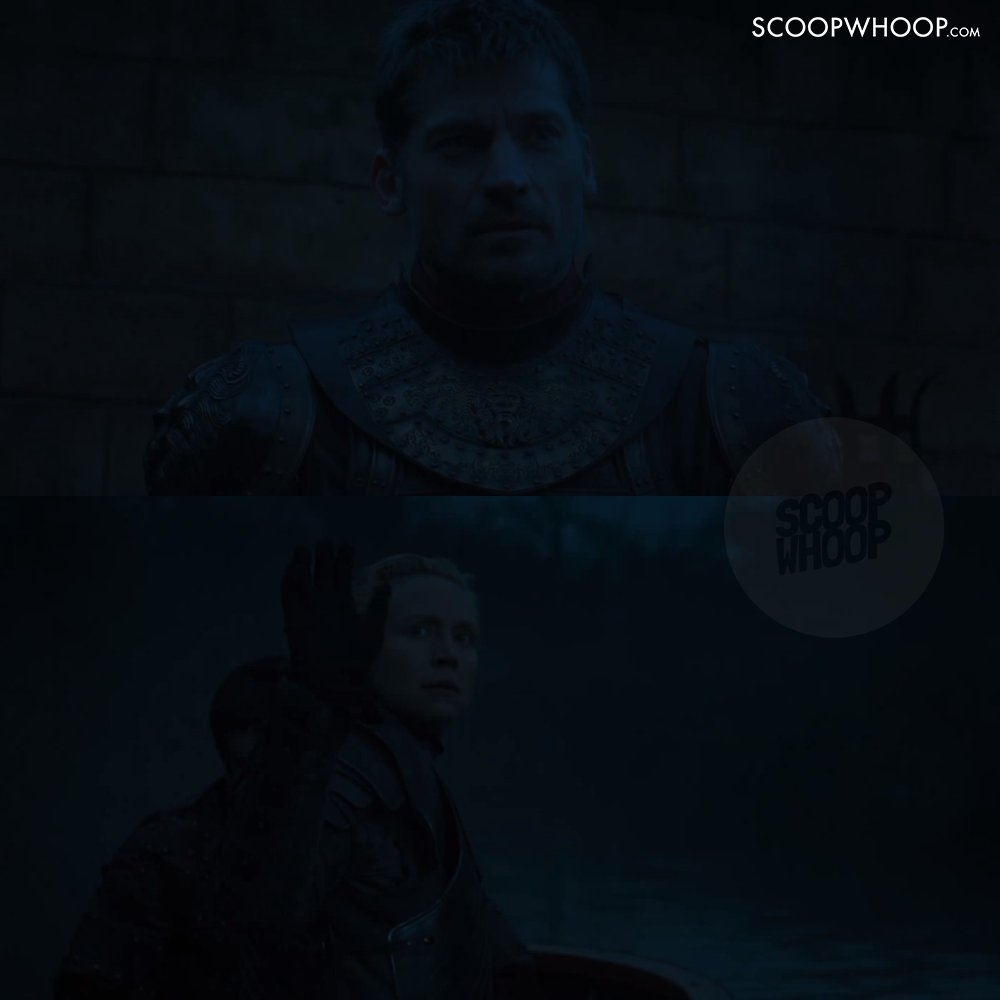 11. As the games come to an end and battle lines are drawn between Cersei and Daenerys, Jaime and Brienne have a spirited discussion about loyalty and survival, as they once again land on opposite sides of the battle. (Season 7, episode 7)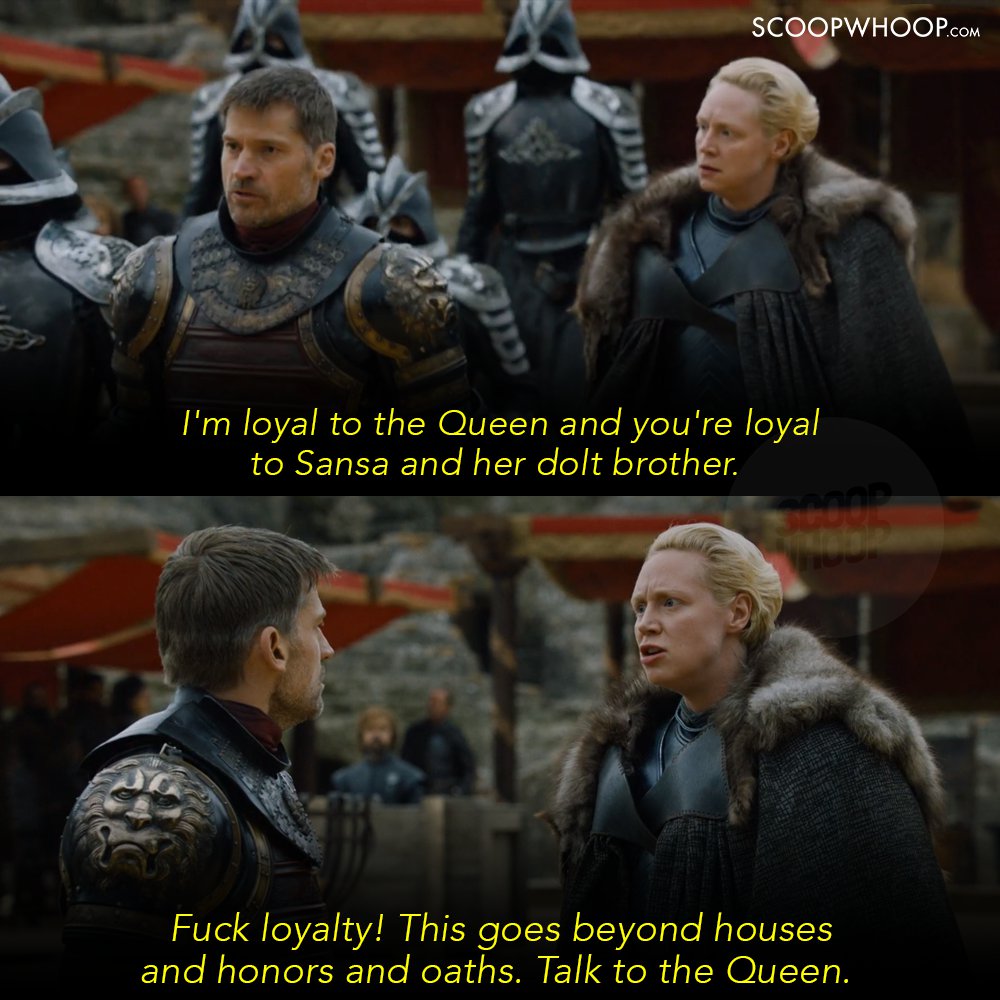 12. When Jaime stands under trial before Daenerys for his past acts,  Brienne is the one who – in a room full of hostile faces – stands up in his support and vouches for his honor. (Season 8, episode 2)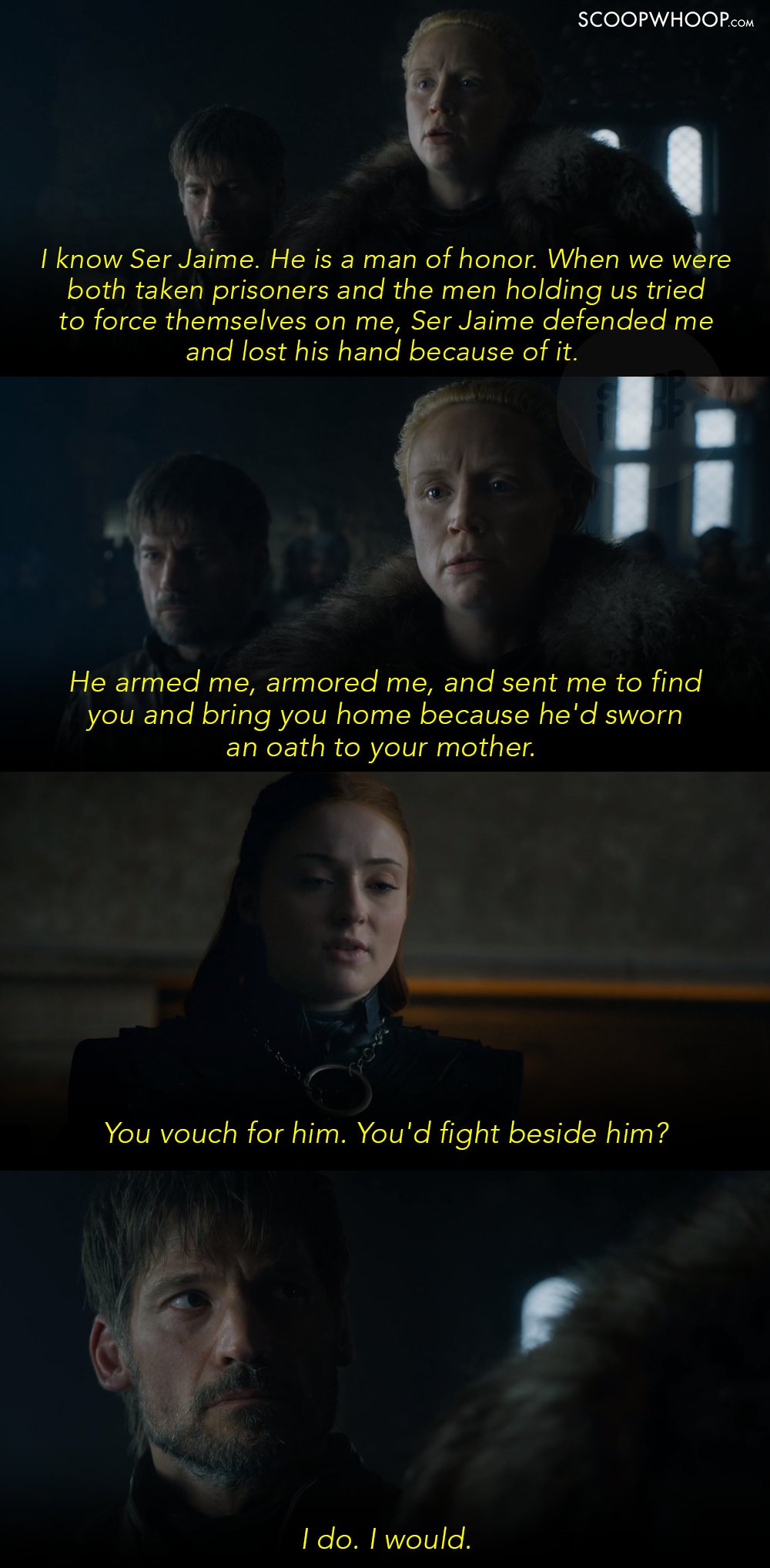 13. Brienne and Jaime share a tender moment, coloured by the dynamics that have defined their relationship for so long. (Episode 8, season 2).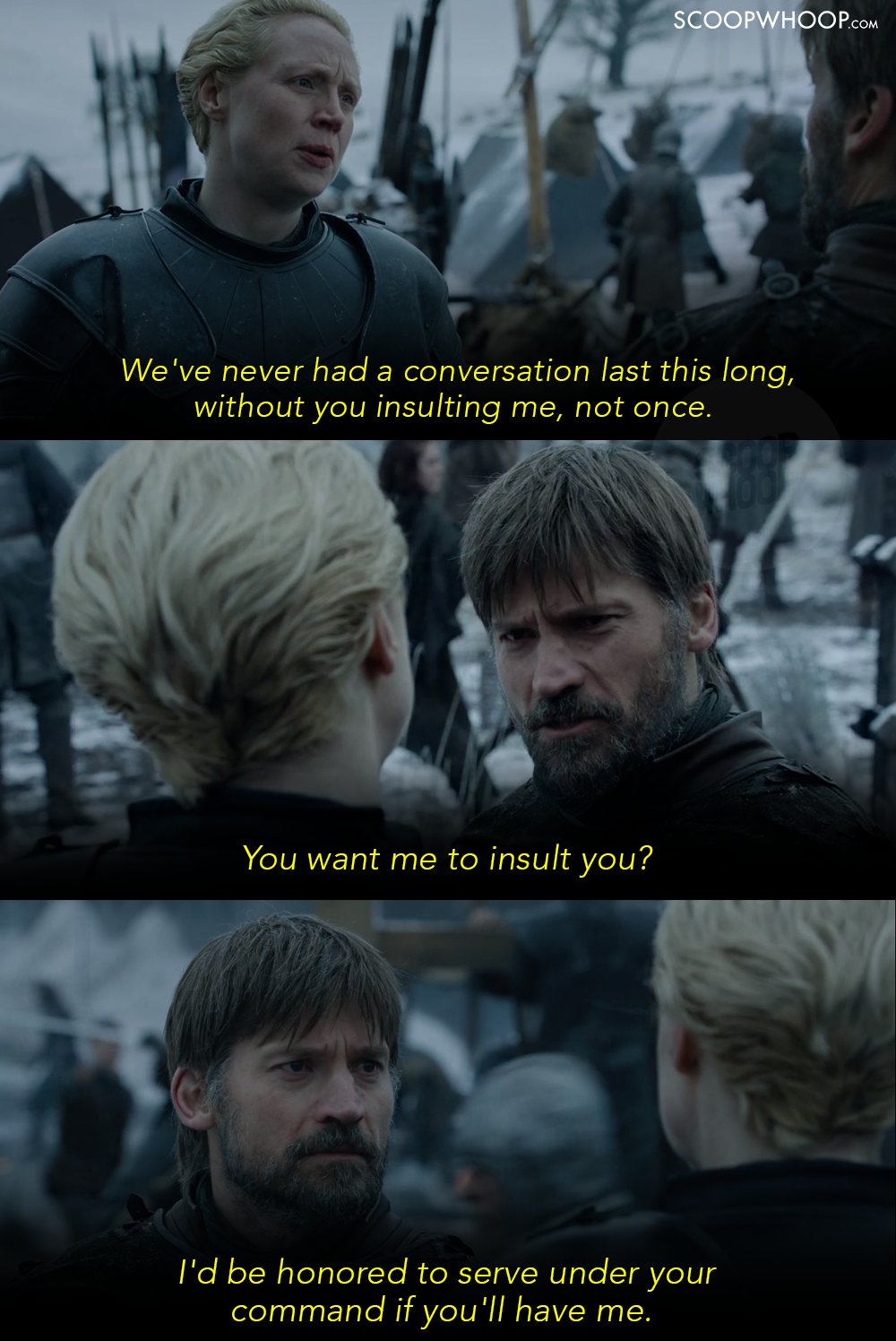 14. Jaime grants Brienne knighthood and finally helps her achieve the dream she'd buried deep for so long. (Season 8, episode 2).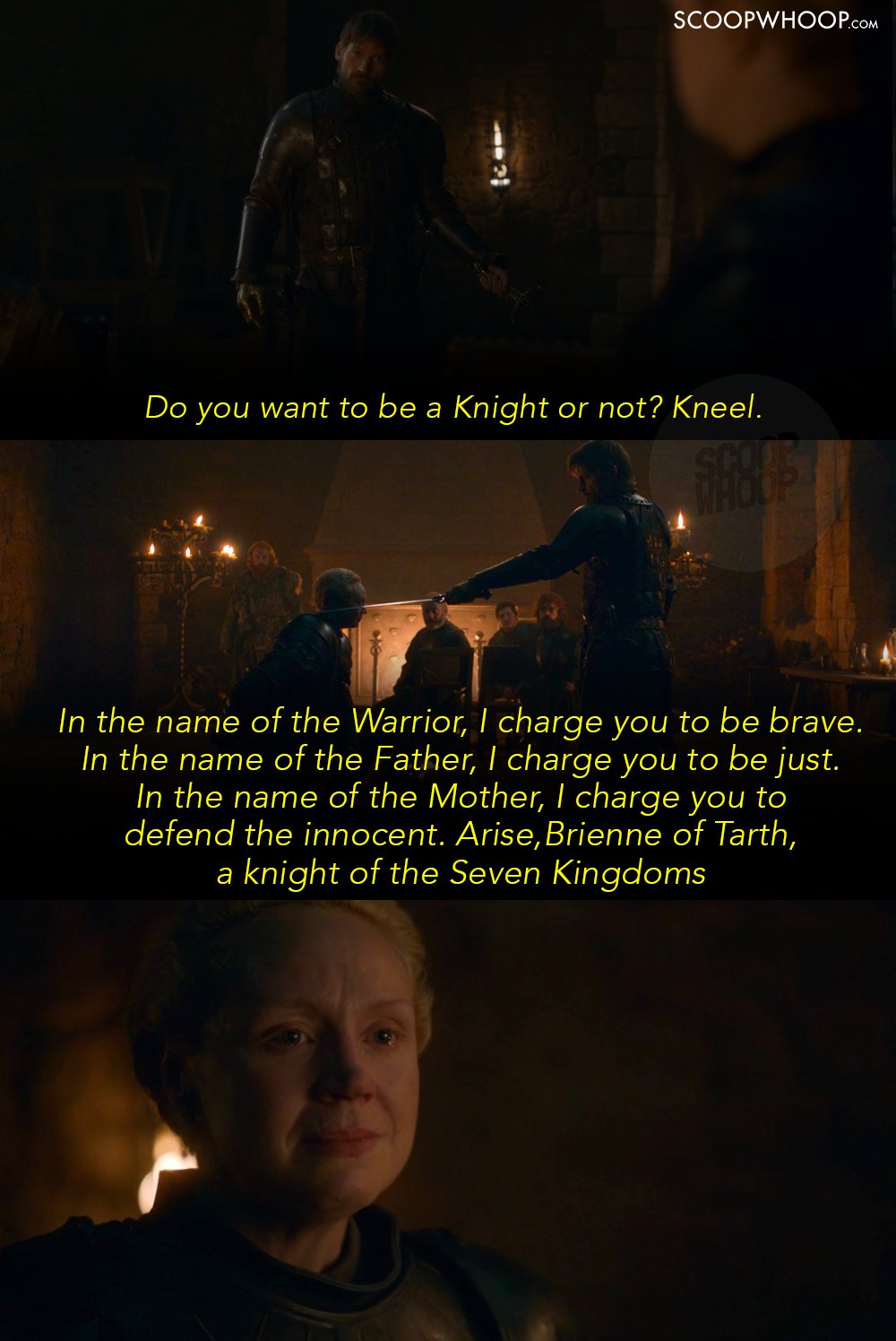 One of the most powerfully intimate scenes in their relationship is when Jaime knights Brienne – and that one moment was a perfect tribute to their unique relationship. 
All images from Hotstar. Design credits: Saloni Priya