It's that time of the year again. Bigg Boss is back, it's bigger, but definitely not better. This time its motley crew of contestants is larger in number – and there's a class divide, thrown in for good measure. 
I haven't heard the word "commoner" bandied about as much on TV, since Downton Abbey stopped. And as we all know, there's no Maggie Smith here to numb the pain. 
 Instead we have the next best thing, Salman Khan – who actually is the best thing about the show. And looks appalled and amused by the contestants in equal measure.
This season's Bigg Boss 10 – India Ise Apna Hi Ghar Samjho is all about the aam aadmi sharing space with celebrities – if you can call them that. Every time a non-celebrity contestant was introduced, we were told a commoner was coming on stage. 
You felt that the Aam Aadmi party had been resurrected, and frankly I think it would have been quite the coup to get Arvind Kejriwal as the celebrity guest instead of Deepika Padukone.
But this time, the mix of contestants doesn't have the usual suspects. There is no ageing or atrophying celebrity who needs a new lease of life. There is no gay or transgender contestant. There is no activist. No porn star. No politician. This is Bigg Boss and Endemol Shine trying to be creative.
Instead we have a lecherous old swami who once repeatedly slapped a woman on live news. Unknown TV stars. A stray TV anchor. A beauty queen. A mother whose Canadian husband told her to go take part in Bigg Boss because Salman Khan is there. Another woman who has emerged from a disastrous arranged marriage and did not hesitate from dragging her husband and brother-and-mother-in-laws' names through the dirt on an international platform.
So who are these charming contestants?
Setting the tone for the show was the first commoner and aam aadmi, the 59-year-old Swami Omji Maharaj. He's a sanyasi – which of course explains why he wants to be part of the very spiritual Bigg Boss. 
He said he wants to establish Ram Rajya to a very Muslim Salman Khan, who nodded in agreement. He looked awfully familiar to me, so I checked up and this is the same chap who is a part of the Hindu Mahasabha and repeatedly slapped a woman on a news debate. 
The swami also spent the entire episode making personal comments about each and every female contestant. Telling one, "Kashmiri hai, tabhi itni gori hai" and telling another that she was very beautiful. Creep alert.
The celebrities included Lopamudra Raut, a former Miss India contestant. A celebrity called Rohan Mehra whose antecedents are not clear. Bani, who is a VJ and from Chandigarh but speaks to everyone in the Bigg Boss house as if she's from the Bronx. 
TV actors Gaurav Chopra and Karan Mehra joined the celebrity group. Followed by Rahul Dev, the actor and Bhojpuri actress Mona Lisa, whose real name is Antara Biswas. It's okay, if you don't know half these people. Even they didn't seem to recognise each other.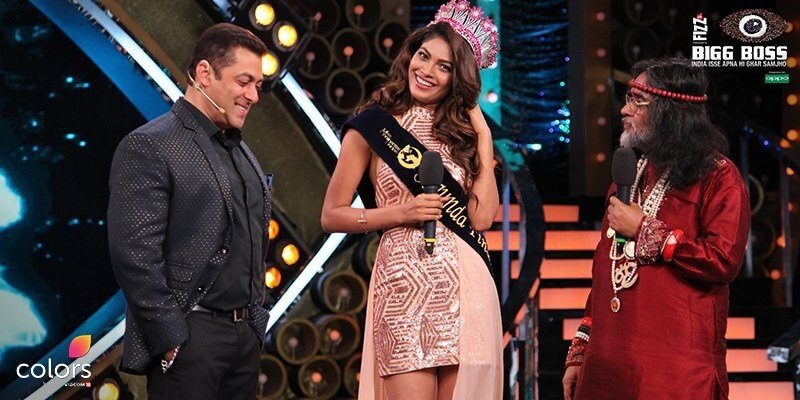 The commoners or aam aadmi included a 29-year-old from Noida, Manveer Gurjar. Nitibha Kaul, a 23-year-old from Delhi who claimed that she was very self-obsessed and takes selfies and was a Femina Miss 2015 participant and that she was a Google employee. 
Which was then proven incorrect – because I was very impressed that Google employee contracts allow their employees to use the company's name on a reality show. She used to be a Google employee till she quit her job to join Bigg Boss, a slight twisting of facts. There was Lokesh Kumari Sharma, whom everyone calls Lovey and who wants to be a superstar. Manoj Panjabi from Punjab also joined the commoners.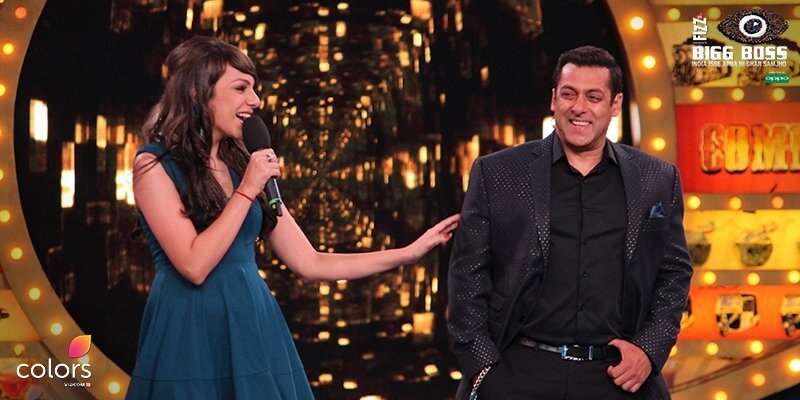 Then there was Bigg Boss' attempt at being controversial. Akansha Sharma who is 25-years-old and from Gurgaon, said she had an arranged marriage with a famous cricketer's brother, but the marriage was over in four months because she had to serve her mother-in-law and husband and only had Rs 3000 to her name. 
Akanksha's family then let it slip that her husband was Zorawar Singh, Yuvraj Singh's younger brother. She said they were refusing to grant her a divorce, so now she was on Bigg Boss. Earlier there was Aap Ki Kachehri with Kiran Bedi to voice your domestic grievances on, now there's Bigg Boss with Salman Khan. Why Akanksha was swimming underwater with all her clothes on in her intro video, wasn't explained though.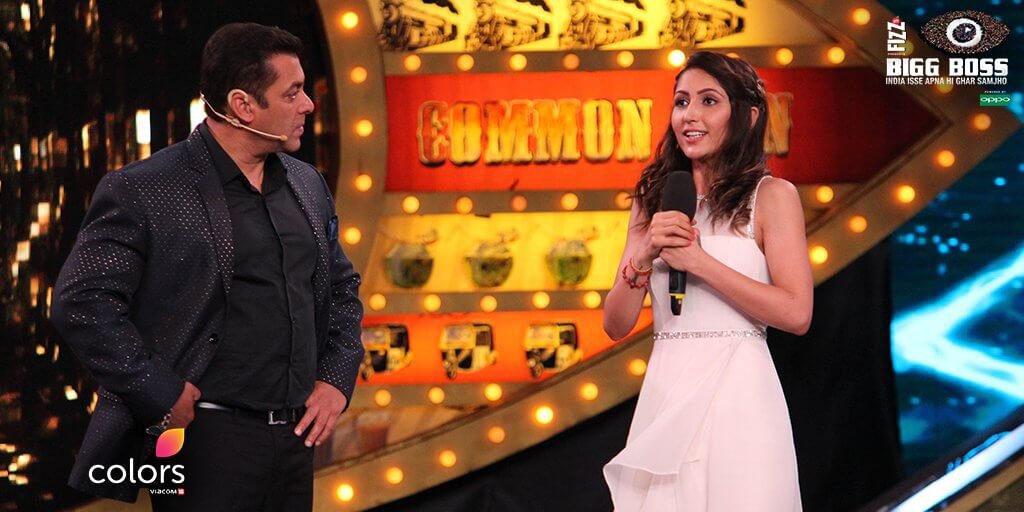 Then there was Priyanka Jagga, an NRI and a mother who's taken a break from her kids by entering the Bigg Boss house. Her kids' names are Germaine (after Michael Jackson's brother, seriously), Marshal and Muse! 
She informed the audience that when she was an airhostess, she'd met her husband who was a foreigner at a party where he was the chief guest. At the time, they were dating other people and then after they became single, she married him. Since it's Bigg Boss, it's only fair that we get TMI.
The most impressive of the lot was Naveen Prakash who is 26 and from Jhajha village, which is reeling under the Naxals, in Bihar. He left his village and now teaches in a city. He seemed sorted and focused – and will therefore be eliminated instantly I feel.
The premiere episode also saw Deepika Padukone come on to promote her film, xXx: Return Of Xander Cage. There were dance performances by the foreigners who stand outside Café Mondegar. 
The stars from various shows on Colors such as something called Bhabhi Tera Dewar etc had to go and stand with the "commoners" families and interview them, while dressed as their character. I have to say, Colors really makes you earn your pay.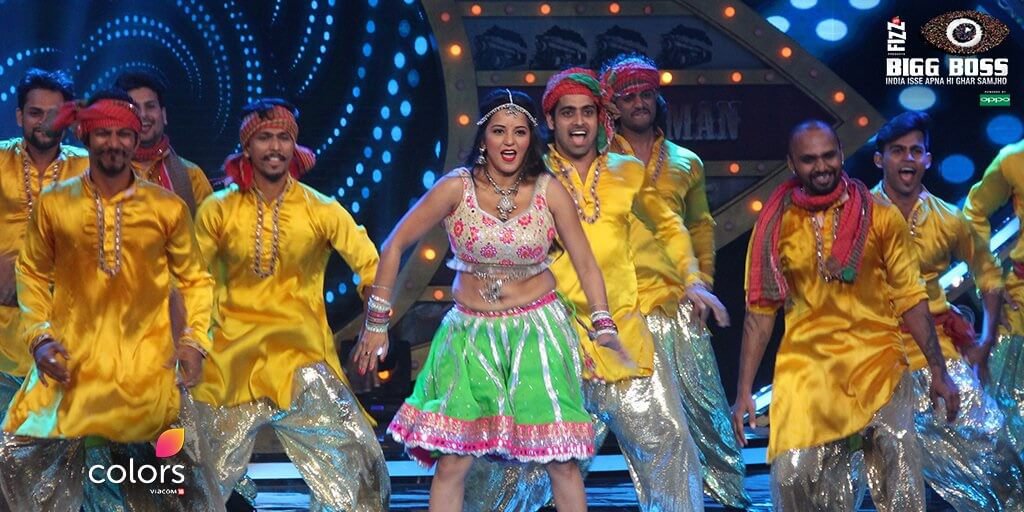 The house pretty much looks the same. It's as garish as ever, but there are a few new sofas and tables thrown around. There is a makeshift jail full of dirty utensils and attached to an uncleaned and stinky toilet, which cannot bring back good memories for Salman.
The twist in the tale – really, these Endemol Shine producers are so creative – is that commoners will be maaliks. And the celebrities will be sevaks. And the celebrities will have to sleep on a common bed.  While the aam aadmi will sleep on separate beds. And the sevaks will have to work for the maaliks. Wow. Really wow.
This is our version of the French Revolution. Where class will be turned on its head. Where earlier people spoke of Dickens and A Tale Of Two Cities, children of this generation will speak of how Endemol Shine, Salman Khan and Bigg Boss 10 inspired the People's Uprising of India.
To watch this tawdry cultural revolution taking place every night, tune into Colors TV from Mon-Fri at 10.30pm and on Saturday and Sunday at 9pm. You have been warned.