The raging debate about Varun Dhawan's character kissing a girl without consent in the trailer of Judwaa 2  has reached comedian Biswa Kalyan Rath's door.  The movie is a remake of Salman Khan's hit movie Judwaa.
And while the stand up comic shared a Facebook post condemning the said act in the movie, terming it as an act of sexual assault, many commenters on his Facebook page did not take it too kindly and accused him of being a hypocrite due to the jokes he has made on the topic of sex. 

The comic, however, took to the comment section with several replies, blasting the unwarranted comparison made between sex jokes and sexual assault. He explained the difference in details.
 On being asked as to why it was acceptable when Game of Thrones showed the same thing, the comic said that even when the show depicted acts of sexual violence, it did not advocate any.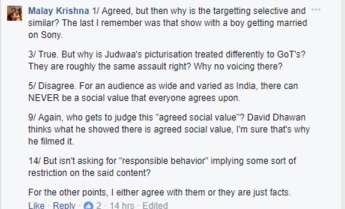 Biswa also, again in details, explained the minute differences in ideas of context and subject.
And the hits just keep on coming.

He then goes on to explain the difference between the moral scales of 1.3 billion people in India and how it varies per person. He also gave his insight on the Hindi soap opera hat showed and glorified a boy getting married to a grown woman. 
It's high time, people realised that everything that says sex isn't just good or just bad. There are various aspects to the subject and a joke on sex is not the same as mainstream Bollywood movie depicting and glorifying an act of sexual assault, especially in a time, where such events occur more often than not.