Nobody wakes up one fine day and decides that he/she is going to take up film making as a career. It's an organic process which grows over your senses through years and culminates into a life-changing decision. Having said that, a highly restless mind certainly does require a little jolt of realization which cuts the clutter and gives direction to its seething passion. All the famous directors of Bollywood have also had their own moments of realization, most of which have been in the form of movies which left a lasting impact on their minds.
Here are 20 movies which changed the lives of the biggest directors of Bollywood:
1. Junoon – Imtiaz Ali
Of the many movies which Imtiaz Ali finds impressive , Junoon by Shyam Benegal is one which the Rockstar director credits for leaving a lasting impression on his psyche. Imtiaz's love for sufi music is evident from all his films and that might be a significant bearing from Bengal's Junoon which also consists of Amir Khushro's famous qawwalis. Imtiaz also holds the movie in high regards for showing the true Muslim culture in a way never portrayed before on the silver screen. Imtiaz considers the subtle expression of love as the meeting point of his brand of cinema and Bengal's Junoon .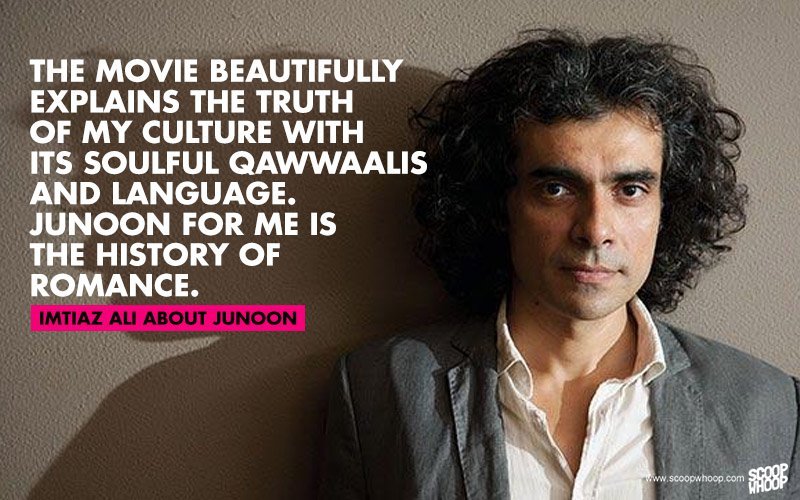 2. Anand – Rajkumar Hirani
Anand is a timeless classic and is loved by critics and fans alike. The Rajesh Khanna starrer also influenced the life of Rajkumar Hirani in a big way. Raju, as he is fondly called, found the greatest connect with the film through its poetry which he still remembers by heart. In fact, the PK director is so fond of the movie that he keeps referring to the screenplay book of Anand gifted to him by director Hrishikesh Mukherjee himself.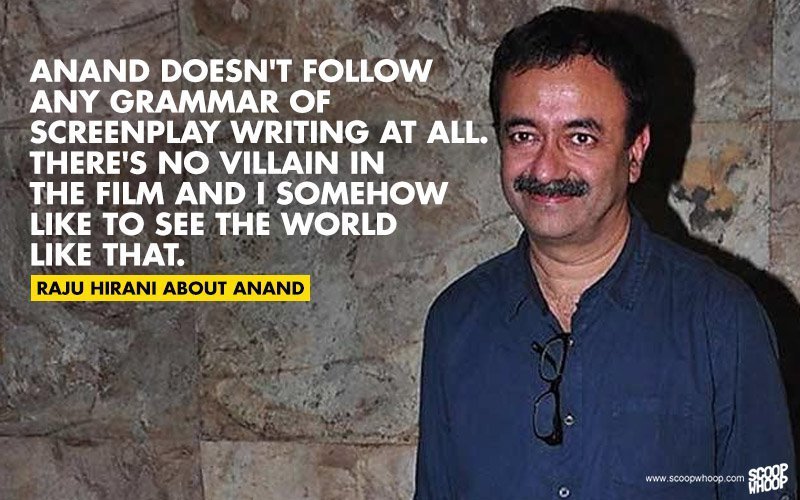 3. Raging Bull – Dibakar Banerjee
Dibakar was one of the very few people in India who could lay their hands on the original print of Martin Scorsese's Raging Bull back when it was released. And such was the impact of the movie that the film has become his reference point to all the doubts he encounters in the film making process today. Dibakar strongly recommends Raging Bull to all the aspiring film makers of India and sees it as a source of hope for those who can never avail formal training in cinema.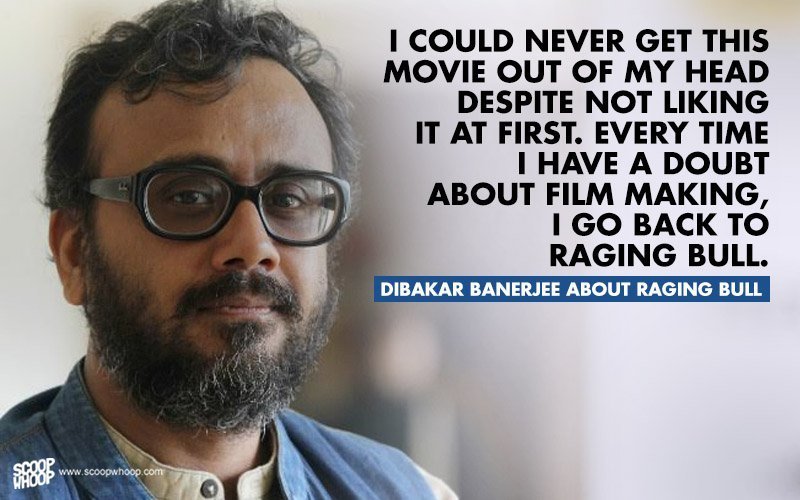 4. Bicycle Thieves – Anurag Kashyap
Anurag Kashyap is credited to be the pioneer of the Indie film noire, but little is known about the director's own formative years. And one such film to shape his life in the early days was Vittorio De Sica's Bicycle Thieves . In his own admission, the film opened a world of cinema for him and motivated him to believe in 'his' kind of cinema.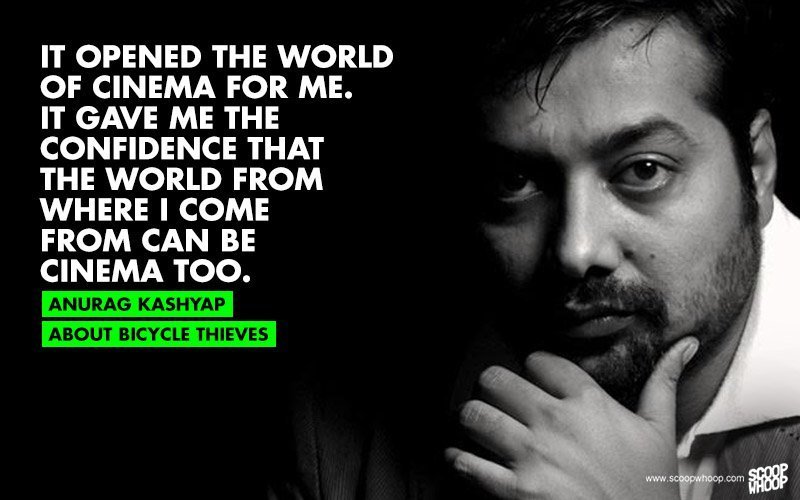 5. Underground – Vikramaditya Motwane
Ask Motwane about the most memorable film he has ever watched, and he votes for Emir Kusturica's gripping war movie, Underground . What left a lasting impression on Motwane's mind is that despite essentially being a war film, the movie remains to be an outrageous comedy. No wonder, Motwane counts it as one 'epic' movie out of all the world cinema he watched during the phase that changed his vision of cinema.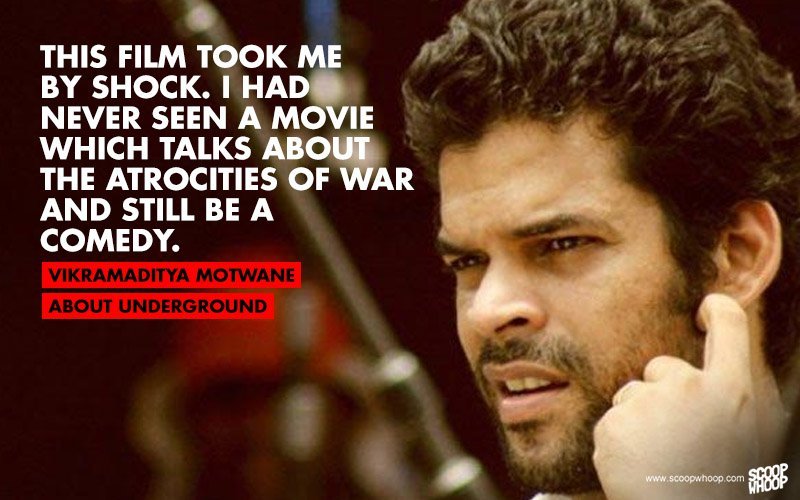 6. The Shawshank Redemption – Sriram Raghavan
The Badlapur director is unapologetic in accepting that he saw the pirated version of Frank Darabont's Shawshank Redemption because he could not wait for it to release in India. And funnily enough, Raghavan considers that his best decision till date. Totally speechless after watching the movie and the performances in the film, Raghavan was able to deduce a spiritual connect with the movie and its ideology – fear can hold you prisoner and hope can set you free. This gave him the strength to keep at his dream of becoming a director and not give up.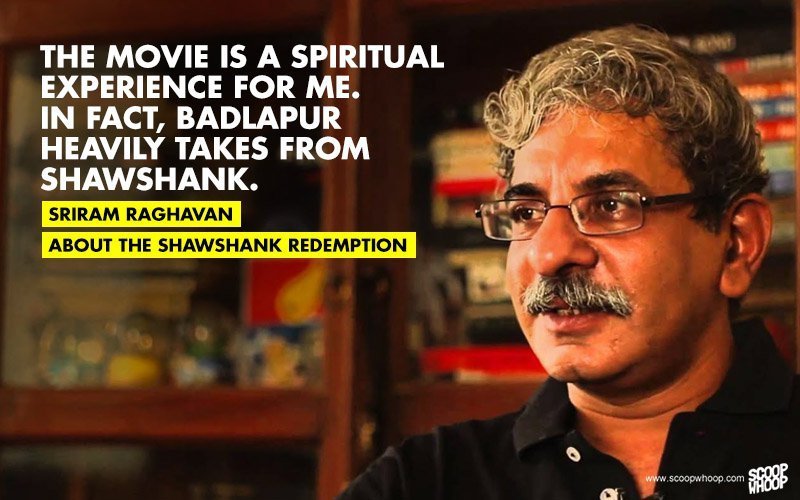 7. Pather Panchali – Shoojit Sircar
Not expecting anything out of a film fest in Delhi, the Madras Cafe director found a life changing piece of art in the form of Satyajit Ray's Apu Trilogy there. While Sircar has lost count of the number of times he has watched the movie, the cinematic value of the film never seems to fade for the director. He considers this sense of cinema as his biggest taking from Ray's school of film making.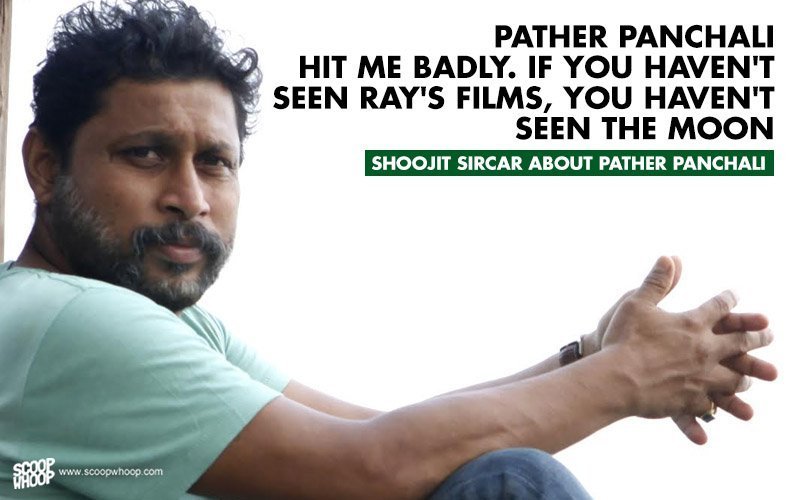 8. Butch Cassidy & The Sundance Kid – Tigmanshu Dhulia
Tigmanshu Dhulia, the director-actor, has made a name for himself by acing the raw and earthen stories and giving them a powerful cinematic expression. However, one film which made him embrace his rustic side was George Roy Hill's Butch Cassidy & The Sundance Kid. The director admits that this film made him fall in love with the outlaws and tracing their lives gave him a sense of freedom. And strangely enough, Dhulia felt the movie had all the elements which makes a Hindi movie!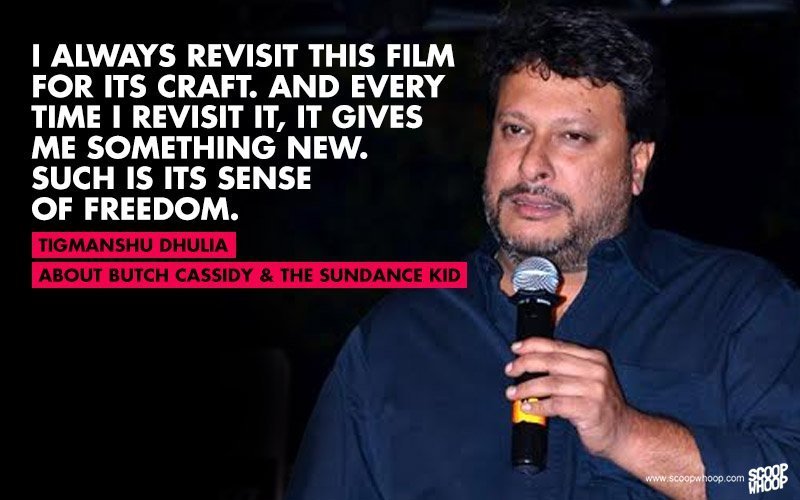 9. Salaam Bombay! – Zoya Akhtar
Talk about Salaam Bombay! and Zoya Akhtar remembers watching it on the big screen at the age of 15 and losing her mind over the brilliance of the movie. While the budding director found other '80s films awful, this is one movie which stood out at that time and inspired her to be a film maker. Zoya found perfect balance in the movie which is neither presented as a tragedy nor as a celebration, yet remains full of life.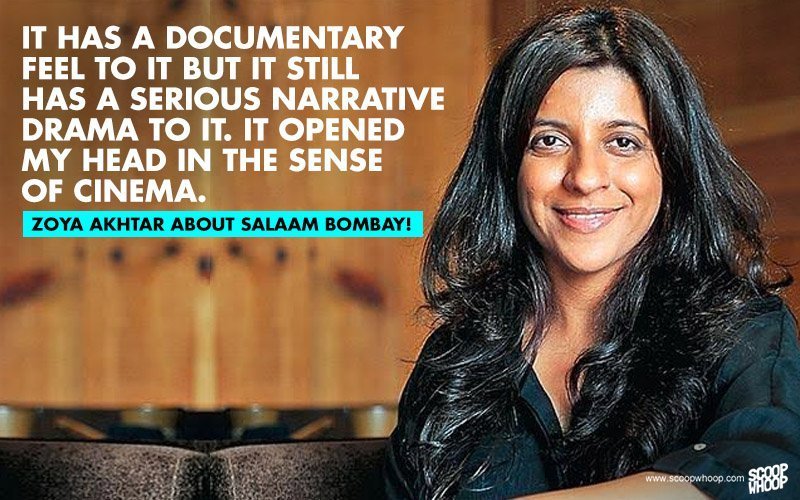 10. Shree 420 – Rakesh Roshan
The Roshan clan is one of the most seasoned clans of Bollywood. However, even the famous director Rakesh Roshan had to turn to a masterpiece for some inspiration. And that masterpiece is Raj Kapoor's Shree 420 . Calling it much more technically superior to a lot of films being made today, Rakesh Roshan just can't get enough of its dialogues, performances and music till date.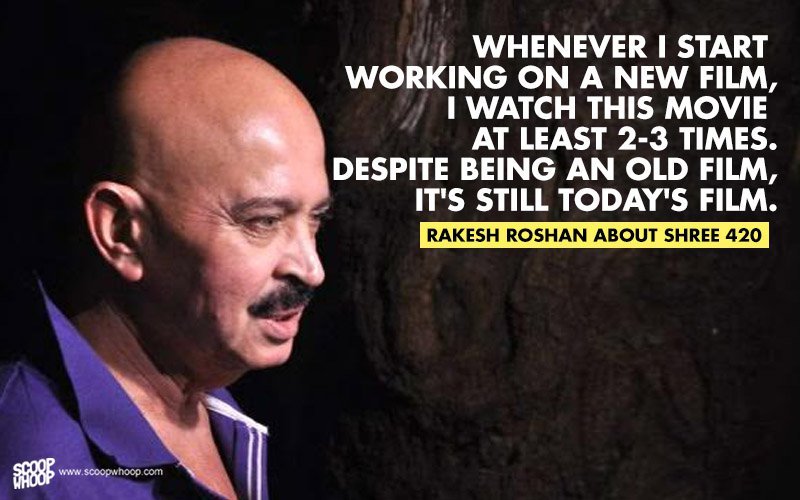 11. Dil Chahta Hai – Ayan Mukherji
Be it Wake Up Sid or Yeh Jawaani Hai Deewani, today's generation considers Ayan's brand of cinema as the most refreshing of the lot. However, ask the young director and he goes back to the most coming-of-age film of his time, Dil Chahta Hai, for inspiration . It's one film which gave Ayan a lot of hope with respect to the kind of modern writing it involved. From the modern dressing of the characters of the movie to the youthful background score, Ayan considers Dil Chahta Hai as special as any of his own movies.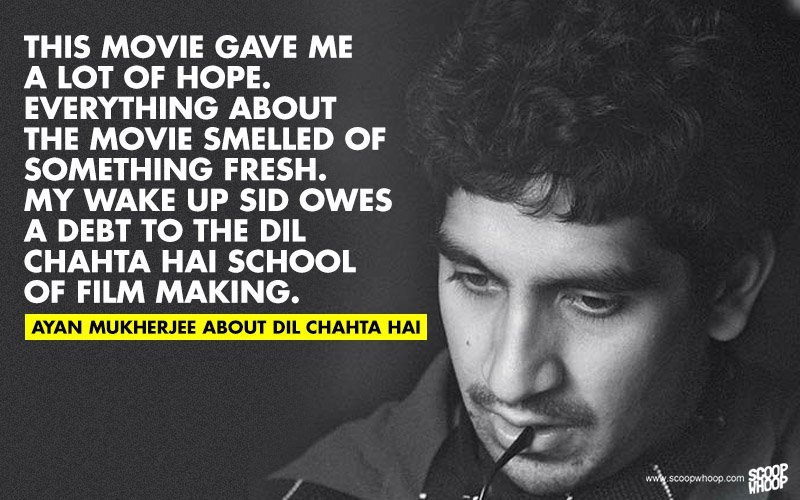 12. Meghe Dhaka Tara – Amole Gupte
Gupte describes Ritvik Ghatak's Meghe Dhaka Tara as a revelation. The film which always moves Gupte to tears is a guiding pillar for the director to manage emotions well in his own films. Moved by each and every frame of the film, he considers Meghe Dhaka Tara as the most beautiful emotion of life, forget cinema.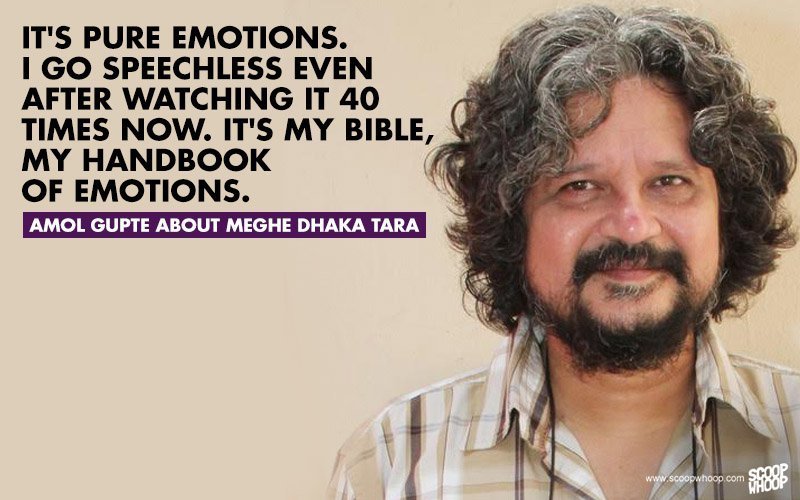 13. Hum Aapke Hain Kaun! – Karan Johar
Karan Johar's brand of cinema is all about celebration of all things Indian. No wonder, his own inspiration has to be a masala Hindi film, in this case, Hum Aapke Hain Kaun! The family, values and traditions shown in the movie left a lasting impression on the mind of the budding director and shaped his cinema in such a way that Karan today is seen as an ambassador of such values himself.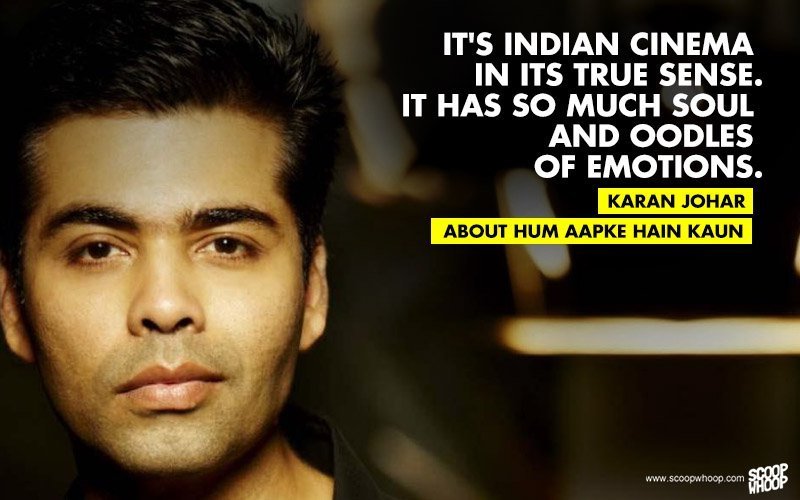 14. Sholay – Rohit Shetty
India hadn't seen an iconic mass entertainer of Sholay 's level ever before. Considered as the bible of commercial cinema, Ramesh Sippy's Sholay opened a new world of cinema in India. And one person soaking in all the lessons correctly from the movie was the young Rohit Shetty who credits the legendary movie for changing his life. From the screenplay to the edit techniques, everything about this film was way ahead of its time according to the Singham director.
15. Arjun – Farah Khan
Farah Khan's first major influence in commercial cinema began with director Rahul Rawail's Arjun. Farah's appreciation towards the film was so much that she had even expressed the desire to assist Rahul Rawail to learn the nuances of film making from him.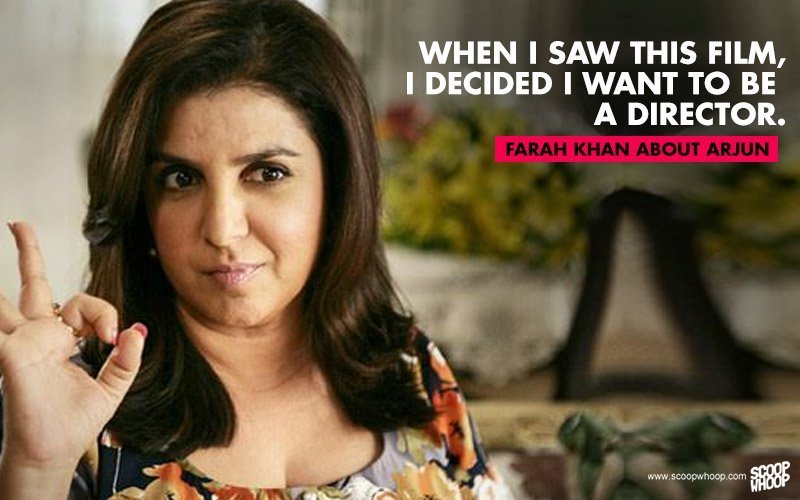 16. Guide – Madhur Bhandarkar
Madhur Bhandarkar is one director who likes to track the journey of his protagonists in his movies. No wonder, Guide, the emotional journey of Dev Saab in the movie, struck a very deep chord with Madhur. The camera, lighting and performances enhanced the impact of the film on Madhur and it ended up shaping his whole perception of cinema.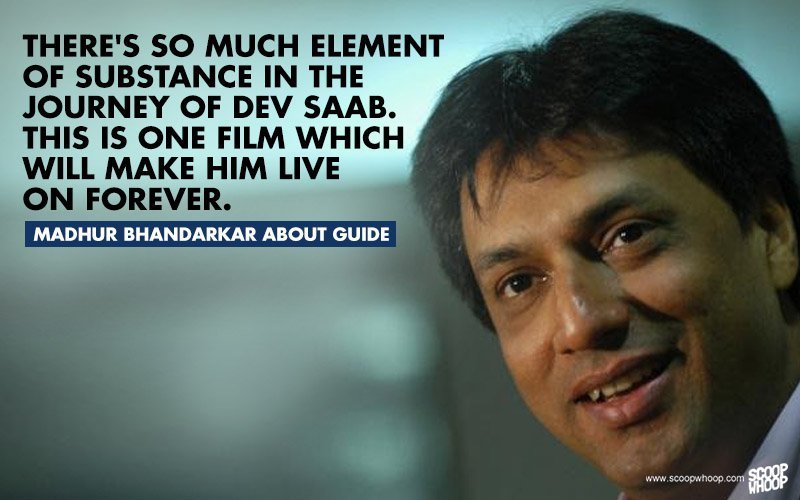 17. The Battle of Algiers – Mira Nair
Mira Nair is one film maker who has always run into controversy closer home while earning critical accolades globally. It's only natural for her to be inspired by a piece of art which is empowering and doesn't get intimidated by the system. The struggles and aspirations of the characters in the movie based on the Algerian war of Independence against the French deeply moved Nair and in The Battle of Algiers , she got a story she would have wanted to tell the world herself.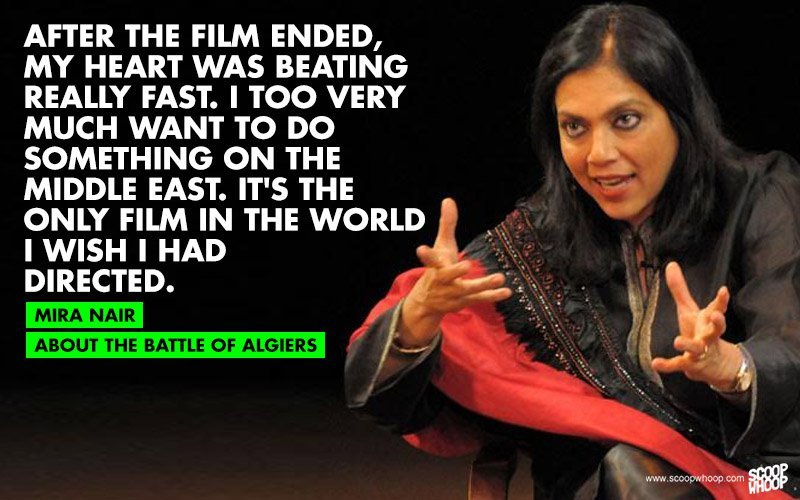 18. Aparojito – Sujoy Ghosh
Known for mysteries like Kahaani and short film Ahalya, it's actually the heart warming tale of the homecoming of a boy in Ray's masterpiece Aparojito that influenced Ghosh deeply. Just like any other western classic, Aparojito never ceases to surprise the director and remains fresh even after all these years.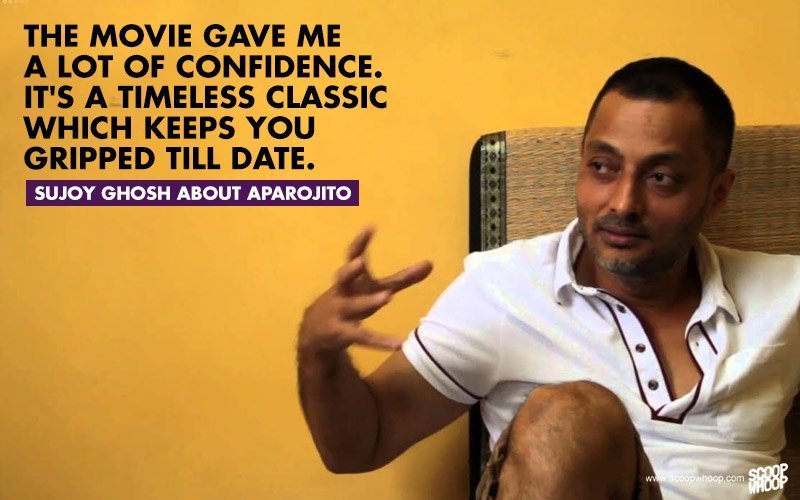 19. Nayakan – Sanjay Gupta
Sanjay Gupta strings together a world of thrill and action like no body else in the industry. Quiz the director about his own favourite film and he says it's the Kamal Hassan starrer Nayakan. The movie broadened his perspective of the power of cinema and made him realize the immense responsibility of the director in sending the message across.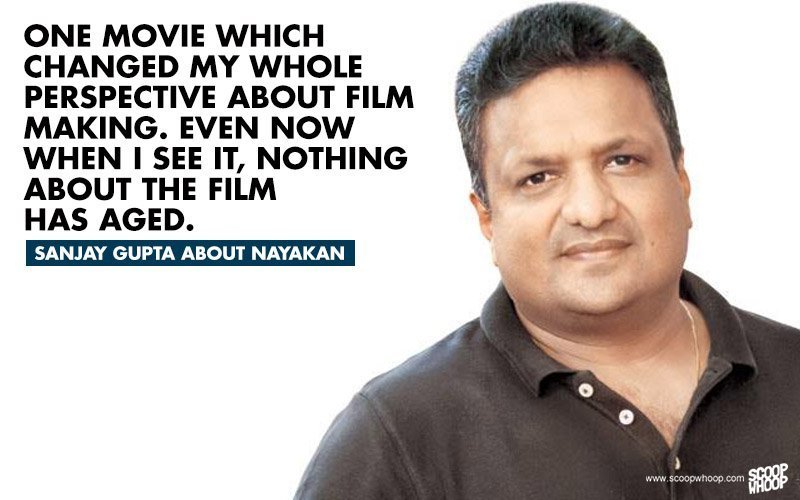 20. Casablanca – Anurag Basu
Anurag Basu is known for beautifully knitting love stories in the most engaging story lines. And this might be an influence of his favourite movie Casablanca which strings an intense love story in the backdrop of the second World War. The shot formations and the plot treatment of the movie got Anurag so interested in film making that he decided to become a director himself.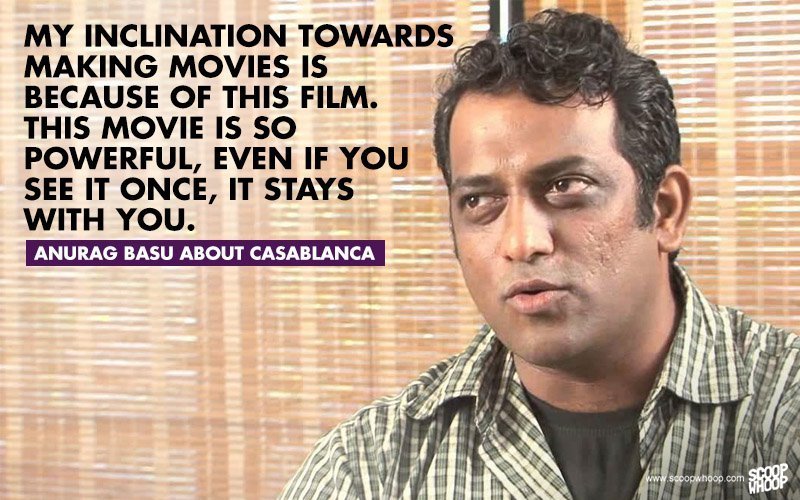 Looks like it is time to revisit your movie collection.
Design credits: Vineet Kumar