We, as an audience, often come across hard-hitting scenes in films that remain etched in our memories forever. Yes, the sequences that have the power to keep us glued to our screens until they get over. Be it comic, dramatic, inspirational, or emotional, these scenes definitely take the cake. Most of these sequences have an important element that makes them even more powerful. I am talking about a monologue.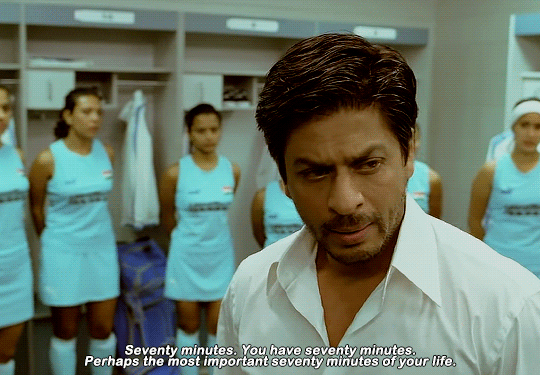 We present you eight great monologues of Hindi films that were powerful AF:
1. When Deepti Batra schooled her husband Varun Batra about pregnancy- Good Newwz
Remember when Deepti's husband, Varun, went too far in not giving a damn about an unborn child? Thanks to Kareena Kapoor, the audience learned about the struggles of expecting mothers through this monologue. "Pregnant hona, ek bachche ko carry karna…kaunsi itni badi baat hai..." she says.
2. When Kabir Khan motivated his hockey team in the last 70 minutes- Chak De! India
"Sattar minute, sirf sattar minute hain tumhare paas…" Remember when Shah Rukh Khan as Kabir Khan, the coach of Indian national women's hockey team, prepared all the players with a powerful speech before their last match? All of us felt goosebumps on our arms, isn't it?
3. When Arjun Singh made us feel even more proud of India- Namastey London
Who can forget when Akshay Kumar as Arjun Singh made us feel proud of India while teaching foreigners about our nation and left them speechless? Well, that was definitely a befitting reply to Britishers.
4. When lawyer Deepak Sehgal spoke about the consent of women –Pink
No matter if you watched this film or not, you might have come across this powerful speech about the need to understand the consent of women. In the movie, Amitabh Bachchan as lawyer Deepak Sehgal, who is representing a case of three sexual assault victims in the court, says, "NO MEANS NO! Ise kisi tarq, spashtikaran, explanation ya vyakhya ki zaroorat nahin hoti…na ka matlab na hi hota hai."
5. When Raj Batra talked about our obsession with English language and more- Hindi Medium
"Ek France banda, German banda speaks wrong English, we no problem…ek Indian banda say wrong English, banda hi bekaar ho jata hai ji." Late actor Irrfan as Raj Batra was so right about how an individual is identified with their level of understanding regarding the English language. In his speech, Batra also pointed out the struggles of parenting and the harsh reality of our education system.
6. When Shashi Godbole surprised everyone with her speech in English- English Vinglish
This monologue was so powerful. Not just because late actress Sridevi as Shashi Godbole delivered a thought-provoking speech about marriage in English, but also for how she finally made her husband and daughter realise her value. It was truly an applaudable speech.
7. When lawyer Govind stressed on late verdicts in rape cases- Damini
In recent times, we have all witnessed how the verdict in rape cases keeps getting delayed for years. The 2012 Delhi rape case is proof of it. Sunny Deol as lawyer Govind stressed the same in the 1993 film while fighting for the court case of a deceased rape victim. "Taareekh pe taareekh…x4 milti rahi hai lekin insaaf nahin mila my lord." What a powerful monologue, tbh.
8. When Silk exposed double-standards of society- Dirty Picture
Vidya Balan definitely gave a powerful performance as 'sex symbol' Silk in the 2011 film. Her award-acceptance speech about exposing double-standards of society was topnotch. "Family ke sath meri films dekh nahin sakte, par chhup-chhup ke dekh kar, dhadake se family badhate ja rahe hain." Remember?
Which monologue from the aforementioned ones is your favourite?