Being the largest film industry in the world, Bollywood has definitely played a major role in defining the ideas of love, romance, hatred, marriage and friendship for us. Every one wants a friendship as lasting and true as Rahul and Anjali, and a love as pure as Veer and Zara. But apart from forming these ideas, Bollywood is also responsible for one other thing. Somewhere between defining love and romance, it has equated romance with stalking.
From the time of boarding the train till their return to London, Raj's antics to irritate Simran were nothing short of stalking and harassment. Raanjhanaa, which is classified as a timeless romance, is an entire film that shows a man pursuing a woman since teen years. 
There's a thin line between stalking and romance, which Bollywood clearly doesn't seem to understand. To even think that 4-year-olds sing and dance to these songs at weddings is alarming to say the least. 
Here are 12 Bollywood songs that actually encourage stalking: 
1. Jadoo Teri Nazar (Darr)
You wouldn't be surprised to see this song here since the entire movie is about Shahrukh stalking and harassing Juhi as an obsessed psycho lover.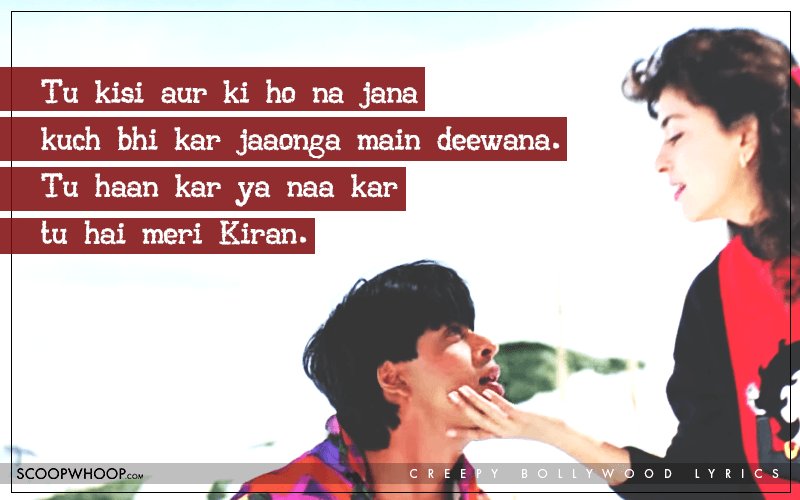 2. Tera Peecha Na Main (Jugnu)
Dharmendra has openly told Hema Malini that he will keep stalking her unless she accepts his proposal. "Tera pichha na main chhodunga soniye." Umm…stalker alert!
Watch full song here.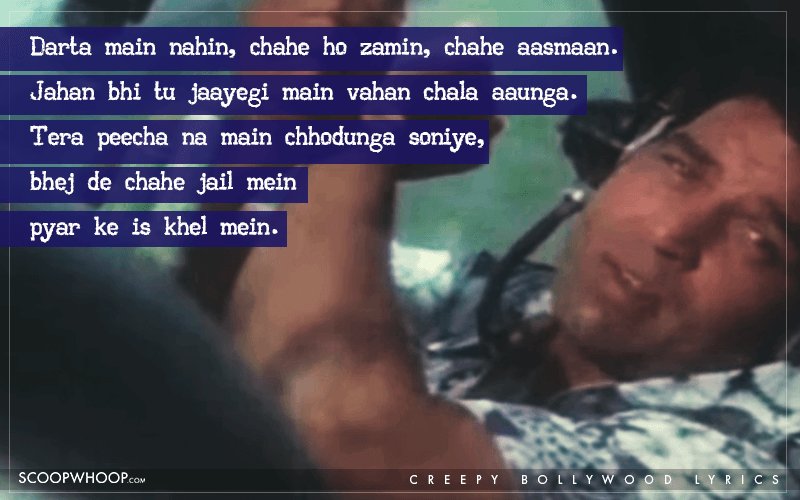 3. Saat Samundar Paar (Vishwatma)
Now this is where the girl stalks the guy, which just goes on to prove that men aren't the only ones who can be creepy at times. Feeling bad for the guy though, because that's a really poor way to woo someone.
Watch the full song here.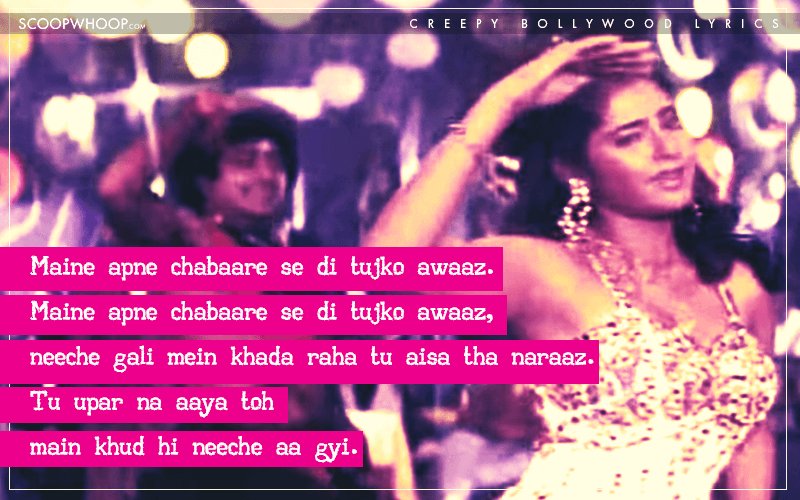 4. Chal Pyaar Karegi (Jab Pyaar Kisise Hota Hai)
You're finally marrying the girl you love, and yet the stalker tendencies haven't gone away, Salman! "Arre tu haan kar ya naa kar," as if the girl's wishes don't matter. 
Watch the full song here.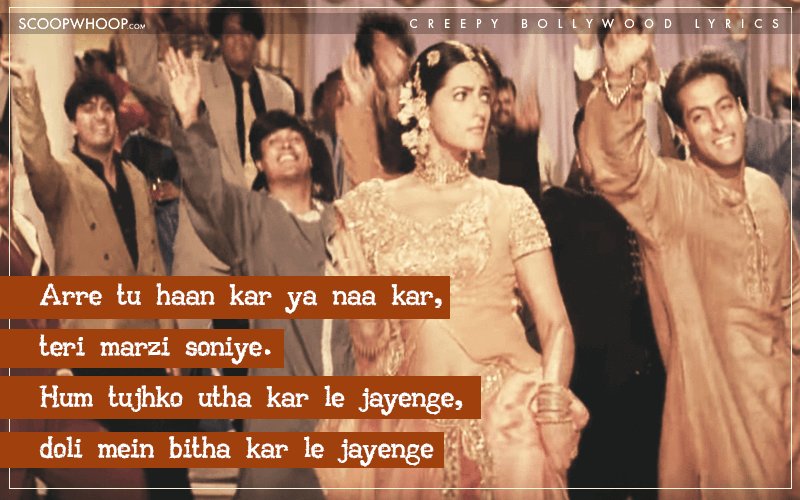 5. Soni Soni Akhiyon Wali (Mohabbatein)
This song is every girl's situation during days before Holi. Am I right, or am I right?
Watch the full song here.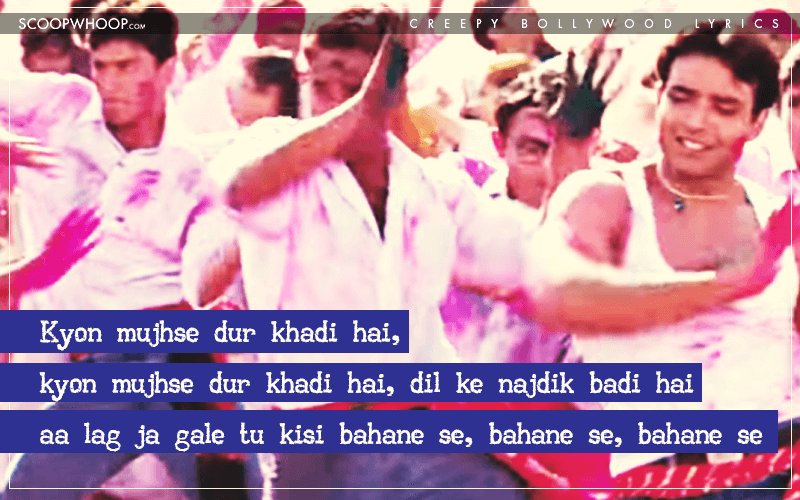 6. Deewana Mujhsa Nahin Iss Ambar Ke Neeche (Teesri Manzil)
Shammi Kapoor and his junglee antics to woo women can be noticed even in this song. The song starts with these lines and the creepy feeling crawls in!
Watch the full song here.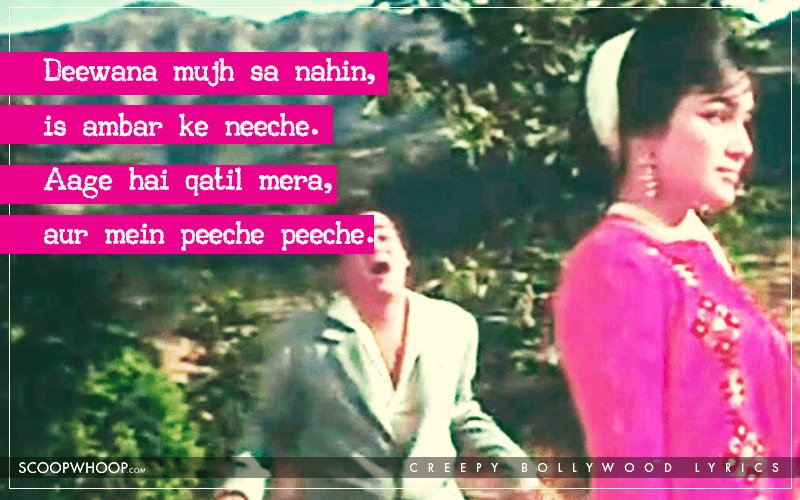 7. Tumko Sirf Tumko (Kuch Khatee Kuch Meethi)
We know some of you might not agree with us, but watch the video and you'll know what we're talking about. 
Watch the full song here.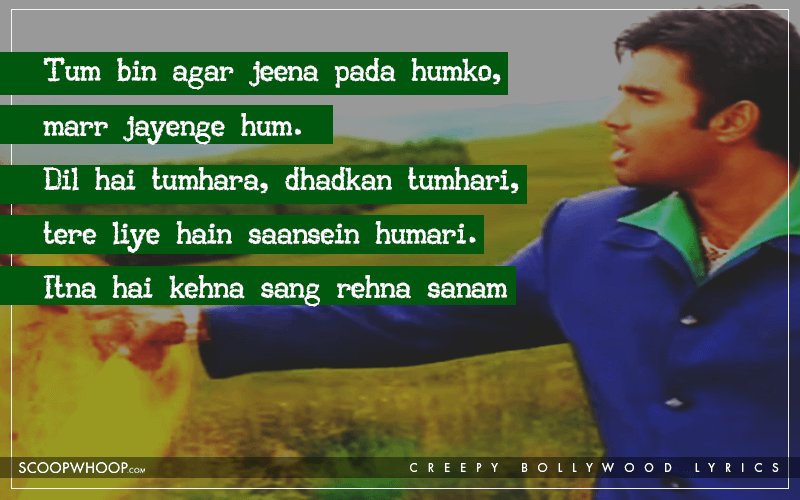 8. Ruk Ja O Dil Deewane (Dilwale Dulhania Le Jayenge)
Sorry to break your bubble people but the movie itself is stalker-ish. I mean, "Paas joh aaye toh, chooke main dekhu zara?" Really now?
Watch the full song here.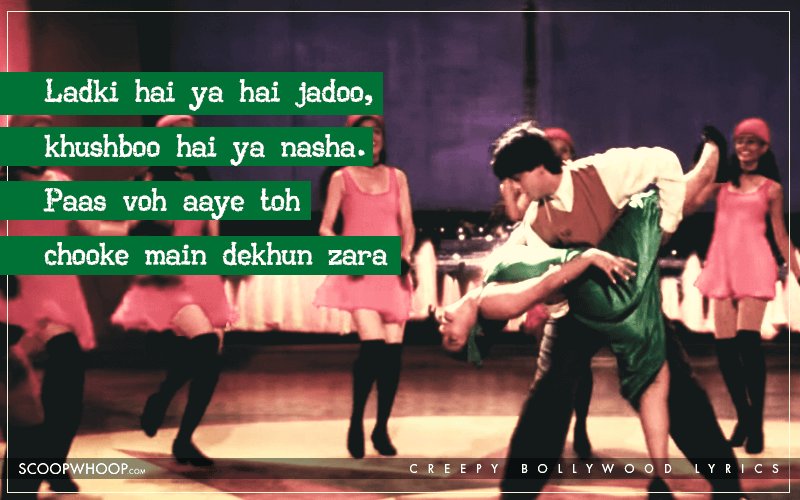 9. Gandi Baat (R… Rajkumar)
Another movie that glorifies stalking in the name of romance. Another song that takes creepiness to another level.
Watch the full song here.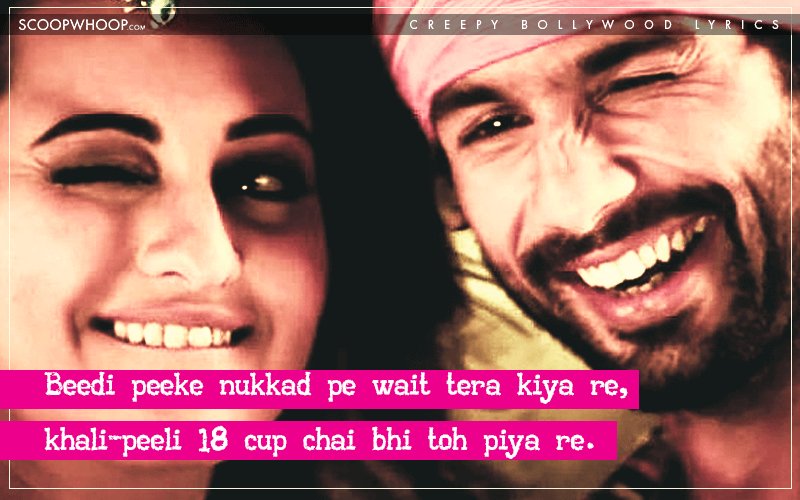 10. Ruk Ruk Ruk Arre Baba Ruk (Vjaypath)
Yes, girls can be stalkers too. In the entire song all you'll see her doing is chasing Ajay Devgn. And the song is almost threatening! 
Watch the full song here.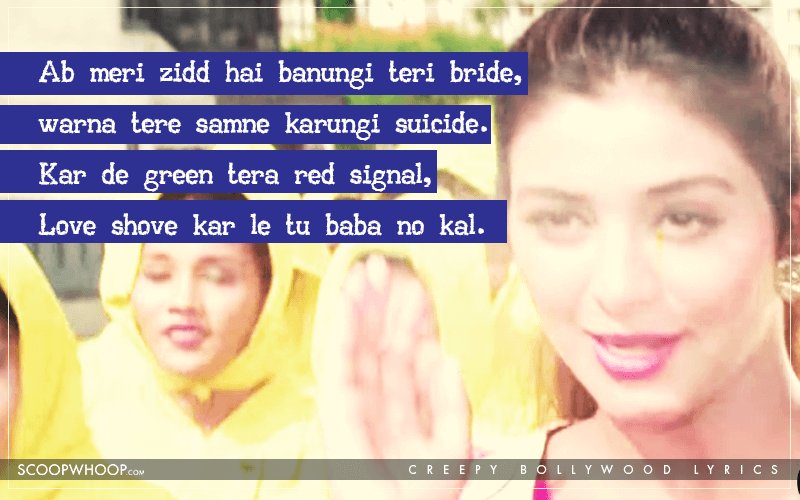 11. Aaja Meri Gaadi Mein Baith Jaa (Miss 420)
Well, what else do you expect from Baba Sehgal? 
Watch the full song here.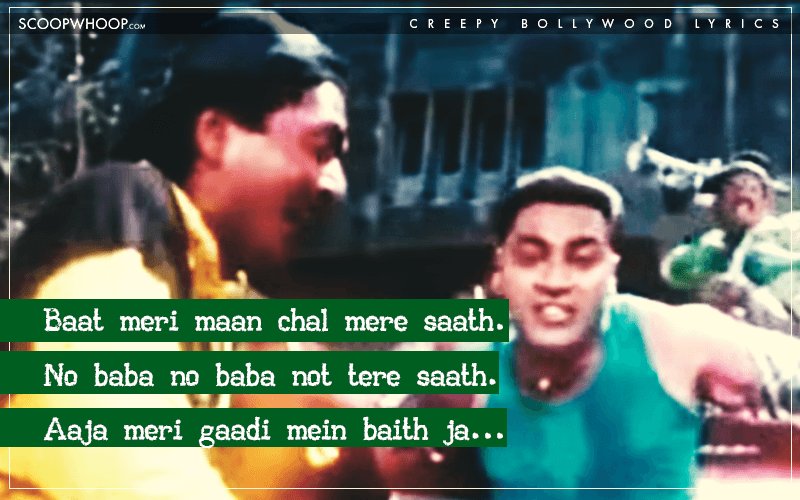 12. Tu Mere Agal Bagal Hai (Phata Poster Niklha Hero)
So he is admitting that he is stalking Ileana. What an honest stalker? 
Watch the full song here.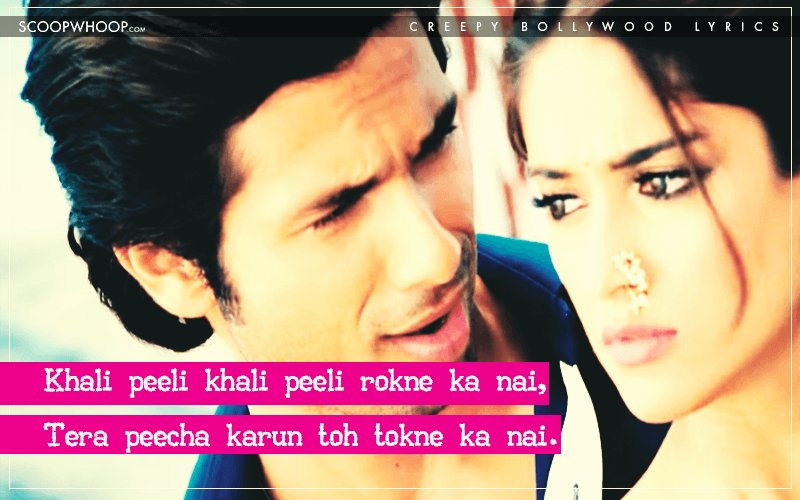 Design Credits: Disha Bhanot