In association with
Samsung
I'm a sucker for dance-offs!  
They are beautiful little pieces of art to me, especially those with great choreography. Binging on dance battle videos that are well choreographed AND aesthetically shot is as satisfying as popping bubble wraps. Giving it up for Sana and Melvin who challenged each other for a dance battle openly on Instagram, and guess what?! I'm living for their killer moves! 
FYI, they pulled off some killer moves and shot it handheld with the all-new Samsung Galaxy A80!       
The 'Rotate to Dance' video ft. Sana Khan and Melvin Louis is a stylishly shot dance-off video that'll urge you to shoot one with your dancing squad. But first, let's give props to Samsung Galaxy A80's World's First Rotating Triple Camera that aesthetically captured each and every intricate move with so much finesse. 
Well, Sana & Melvin are sure serving us with mind-blowing moves but did you see the swift rotating move of the triple cam? 

Who wouldn't want a smartphone that shoots smooth videos all the while acting like a snazzy-looking accessory? I'm calling dibs! You'll be even more surprised to see the impeccable live focus of its 48 MP rotating camera that produces crisp photos and videos on the front and the back. The phone also boasts of an incredible Ultra-Wide camera with a 123-degree field of vision. Not just that, the amazing screen quality and size, and the all New Infinity Display are apt for video consumption. 
Thumping beats, dubstep moves and a show-stealing slow-mo that serves as an icing on the cake – I'm playing Melvin's flip on loop 'cause it looks magical with the Super Slow-mo feature. Mere mortals like us could only do a horrible rendition of it. Let's not forget how uber-cool all the three stars look in the video – the highlight being the sleek, sexy and premium-looking Samsung Galaxy A80 that's giving Sana & Melvin a tough competition with its edgy design and finish.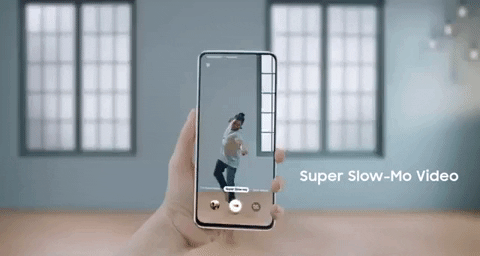 In case I've given you enough FOMO, here's how Sana & Melvin effortlessly danced their heart out with the all-new Samsung Galaxy A80.