Fear is an emotion which does not discriminate between anyone, tall or short, black or white, rich or poor and famous or not-so-famous. In fact, fear is one emotion which brings everyone to a common ground. And our Bollywood stars are not untouched by this emotion. In fact, they are one step ahead and have some really interesting phobias. What are their fear factors? Find out!
1. Fear of ceiling fans
You won't believe what the brawny action star from Ishaqzaade and Gunday is afraid of! This fanny has a phobia of ceiling fans. Yes! And it's so bad that he doesn't have a single fan at his place!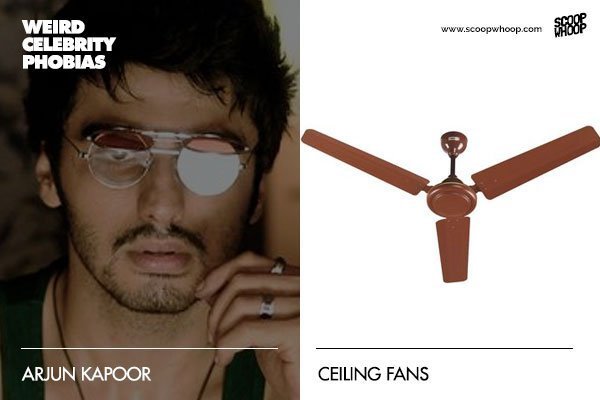 2. Fear of riding bikes
Did we see even a sliver of discomfort on her face when she vroomed around on a bike in a scene from RNBDJ or took a casual stroll on a Royal Enfield in Ladakh in JTHJ? Hidden under that performance was Sharma's dread of riding bikes! Anushka is so petrified of riding bikes that once the shooting of ' Matru Ki Bijli Ka Mandola ' had to be stopped because she lost her calm while riding pillion to actor Imran Khan! However, like a thorough professional, Anushka has mastered her phobia quite a few times for movies and TVCs!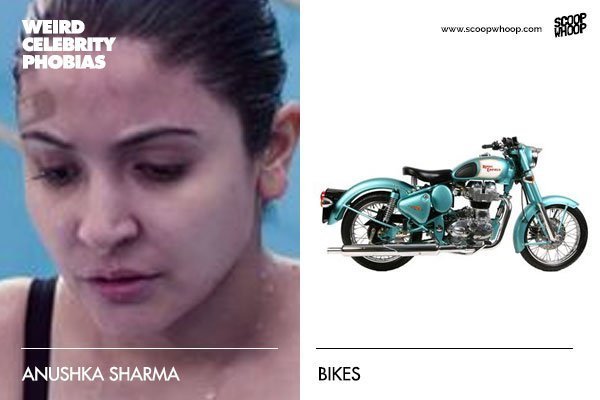 3. Fear of horse riding
He might be called King Khan but there are some fears that even kings cannot overcome. Shah Rukh Khan might be the Baadshah of Bollywood but he is scared of horses. No wonder we don't see him riding a horse in his movies too often!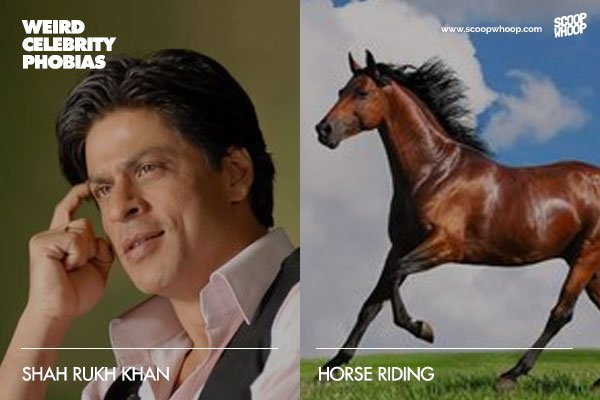 4. Fear of dirty hands while eating
Ajay Devgan has a phobia of having food with his hands so much so that he insists on using a fork and knife for eating almost everything, even a ghee-smeared chapati. He even has an explanation ready: he believes eating food with hands makes the fingers stink!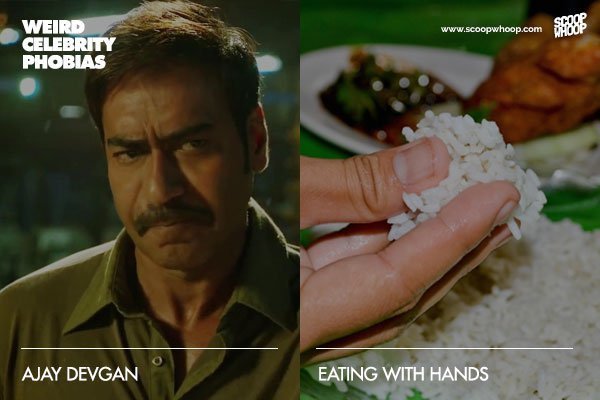 5. Fear of fruits
For someone working in mainstream cinema, nutritious diet is a given. However, Abhishek Bachchan, not known to be a big-time fitness enthusiast, suffers from a phobia of fruits and runs away at the sight of them (as seen on a cookery show !). As if that was not enough, Bachchan Jr publicly admitted to his hatred towards fruits (at a reality show) and added that he has NEVER eaten a fruit!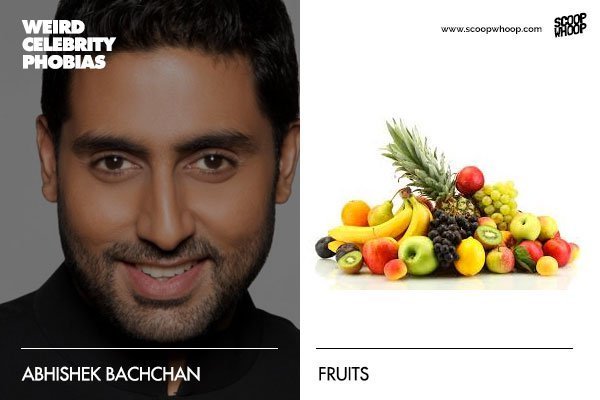 6. Fear of elevators
Sonam Kapoor is an amusing personality and equally interesting is her phobia! The actress has a phobia of riding in elevators! The actor confessed that riding stairs is her first choice but, if need be, she stuffs herself into the corner of a lift and waits for her floor to arrive. Having said that, the elevator is never an option for the chirpy actress when she is stressed out!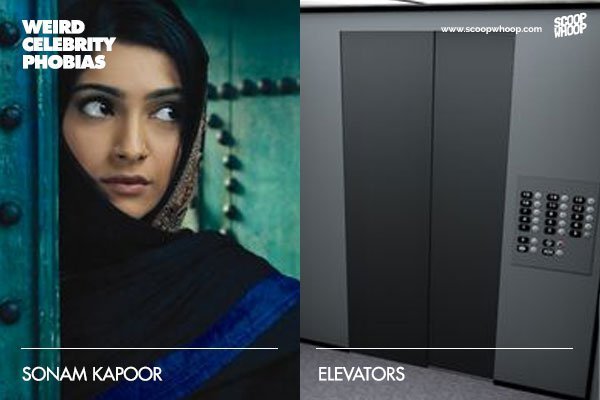 7. Fear of cockroaches
The 'Rockstar' of Bollywood, Ranbir Kapoor, might have producers and directors waiting at his doorstep but there is one thing which better not enter his house: spiders and cockroaches! Sharing his dread for spiders with Priyanka Chopra, the Kapoor scion cannot stand the sight of creepy crawlies.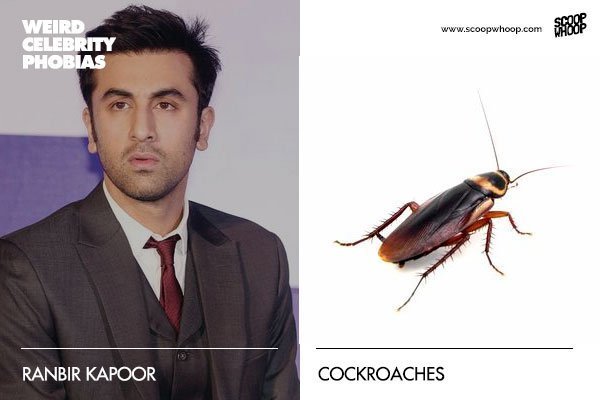 8. Fear of darkness
The young actress might have ventured to the dark side of human emotions with her critically-acclaimed movie Highway but darkness is something which still becomes difficult for the actor to handle. Alia's phobia of darkness is so overpowering that she sleeps with a dim light switched on and curtains slightly open!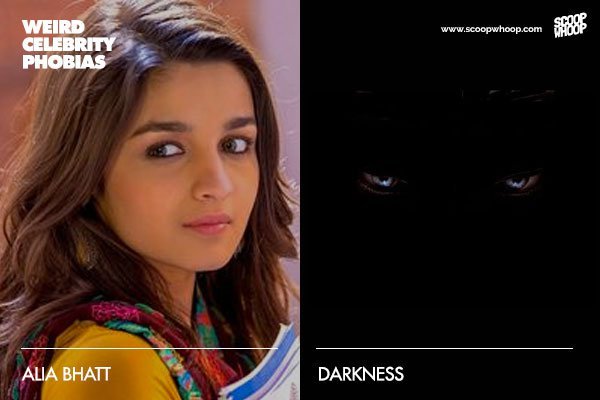 9. Fear of cats
Show this versatile actress a cat and she'll run for miles! The ooh la la girl of Bollywood, who has carried many a films on her shoulders, cannot handle her paranoia at the sight of cats!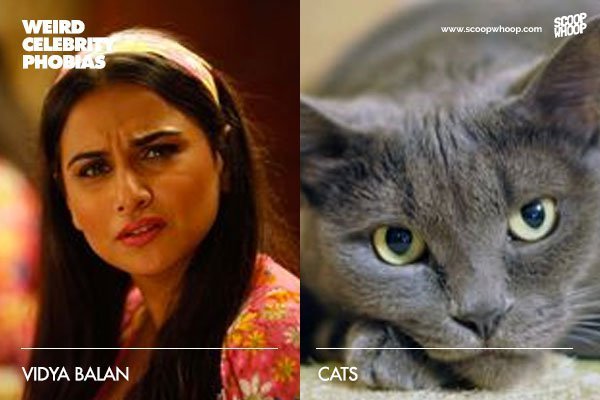 10. Fear of butterflies
Celina Jaitly has had a weird phobia since she was 4 years old, revealed her mother once. The svelte actress is petrified of butterflies! In fact, a butterfly can set the panic button on for the actress so much so that she once almost fell off a cliff after running into a butterfly on the sets of 'No Entry.'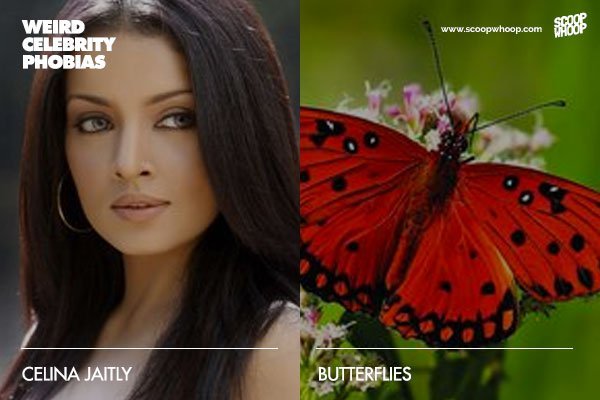 11. Fear of live audience
While some phobias can be absolutely bewildering, others are understanable! Tanisha Mukherji is said to have serious stage fright! Well, going by the amount of acting performances she has given in recent times, such a phobia is bound to develop!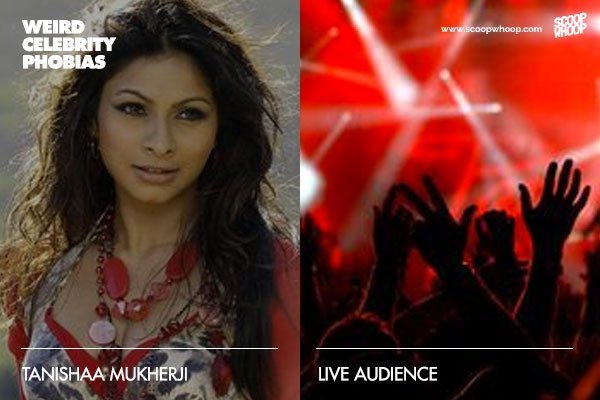 12. Fear of tomatoes
You'll have to hand it to Katrina Kaif for the most interesting phobia on the list! Apparently, the gorgeous actress cannot tolerate tomatoes anywhere in her vicinity! And that suddenly sparks memories of the song from ZNMD where Kaif is drenched in tomatoes, but that shoot apparently made the phobia grow worse! According to reports, Katrina even opted out of an endorsement deal worth millions just because it was a tomato ketchup brand! In addition to that, Katrina is also known to have a fear of heights!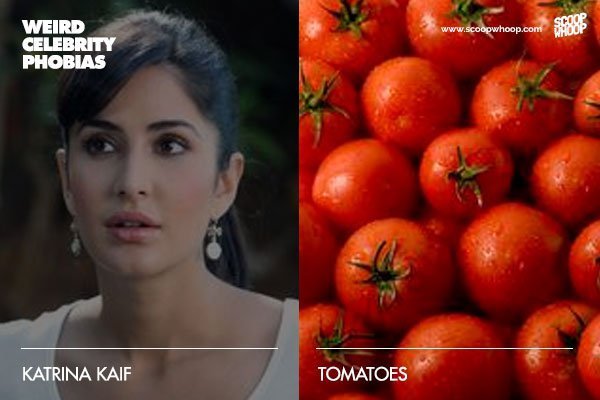 Have a phobia of missing out on ScoopWhoop's posts? Hit that subscribe button NOW!